California Ride - Video
---
A Ride Through California In December, with my new Contour Roam.
A Ride Through California in December - YouTube
I ran in to GoinPostal and a couple other Stromers along the way.
They're not in the video, as they were parking just when I was leaving.
---
2009 Orange 650
Stromthusiast!
Join Date: Mar 2011
Location: Pasadna area
Posts: 13,609
I can only watch videos is short bursts. I get dizzy watching the cut ins and outs.
I notice the videors head seems to be pernamently straight ahead. I'm always looking around at the scenery. I must look like an Owl pivoting around!
Great roads though. Funny how they appear to be so narrow from the vantage point of the camera.
Stromthusiast!
Join Date: Dec 2010
Location: San Carlos, CA
Posts: 807
Nice! Loved the footage of hwy1, Mt Hamilton, Del Puerto Canyon Road, etc... good times!
Nice job, Did you do the video of the bicycle vs. motorcycle too? That guy was moving pretty good, looks like he was on a mtn bike too!
---
2009 DL650,Orange Wee-club #17.
Hey, I think we met up here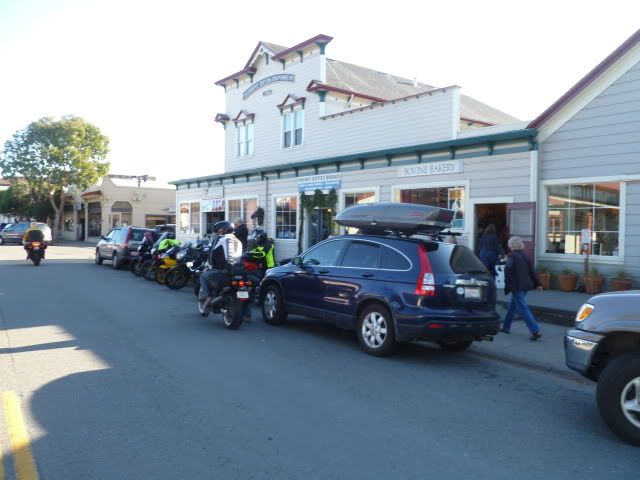 Right?
Good video but no sound?
We are taking a New Years Day Ride posted on' Who Else is in San Francisco'
$tromtrooper
Join Date: Oct 2008
Location: Fairfield, CA, USA
Posts: 710
---
Rod
Orange Wee Club member #18
DL650K9 with Murphs center stand, SW Motech Rally crash bars, Madstad bracket, Dan Vesel luggage guard and tube,
Bestem top box, Nelson Rigg CL-850 saddle bags, Rapid Transit Abrams tank bag, Beadrider, SH-775 R/R
Hey Postal! Nice one!

Yep, that's us.

Ya, the wind noise was awful. I was in a rush to get the video done, and I'm still learning iMovie, so I just opted for no sound rather than the canned music.
---
2009 Orange 650
Nice video. When are you going to make another wednesday ride?
---
'08 Black V-Strom
Motech center stand & crash bars,
OEM Luggage
Ca. Scientific wind screen, madstad


[SIGPIC][/SIGPIC]