Colorado Front Range Ride - Sunday, June 6th
---
I am posting this a little early, as I want everyone and anyone to be able to plan ahead.
Sunday, June 6th, 9:00am Start
Meet at: Sedalia, CO
I don't want to get too intricate with route plans, as the weather might have a roll. If the weather is good, I say we head back into the mountains.....stop somewhere for lunch.....and then head back. I expect this to be a 9am to 4-5pm ride......just depends upon the route we choose.
I have riden about everything, so I really don't care. I thought about heading west and doing lunch in Breck or Frisco and then circling back around. I would like to do some tame dirt (nothing that would intimidate anyone), but am game for whatever.
Anyone that can come is welcome.....the more Stroms the better.
By the way, I now have both my boys on Stroms and hopefully they can join me. I hope work or football camp won't get in the way.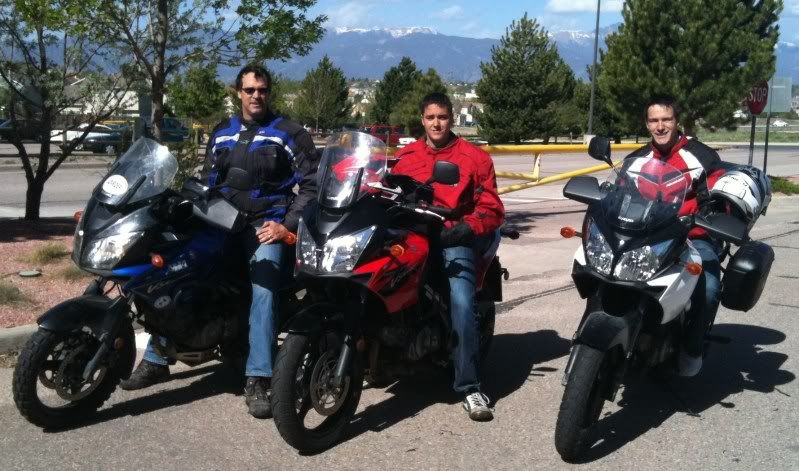 ---
Big John

2007 DL650 - Gone but not forgotten
Stromthusiast!
Join Date: Apr 2008
Location: L.A.of,Colorado
Posts: 900
I will put it on the calender.
Out...
---
Traveling to New Orleans. Do you know how infrequently I travel for business? Can't believe I'll miss this one
---
'08 DL1000 (Silver)
New Orleans? Insider tip, to get the street walkers to leave you alone tell them you're a local. Otherwise have a blast.
Stromthusiast!
Junior Trooper
Join Date: Apr 2010
Location: Front Range, CO
Posts: 4
I like the sound of this - Pencil me in
Cool..... a decent response.

We will have a good ride!
---
Big John

2007 DL650 - Gone but not forgotten
Looks like we're going to Estes Park on business that weekend, so I'm out.
---
2008 DL650 Matte Black
2006 Yamaha WR450F
1973 Moto Guzzi El Dorado

"America is at that awkward stage. It's too late to work within the system, but too early to shoot the bastards."
--Claire Wolfe
I'm in
---
I'll be in the area during my trip west, so I'm in. So's my dog Julie. She's done the Cherohala Skyway and the Blue Ridge, so she's a vet. Dirt would be a problem, but everything else goes!
Here's Julie with her rig. A Wags trailer and yes, a Wee.
Nemo
---
[SIGPIC][/SIGPIC]
Blue Wee K7 stays in Tulsa
FB Wee K8/ABS is the road bike