2010 LowCal 250 - Saturday April 24, 2010
---
The date has been set:
April 24, 2010
.
Start your rallying season right! Explore scores and reports from our previous years.
http://www.thumbwave.com/lowcal250/
Lots of useful tips on our FAQ page, like:
Do not attempt to learn to use a new GPS or software during the morning meeting!
:blink:
=====
Last year's winning route: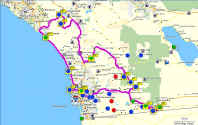 =====
Come out and have some routing and riding fun. If you want to use the rally dinner as a RTE or a finish for a SS1K, BBG, or 50CC get in touch with me and I'll try to help you get what you need lined up on this end.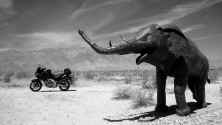 Routing 101 - An Introduction to Rallying
---
Dear LowCal 250 participants, past and present (please excuse any duplicate messages):
When I reformatted the PKD rally a few years ago, I wanted to have an event that would have a 'top-end' challenging enough to recalibrate serious rally competitors for the season, but at the same time welcome the curious novice. After observing some missteps from the latter (who for the most part do great and have often placed) I've outlined some items that might help them enjoy more from the experience. Please pass this along as you see fit.
The flyer:
An Introduction to Rallying – March 12, 2010 – 7:00PM
Routing 101 – An introduction to basic routing for motorcycle rallying. No prerequisites or prior rally experience is required. Intended for the motorcyclist pursuing a half-day bonus-hunting rallies such as the LowCal 250, or any similar event offering multiple solutions. There will be an emphasis on safety in this course.
The theme of the course is "Constraints, Efficiencies & Contingencies"
Some highlights:
•The Rally Packet
•Basic Concepts
•Routing Tools
•Route Strategies (Rule of Thirds/Splitting the Day/Zig-zag Return)
•Stop Management (how to lose a rally at 0-5MPH)
•Implementing Contingencies
A detailed outline will be supplied. No special equipment is required and no specific GPS's or mapping software will be covered in the course, but you may bring whatever tools you like to complete the practical exercise.
Craig Chaddock, the primary instructor, is the rallymaster for the LowCal 250 in San Diego County. Please RVSP by email
[email protected]
. There is no cost but we need a headcount for materials and would like to have your email to send out a reminder for the date.
The class will be held at San Diego BMW Motorcycles, 5673 Kearny Villa Road, San Diego, CA 92123
858-560-BIKE (2453)
More info on the LowCal 250:
http://www.thumbwave.com/lowcal250/