steering stem nut
---
I'm about to replace the Steering stem bearings on my K8 wee,
I've read a few threads on the subject and have fair idea on whats involved,including the need to make or buy a tool for the castelated nuts.

But I wonder why these nuts have to be castelated ?
wouldnt a nut with the correct thread and the same thickness as the original nut be easier to adjust etc ?
---
"Travel by Gravel and double your map" - Wardy (Saturn5)

2012 KTM 990 ADV.
K8 WEE - My Mods Blog [url] https://www.stromtrooper.com/forums/showthread.php?t=50363 [/url]
---
Last edited by mudrat; 05-17-2011 at

02:53 AM

. Reason: terminology
FORUM GODFATHER.....R.I.P. PAT
Join Date: Jan 2006
Location: Evanston IL USA
Posts: 38,049
A nut that large in diameter but that thin in cross section will deform slightly during tool pressure in the usual hex head configuration. That will cause erroneous torque application. A notched nut receives its tool load tangentially to stay evenly round during the application. They are also found on the swingarm pivot and engine mount through bolts.
Perfect v-strom steering nut wrench
---
After risking buggering up the notched nuts while trying to tighten the bearings on my 1K steering stem, I did the right thing: I ordered a "hook nose wrench" from samstagsales.com
Here's the page:
AMF Tools Catalog Page
Item 54635 -- DIN1810A 40-42 Hook Wrench with nose, 170mm long, 5mm thick, blued, for grooved nuts
The 40-42 refers the nut diameter range: 40 to 42 mm.
This is the perfect one for V-Strom steering head nuts, first because it fits the diameter of these nuts, and second--very important--it's less than 6.75" long overall, which is short enough to fit easily into the work space around the steering head. Other longer or double-headed wrenches will bump into the plastic and hard parts or be impossible to get on the nut in the first place. This is beautifully made German product. Nothing like having the right tool.
---
[SIGPIC][/SIGPIC]
Thanx for the reply's and link
I have a collection of C spanners so will see if I have one that will fit, otherwise its of to the shed to make a "black Lab" special
---
"Travel by Gravel and double your map" - Wardy (Saturn5)

2012 KTM 990 ADV.
K8 WEE - My Mods Blog [url] https://www.stromtrooper.com/forums/showthread.php?t=50363 [/url]
My attempt at a steering nut tool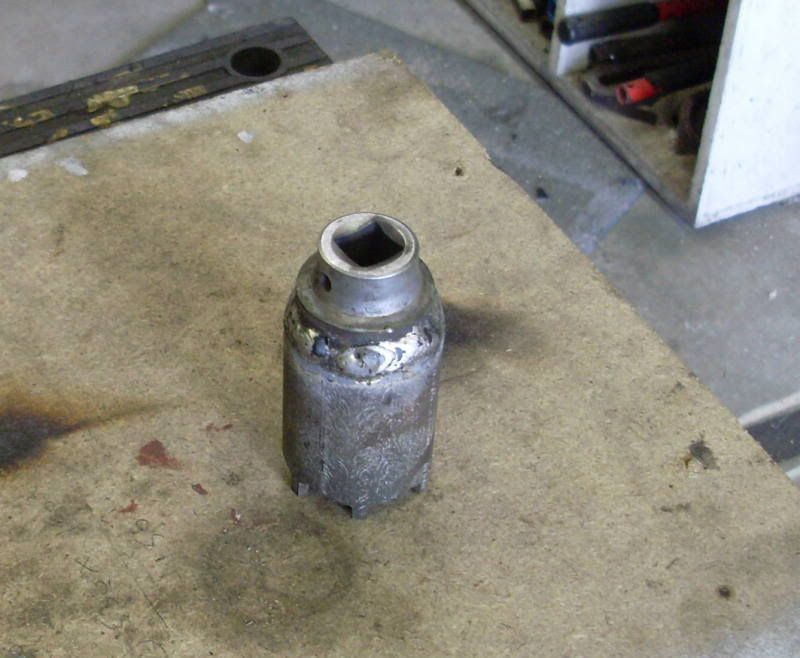 ---
"Travel by Gravel and double your map" - Wardy (Saturn5)

2012 KTM 990 ADV.
K8 WEE - My Mods Blog [url] https://www.stromtrooper.com/forums/showthread.php?t=50363 [/url]