Chain tension adjustment - how to keep socket on the axle
---
'11 DL650A -
What I would like to do is temporarily attach a socket to the lefthand side (axle) nut.
But of course it falls off and needs to be held while you torque the other side.
I find this awkward.
Has anyone got a way to do this?
Picture of my dilemma: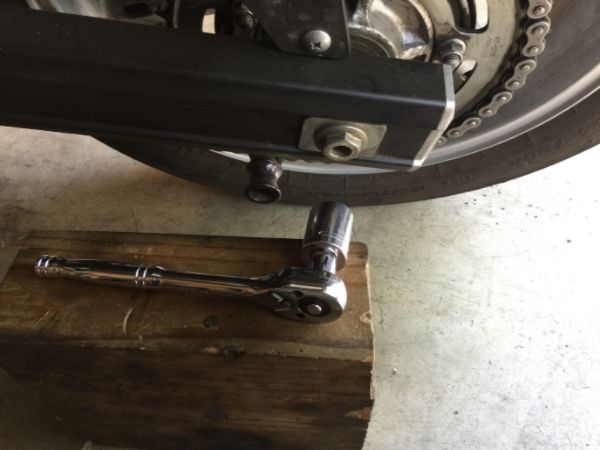 ---

---
Last edited by leehopp; 07-02-2017 at

04:44 PM

. Reason: spelling!
FORUM GODFATHER.....R.I.P. PAT
Join Date: Jan 2006
Location: Evanston IL USA
Posts: 38,049
My experience is the axle doesn't need to be held. Maybe it's because I reverse the axle so the nut is on the left. I found it easier to get the parts to line up that way.
Mine turns as well and I use a Motion Pro combination lever/22mm box end wrench like the one pictured to hold it, while using the supplied 24mm on the other end. I have my axle reversed as per greywolf, but mine still turns (although it is likely that the threads are slightly damaged).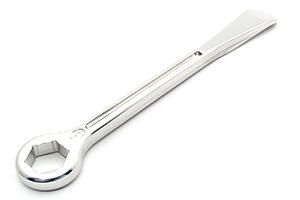 ---
Brad
12 DL 650
00 KLR 650C
Stromthusiast!
Join Date: Mar 2011
Location: Pasadna area
Posts: 13,192
My bolt stays tight when I fiddle with my nut. Until the nut is off the bolt and I'm trying to pull the bolt out it doesn't want to rotate.
FORUM GODFATHER.....R.I.P. PAT
Join Date: Jan 2006
Location: Evanston IL USA
Posts: 38,049
The usual chain adjustment rules apply:
--the chain should need adjustment very seldom. Very, very seldom. When it needs frequent adjustment, it's dying.
--A bit loose is better than a bit tight.
--Sight over the top of the rear sprocket to check that the chain is running straight to the front sprocket, or use one of the cheap alignment tools (or an expensive laser alignment tool). Don't trust the marks on the swingarm as the final setting.
---
"Older people who are reasonable, good-tempered, and gracious will bear aging well. Those who are mean-spirited and irritable will be unhappy at every period of their lives.

"Let each of use properly whatever strengths he has and strive to use them well. If he does this, he will never find himself lacking."

Marcus Tullius Cicero
44 B.C.
PTRider - good points all - thanks!