Grip Heater Switch Location
---
I found numerous posts about grip heaters, but not a whole lot about where people mounted the switch.

I got a set of Symtec heaters and haven't yet decided where to put the switch. It's a round 3-position rocker switch (that I suspect isn't very waterproof!). I don't see a whole lot of convenient places to put it, and I'd be interested in where people have mounted them. Right now I'm thinking about the trim piece that goes right in front of the gas tank. If I put it there on the left side it will be right below my left hand.
I have the same grip heaters. I mounted the switch on the left side of the faring in the black plastic facing up. I did get a water proof switch cover to go on over the switch.
---
Totaled on June 9 2012 08 Victory Vision Tour Premium.
No longer riding due to injuries on June 9 2012.
Same here.
Thanks, guys. I guess that's the only real alternative other than going to a bar-mounted switch of some sort. That's probably where mine will go to
Stromthusiast!
Join Date: Aug 2006
Location: Ottawa,ON
Posts: 156
Scott,

I bought a small rectangular 2 position switch that fits in the blank spot on the throttle side. I had to cut the plastic to enlarge the hole but it was worth as the install looks pretty close to factory. I can switch between high and low with my thumb. I don't have any pics unfortunately.

The hard part is finding a small switch that is the right size. The one I found was 10A and only cost a $1.30 or so.
---
DL650K5 (Silver)
AirCav's comment got me using my head for something other than a place to park my helmet when I'm riding. I've got a Pat Walsch radar shelf on my bike, and underneath it is a very good place to mount the grip heater switch. It's out of the way and less prone to getting wet there.
I cut a piece of aluminum out of an old computer power supply case to use as a bracket. I also added a couple of LED's to show when either side is on. I used very small (1/16") LED's because I didn't want them very bright, just enough to act as an indicator. I also used them because I already had some in my junk box
Here are some photos. Obviously I haven't mounted it yet and plan to do that this afternoon. I'm pretty disgusted with my paint job, but since it will be underneath the radar shelf I wasn't disgusted enough to strip it and start over.
Edit ... The two LED's didn't work out. Apparently there is some cross-connection between the two circuits because when either side is on both LED's illuminate. Didn't do that until I connected the heaters so it must be something in them. I disconnected the top one and am just using the single bottom LED.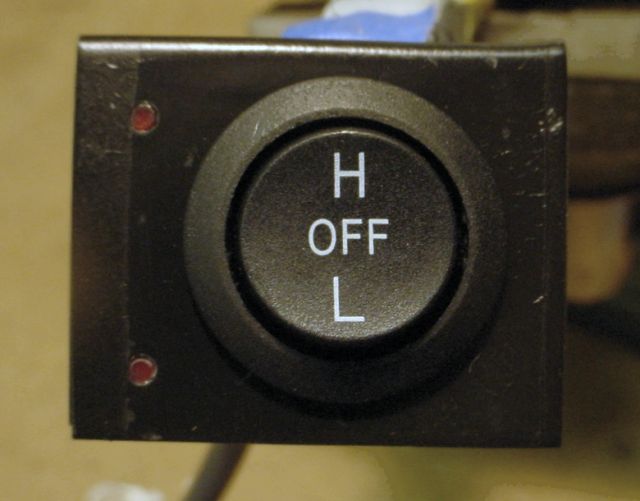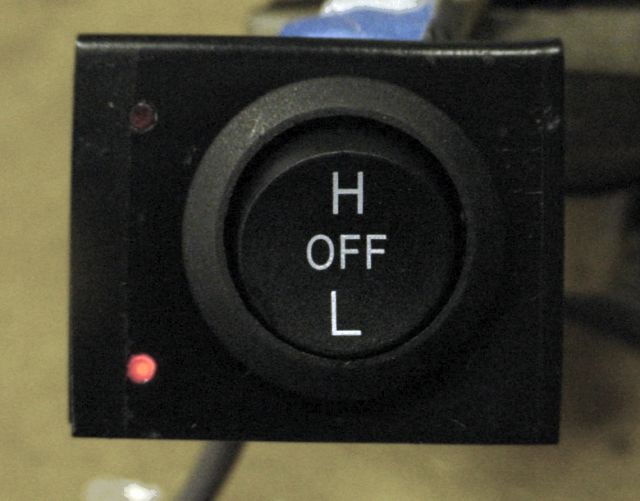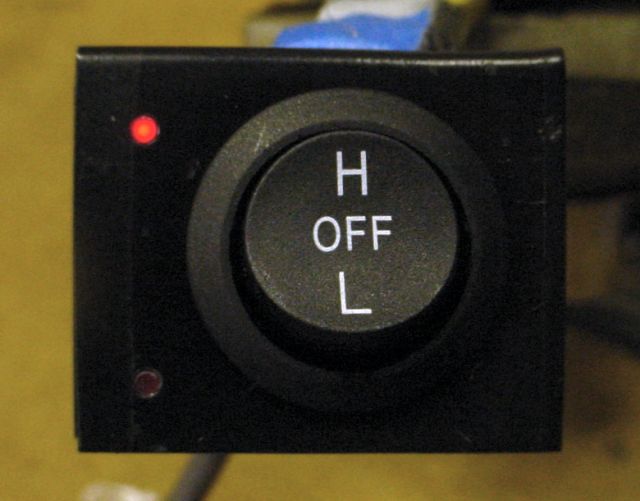 ---
Last edited by SCraig; 01-21-2007 at

01:01 PM

.
Join Date: Jul 2006
Posts: 180
I have the same round rocker switch as shown in the previous posts, and have it mounted on the left trim piece like MightyShep except further aft - immediately below my left hand. Soon after installing it I rode through a rain storm and two days later the low position wouldn't work. I removed the switch and very carefully pried the rocker out of the housing using a small screwdriver. Sure enough, the low side contact was corroded. I cleaned the contacts up with Scotchbrite, coated everything in dielectric grease and reassembled. I've never had another problem and ride in rain all the time.
Maybe Handyhiker could share with us where he got that waterproof cover?
Quote:
Maybe Handyhiker could share with us where he got that waterproof cover?
The cover is for a standard toggle switch, not a rocker style. I got it from an industrial supply place, but I think you could get them at Radio Shack, Lowes or any electrical supply.
---
Totaled on June 9 2012 08 Victory Vision Tour Premium.
No longer riding due to injuries on June 9 2012.
Join Date: Aug 2005
Posts: 59
I would like to know about the waterproof cover too or maybe a waterproof switch. I have the Dan Vesel panel for mounting switches and gages, etc. It is heavy plastic and fastens to the bars between the triple clamp. It has plenty of room for lots of switches, plugs, gages, etc. in an easy to see and reach position but they are not protected from the weather there.

Just Bill