Another Shortened Rear Fender
---
I really hated the long rear fender on my new DL650K7 so after reading some posts by other Strommers I decided to do a fenderectomy.
I first headed out to grab some supplies. I bought a hinge from the local hardware store, some rare earth magnets from an electronics store and an LED tail light and number plate protector from a motorcycle accessories store. I also added some red reflectors after to keep the bike legal.
I took off the bottom of the rear fender (with a saw) and shaped it using a file and sand paper. The fender plastic is quite soft and very easy to shape using the saw and file.
I then screwed on the hinge and number plate. The LED tail light was then added to the flat area of the fender and wired into the old tail light wiring. Finally, I attached two small rare earth magnets to the top of the rear fender for the number plate to attach to. At first I just stuck the magnets to the fender using epoxy glue but the magnets came off after about 24 hours. The plastic fenders have a coating that epoxy doesn't bond well with. To solve this I screwed two small screws into the fender and then epoxied the magnets to the screw heads. This works well and no problems now after 4 weeks on the road. I had to move the registration label around to the left side of the bike and used one of the rear fender allen screws. Next year (when rego is renewed) I might use a tube type label holder and mount it under the top rack.
This was a relatively easy mod and gives the bike a whole new look that is more sporty. When I first started talking about this mod the wife give me some weird looks and was trying to talk me out if it. But now she is impressed and reckons the bike looks way better too.
My only concern is that the LED tail-light doesn't light up the entire number plate evenly. However, I rarely ride at night so I don't think this will be too much of a problem. If the cops give me trouble I'll probably just get a second LED tail light and angle them so that one light shines on the left side and the other on the right side of the plate.
Here's some photos after the job...
From the side: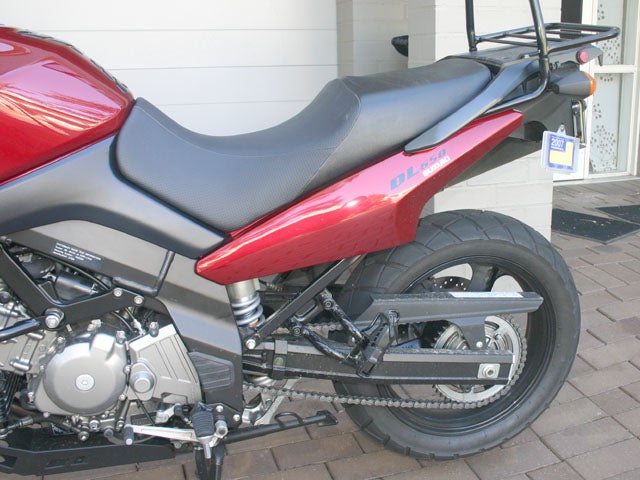 and from the rear showing the magnets in behind the license plate: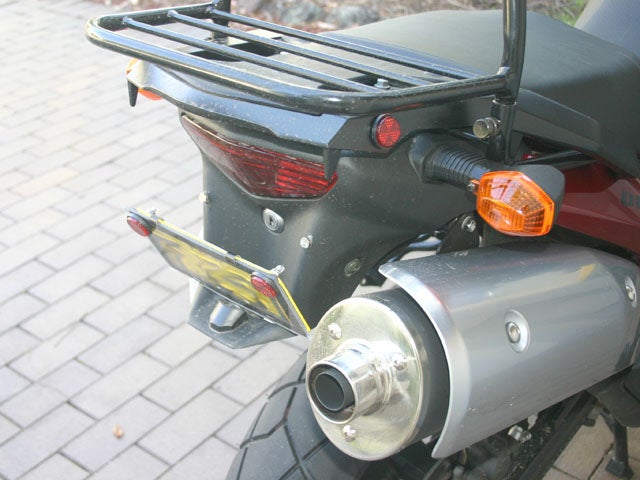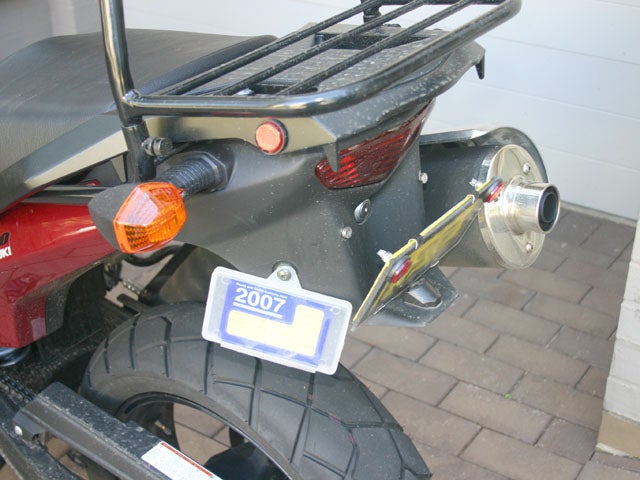 ---
Mat
DL650K7
Suzuki centerstand; SW-MOTECH crash bars and skid plate; Madstad AWM; MRA Touring Screen; Fenda Extenda; Radguard radiator guard; Ventura rack; NEP throttle lock; Suzuki handguards, Stebel Nautilus, Sigma BC906.
Nice and neat mod you got there. Looks like that rack is a quick removal thing ???
---
05 / 650 in blue
88 / KDX 200 in green
81/82 DT 175 Yamahussies
79/SP 370 Suzuki-bad bike-no keep
78/ GT 750 water pumper
75/Suzuki 125 RV
Coppers may also sticker you for not having the fender at 45 degrees to the rear axle (our law in WA)
I reckin its worth the risk though, certainly does look schmick!
Let us know how it goes in the rain, should put up a nice rooster tail!
---
DL650K7, OEM centrestand, Givi crashbars, Ventura rack and bag,SW Motech Quicklock Tank "Trial" Bag, Oxford Soft Pannier Bags, Ventura headlight guard, Dan V Skidplate, Dan V Radiator and Oil Cooler guards, Dan V Luggage protector, Hyperlites, Madstad windshield bracket, Eagle Screen, Pyramid Fenda Extenda, Crampbuster, Kaoko Throttle Lock, Acerbis Handguards, Bicycle handlbar Highways Pegs Mk II, Autocom & UHF CB, Pacsafe.
It looks like your chain is too loose. Maybe it's just the picture.
---
-Tom (DL650AL2) (KA1TOX) (E-I-E-I-O)
This message and images are licensed under the Creative Commons Attribution-NonCommercial-ShareAlike 3.0 Unported License.
http://creativecommons.org
That's 1 CLEAN bike...... nice fenderectomy too....:mrgreen:
---
2014 V2 DL 1000 25 miles and Onward
IF I only Rode in Good weather..
I WOULDN'T get to Ride in Vermont.at ALL!
we have 2 types of roads in Vermont, Unpaved roads and decaying back to .............Unpaved roads..
2005 DL1000 98,547 miles and continuing in the hands of it's new owner
Stromthusiast!
Join Date: Aug 2006
Location: Ottawa,ON
Posts: 156
That registration thingy is huge. Why can't they just make it a sticker like we have here? I'd don't know why bureaucrats can't come up with practical solutions. </end rant>

I noticed some spray on your luggage rack. Do you get spray on you when riding in the rain? That's what has kept me from chopping mine.
---
DL650K5 (Silver)
Super Moderator
Join Date: May 2005
Location: Central OHIO "Go Buckeyes"
Posts: 16,502
Looks good, but now you are illegal, at least in the USA. You don't have a plate lamp, to light up your tag at night. Or is that some kind of light that I see, pointing upwards toward the plate? I also chopped mine off but not as much as you did. You ARE going to have a very wet and dirty back, if you are caught in the rain/mud.
---
BRIAN "GO Buckeyes, GO Wildcats"!
2015 DL650 XT "Hector"
1997 Honda Valkyrie 1500
custom
"Dolores"
---
Last edited by Big B; 11-25-2006 at

10:07 AM

.
Thanks for the comments guys. In answer to your questions?
The rack is a Ventura rack system (made in New Zealand). I had a similar rack on my previous bike (a Kawasaki ZZR-250) and got a new one as soon as I ordered my new DL650. The top section of the rack can be removed and replaced with other items such as a grab rail for the pillion.
http://www.ventura-bike.com/

I checked all the necessary laws in NSW before making the chop and we are a little luckier in that our laws are not as strict as other states. I know that the registration plate laws in Victoria would make this illegal.

Yep, chain was too loose. I checked it after I took this photo and it had 2 inches of play. I tightened it up straight away.

I've ridden a few times in the rain and haven't noticed any difference. You'll see some dirt on the tail but it always looks like this after a shower (even before the fenderectomy). I think dust settles on the bike and when it rains it just turns to mud.

The rego sticker is huge but I have seen bigger (especially in Europe). I do have a plan to fix this though at the next rego renewal. In our state, the law states that the rego sticker must be attached to the rear of the bike (near the license plate) and readable by someone when required. I'm going to install one of these (it's a plastic tube that you use to insert your rolled up rego label):



There is a small LED tail lamp that sits underneath the license plate so that the bike is legal.

---
Mat
DL650K7
Suzuki centerstand; SW-MOTECH crash bars and skid plate; Madstad AWM; MRA Touring Screen; Fenda Extenda; Radguard radiator guard; Ventura rack; NEP throttle lock; Suzuki handguards, Stebel Nautilus, Sigma BC906.
I like it. Nice work.
---
Kawidad
2007 DL1000K7