Join Date: Sep 2006
Posts: 28
Handlebars and handguards
---
I just installed a new farkle yesterday!!! The stock bars for me were kinda high and very pulled back. At first I was going to order a set of moose cr-hi bars, but was uneasy about not being able to see them in person first. So I went to the store and tried out a few bars and a pair or o'neal( they look the same as moose,msr,etc) carbon steel bars fit the bill. They are just a tad shorter than stock, but with way less pullback. I think they feel great.
I also picked up a set of Cycra composite probends. I liked the look of them better than stock, and they were larger than acerbis rally pros.
I installed them all yesterday and the only mod I made was cutting off the nubs on the switchgear, other than that, they went on fine. They just touch at full lock, but they are composite so they felx a little.
Here are some pics.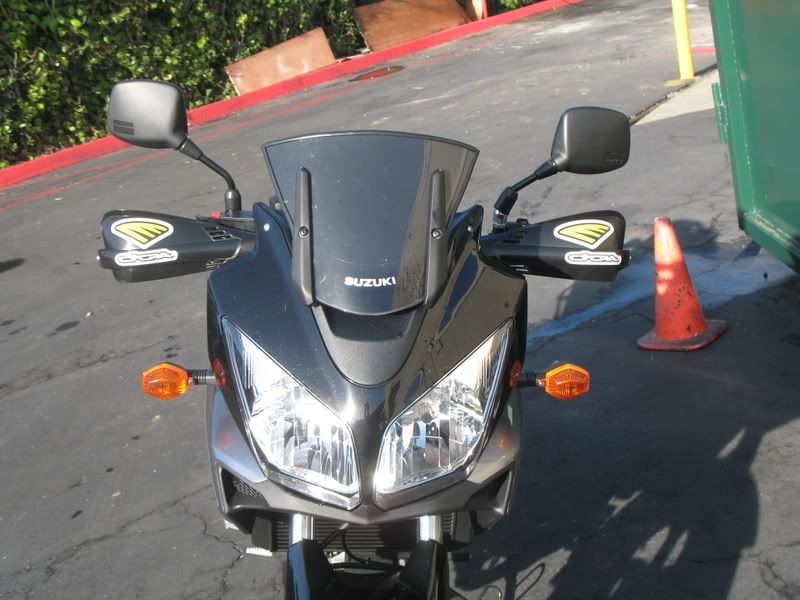 Join Date: Sep 2006
Posts: 28
Well I hand a chance to test them out today. They seem much more natural in cornering. My wrists feel better and my arms aren't as contorted as before. I do notice slightly more vibration, but not enough for it to be a problem.

The fun part is when riding at lower speeds ie; in the city or around some tight switchbacks, it puts you in a more aggressive position and makes you feel like you can throw the bike around. I love it!
So, is it the CR bend or what? Do you have long, short or normal arms? So we can figure out the body angle question.
---
Kawidad
2007 DL1000K7
Join Date: Sep 2006
Posts: 28
Its the cr bend ( sorry). Im 6ft tall with abnormaly long arms. I also have pretty long legs. I plan on buying raising links soon.

The stock bars kept my arms bent at a pretty bad angle when sitting striaght up. The new bars don't make me lean any more foreward, and I get to keep my arms straighter. I feel as though i have more control over the bike. These were picked up at cyclegear in case anyone wants to try them out.
Super Moderator
Join Date: May 2005
Location: Central OHIO "Go Buckeyes"
Posts: 16,501
Those hand guards look good, beefy and tough. How much, how was the install, and can the stickers be removed?

BB
---
BRIAN "GO Buckeyes, GO Wildcats"!
2015 DL650 XT "Hector"
1997 Honda Valkyrie 1500
custom
"Dolores"
Join Date: Sep 2006
Posts: 28
They were $69.99 The stickers come off easy and the install was easy enough on these bars. Im sure the stock bars have to much sweep. I could have bought acerbis for the same price but I like that the actual guard is larger.