Scorpion Stainless Exhaust for DL650 - Installed
---
I finally decided to upgrade the exhaust on my k5 DL650. After much research, I decided on the stainless model from Scorpion. The reviews said it was not too loud, never needs repacking, and has a lifetime warranty. A quick check with my preferred farkle vendor, amotostuff.com, and I located what I needed for a very reasonable $287, free shipping and no sales tax :lol: . Like always, Adv. Moto Stuff was on the ball, I ordered Wed. afternoon, and the box via UPS was on my porch Friday afternoon (Reno to So. CA). The product looked to be of very high quality with a nice fit/finish and polishing.
The install is quite simple, and the instructions are limited to a diagram showing the parts. I like that "RACE ONLY" warning:
Ignore the two parts pictured below (#10 and #11), they will not be needed unless you find a reason to ever reattach the stock muffler. This is where the diagram could confuse some people.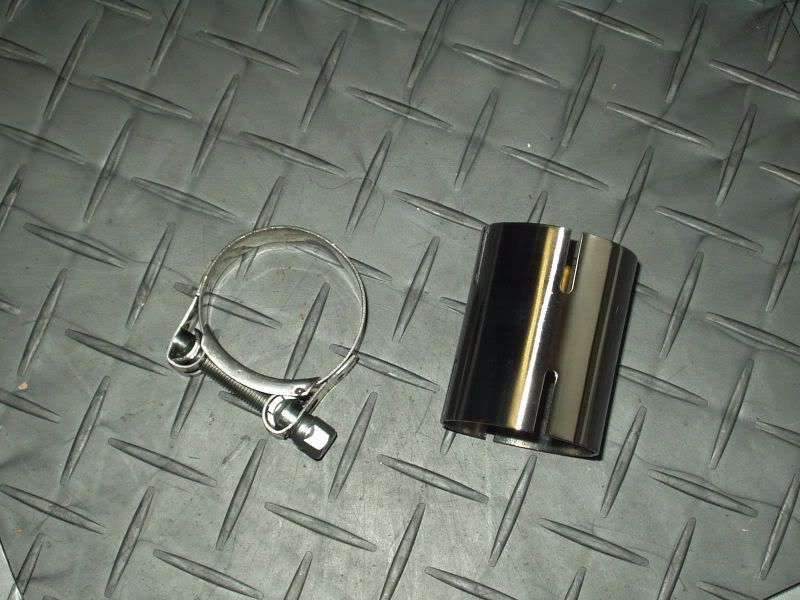 First up, I quickly removed my Motech racks/panniers and the right side passenger peg mount. Then you need to remove the lower black plastic heat shield (3 allen bolts). Now the important part, measure 50 mm up from the center of the lower shield bracket. As Norm says "measure twice cut once", I used a set of calipers and a silver sharpie.
Then a couple of zip ties to mark the cut line and hopefully allow a straight cut: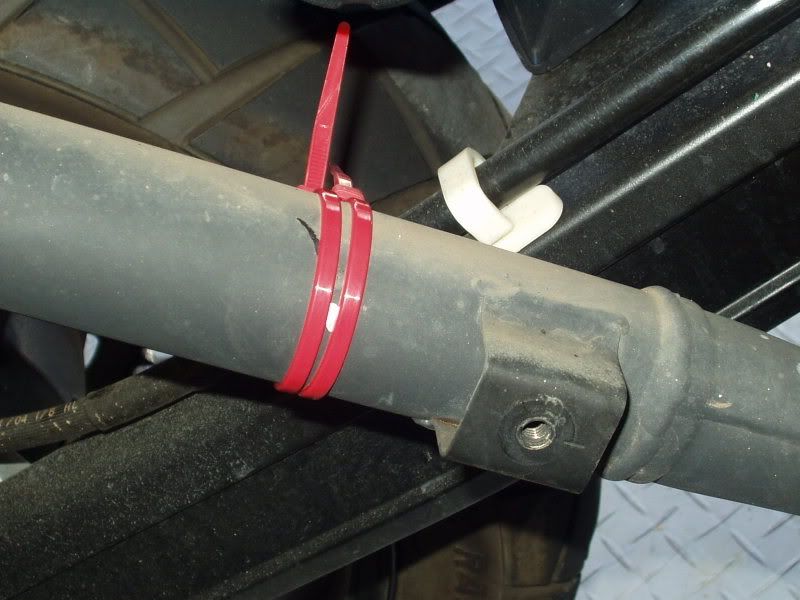 You won't be able to get a full size hacksaw in there to cut the pipe, so I choose one of these: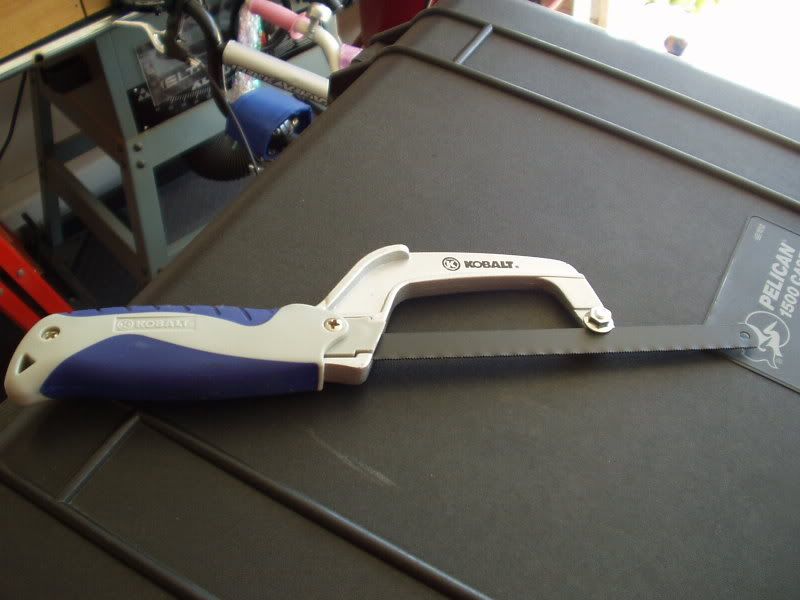 It took about 15 minutes and a couple of kinked blades, but the cut came out just fine. A sawzall or air cutter would have been easier, just make sure to cover the brake line on the swingarm so you don't do any unintended cutting. I thought about using my dremel, but it would be a litle awkward in the tight confines.
Next, unbolt the two bolts that hold the stock muffler on and remove it. Now I figured I'd better fire up the strom just to "make sure" that no metal shavings remain in the open pipe :twisted: . Man did that 650 sound sweet with no muffler! Very loud, kind of like a top fuel v-8. I fought off the urge to drive around the neighborhood reaking havoc, and proceeded to the next step. From here, it's about a 10 minute job to fit the mid pipe, two clamps, the muffler, and the mounting strap. Everything fit perfectly! If you did a good job measuring that 50 mm, the stock heat shield bolts right back on using all three bolts, one of which comes on the new mid pipe.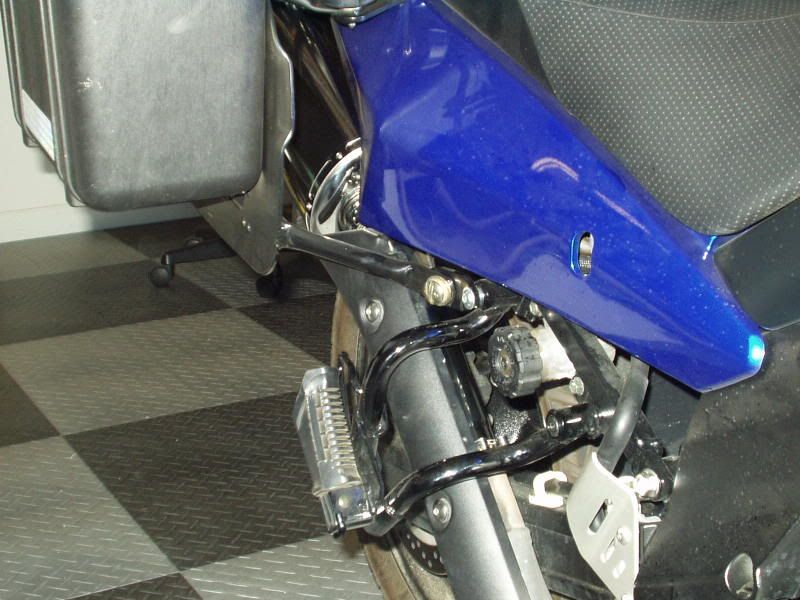 The can looks really nice in stainless, too bad it will be hidden behind my Pelicans.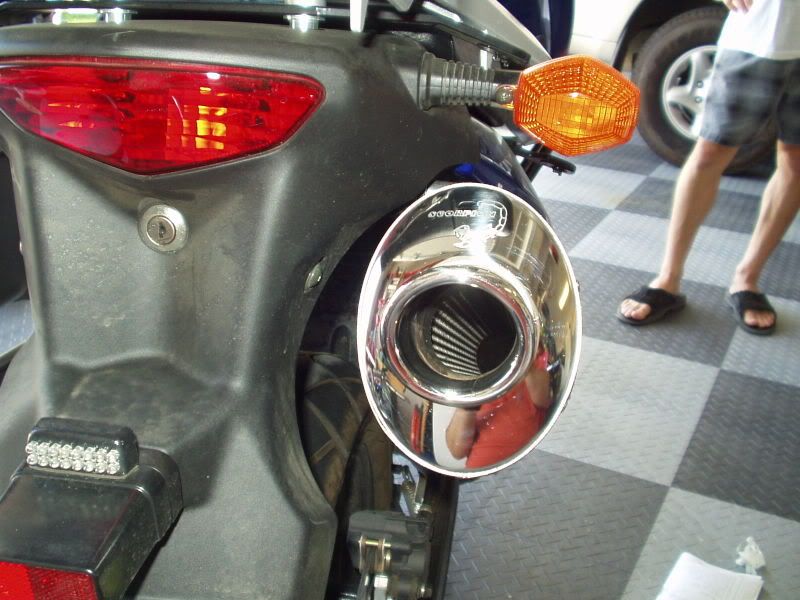 Still plenty of clearance between the new can and the SW motech racks: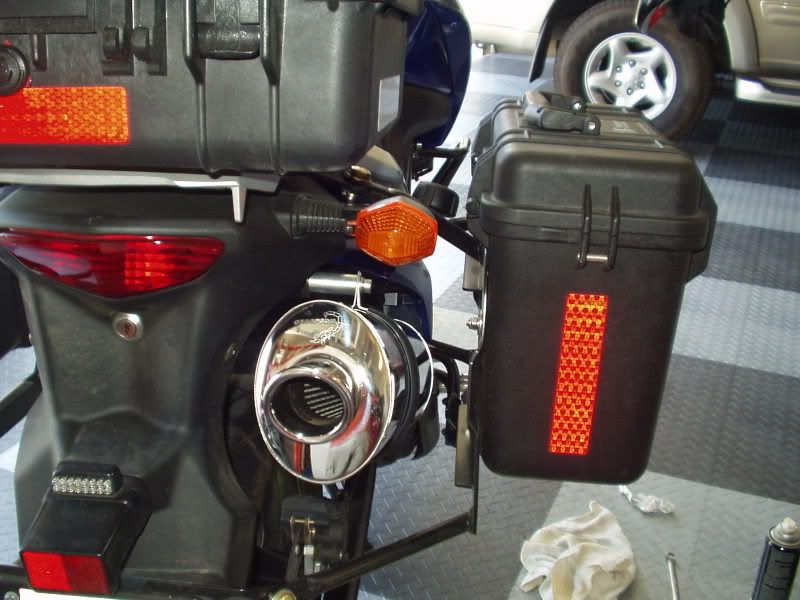 Here's a before/after shot comparing the Scorpion with the stock can. The stock is at least twice the weight of the stainless Scorpion:
Now for the moment of truth, fire up the engine and listen to the very nice throaty growl of the v-twin. It sounds great, not too loud, but just the right amount of throaty growl to remind you that this is a motorcycle and not a sewing machine. I'm on Mr. Mom duty this weekend, so I have not had a chance to test it out yet, but my buddy did go for a quick ride and it sounded really good. Overall, I'm very pleased with the Scorpion product. The price was excellent, and everything fit perfectly. With a sawzall, this would have been a 20 minute install. :P [/img]
Stromthusiast!
Join Date: Jun 2005
Location: Kamloops, BC, Canada
Posts: 327
Excellent post - thanks!
(PS I like your garage floor. I guess you don't have to worry about ice & snow making it slippery :cry: )
Al
---
"If our world didn't suck - we'd all fall off!"
Anon
No ice and snow out here, just the occassional spilled cocktail in the garage. Actually, the floor is race deck tiles, and they are not slippery when wet.
Stromthusiast!
Join Date: May 2006
Location: Jax. Beach, Florida
Posts: 223
Bingo!

I went with the same can and installed it last weekend. The Scorpion Exhausts are the best bang for the buck out there.

I'm extremely pleased with the Quality, Appearance, Cost, and the mellow sweet sound of this End-Can. :wink:

Great job on your write up procedure and quality pictures. 8)

Cheers!
---
Richard #3125
Blue 05 DL650
Yellow 04 SV650N Scantily Clad
what did you change your fuel map to? btw excellent installation!!
Quote:
Originally Posted by Vinny
what did you change your fuel map to? btw excellent installation!!
Thanks. There's no need to change the fuel map with this pipe.
I just had the local shop help with the install of my Scorpion carbon slip-on. Thankfully, I read this first and knew that parts 10 and 11 were for reinstalling the OEM pipe. It was hard to convince the mechanic we didn't need them. Sounds great, by the way. I was worried it would be too loud, but it's just as you described - a bit throaty and more like like a motorcycle. It didn't seem to change the power one way or the other, but that was expected. Carrying the stocker home drove home how heavy that sucker is.
Looks like a perfect fit. Where do you find just the arrestor?
How much louder than stock is it while cruising (60mph - 90mph)? One thing I like (compared to my SV) is being able to ride without ear plugs (since wind noise is almost nill for me).
Quote:
How much louder than stock is it while cruising (60mph - 90mph)? One thing I like (compared to my SV) is being able to ride without ear plugs (since wind noise is almost nill for me).
Wind noise is still louder than the exhaust noise for me above 60, but I have a short windscreen on for summer and a noisy HJC Symax helmet. Maybe I'll hear the exhaust more when I get the larger cool weather screen back on in a couple months.