Stromthusiast!
Join Date: Jul 2008
Location: Prince George (icky) BC Canada
Posts: 320
DL1000 stock skid plate for DL650...?
---
Hi folks, just purchased my first DL650!!!

Now the farkle research begins.

On that note, can one easily fit the stock DL1000 skid plate on the wee?

And if so any suggestions on where to get one (ie: should there be a glut of them around given the DL1000 is no longer being made)?

Are they a good choice if one wants to protect their underbelly (ie: only to be used on gravel roads, no boony bashing) but does not want to have the hard core look/cost of a full on metal bash plate?

Thanks!
It's not easily retrofitted as the oil cooler doesn't have the brackets built into it.

Besides...it's not much of a "skidplate" being plastic.

If you're looking for good protection I'd suggest going a different route.

BTD.
Check out the Hyde Racing skid plate if you don't want to do a metal one.
Stromthusiast!
Join Date: Jul 2008
Location: Prince George (icky) BC Canada
Posts: 320
Thanks folks. I'm about 5 hours into this web research and I think I've seen them all (including the Hyde which has some visual issues for me).

I've purchased an oil cooler and radiator screen upgrade from Dan Vesel and a Fenda Extada so I'm thinkin given the type of riding I plan on doing (ie: only logging roads for off pavement), I may be able to get away with only that for protection. I was hoping the DL1000 might be an easy retro and fill in the space a bit while at the same time offering some gravel road protection (for cheap). Looks like its not meant to be.

I will be mounting the SW Rally bars given the extra protection but there does not seem to be any retro kits out there for plates other than the very expensive SW version which is overkill for me. Too bad I'm not that handy so I could fashion something up.

Hmmmmmm, the research continues......
If you are really set on fitting the 1000 pan it doesn't take too much effort. I have one on my wee with a little cutting; here are some pics.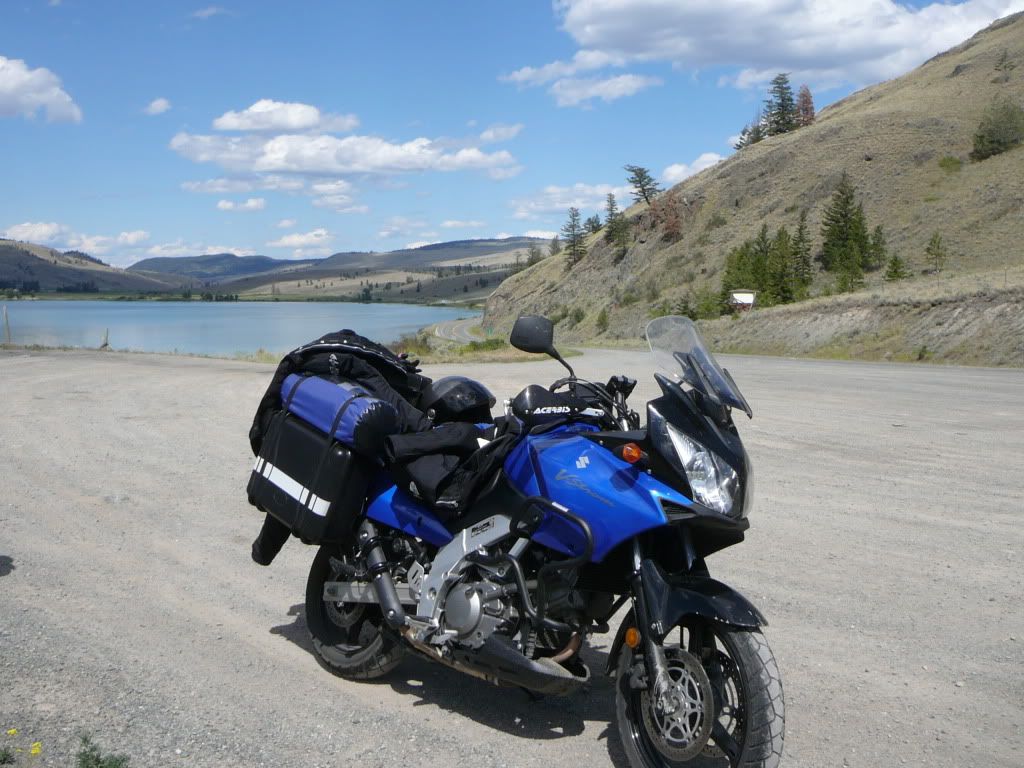 Stromthusiast!
Join Date: Jul 2008
Location: Prince George (icky) BC Canada
Posts: 320
Thanks Stevestrom, I had passed on the idea as it sounded like there was some fabrication required (I'm not very handy) as I think the DL1000 has a bracket/attachement point that the Wee doesn't...?

Looks good on your bike, do you have any instructions on what specifically (and how) needs to be done to do the retrofit?

I'm sure their must be a thread out there (like most things) which has that already but I'v not had any luck finding it.

I'm thinking this is the way to go for me given I have the oil/rad protection coming from Dan Vesel and a Fender Extender is on its way so all I need now is some oil filter/underbelly protection from gravel road rocks n such.

Thanks again for your picture follow up, I'm cautiously hopeful!