Stromthusiast!
Join Date: Mar 2005
Location: Mt Clemens, MI
Posts: 99
And the farkling continues......
---
I've had my Wee for a little over a year. I bought it used, with Suzuki handguards, a JC Whitney topcase, SW Motech crashbars, skidplate, & center stand.

I immediately installed head & brake light modulators.

The bike was high for me, so I made some dogbones to lower it 3/4" & raised the forks. Much better.

I hated the seat, so I started modifying. I tried different foams, gel, neoprene... I've reshaped it so the front section is longer so I can move around on long trips. Finally, I removed most of the foam & slapped on an Airhawk. After narrowing the seat a bit, it's PERFECT!

I have arthritis in my right hand, and longer rides were geting painfull. A NEP throttle lock & a Crampbuster worked great for that.

My F150 is getting too expensive to drive, so the Wee needed more carrying space. SW Motech Quicklock racks & Doskosport cases did the trick. Easy on, easy off.

A cheap 12v compressor went under the seat.

Where the hell am I?? On went the Garmin GPSmap 76 stolen from my boat. It needed power, so a sealed marine cigarette lighter went in.

Hey, I just bought an XM2go-- I guess I need a powered tank bag to run power to my GPS & XM reciever.

Last weekend I made a 400 mile trip & everything worked great, but on the return it was about 45 degrees with scattered ice cold rain. I was getting cold under all the fleece & wool I can wear. I guess I'll have to come up with a heated liner.

Oh yeah, I need some reflective stickers on my side cases. The seat is now too close to the ground & foot pegs, so I get to make another set of dogbones.....

And it continues....... :roll:

ChuckS
So where are the pictures :?:
FORUM GODFATHER.....R.I.P. PAT
Join Date: Jan 2006
Location: Evanston IL USA
Posts: 38,049
Changing the dogbones will not change the relationship between the bags and the passenger pegs.
Stromthusiast!
Join Date: Mar 2005
Location: Mt Clemens, MI
Posts: 99
A quick pic from Sunday
---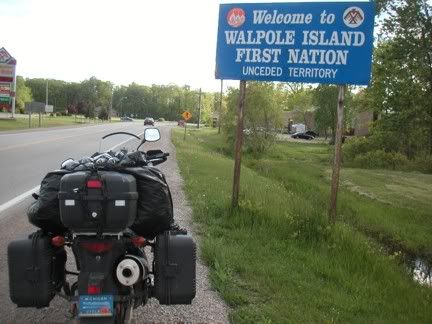 Gotta love the high tech duffel bag cover.
ChuckS