Vstrom bicycle rack ???
---
Has anybody ever built a bicycle rack for a Vstrom ??

Alan..
---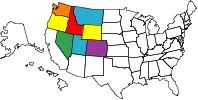 "there's no fighting in here, this is the WAR ROOM!"
2015 ktm 690r
The Divide, been there done that
Past bikes-
05 dl 650
07 dl 650
ktm 990
I was thinking about this a few days ago. I had envisioned a sideways rack with both wheels removed. Ideas are plentiful, but doing the work takes time. I'm glad someone tried it.

I fly R/C model airplanes in the Summer. When I was stationed in the Philippines, I toted my model on the back of a Yamaha XS-400. The model had a 44" wingspan, so that's how wide it was on the bike. I used to have a photo, but it may have been lost in a divorce. I'll look around.
Yeppers
---
Just finished mine last night. First test ride was this morning and it worked great. Still have a little finishing work to do (sand and paint). Once I learn how to post pictures on this site I'll post some. Long story short, it can be done and safely.

I used the passanger peg on the left side as my front attachment point and built a L shaped bracket to support the rear of the rack. The bicycle mounts up kinda beside the motorcycle which keeps it lower and from acting like a sail which can happen when you mount them up high on the rear rack. I run a trunk too, so the rear rack mount wasn't an option. I can see it in the mirror when riding but it does not make contact or come near touching any part of me while riding.
---
[SIZE="1"]2006 V-Strom 650, 2005 KLR 650 (Sold), 1998 KLR 250 (Sold), 2000 Kymco Cobra Racer (Sold, it was a scooter - does that count?), 1978 YZ125 (Sold), 1989 KX 125 (Sold), 1984 DR 125 (Sold), Misc Mopeds (Sold)[/SIZE]
---
Last edited by DblD; 03-17-2009 at

10:39 AM

.
I decided to build a small light weight single wheel trailer.I have a passenger and full givi bags (3 ) so a rack isn't going to work.Thanks for the help..
I'd like to come up with a way to tow the tandem behind the vstrom...but maybe that is asking too much. Have to wonder how long the tires would last at 60 mph.
---
POS Chinese scooter - glad its gone
2005 Yamaha Majesty - liked the bike hated the dealer - its gone too
2007 Suzuki Burgman 650 - totaled April 2nd, 2008
2008 wee - 2900 miles in 5 weeks...weeeeee!
"Are we really crazy to get back on one of these things after falling off and expect a different result?"