Stromthusiast!
Join Date: Apr 2017
Posts: 15
Dry Duffel..WM, GL or Nelson-Rigg?
---
Hi all,

I've decided to go with a soft bag setup for DL1000. I have average set of Cortech saddlebags with the bike which I will replace eventually.

But for now I want to start with a dry duffle bag. The main contenders seems to be the Wolfman, Giant Loop and Nelson Riggs.

I want a good qualifty, waterproof and able to add the dry saddlebags laters.

I see the GL access roll up from either end, not the top. Good or bad from people's experience?

The Wolfman seems to have the better integrated "system" witj it's matching saddlebags, but it's LARGE duffle doesn't seen that large?

The Nelson-Riggs looks great, and is again an integrated "system" with dry saddlebags and is less than 1/2 the price of WM, but am I sacrificing quality?

I want a quality system as I intend to use for years.

Also, do the WM and NR saddlebags require racks to mount?

Thanks all in advance
I use the Wolfman Medium Exp Dry duffel. Great quality and waterproof. Comes with straps for mounting.
It carries all my camping and cooking gear and more, does not interfere at all with the side cases.
I've had good luck with their tank bag too.
---
Henry

"Rock bottom will teach you lessons that mountain tops never will..."

2016 V-Strom DL650 (red) 'Sweetness'
2011 V-Strom DL650 (white)
If you check out your local outdoor stores (eg. REI), they have a good selection of dry bags. Used a lot for canoeing and kayaking. Usually less expensive than motorcycle specific ones.
And (don't laugh), Wal-Mart has a pretty good selection lots of times and for a very reasonable price.
Stromthusiast!
Join Date: Mar 2016
Location: Mount Olive, NC
Posts: 141
I have used the Firstgear Torrent waterproof duffel for a year now. Several trips with anything from camping to normal overnights in a hotel. I got the 70 liter one but they have a 25 and a 40L also and it's not so pricey as some of the others. I have been really pleased with it overall.
https://www.cyclegear.com/accessorie...ent-duffle-bag
Also, from drrod - "And (don't laugh), Wal-Mart has a pretty good selection lots of times and for a very reasonable price."
Above is a true story - I found an Ozark Trail one that looks literally JUST LIKE the Firstgear for $30. Basically the same.
---
Jes
2014 V-Strom DL1000

"Dress for the slide, not the ride!"
Stromthusiast!
Join Date: Mar 2011
Location: Pasadna area
Posts: 13,207
I've got a couple old dry bags that roll from the end. Never did care for that feature. The bags that open along the side I would think could be more convenient.
The motorcycle specific bags seem overly pricey. Check with the sporting goods store, outdoor store, like Cabela or Bass Pro Shop, and the Wally World.
You may save hundreds$.
I have both the Duffle that sits on the pillion seat(SE3000) and saddlebags from Nelson Rigg. Each have about 10K miles on them and I have zero issues with quality. My saddlebags are the first generation and the new ones have a ton of upgraded features for a very reasonable cost. So far they are all 100% waterproof.
https://www.nelsonrigg.com/luggage/s...65-detail.html
---
'15 DL650XT
"You do your own thing in your own time"
---
2007 Wee. Not new but new to me. Haven't named it yet.
1985 CB650SC custom scrambler build "The Falcon".
For Best quality and long life I can recommend the SealLine Widemouth Duffle 80L. Silly expensive at $110 these days...but perfect for "over the passenger seat" mounting.
(4) heavy duty D-rings on the bottom, inset a few inches on each corner. All you need are (2) 18" heavy duty bungee cords to mount. My duffle is leak free after 6 years of abuse. Black bag w/ black bungees: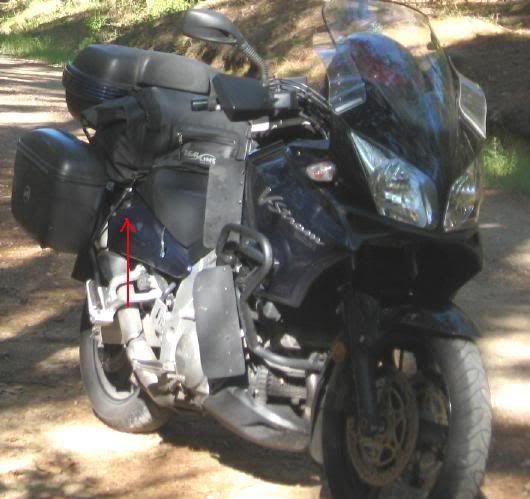 Shallow front pocket, (2) side pockets on the outside for quick access to small items. The wide-mouth, roll-top makes for easy packing.
I got the 80L. size because I seem to arrive home with a lot more than I left with. Experience shows that at least 30% of total packing space needs to be available for ride souvenirs. The top rolls down, which minimizes the size until you fill the inner space.
---
Austin
2002 DL1000 - 70K of joy, so far...
1978 GS1000 - One owner, still putt'n