SW-MOTECH On-Road / Off-Road Footpegs
---
So I got a set of these for Christmas from TwistedThrottle.com (Santa). Installed today, really easy but took me a bit longer because I was taking pics. Unfortunately, some of the pics were corrupted by my $4 card reader. I installed them in the lower position to allow for my big foot to get under the shift lever. I won't be riding soon as I hurt my ankle so the ride review is a way off but seated in the garage, they feel much more substantial than the stock pegs. Also, the quality of the materials/machining is excellent. The stock peg feelers do not fit in the SW-MOTECH pegs, incorrect thread size.
Needed for install:
13mm wrench
11mm socket/ratchet
needle nose pliers (pin clip removal/installation)
blue threadlocker
Including a link to the pics that did get processed and one of the final product inline.
Peg Album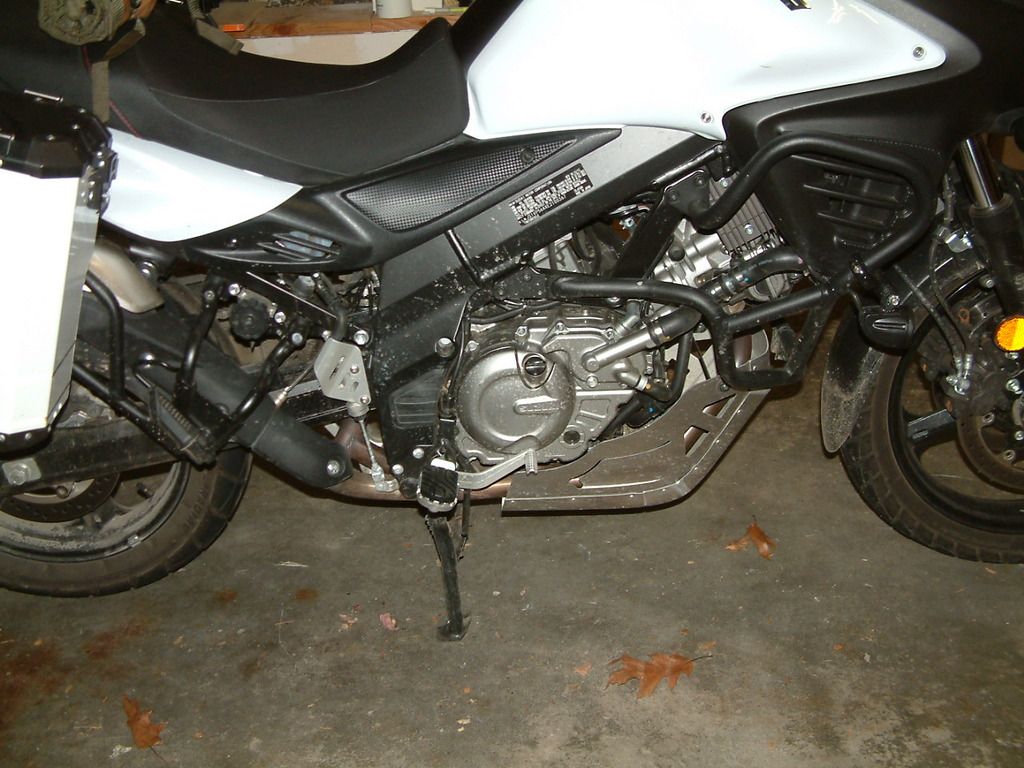 ---
_______________________________________________________________________________
There are 10 types of people, those who know binary and those who don't.

What I ride now:
2013 Honda GoldWing (The Lady)
2014 V-strom 650 (The Mistress)
Previously: 07 Ultra Classic, 95 Softail, 80 gs450l
Stromthusiast!
Join Date: Apr 2014
Location: Northern Idaho
Posts: 402
Nice! Those pegs were on my short list for the DL. Now I have two long lists of farkles for our two new DRs. No end in sight...
---
Current: '17 R1200GS Adventure, '16 DR650SE, '15 DR200S
Past: '14 DL1000A ADV, '07 DL1000, '01 K1200LTC, '89 ZX10, '81 KZ650, '75 DT400B
Stromthusiast!
Join Date: Jan 2014
Location: Charleston, SC
Posts: 193
I've had them on my bike for a few years. Love them. It's also great that when the rubber wears out, it's a simple fix to replace the pad with a new one. Only downside is they don't always have just the pad in stock, so I recommend buying 1 when you see it. My right pad looks barely used but the left is worn heavily. Other than that, it's awesome. Make sure to leave Santa some good cookies next year.
---
The Original Jacketslacker
Riding since January 2014
2011 DL650 ABS
Stromthusiast!
Join Date: Jan 2017
Location: Suburbs of Chicago
Posts: 54
Very nice, I plan to get these for my bike soon. I learned very quickly that the stock pegs are not too good once you get your boots wet and muddy.
Stromthusiast!
Join Date: Dec 2014
Location: CT
Posts: 603
Took the bike for a burst yesterday, About 40 minutes. Like these a lot, definitely better footing. When the weather provides for a better ride opportunity, I can provide another update.
---
_______________________________________________________________________________
There are 10 types of people, those who know binary and those who don't.

What I ride now:
2013 Honda GoldWing (The Lady)
2014 V-strom 650 (The Mistress)
Previously: 07 Ultra Classic, 95 Softail, 80 gs450l