Driving Lights and Setup
---
Hello Team,
On my previous bike i ran LED Driving Lights, and i am looking for information and suggestions on how people have mounted lights on their Stroms? i have a 2010 650 V-Strom
Thank you in advance for the information!
My previous setup
I got the Denali DR1's. They seemed expensive and a hassle to get hooked up to the bike, but now I think they are one the best additions I could have done for my riding. I see 10 times better at night and during the day it really helps other drivers see me. I have noticed a huge drop in people cutting me off and pulling out in front of me. They are absolutely worth the money.
Stromthusiast!
Join Date: Jan 2014
Location: Charleston, SC
Posts: 193
I have Clearwater Lights. I think it's the Glenda model but could be wrong. I've got them mounted at the fender attach bolt. They're nice because I can choose how bright I want them with a control knob. And when I hit high beams they automatically go to max. Not cheap but Made in USA.
---
The Original Jacketslacker
Riding since January 2014
2011 DL650 ABS
Stromthusiast!
Join Date: Oct 2015
Location: Jacksonville, Fl
Posts: 433
---
2005 DL1000 - Nadine
2015 Triumph 675 Street Triple R
2007 Honda "Fiddy"
looking at these too. haven't made up my mind yet. need more research
Stromthusiast!
Join Date: Sep 2015
Posts: 131
---
Last edited by DeusExMaxima; 10-16-2015 at

02:37 PM

.
I put those on my Vee2. Very nice. Two thumbs up. I got one spot and one flood. I put the flood on the right side and the spot on the left.
I use his mounting bar, harness and switch. Good documentation online but the harness is a bit generic, so you will be trimming and soldering or bundling the extra lengths of wire. Not hard at all, especially if you know a little about electrical. I found the hardest part was getting to the tail light wire as my switched source, but that's just me.
---
Last edited by RCE1; 10-16-2015 at

04:20 PM

.
Homemade highway bar and $20 10W LED's from Amazon....they just did 8500 miles and were "ON" the whole time: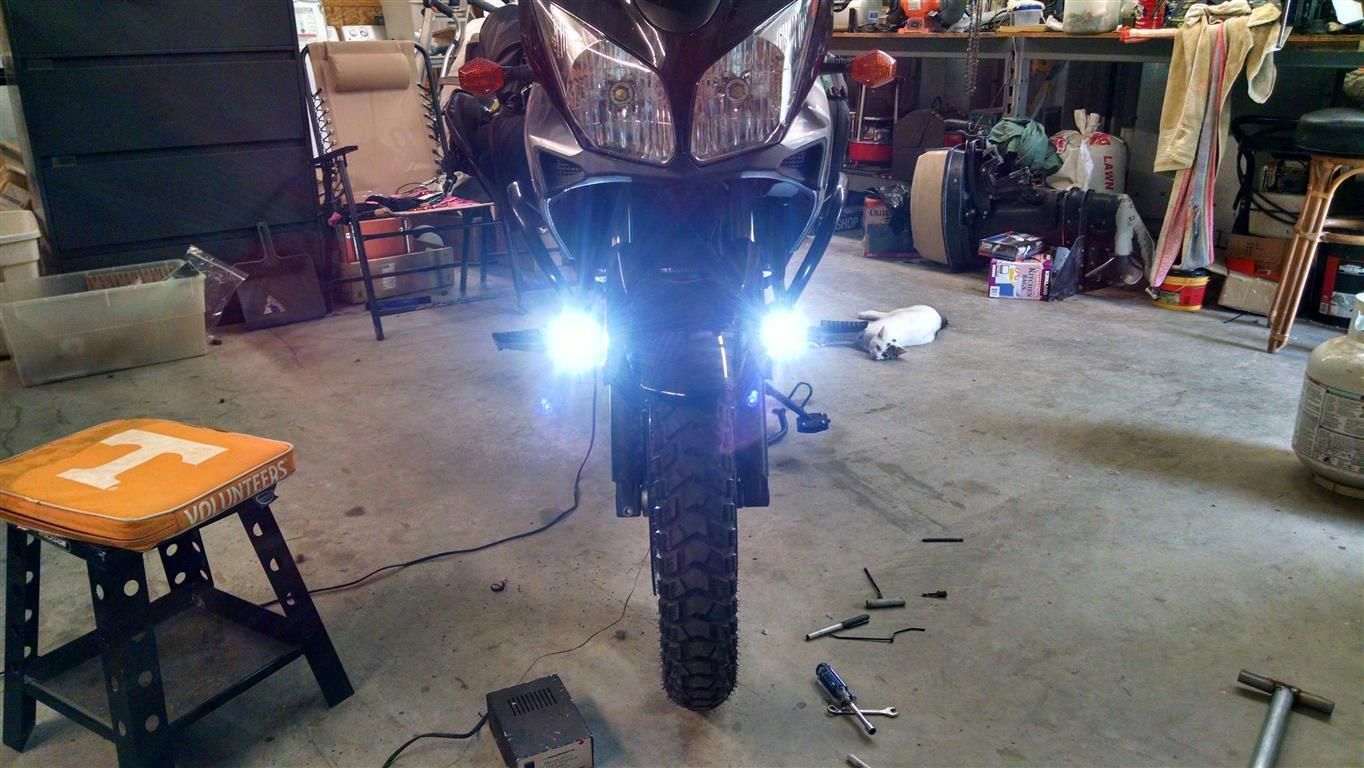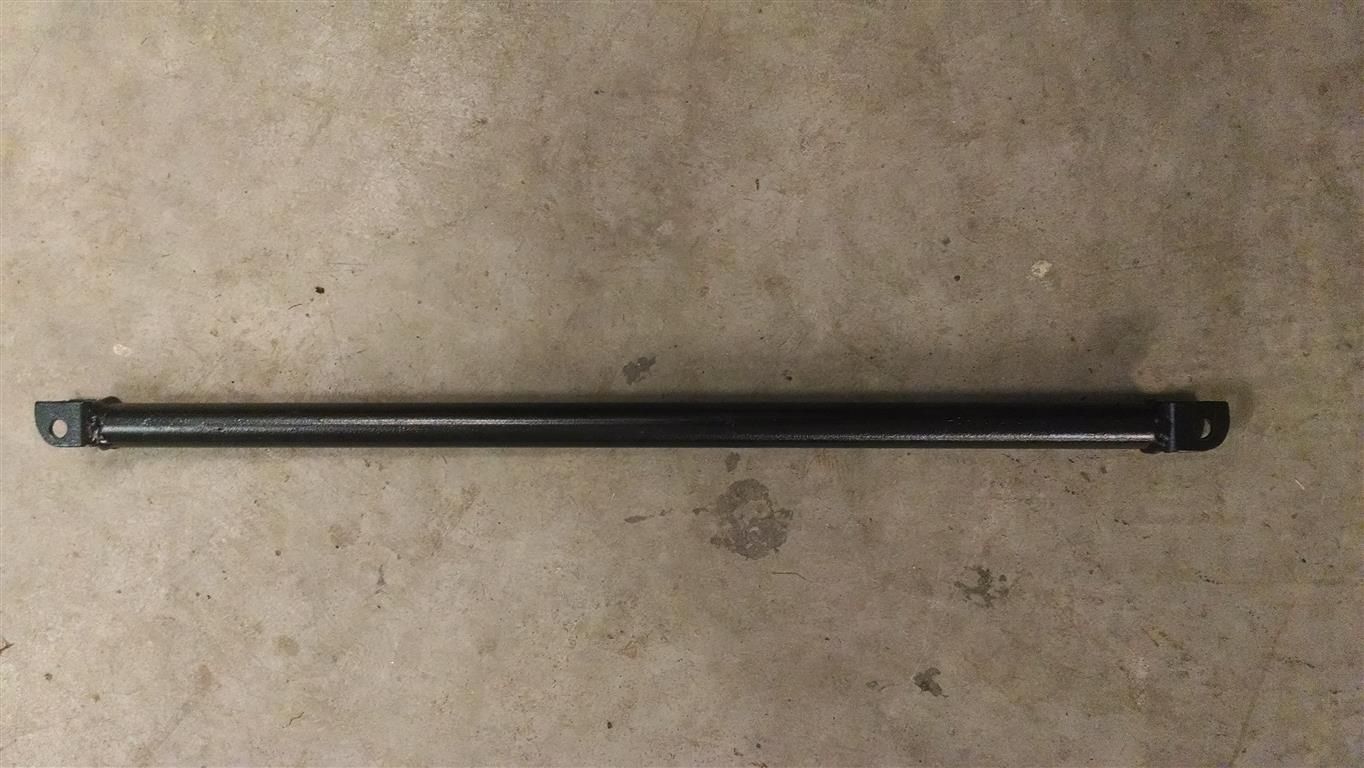 ---
'15 DL650XT
"You do your own thing in your own time"
---
Last edited by Motor7; 10-24-2015 at

06:45 AM

.
Stromthusiast!
Join Date: Dec 2010
Location: Middle GA
Posts: 17
Like that stool! I'm from KPT.
Stromthusiast!
Join Date: Apr 2013
Location: Greenville, Tx
Posts: 1,273
Well I assume you are only asking for a mount and not light recommendations since it seems like you already have some. Those lights on your ST look like ADVMONSTER lights. I have a set of those sitting around somewhere as well. Great lights at a Great price
Anyway you are a bit limited on the bike. I was going to try to find a way to mount them up higher than the headlights (where driving lights should be) on the fairing but gave up on that. I think I could by making some brackets and adding a reinforcement plate on the backside of the fairing but I'd be worried that if I binned it off road that the plate and lights would break the fairing apart or rip though.
When I was running my Model 30s on the Strom I had them mounted on the fender bolts. A broken fender I can deal with. But When I dropped the bike they were usually protected from hitting the ground.
One option I have been looking at is a light bar mount from Adventure Tech that they sell for 28 dollars which to me is a fair price. It still doesn't mount them over the headlights but gets them further up than using a fender mount.
What combo of lights did you run on your ST? Looks like maybe a 30 and a 44. I was running two 30s but have been wanting to replace one of them with a 44 so I've got one spot and one flood.
---
2004 DL650 "HMMVStrom"
1978 Suzuki GS1000 "Tennessee Hillbilly"
1982 Suzuki GS850G "Barnfind"
2008 MazdaSpeed 3

https://www.youtube.com/channel/UC8AHz-9CXcxNi5WlDOtYhPA
My channel ^^^