Windshield Durability?
---
I might be shopping for a new windshield soon. A Givi was on my shortlist but I wanted to know how durable your after market windshield is. Does it scratch easily like the stock one? Has is cracked or warped or discolored? Let me know what you think about your after market windshield whatever the brand might be. Thanks.
My Givi has no scratches yet; it is less prone to scratching than the OEM. I've had it on for 3 months, and treatment includes using gas station windshield squeegies to wash bugs off at least 10 times during a recent trip to Deal's gap. Not a single scratch, or even micro-scratches. After washing, I always hit it with some Plexus, which helps keep the bugs easier to wash off.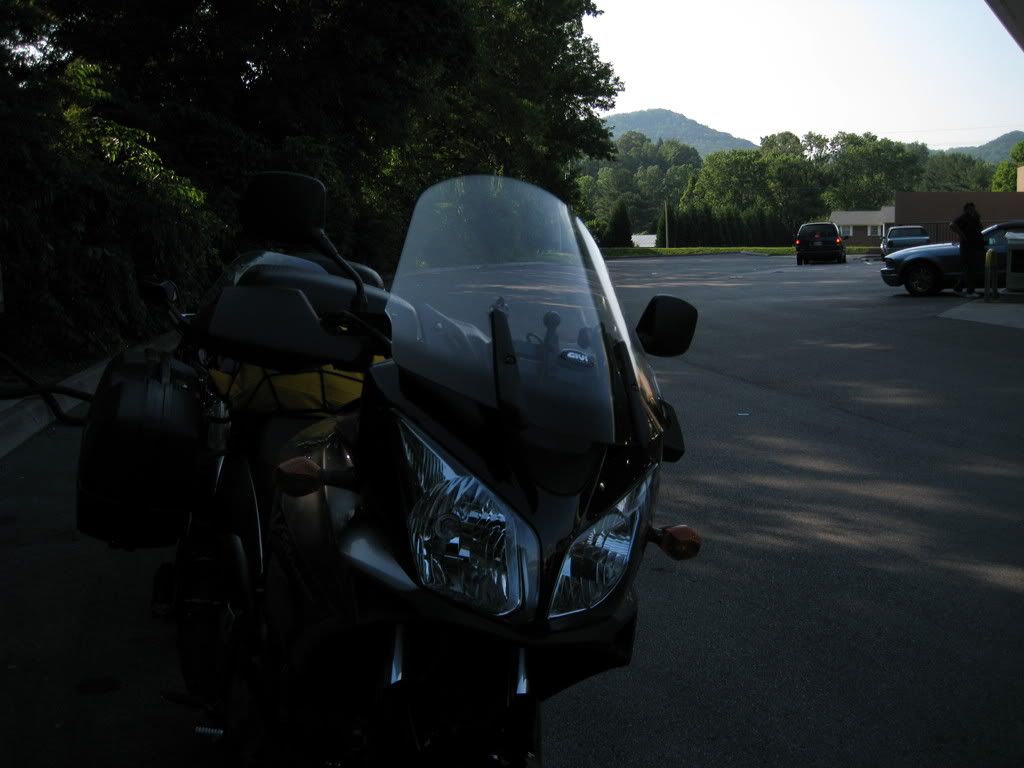 ---
[FONT="Tahoma"][I]Ride hard, stay safe![/I]
[SIZE="1"]DL650K7 Gray "Whee!"Strom
[/SIZE][/FONT]
[SIGPIC][/SIGPIC]
I bought my older Givi from RedAnt, who had it on a used Strom he bought in NJ.

Although I prefer the CalSci, the Givi has held up well.
---
2005 DL650 (sold) | 2009 DL650A (sold) | 2008 Tiger 1050 ABS | 2012 WR250R | 2008 CRF100F
Join Date: Dec 2006
Posts: 176
My Givi is lightly scratched. First time I cleaned it, it scratched. Every shield I ever owned scratched. It's plastic, afterall, and plastic scratches.

I'm a pretty careful cleaner as I use lots of water and a bare hand to clean the bugs off, then complete the cleaning with micro fibre towels, but they still wind up with scratches.
I realize you are speaking specifically of aftermarket windshields, but I will throw out this for consideration. Especially in light of those who have scratch issues. I use a foaming window cleaner that has some ammonia in it to clean bugs off. I use a standard paper towel. I usually spray the shield and front end of the bike down after a buggy ride and let it sit just a few minutes, then I attempt to clean the loosened bugs off. those that don't remove with that treatment get another dose. Then a good coating of Pledge polish helps make subsequent bug removals easier. The only scratching issues I have is where I slipped with the screwdriver during a height adjustment....dammit!!!! I attribute the lack of scratches during the cleaning process to the 'soak time' given before attempting to remove the bugs.

Cheers!
---
POS Chinese scooter - glad its gone
2005 Yamaha Majesty - liked the bike hated the dealer - its gone too
2007 Suzuki Burgman 650 - totaled April 2nd, 2008
2008 wee - 2900 miles in 5 weeks...weeeeee!
"Are we really crazy to get back on one of these things after falling off and expect a different result?"
Junior Trooper
Join Date: May 2008
Posts: 9
Best thing ever for cleaning a windshield is a used fabric softener sheet. Just wet it and the bugs melt right off. You can use it on the painted surfaces too. It's magic.
My National Cycle ws is still like new....

A secret for cleaning the WS of dead bugs that just melt off is hydrogen peroxide...

Been using it for years in a spray bottle and it is cheap!
---
Riding since 1973

If Evolution is outlawed... Only outlaws will Evolve.

* 2012 V I C T O R Y Cross Country Tour
2007 1000 " VroomHilda"
2007 Moto Guzzi 1200 Norge - La Dolce Vita