Loobman
---
I decided to try the Loobman in hopes of easing the chain maintenance on my DL1000 as I put about 300-500 miles on it during my weekly commute.
I attached it to my Givi tubular racks and the hose run is very short giving me about 1 minute to get moving before the oil hits the chain. I've been using 90W oil for a week now and it does its job admirably. I just squeeze and go every morning and the chain stays wet for the day. I still give it a good clean when it needs it and spray Belray chain wax on it to seal the external parts. So far I like it. Makes being a lazy a__ very easy. Took about 1 week to arrive after ordering on-line, about 1 hour to install. The instructions are not the best but if you read them a few times installation problems can be avoided.
I'm still using my stock chain at 11K miles and it is at the 12.6' limit and rattles a bit under heavy loads. I ordered a new DID chain and new sprockets and am hoping to get a little more mileage out of the DID.
Loobman website:
http://www.chainoiler.co.uk/
Loobman Pivot Mount
---
Anyone who has put the Loobman on knows that there are way to many choices for mounting. You'll spend more time contemplating than installing.
I personally use the Loobman for intra-ride chain cleaning, not lubing (well, it does get lubed in the process). Most of the time I prefer cleaning the chain with kerosene and applying a heavy O-Ring lube. However when I am on a multiday trip, or
get off the dirt with 200 miles left to go for the day
, I give the Loobman a good squeeze of light oil and it does a fine job of getting the grit off the sprocket and gives inside of the chain a clean slate (yes the dirt goes somewhere; there is "fling").
Now a problem is that the tie-wrap ends that ride along the sprocket can wear off after several thousand miles. In my case, just about the time I really need them! :P So I do two things. When I am in town I reach down and angle the "fingers" off the sprocket so there is no wear between long stretches of use. Secondly I mounted the Loobman so that I can pivot the unit away from the sprocket for cleaning and changeout of the "fingers" by only having to remove one mounting tie-wrap.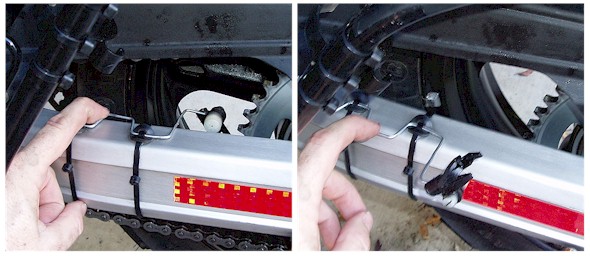 You can use another tie-wrap or electrical tape to secure the Loobman down (where my finger it pivoting the assy) when you get done changing out the fingers (fingers are not shown in these photos, I was in the middle of cleaning and changing them when these were taken)
Great setup Sandiegoland. Next time I need to replace those little tie wraps I'll rebend my wire to match.