HELP! Riser Problem
---
My bike is out in the garage with the handle bars resting on the fairing.
I am trying to install a set of 1 inch risers.

How do I get more brakeline? I have removed the little rubber/ metal pressure clamp? that is attached down low.

What now?

I can't seem to move the brakeline within the rubber sleeve.
Shoud I cut the rubber part off the brakeline (verrry carrefullly!)
Help please

(Sitting here staring at the screen hoping someone will answer soon.)
---
DL650k7 sold
---
Last edited by PDXStrom; 04-23-2008 at

10:50 PM

.
GreyWolf? Berserker? Shep? BTD? Anyone. Come on now show the love. If this were in spanks there would be 150 views and 20 replys by now.
---
DL650k7 sold
Join Date: Feb 2008
Posts: 101
So you have the lines out of the wire looms and they still dont reach? My '02 had 1" risers installed by the PO and they reach just fine. I had to recently remove them in order to install the Scotts damper.

Randy.
Wow...
---
I had GenMar(?) risers and my stock lines seemed to work fine (a little stretch), but being me went with custom Spiegler (+2 inches for the Rox risers) lines a few months later for more pullback.

Sorry man, no good answer but keep trying to work the lines.
---
[U][URL="http://moveyourmoney.info/"]Move Your Money[/URL]
[/U]
---
Last edited by Berserker; 04-24-2008 at

12:48 PM

.
Success!!!
---
I cut the zip ties on the electrical harness (had to move those before for my powermadd handgurards)
Removed everything I could get my hands on. It was just the bolted bracket on the lower half of the brakeline.
Turns out that the gromet and the last protective sheath are glued to the brakeline :mad::mad:. Found that out after removing the bracket and opening it up.
I used a #10 scalpel (Go with what you know I always say) To dissect the top of the grommet off the brakeline. Once I got it started it came off with a lot of peeling back. The top of the protective sheath was easy to pear back with the blade. I moved the grommet down about 3/4 inch and re- attached everything including the cowl and viola! Everything is back on.
Check it out. These are risers from
www.dirtly.com
He has an ebay store. I picked 'em up for just under 40 bucks delivered.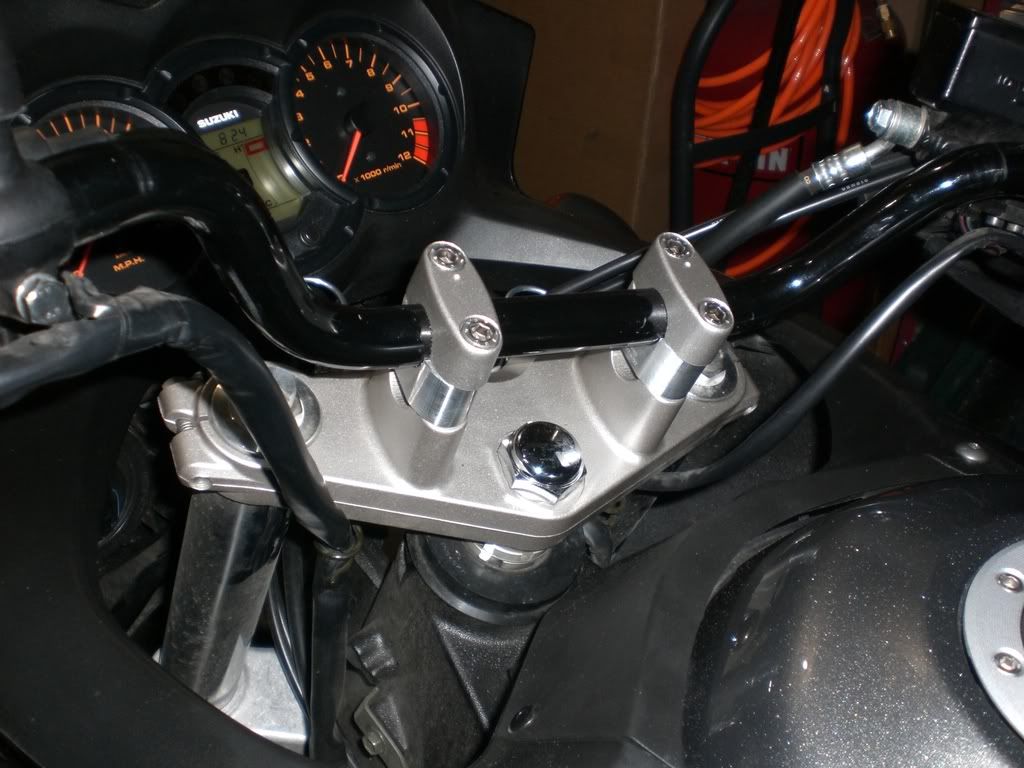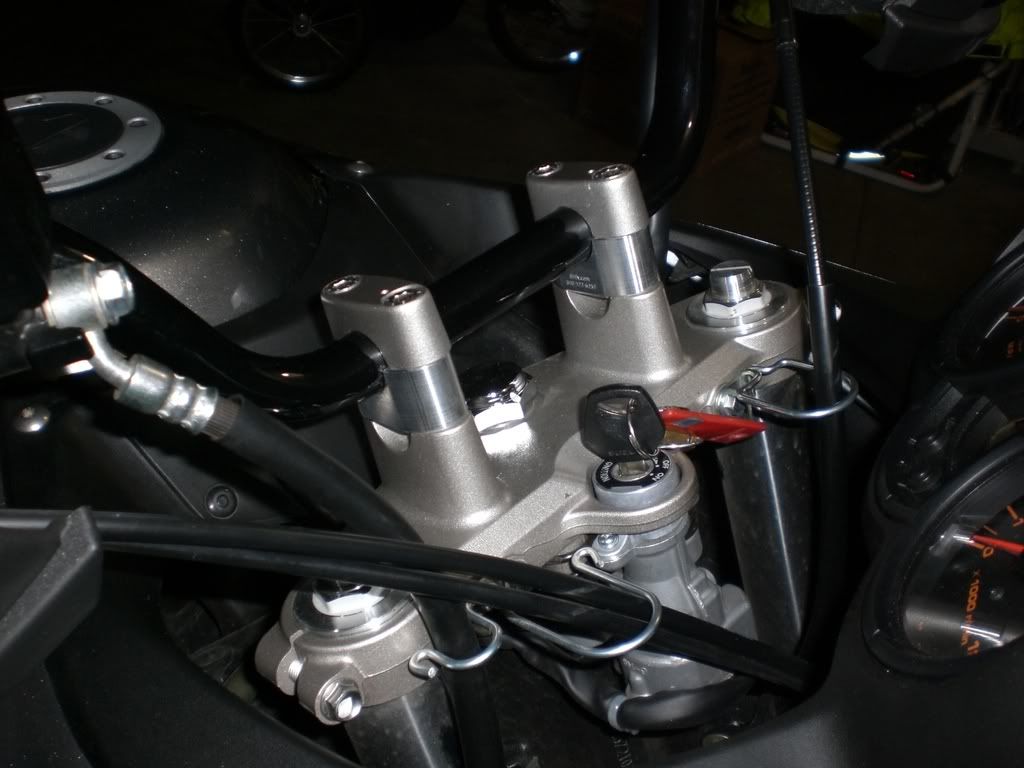 ---
DL650k7 sold
PDX,

I've put off risers, oly because on most Wee's you've don't have enough brakeline.

Most folks just get an aftermarket stainless braided line an inch or two longer than stock. It allegely provides the perception of improved brake feel.

I have an aversion to bleeding brakes.
---
Sent from my Hewlett-Packard 75C, using the Flying Merkel motorcycle app.

Stromin'Nroman NC28729, USA

DL650A K7 (Greywolf Moto Lab's R&D test mule) June 1, 2012 - present
DL650A K7 April 23, 2007 - January 6, 2012, RIP

"Look here brother, who you jivin' with that cosmik debris?" Frank Zappa, 1975
Join Date: Apr 2008
Posts: 263
---
Hope PDX gets this situation worked out soon. I just ordered a set of up and back GenMars from another forum member/seller. He claims they go right on with no problem using the stock lines.

In the past when faced with this issue and the stock lines absolutely will not reach, I go with Spiegler SS lines adding about 2" and put in a set of Speed Bleeders. They screw right into the caliper and work very well, then when it comes time for a brake fluid replacement the job is a piece of cake.

Allways figured if you are going to do the job, do it right the first time and do it completely. Since you gotta have brakes might as well get it over with. Oh, did I mention I do not like bleeding brakes either. LOL
Doug,

If you head out west this way give me a holler, I'm always up for a ride. As long as it doesn't involve brake bleeding.
---
Sent from my Hewlett-Packard 75C, using the Flying Merkel motorcycle app.

Stromin'Nroman NC28729, USA

DL650A K7 (Greywolf Moto Lab's R&D test mule) June 1, 2012 - present
DL650A K7 April 23, 2007 - January 6, 2012, RIP

"Look here brother, who you jivin' with that cosmik debris?" Frank Zappa, 1975