Stromthusiast!
Junior Trooper
Join Date: Jan 2008
Location: Mesa, AZ
Posts: 5
Cornering clearance and centerstands
---
I own a 2005 Dl-650 and I'm looking for a centerstand. I have heard of cornering clearance issues with centerstands... Has anyone had this problem with their's; stock, Motech, or Hepco & Becker. So far I'm leaning more towards the Hepco & Becker...but I'm not sure how it will stand up :mrgreen:

Thanks!
$tromtrooper
Join Date: Dec 2005
Location: Sconsin, USA
Posts: 3,877
I have the OEM centerstand. No problems or complaints. I've never dragged her in the corners, but I am still trying.
---
2020 Eastern V-Strom Rally (website) - May 14 - 17, 2020
__________________________________
2006 Suzuki V-Strom DL650K
1986 Honda Shadow VT700C
1974 Suzuki TM-250
1966 Triumph Bonneville T-120R
1965 Suzuki 80
Join Date: Feb 2007
Posts: 39
I've got the OEM one too and haven't had any problems at all.
FORUM GODFATHER.....R.I.P. PAT
Join Date: Jan 2006
Location: Evanston IL USA
Posts: 38,049
The OEM stand does limit clearance on a left turn. It even comes with a longer peg feeler to warn the rider of impending touchdown before it happens. The SW-Motech has less clearance straight up so offroaders are wary of it. I have no H&B details except Adventure Motostuff uses it on their project bike which I would consider an endorsement. The SW-M they used to have on it is on my bike now. I stay on paved roads.
---
Last edited by greywolf; 02-03-2008 at

01:59 PM

.
I have the OEM centerstand and love it. I ride pretty hard and I'm grinding away at the pegs before the center touches down. Offroad the OEM stand is great. I prefer it to my buddies aftermarket stand which he has had serious issues with offroad.

-GW
---
GrayWolf
--------------------
"I wouldn't take a million dollars for the experience, but I sure wouldn't give a red cent to go through it again" -Chester Russell
--------------------
2005 DL650 "Maelstrom"
2003 KLR650 "Lou"
1978 Triumph Bonneville 750 "Boomer"
Stromtrooper Offroad Club Member #3
Blue Wee-Strom Club #69
Super Moderator
Join Date: May 2005
Location: Central OHIO "Go Buckeyes"
Posts: 16,502
No issues with the OEM!!!!
---
BRIAN "GO Buckeyes, GO Wildcats"!
2015 DL650 XT "Hector"
1997 Honda Valkyrie 1500
custom
"Dolores"
Stromthusiast!
Join Date: Jul 2007
Location: NC
Posts: 194
hello again. i have the motech center stand.... no problems

al
No probs at all with the H&B. Based on some straight-edge measurements, I seriously doubt it can scrape before the peg does.
Here's a pic of mine installed: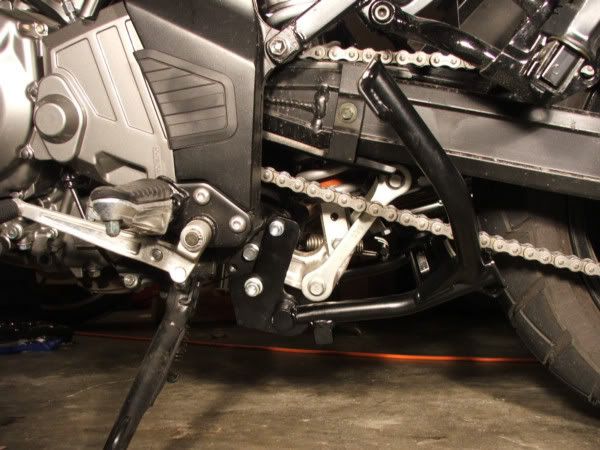 Not sure about the OEM or others, but with the H&B, you lose 1 1/4 inches of clearance, right at the crossbar (lowest part of picture above).
---
[FONT="Tahoma"][I]Ride hard, stay safe![/I]
[SIZE="1"]DL650K7 Gray "Whee!"Strom
[/SIZE][/FONT]
[SIGPIC][/SIGPIC]
I have the OEM and it ground pretty hard on the left side. Took the rubber stop off that came with it and RTV'd a thin strip of rubber in it's place. Only about 3/16" difference but back where it grinds on the foot stand it made a big difference.
---
It's more fun to ride a slow bike fast than to ride a fast bike slow.
K7abs
Stromthusiast!
Join Date: Dec 2007
Location: Canberra, Australia
Posts: 486
I have the H&B, once your bike is on it, it stands a little taller than the SW. Never have a problem scrapping, even with a load, I'm fairly diligent with my tyre pressures & preload though.
I have the tourances and so far there is less than 1cm to the edge left, still breaking them in....
I also noticed a a drop in height clearance of about an inch right in the middle, however I don't do dirt bike trails, I do alot of fire trails though & have never had problem.