Russell Seat Finally Back
---
Well just got it in so there has been no time to test ride it for sure. So Far , Really love the way it sits me in the saddle, and the way the sides are cropped close to the bike. It is a little higher than the original wee seat, a minor inconvenience for the comfort. I will give a full ride report after I have 1 K on the seat.
Very nice. They did a great job. Hello 500 mile days. Another fabulous aftermarket piece for the Stroms. I like my Sargent, too.

Rod
07 Vee
Riverview, FL
trying to learn to post a picture, each site is a little different... or I am a little slow..
Use
[IMG]insert URL here no spaces [/IMG]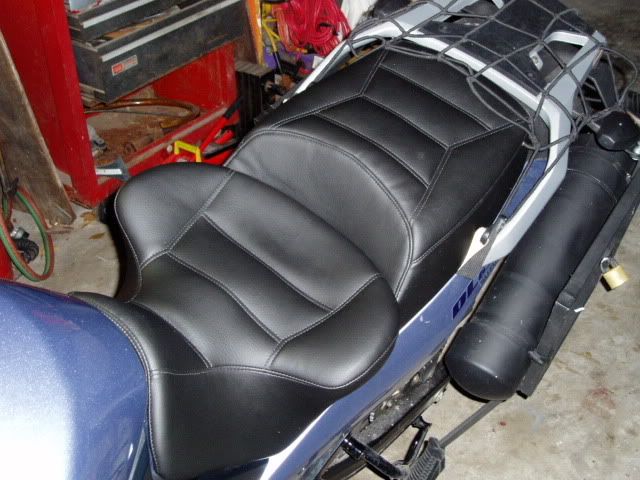 Rod
---
Last edited by RodK; 01-28-2008 at

09:30 PM

.
Now that looks comfortable.
---
The first requisite of a good citizen in this republic of ours is that he shall be able and willing to pull his own weight.
Theodore Roosevelt
Beautiful..... I had a Russell on my 03 and was SWEEEET.

NO farkle can compare with a great seat..
---
Riding since 1973

If Evolution is outlawed... Only outlaws will Evolve.

* 2012 V I C T O R Y Cross Country Tour
2007 1000 " VroomHilda"
2007 Moto Guzzi 1200 Norge - La Dolce Vita
I'll have to look into this seat. My Sargent was a big let down. Better than stock but not what i expected. I still get very uncomfortable in just 90 miles or so.
---
-
-
-
"I used to do drugs......... I still do...... But i used to too" .................... Mitch Hedberg... RIP