Stromthusiast!
Join Date: May 2007
Posts: 19
Oxford Heaterz Installed
---
Over the weekend, I was able to install my Oxford Heaterz on my k7 Wee. While it was not overly challenging, I did have to think about wire runs and where to place the troller. The troller is a bit of a challenge and I was really impressed with the fairing installations some on this site have done. In testing though, I found that my arms were not quite long enough for this to be a viable solution. The current setup allows me to not reach too far for the controls.
Being in Louisiana, I see myself staying on the low side of the heating, but will use the higher setting on my trips up north. I did, however, get a chance to test the full spectrum of the heating ability with this current cold snap that is taking place. A high of 35 degrees has me thankful for heated grips.
The Heaterz highest setting was still way to hot with my Alpinestar thick winter gloves. That was very surprising! I also found that my hands slipped a bit while riding for 50+ miles. Might be the newness of the grips and gloves.
I've taken some pics of my setup. I see that it will, once again, be in the 70s next week down here. Looks like my testing might run short.
RC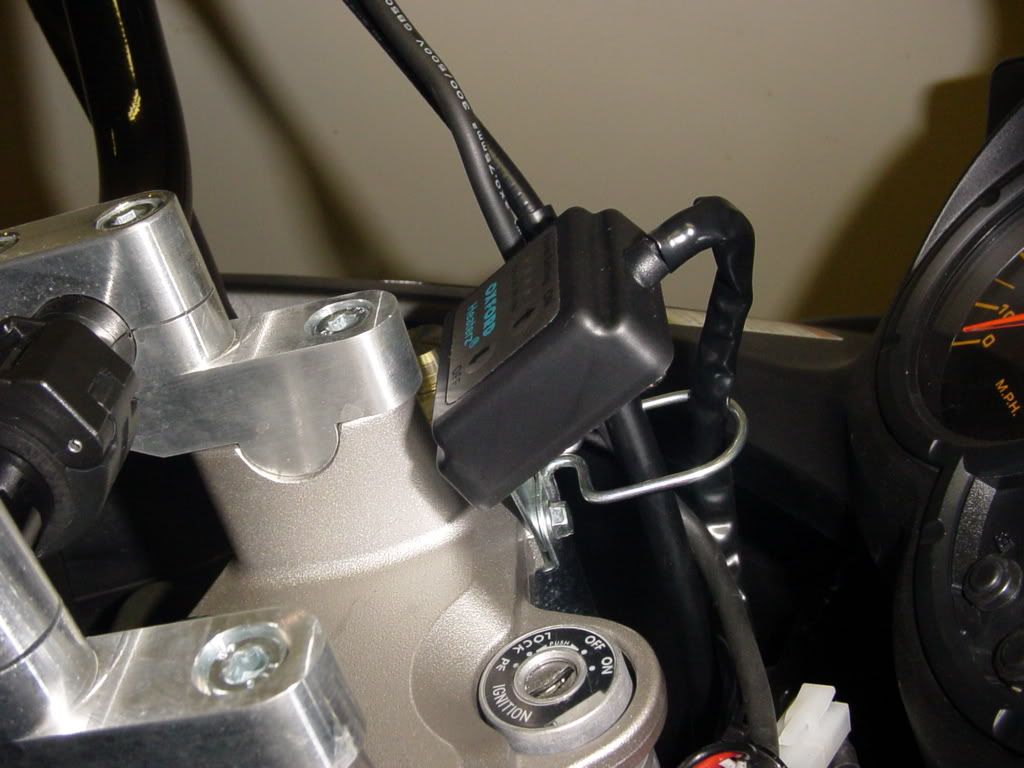 Stromthusiast!
Join Date: Jul 2007
Location: Cheese Land
Posts: 53
How Timely
---
Thanks for the information. I plant to install a set this weekend on my 07 Wee.

I do have 2 questions. How did you get the old grips off?? I've read about using compressed air or getting a thin blade under them. I'd like to save in case I need them down the road.

Id you use the lead available on the bike, or did you wire back to the battery?

Any other hints or tips??
Stromthusiast!
Join Date: May 2007
Posts: 19
I didn't keep the grips and, if I need a new pair w/o heating elements, I would go with a thicker set. The stock grips are too thin for my taste. I just cut the old grips off with an exact-o knife and called it a day.
Make sure you have some sand paper available to clean the non-throttle side. I sanded the bars clean from top to bottom and also ran the sandpaper through the grips a bit to smooth the inside. I also sanded the throttle side just to make sure the supplied glue had a tacky surface to apply to.
Also, have a Dremel tool available. The end of the throttle tube has a lip on it. The new grips will not fit over the lip. I just sanded it down level with the rest of the tube.
To keep your fingers from being glued together, use a small amount of glue and watch the ends as you are placing the grips on. I am not a fan of glue and am used to placing grips on dirt bikes with hairspray, Before applying any glue, make sure you test your placement of the grips multiple times to have an idea of where you will be placing the grips. That helped a bunch. From my experience, peanut butter is the best at getting the glue off of it gets on your hands.
I did wire directly to the battery. I have heard about tapping into switched leads and such, but I was not sure which to go with or if it would effect how the troller works. The electric troller apparently has a voltage check built into it. With the unit connected directly to the battery, if you leave the grips on accidentally, it will monitor the battery voltage to a certain low point and then, automatically, shut the unit down. I was concerned that wiring it to something that had current and voltage changes would cause the troller to shut down. Of course, I don't claim to be an electrician, so I thought a clean job the first time would be a good job. Like a carpenter would say, "Measure twice, cut once."
I think that is all I can suggest. Take your time and you will be more than satisfied.
RC
Junior Trooper
Join Date: Dec 2007
Posts: 9
Grips
---
Mine are a little long on the ends. They hang off the end of my bars a little bit. Does not allow me screw the black ends in on my handlebars. Have any suggestions?
Stromthusiast!
Join Date: May 2007
Posts: 19
Quote:
Mine are a little long on the ends. They hang off the end of my bars a little bit. Does not allow me screw the black ends in on my handlebars. Have any suggestions?
Not sure on why yours are longer on the ends. I didn't have that problem with my install. In my mock-up with no glue, I did have to push hard on the throttle side to make the grip fit against the housing so my bar ends would fit flush. It was one of the reasons I sanded the throttle tube and sanded the inside of the grip. It seemed to fit a bit easier once I did that. Maybe you could pull your ends out a bit. Does your throttle stick because of this? I find that my throttle is a bit less resistant with these new grips.
RC