Join Date: May 2012
Location: Avondale Az
Posts: 491
Fenda Extenda install with pics
---
I was getting tired of road gunk getting slung all over the front of my engine , exhaust header and oil cooler so I purchased a Fenda Extenda off Amazon for $35 shipped. After watching a couple of installation videos and reading some posts on this forum, I realized a lot of people have a lot of different ideas on how to do this . I will be following the manufacturers instructions with one addition, I will be adding some Silicone adhesive for a little extra hold.
So, here is what I will be using today, the Fenda Extenda, the silicone adhesive, the plastic push rivets supplied my the manufacturer and a 5/32"'drill bit to drill the holes for the push rivets.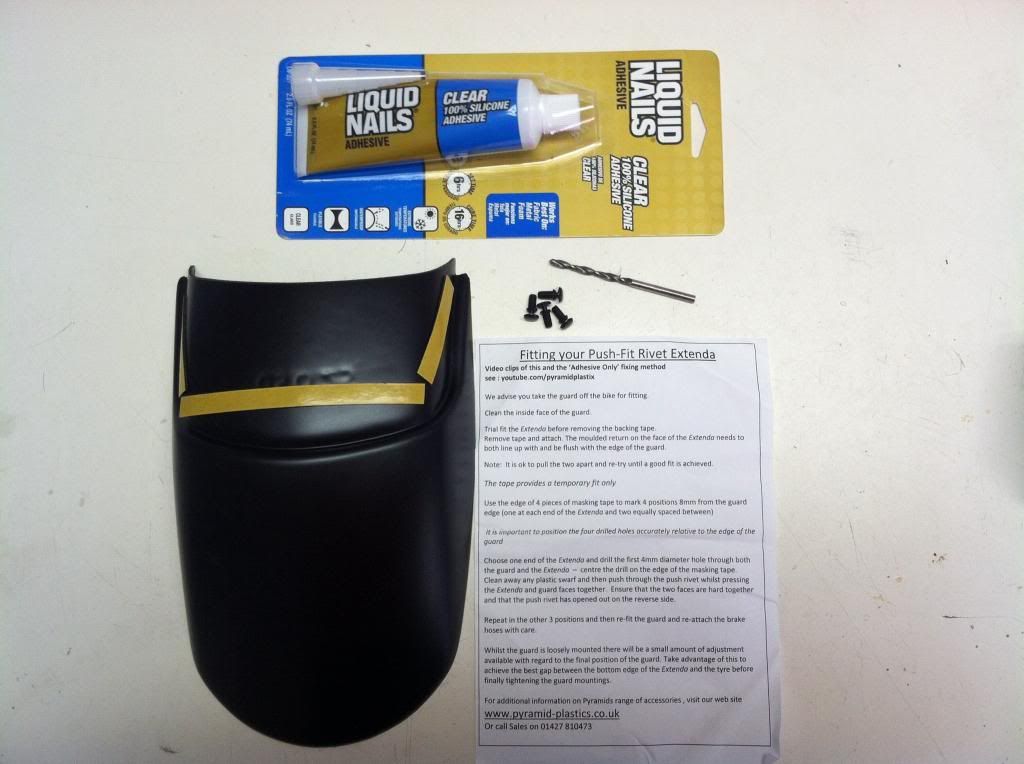 First step, clean the inside of the fender thoroughly, they recommend taking the fender off to do this job , but it really is not necessary. I used degreaser cleanser and paper towels and just to be sure it was really clean, a little paint thinner at the end. Make sure it is all wiped dry.
I then did a test fit of the Fenda Extenda and put a little painters tape where I wanted to drill holes. I followed the instructions and centered the holes 5/16" from the edge of the fender, and spaced evenly around the bottom.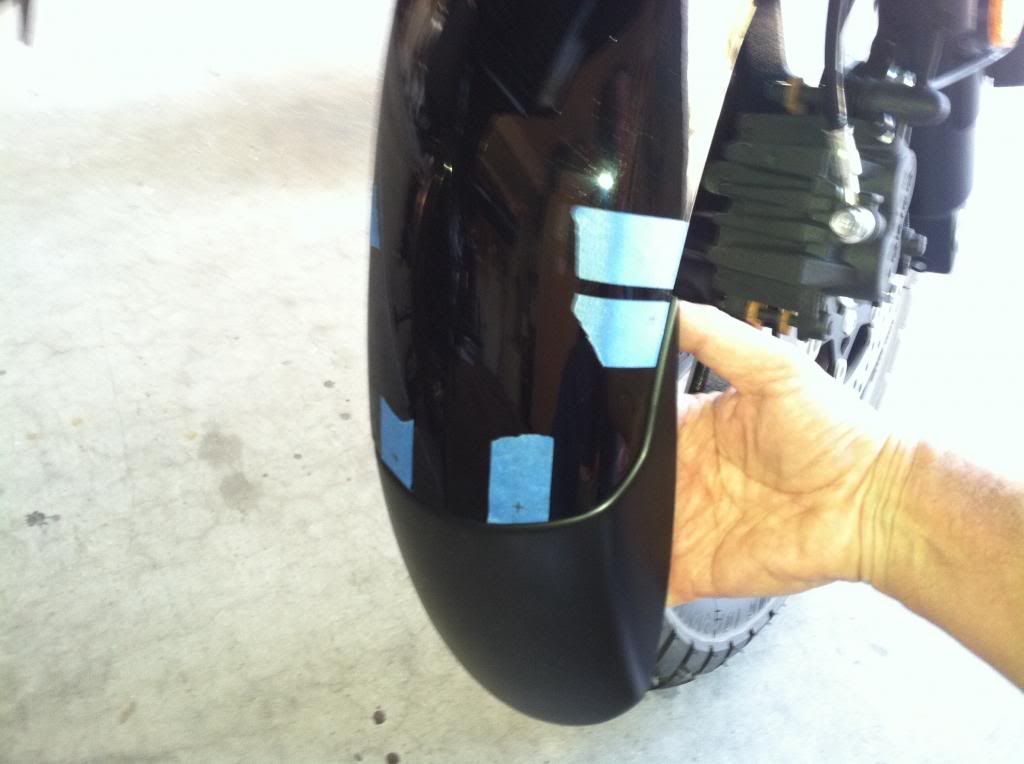 Next up, I drilled the holes where I had marked them on the fender, you will notice I split a soup can with a pair of tin snips and used it for a safety back up over the tire just to make sure I didn't accidentally poke the tire with the drill bit. Not really necessary, just an abundance of caution.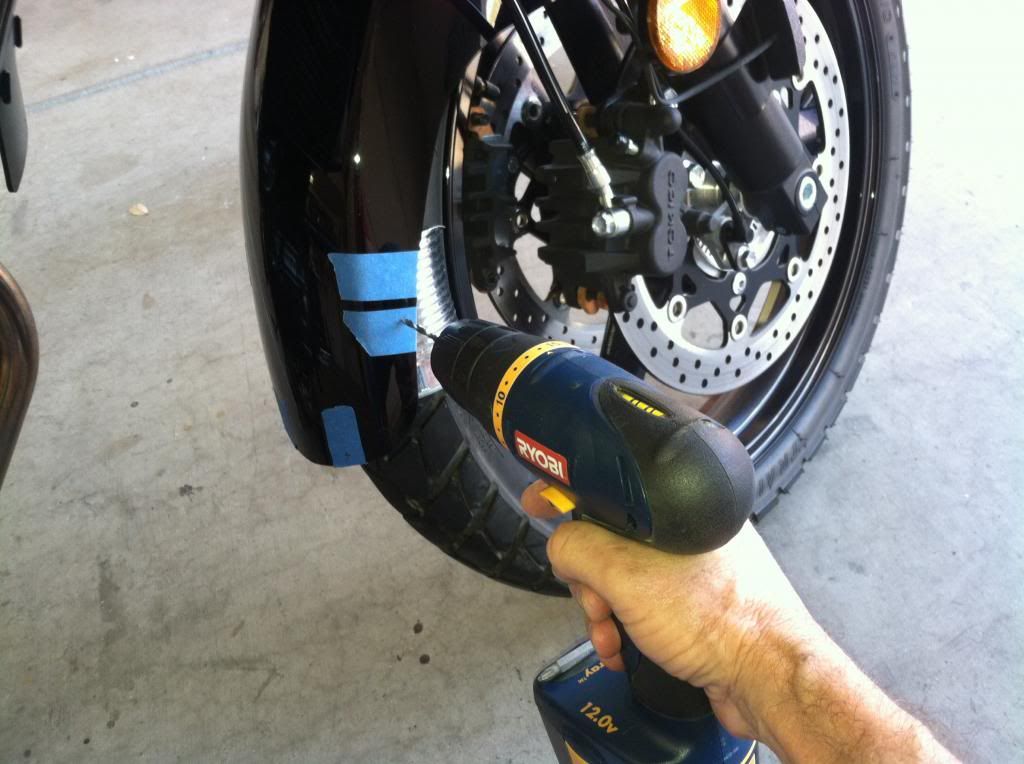 Next I am getting the Fenda Extenda ready for installation, here I've removed the backing from the tape and spread the silicone adhesive.
[URL=http://s279.photobucket.com/user/mailman3129/media/Mobile%20Uploads/image_zps5ad1a042.jpg.html]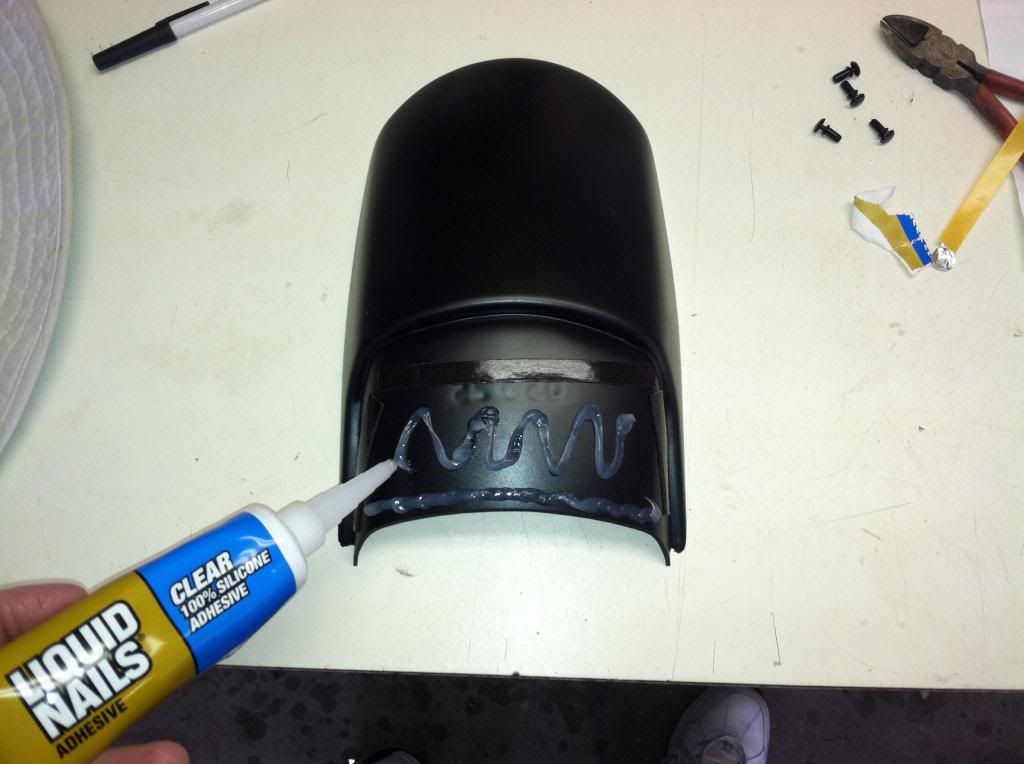 [/URL
After placing the Fenda Extenda in place on the fender, I then drilled through the existing holes on the fender and through the Fenda Extenda and inserted the plastic push rivets.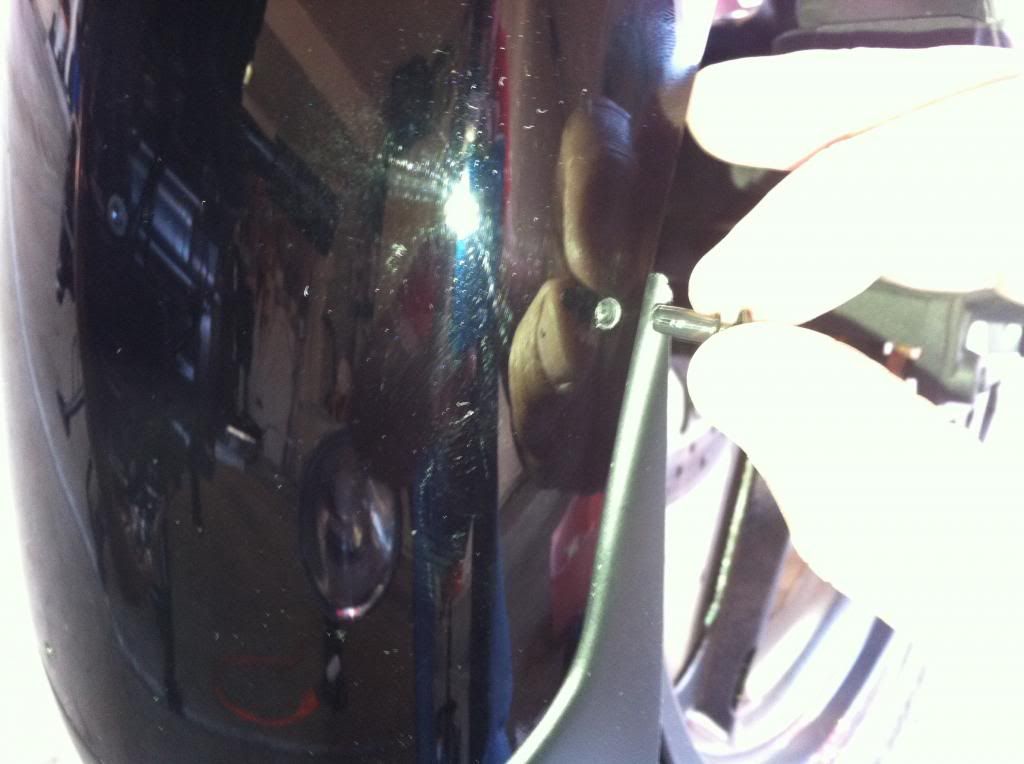 And here is the finished product. The earlier models used to be attached with silver colored screws, but the newer models come with the push rivets which look much better and install easier.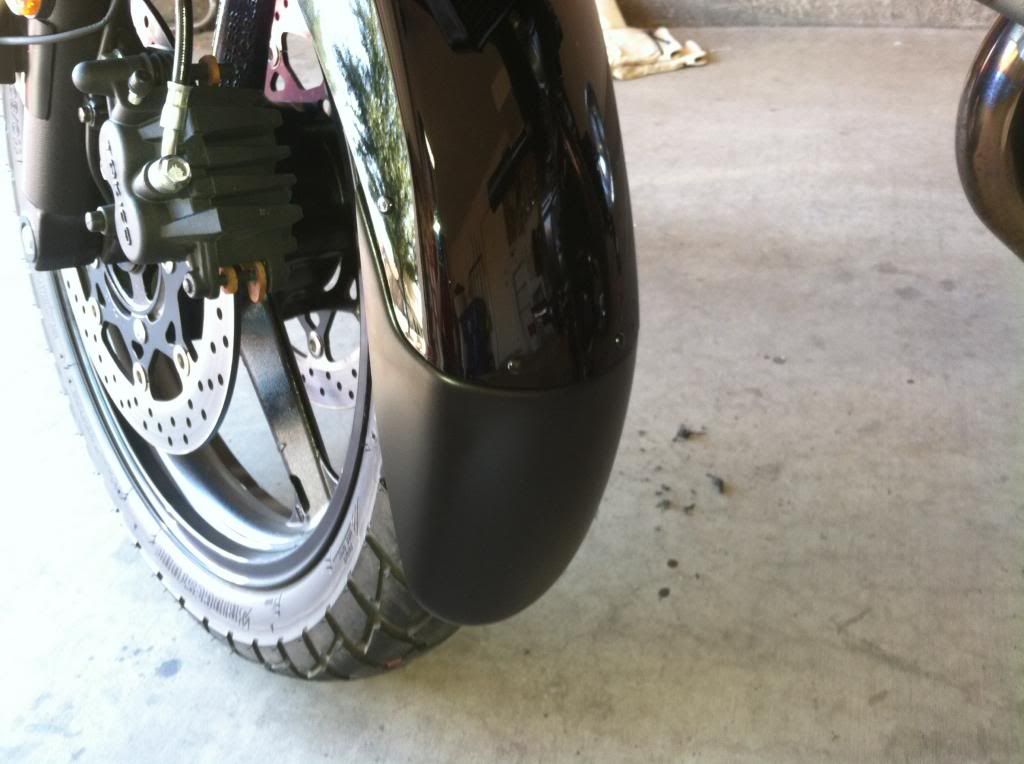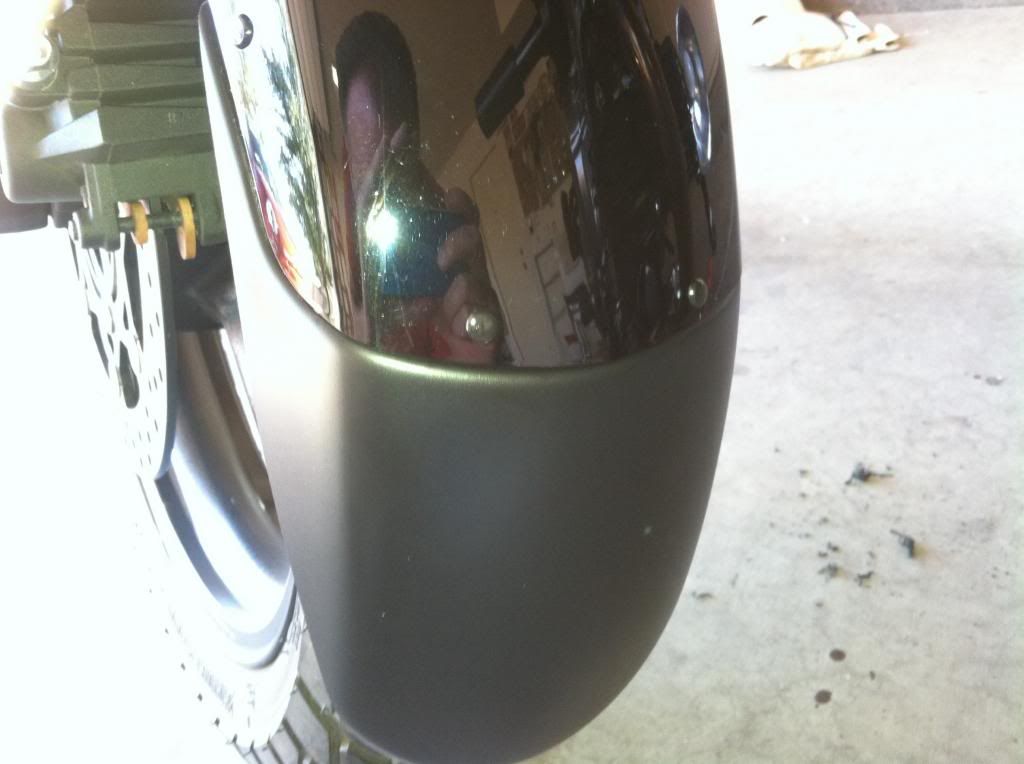 Now reward yourself for a job well done!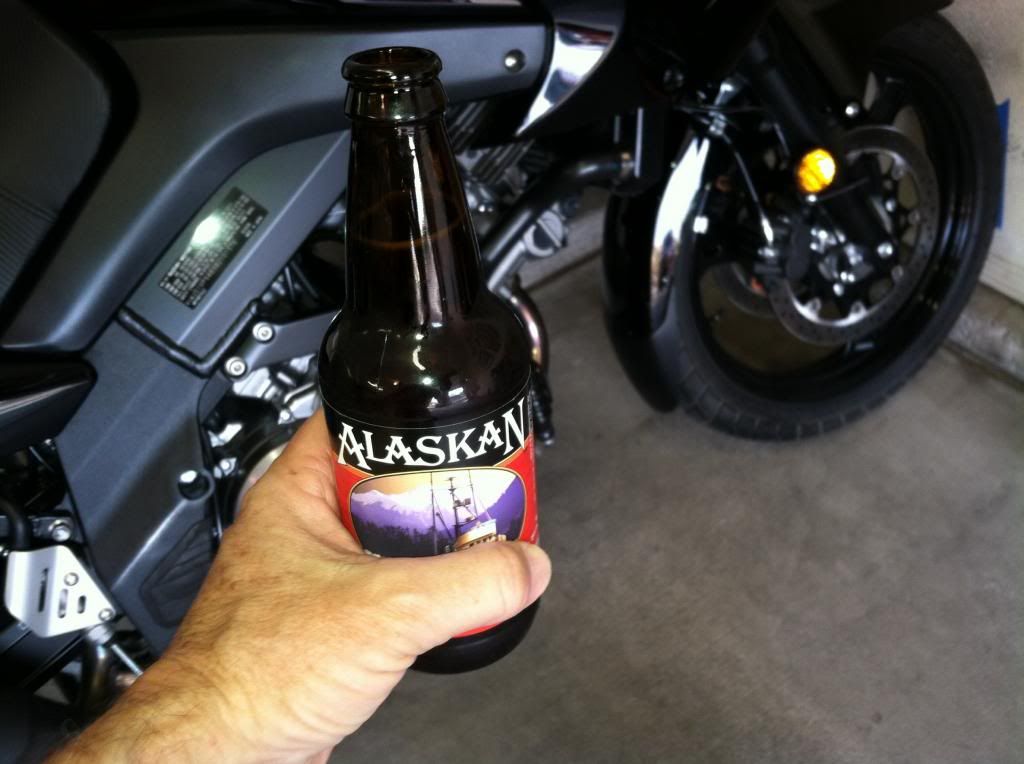 ---
My two wheel history
'72 Honda XL250
'73 Yamaha RD350
'75 Yamaha XT500
'76 Yamaha XS650
'78 Yamaha XS750
'77 BMW R100/7
'76 Triumph Bonneville T140-V
'07 Triumph Bonneville America
'11 Suzuki V Strom 650
$tromtrooper
Join Date: Dec 2005
Location: Sconsin, USA
Posts: 3,830
Nicely done.
---
2020 Eastern V-Strom Rally (website) - May 14 - 17, 2020
__________________________________
2006 Suzuki V-Strom DL650K
1986 Honda Shadow VT700C
1974 Suzuki TM-250
1966 Triumph Bonneville T-120R
1965 Suzuki 80
Very nicely done ... I concur with your beer choice too!
insert pithy signature here ...
---
2013 DL650
Farkles: Barkbusters Storm handguards | Givi 52L Trekker case | OEM side cases | OEM center stand | Weld86 skid plate
Stromthusiast!
Join Date: Nov 2012
Location: San Joaquin County
Posts: 48
Love that beer. Nicely done.
Nice install, not sure about drilling the fender though, may try mine with 3M marine grade 5200 instead of silicone adhesive and skip the rivets. .
---
"Dave"

If You're Gonna Be Stupid, You Better Be Hard, because stupid hurts!
I no longer own a V Strom, but I'm still here because its the best bike forum going!

2017 VFR1200X Crosstourer (Chili)
2016 GL1800 Goldwing, sold good riddance.
2013 V Strom DL650 Adventure AKA Max, Fun, different, did I say fun? (traded)
2004 FLHTC Ole Red, all lower 48, several times (sold 180k miles did lower 48 four times)
1999 FXST Stage 4 Evo AKA Bitch Bike and holeshot king
1998 FXDWG Red Grey (sold)
1997 XL (Mom's bike)
1976 XLCH Iron Head (Leaker)
1978 ZIR TC (AKA Smoky) Rated "R" not for kids under 17 (Seized by father)
1976 CB 750 (AKA trouble)
1976 MT 250 Elsinore (My favorite, rode the country on a 2 stroke)
1974 CB 350-F4 (AKA Dog)
1974 Kawi 100E (AKA Sparky the mud bug)
1972 KV 75 kawi
1970 Rupp mini bike
Nicely done.
Last week I installed my Maier fender extender. The black plastic matches my black fender perfectly and I like the shape of it.
I used ABS glue on both pieces. Worked perfectly and looks very clean. No mess.
---
-Steve in Phx.
Current: 2011 DL650A, Honda XR650L
Lost Loves: 2003 Honda ST1300A, Kawasaki Concours ZG1000, Honda Shadow VT500C, Honda Nighthawk CB700SC, Kawasaki KLR600, Yamaha TT500, Honda XR75
ABS cement from the plumbing aisle at your local hardware store does the job. Or, Liquid Nails Perfect Glue or E6000 adhesive does a great job. Either of these works well to glue those dreaded nuts inside the fender to make for much easier fender replacement.
---
"Older people who are reasonable, good-tempered, and gracious will bear aging well. Those who are mean-spirited and irritable will be unhappy at every period of their lives.

"Let each of use properly whatever strengths he has and strive to use them well. If he does this, he will never find himself lacking."

Marcus Tullius Cicero
44 B.C.
Join Date: May 2012
Location: Avondale Az
Posts: 491
Quote:
Nicely done.
Last week I installed my Maier fender extender. The black plastic matches my black fender perfectly and I like the shape of it.
Hey! I never even knew that Maier made one. I looked it up and it looks very nice, and even a couple bucks cheaper. Good find!
---
My two wheel history
'72 Honda XL250
'73 Yamaha RD350
'75 Yamaha XT500
'76 Yamaha XS650
'78 Yamaha XS750
'77 BMW R100/7
'76 Triumph Bonneville T140-V
'07 Triumph Bonneville America
'11 Suzuki V Strom 650