Tinting
---
I don't know if this has ever come up before (Couldn't find it on multiple searches), but has anyone ever tried to tint their stock windscreens? If you have, what did you use and how did it work? I've tinted glass (Car and house), but I don't know if it would work on a plastic windshield. Just one of the weird little thoughts I get occasionally...

Two more days and I can start riding this beast! Well, around my friend's neighborhood - not getting on the freeway until I get the MSF class on base.
---
"When I want your opinion, I'll give it to you" Author unknown (But a complete bastard!)

Navy Hospital Corpsman 1st Class, stationed in Camp Pendleton. 2007 DL650, now belongs to State Farm after my wreck on 17 January 2009. Proud owner of about a pound of titanium and steel in my left knee after the accident.
I'm not sure why you'd want to tint the screen since you're generally looking over it anyway. I'd think a tinted screen on your helmet would be more effective (I wouldn't ride without mine tinted). Just my $.02...
---
Blue DL1000K7
$tromtrooper
Join Date: Dec 2006
Location: San Bernardino, Ca
Posts: 630
Don't know if this would work on the Stroms windshield, but we used to dye lexan bodies for RC racing with rit fabric dye. You're gonna need a big bucket and some hot water to try this, if it works let us know.
Now for the disclaimer--do so at your own risk:mrgreen:

Jerry
---
Second childhood, heck, I'm still in the first. 72 going on 25
Added an 09 Yamaha FZ6 for my birthday
Sold the FZ6 and got a Triumph Tiger 800
Now have a Triumph Bonneville and an 09 Wee
Retired and lovin it
1945 Wife
$tromtrooper
Join Date: Feb 2006
Location: The gateway to Cottage Country, Ontario, Canada
Posts: 4,406
I didn't tint mine, I cut 3-1/2" off of it and painted the inside black.
Looks pretty good, IMHO. :-D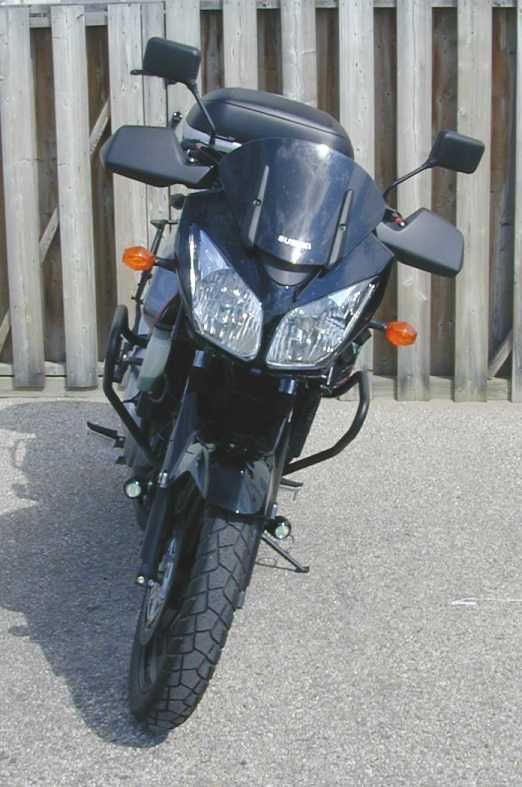 ---
DL1000K6

Proud to be a Road Toad...Member #5
I've also considered taking mine to the tint shop that tinted my car, but I haven't gotten around to it yet. I can't see why it wouldn't work.
---
1997 Kawasaki ZG1000 Concours, [COLOR="DarkGreen"]GREEN[/COLOR]

Old bikes:
2001 Kawasaki ZRX1200R, [COLOR="Lime"]GREEN[/COLOR], sold
2005 HD FXDCI, sold
2003 Yamaha FZ1, "Bee", sold
2005 Suzuki DL1000, Black, sold
2002 Yamaha FZ1, Silver, sold
1991 Kawasaki Ninja ZX-6D, sold
1982 Honda Sabre 750 V45, sold
car window tint will not adhere to the windshield paint works on the inside