Through or over the looking glass?
---
I'm curious about how we Strommers fit ourselves to our windshields. Does anyone in the 'Strom world use the "50 ft focus point" when tweaking their windshields (no matter the brand or style)?

After I acquired my my cruiser and started modding it, the generally accepted method of fitting oneself to a windshield was to mount it or cut it down so that one's eyes were looking over the top edge of the shield at a spot about 50 feet in front of the bike (assuming a normal riding posture relative to the individual). This supposedly allowed oneself plenty of room to either duck behind the shield in case of flying debris, or sit up straight(er) and look over it in case of heavy rain (supposedly avoiding the distortion that came with said rain falling on the windshield, but not terribley distorting one's helmet faceshield).

So, how did YOU fit yourself to your windshield?

Thanks for your time.
---
2019 Yamaha Tracer 900 GT (Annabelle)
2013 Suzuki V-Strom DL650 (Juliette)
2013 Yamaha FJR 1300 (Rachel)
2008 Suzuki Bandit 1250S (Fiona)
2006 Honda VFR800 (Jenny)
2005 Suzuki V-Strom DL650 (Hannah)
2003 Honda Shadow Sabre VT1100 (Veronica)
I adjusted my Madstad bracket so I liked the airflow and never looked back.

To tell the truth I never gave it much thought. I ALWAYS wear a full-face helmet (with the shield down) so using the windscreen as a face shield is not a big deal to me, and I hate looking through a windshield. I never really paid much attention to it, but I can probably see the road 30' or so in front of me.
---
Scott Craig - Nashville, TN
Red '06 Suzuki DL650 - Red '07 Honda VFR800 -
My Bike Page
I don't share most bikers' concerns about windshields.
---
Hi, whistler.

I have generally had no windshield, from 1963 to 1993. In 1993 I bought a CB750 with a huge windshield. I felt as if I was plowing the sky with a bathtub, and I am sure that sail cost me a lot for extra gasoline in 55000 miles.

So I was accustomed to a windshield far bigger than the one on the Wee-Strom, but still familiar with the sensation of having no windshield.

I moved the windshield up to the middle position a couple of days after buying the DL650, and decided I would change it again if I didn't like it. It stayed there for thirteen months, and over 12000 miles, most of that during a long trip from the Great Lakes to the Pacific Ocean and back.

During that trip, I had a lot of crosswinds on I-80. They really tugged at me and made me lean upwind, because my load was so topheavy it was comical. At that time I was unaware of anyone's problems with any windshield on any bike, and I felt no discomfort at all from the windshield. My chief problem was fatigue in my right hand from fighting the throttle return spring. So I held the throttle with my left hand when there was nobody near. No problem.

I changed the windshield to the lowest position a couple of weeks ago, because lots of people have complained about turbulence with the stock windshield, and I want to see what the fuss is about.

Yesterday I rode 150 miles in lovely weather, and I had no problem with turbulence, or anything else for that matter; it was a delightful ride.

I still have no idea what turbulence they are complaining about. Yeah, I notice the wind. After all, I am outside, and that's where the wind is, and when I move, I encounter more wind. I imagine I will notice a difference between the middle and lower positions when I ride through heavy rain, and perhaps I will alter the position again.

I hope Newfoundlander responds to this thread. He is an insightful fellow with lots of experience with no shield, a little with the stock Wee-Strom shield, and lots of praise for a snazzy new shield he got from Europe.

If you will whistle me up a storm, I will go out and paddle through it, and report on my experiences with the windshield at its lowest position.

Keith
I look above the windshield if its warm out, or if raining. When its cold out or I'm on the interstate for any length of time I like to look through it. The Madstad bracket easily allows for bother. I also wear a full face helmet all the time.
---
dl650k5 -fully farkled- 65k miles. Sold but not forgotten
2006 fjr -roadrunner
Stromthusiast!
Join Date: Feb 2007
Location: Maryland
Posts: 60
An excellent and timely question (for me, anyway). I've ridden hundreds of miles over the last couple of weeks fiddling with screens and mounting systems. This weekend, I finally stopped fiddling. My set-up is as follows: MP Cycle Designs touring screen mounted to a Madstad bracket raked all the way back. I am looking over the top of the screen when I focus on the road ahead of me.

There are several good things about this set-up. First, I get some air through the vents on my helmet. Second, the rake on the Madstad bracket brings the top of the screen closer to me, which reduces buffeting (in a cross-wind, the buffeting is not entirely gone, but it is tolerable). Third, I get some air coming from underneath the screen, which keeps me cooler on a warm day. Finally, bugs splatter on my screen instead of on my faceshield. The result of all of this is not dead-still air, but it's pretty decent.

One other note: Paul at MP Cycle Designs and Mark at Madstad were both terrific to work with -- very patient in answering questions, prompt in shipping, correct order etc., and their products seem to be of good quality.

(I should add that I ride with a full-face helmet with the shield down. I did flip the shield open at 60mph to see how it felt -- it was nice!)
---
Last edited by 650VTwin; 04-23-2007 at

11:20 AM

. Reason: Adding another thought
Quote:
I hope Newfoundlander responds to this thread. He is an insightful fellow with lots of experience with no shield, a little with the stock Wee-Strom shield, and lots of praise for a snazzy new shield he got from Europe.
My last road bike was a Yamaha Vmax with no screen, which could do obscene speeds, so I have plenty of experience with riding screen-less. The biggest issue with no screen, for me, is the constant force on the body which eventually tires one's neck and arms sooner than one would like.
With the DL650 I immediately noticed the buffeting problem at speeds above 90 kms/hr (55 mph). An annoying side to side oscillation of my head which would begin to give me a lot of discomfort, almost immediately.
I don't like the look of the V-Strom stock screen to begin with, and I really hate the look of the big touring screens, add-on lips, and bracket configurations, so I opted for the Suzuki of Europe only sport screen. It killed two birds with one stone for me. No more buffeting, and it looks better to my taste.
So it's mostly about getting turbulent free air around my head, than it is about anything else, for me, rather than using a sizing technique.
Here's a shot of my bike with the sport screen installed...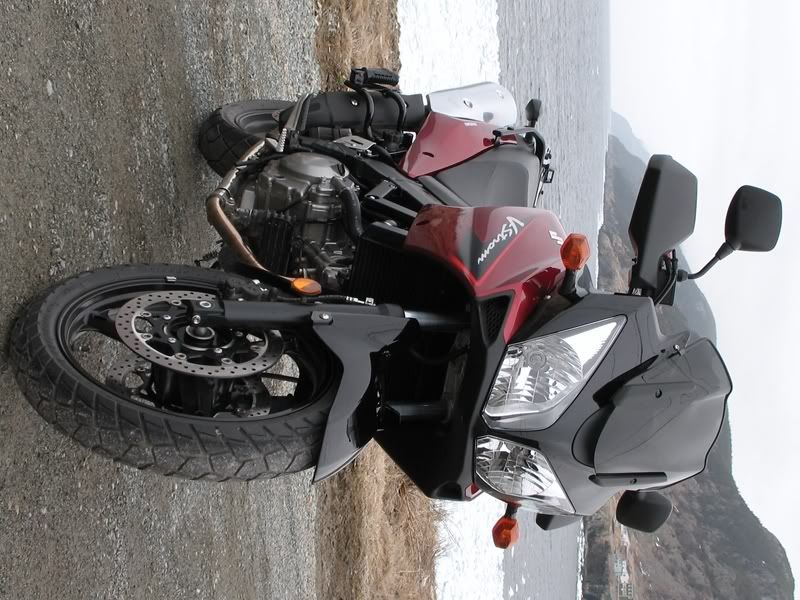 And one of the stock screen for comparison...
---
2008 Yamaha FZ1
2009 Kawasaki KLX450R
---
Last edited by Newfoundlander; 04-23-2007 at

02:08 PM

.
Can that man pick up a cue, or WHAT?
---
Well explained. I look forward to seeing that screen.

Next week the entourage goes to Toronto. Minivan with wife, dog, and me, pulling trailer with Wee-Strom and vintage bike to provide excuses to get dirty and swear.

Keith
Hey, everyone, thanks for your input! You guys are the shiznit when it comes Strom-related info, and I for one am very grateful!

Stay healthy out there!
Whistler
---
2019 Yamaha Tracer 900 GT (Annabelle)
2013 Suzuki V-Strom DL650 (Juliette)
2013 Yamaha FJR 1300 (Rachel)
2008 Suzuki Bandit 1250S (Fiona)
2006 Honda VFR800 (Jenny)
2005 Suzuki V-Strom DL650 (Hannah)
2003 Honda Shadow Sabre VT1100 (Veronica)