Most Common Farkles
---
What farkles do you have that you couldn't live without?
All of them!

Actually the first things that should be done, IMO, are a center stand and crash bars. I'm sour that the Strom didn't come with a centerstand from the factory. The salesman told me they wanted to save some weight, HA! This bike weighs a ton already! Plus it's kinda topheavy and can be cumbersome moving around at very slow speeds, so crashbars could be a lifesaver.
---
1997 Kawasaki ZG1000 Concours, [COLOR="DarkGreen"]GREEN[/COLOR]

Old bikes:
2001 Kawasaki ZRX1200R, [COLOR="Lime"]GREEN[/COLOR], sold
2005 HD FXDCI, sold
2003 Yamaha FZ1, "Bee", sold
2005 Suzuki DL1000, Black, sold
2002 Yamaha FZ1, Silver, sold
1991 Kawasaki Ninja ZX-6D, sold
1982 Honda Sabre 750 V45, sold
Crash Bars (Tried, tested, and accepted)
Skid Plate (Bridge out is no longer a detour)
Factory heated grips (Extended season)
Hand Guards (More weather protection)
Neapolen long stem mirrors (I can now see you)
Alternate 12 Volt plug ins (
http://11109.rapidforum.com/topic=110272616860
)
Happy Trails Targhee Panniers (Now I can carry illegal immigrants, many too)
Centerstand (Chain lubing is now much easier)
Wilbers rear shock and front spring ( Someone say dirt? Dirt did I hear? Ha speak up I can't hear you!)
Tires (Anything but stock)
Tank Bag ( The illegals need snacks too)
Bar risors 1" up and 1" back ( Attack stance is much more comforable)
Alternate windscreen ( No more boble head, extended season)
Fenda extenda ( Keep the shit off the oil cooler)
Stainless brake lines ( Better modulation under extreme braking)
Riding gear ( Everyone has there own preferences)
I know I have forgotten something!
---
"Pain is weakness leaving the body"
"Nothings possible until its done!"
"If ya can't afford the fine, take the lead!"
My vote for the most bang for your buck farkle... Grip Puppies. Best $7 I ever spent.
---
- Gary

Be Ashamed to Die Until You Have Won Some Victory for Humanity. ~Horace Mann

Red DL650K6
I have the handguards and topbox, so far...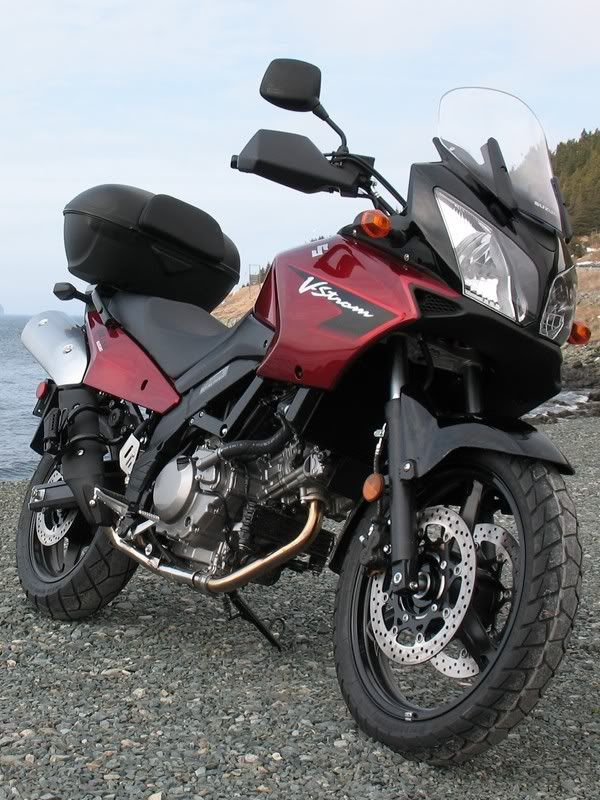 And one of these European-Suzuki-only screens on the way to me from across the pond...
---
2008 Yamaha FZ1
2009 Kawasaki KLX450R
---
RandyO
IBA# 9560
07 Strom 1k (8x,xxx miles)
99 SV650 (135,006 miles)
82 XV920R
A man with a gun is a citizen
A man without a gun is a subject
www.gbhsurvey.com
Stromthusiast!
Join Date: Mar 2006
Location: Montreal, Canada
Posts: 29
---
Currently Have:

Center Stand
MP Cycle Shield
Tank Bag
Crash Bars
Proper Riding gear (Head to toe)

Working on:

Piaa lights
Maadstad bracket
After market Pipes (love the sound/worried about re-mapping etc....)
Suspension upgrades (front springs oil)
Brake pads (next set will be grippier??)
Cases
Stromthusiast!
Join Date: Jan 2007
Location: Redmond, WA
Posts: 765
Tall windsheild
Center Stand
Spider Grips
Bar end weights
Top Case
Tank Bag
Two Brothers Exhaust
PCIII :-)
ktm Supermoto mirrors
Dumonde Tech Racing Oils
---
2003 V - ASV C5 Levers, Univ. Solex bars, grip heaters, ktm mirrors, c.stand, SW Mo Engine grds,Two Bros, PC3, Garmin, Givi 460, tank bag, F. Extenda, BackOff, Super Brace, Elka Shock, Race Tech Gold. AWD/Mr.Ed's Moto seat mod. Dumonde Tech Racing Oil, Spider grips, Contour.

2001 KTM LC4 farkled (sold)
---
Last edited by awd505; 04-11-2007 at

12:31 AM

.
If I had to do it again the first thing I would buy is a new windshield.
I went through several months of head shaking before I had enough.
Don't waste your time with the Suzuki large windshield it is no better.
I have a Windstrom aftermarket but there are many others that also do a good job.