Stromthusiast!
Join Date: Sep 2012
Location: Virginia
Posts: 202
Almost ready to plunge - Orange or Black?
---
Greetings!
After lurking for some time, I am getting pretty close to stepping up and buying a V-Strom. I'm currently riding an old, but still mostly trustworthy 1986 Honda CB700 Nighthawk.
I was led here to the Vstraom (and these forums) looking for the ultimate commuter bike. I cover about 130 miles round trip each day. In a year, I expect to cover 22,000+ miles on the motorcycle. From what I read, I expect the V-Strom will hold up to that use. Agreed?
That said, I am also fairly certain I'm buying new, and will get a 2012 WeeStrom 650. The 1000 might be fun, but I'll be happier at the gas station with the 650 - and I'll be seeing a lot of gas stations over the years!
I am hanging on a final decision - Adventure or regular?
I hope to get some test rides in soon.
I'm looking for comments about the differences. The Adventure looks like it will cost about $900 to $1300 more (based on advertised prices I've seen).
Are the add-ons for the Adventure worth it?
(i.e. am I better off with a factory Advenute, or base model and upgrade??)
I will need luggage for my commute, which speaks for the Adventure. But I also plan to add an aftermarket skid plate, and that may likely require a different crash bar /engine guard, so I could start with the regular 650 and add to it. I know windshields, and acceptable turbulence, is a personal preference, but I'd like to be shielded from as much wind and weather as possible, so I may like the Adventure more.
Other add-ons (OK, I'll say it "Farkles") I know I want are aftermarket handguards, chain oiler, and apparently I can't live without a fork brace
If you have experience with the quality and value of the Adventure vs. base, please comment. Can I build-up a base model to what I need for less than 1300?
Also, if you know of a clearly better maker of the farkels I'm after, please do recommend.
Thank you in advance - and happy trails to all!
Stromthusiast!
Join Date: Mar 2011
Location: Pasadna area
Posts: 13,788
Since it's a 2012 you are talking about there will be fewer used items available for your choice. One can get used bag mounts and aftermarket bags for good prices for the older models. You'll be stuck with new stuff. Then again, you might get lucky.
Color wise, Orange is a good October color if you like pumpkins. Black is universally more sinister and appealing to the discerning buyer.
Shield wise the ADV Suzuki shield looks like the MRA Vario and I loved mine and will be getting a replacement as soon as the INS check come is.
Yes, Virginia, the Wee is worth fixing after you go ditch diving!
Stromthusiast!
Join Date: Sep 2012
Location: Virginia
Posts: 202
I hadn't considered that Orange would go well with the season
Plus, black is hard to keep clean.
My priorities will be protecting the investment - which means the crash bars and skid plate are high on the list. Although I don't plan on any trips to the Virginia ditches, they are rather close to the road surface around here.
Once you go black, you never go back!
---
2012 DL650A, 2012 Prius
[SIGPIC][/SIGPIC]
If you are an SF Giants or Baltimore Orioles fan, it's hard to argue with the orange and black.

If you are a Dutchman, there is no other color but orange.
---
Master of the obvious...
Ol' Bug Brain of the Sons of Practicality MC
[SIGPIC][/SIGPIC]
2012 DL650AL2
Stromthusiast!
Join Date: Aug 2012
Location: Spokane, WA
Posts: 503
I think the orange is very cool.
---
2014 BMW F800gs

2011 TW200

2012 DL650 SOLD

2007 DL650a SOLD
Go for the orange.Black is boring and hard to keep clean
loving my black adv! my plan was to paint it yellow/red/green...anything but black. but after cleaning and riding for 2500 miles, i love the black. this bike is very easy to keep clean. i'm very happy with the hard bags. but i leave them off the bike except for trips--the racks remove in less than 2 minutes. i did install a top box that handles all my commuting needs (beer). the adv crash bars are great. no need to replace. attach a highway bar ($75) to the stock crash bars and you can ride forever, if you ditch the stock seat for a Corbin.
---
2012 DL650
U.S. NAVY, RETIRED
and don't forget to make a tool tube. great for tire irons , bottled water, or tequilla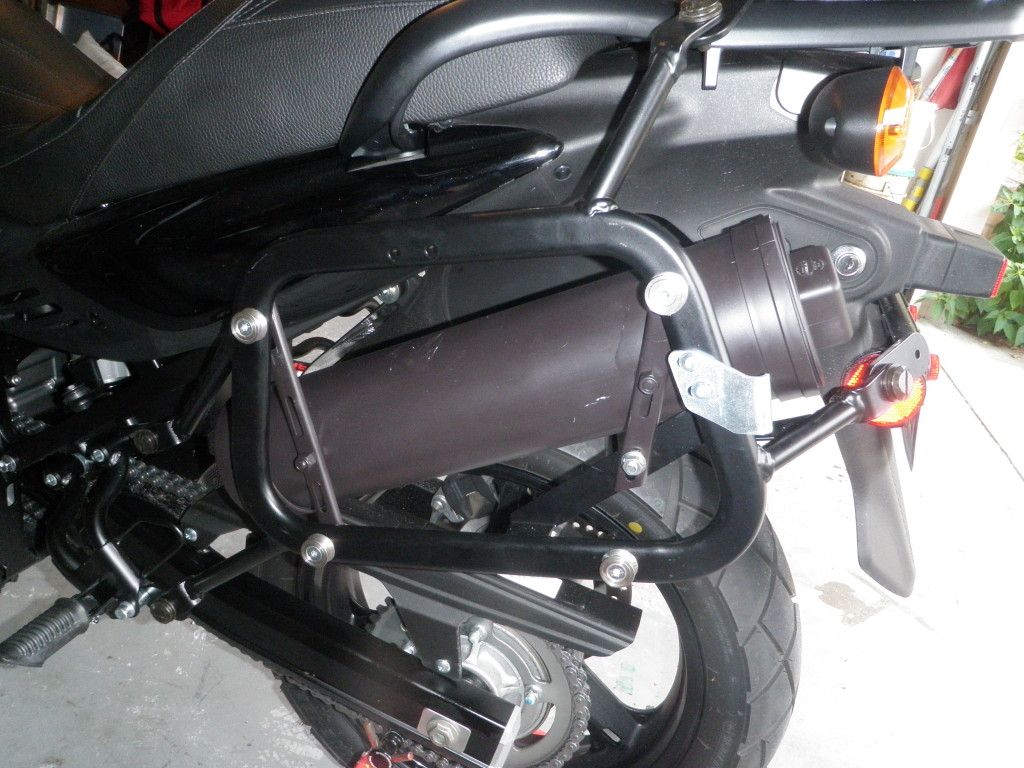 ---
2012 DL650
U.S. NAVY, RETIRED
Orange!
---
Be seen!

I will refrain from telling you the consequences of NOT being seen.
Imagine them for yourself.

Keith

P.S. Congrats on your wise purchase decision.
These bikes are the fountain of youth.
(This comes from one of the kids who celebrated the invention
of sand. We were tired of playing in empty boxes.)
---