Stromthusiast!
Join Date: Jul 2012
Location: Pacific Northwest
Posts: 18
Pre-newbie here with a question
---
Hello there.

I'm in the market for a bike, and I think I've found what I want in the 2012 "wee" adventurer.

I currently have a scooter: 2012 SYM HD200 EVO, which I adore and love with my whole heart. It's quite zippy and great fun around town and I can take it on the freeway for a couple of exits, but it won't take me on road trips and that's what I'm hoping to conquer next. Though it has larger wheels than most scoots, and does okay with potholes, there's no way I'd do a long trip or very fast traffic on this scoot.

I will keep my scooter and I want to add a bike. I am very super impressed with the wee, because from everything I've read, it can do everything that I want in a bike.

I am a new rider. I have my endorsement, but again, I got it on the scooter. So I'll need lots of practice with my bike before I go too crazy or too far.

Some of the things I really like about the "wee" are the ergonomics and the height. The ergos are as close to my scoot as I can probably realistically get, so the learning curve won't be too bad. (Plus it just looks comfortable for distances.) The height is very attractive to me. I've enjoyed being higher up on the scoot. It gives me better ability to scan in traffic. And I feel it helps me be more visible to others. Since I'm a newbie, both of these make me feel safer.

So I guess my question is this: Is this bike too ambitious for a beginning rider?

I should probably mention (if you can't guess from my name) that I'm female. I'm 5'8" and the wee is a little bit of a stretch for me height-wise, but not bad. The seat is only an inch higher than my scoot, and I would have it lowered a bit to be flat footed.

Oh, here's the other caveat. I will not test ride it. I'll have my boyfriend test it for me. Even though I have my endorsement, I have zero experience shifting, and of course the brake set-up is different. So I won't be test riding. Only sitting on it and getting a feel for balance and ergos.

Oh, and I'm entering this whole riding thing at the advanced age of 49. So I don't have 30 years ahead of me to keep trading bikes in and up. I want a bike I can grow into (though not too intimidating) and not grow out of.

Thanks for any help you may be able to give me.
Stromthusiast!
Super Trooper!
Join Date: Jul 2009
Location: Greenville, SC
Posts: 275
Riding a scooter is a good start. Recommend you take the beginner MSF Training course (they provide the bike, usually a 250). If you feel comfortable with that, then starting with a 650 may be right for you. That is the route I took - and my first MC was the Wee. Always wear complete gear. Hi-vis is a good thing. Start with parking lots and country roads.....my teacher advised 1500 miles before you go into mountains and I followed that. Good luck!
Stromthusiast!
Join Date: Jul 2012
Location: Pacific Northwest
Posts: 18
Thank you so much for your quick answer Rambouillet!

I forgot to mention that I took the course very recently. (Just a few weeks ago.) It was a great course, and I learned a lot.

I've thought about contacting the instructor again and seeing if I can audit another class, so I can get in some practice shifting. But I don't really want to spend another $180 to take the class again. Especially since I just took it! :???:
newbie
---
the wee is certainly a worthy ride for, just about anyone

i'm 5'10" w/ a 30" inseam & weigh 260#(b4 gearing up)

i've ridden most styles & sizes of motorcycles, over the years & the wee still satisfies my desires

as you have already identified, being able to flat foot on both sides is a good confidence tool

several of the custom seat manufacturers offer a lowered custom seat

there are ways to lower the bike with suspension modifications, that are economical

either way, or both in combination will help build your confidence

you might try searching craigslist for a nice used wee that has already been lowered

there are a bunch of lowered ones out there

many of the used bikes will also come with engine guards that will reduce the damage to the plastic, when you tip over

as a MATURE woman, you will appreciate spending 1/2 the price of a new one, for a nice used one

the funds you save will go all the way toward a good set of riding gear and leave you with a few coins left over

i got my wee w/ 27k miles on her w/ a few nice farkles, already added

wees are a hot item, today

they have a wonderful following and there are a lot of nice farkles out there for them

whatever you do, just remember RULE #1

SHINY SIDE UP
---
Everyone crashes. Some get back on. Some don't. Some can't.
--------------------------------------------------------
steve
--------------------------------------------------------
'05 WEE (LRW)
'99 DR TREE FIDDY SEX
plus several BRAND X
Stromthusiast!
Join Date: Jul 2012
Location: Pacific Northwest
Posts: 18
Ooooh! Thank you Swoody126! Some good advice here.

I'm super excited at the thought of getting a wee!
newbie
---
'welcome

keep us posted

& remember, it doesn't exist unless you have pics
---
Everyone crashes. Some get back on. Some don't. Some can't.
--------------------------------------------------------
steve
--------------------------------------------------------
'05 WEE (LRW)
'99 DR TREE FIDDY SEX
plus several BRAND X
Stromthusiast!
Join Date: Jul 2012
Location: Pacific Northwest
Posts: 18
exist
---
Ha, thanks swoody.
Well, it doesn't really exist yet (in my possession.) However, I did take a pic of it today with my pink helmet resting on it at the dealer. Will this work for now?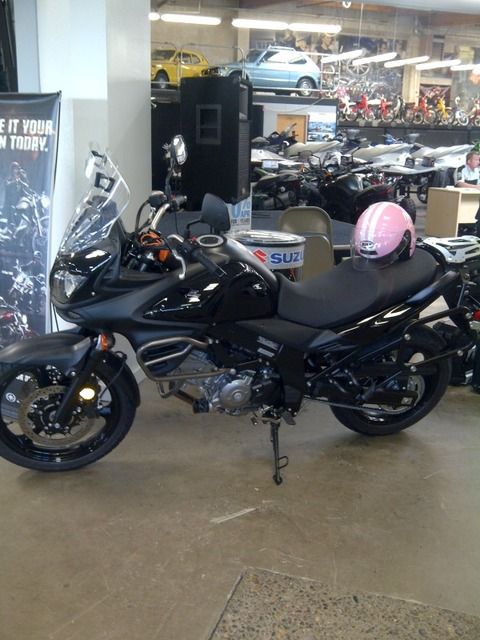 Join Date: May 2012
Location: Escondido, Ca
Posts: 107
Congrats and you will love your new. Wee. As you follow this forum you will learn that that there is about every type of gizmo you can think of to be added to your new bike. I would strongly suggest you put a fork brace at or near the top of your list for modifications. There are a bunch of companies that make them ranging from $80 bucks for the Adventure Tech brace on up. I bought and installed the Adventure Tech brace and it has made a huge difference in the bike's handling, especially on the freeway. Always wear all the gear all the time (ATGATT) and ride safe!
FORUM GODFATHER.....R.I.P. PAT
Join Date: Jan 2006
Location: Evanston IL USA
Posts: 38,049
I don't really recommend the DL650 as a first bike except for bigger than average people. If you're determined to start that big, put crash bars on it. Chances are good you will drop it. A big thing though is to get a full coverage helmet. By far the biggest percentage of head hits in a crash are at the chin location.
Stromthusiast!
Join Date: Jul 2012
Location: Pacific Northwest
Posts: 18
fork brace
---
Oh, excellent suggestion re the fork brace! Thanks. I hadn't heard that one yet, but after you suggested it and I did a search on this forum, it sounds like a common farkle and a good suggestion.
Greywolf, I am looking at the adventurer package, which includes the crash bar, I think?
And I'm sure you're right about it being a bit big for my first bike. I am fairly determined though.
I ride my scoot with a 3/4 helmet, but I also own a full face modular, which I will plan to wear on the bike.
So far, my list includes the following (and forgive me if I've gotten some of the terms wrong) :
Lower seat
fork brace
handlebar riser
gps (I can't function without one)
top case
light bar
center stand
hand guards
heated grips (I have raynauds so this is necessary)
skid plate
radiator cover
chain protection
fenda extendas
I guess my next question is this: how many things can a person do (as in attach) who has no experience? I am a relatively handy woman with power tools (when it comes to wood and building things) but no experience with machinery or mechanical things at all. I don't want to have to take the bike to the dealer every time I want to add something. That would be nutty! :skep:
---
Last edited by Ticklish; 07-13-2012 at

11:09 AM

.