Rented a Vee
---
Well, cross that one off the list.
I have been lurking around here for sometime researching the Wee/Vee as my next possible bike. I'm 46 years old, 6'3, 250lbs. My experience with bikes has been mostly offroad. I had a Kawasaki 440 LTD when I was in college and had a blast on it until a near head on miss with an RV ended my desire to ride on the road. Several years ago, the itch returned. I purchased a 2007 Yamaha FZ1 after spending months researching it. I was not able to ride one before I bought it. I absolutely loved the looks of the bike, but just never felt comfortable riding it. I thought that it was just that I hadn't ridden in years and that it would build up with experience. I felt fine riding in under 65 mph, but above that, I just never comfortable. I was so tense, it hurt. I sold the bike after 6 months.
I rented a Suzuki DRZ400SM. More of the dirt style bike that I am used to. Had a blast. I told the guy that I was riding with (he had a KTM690), that I had more fun in the last 6 hours riding it that I did in the 6 months riding the FZ1. I bought one about two months later. Still own it and plan to keep it, but I just want something to take me further out of town. I really like the looks of the BMW F800GS, but not the price. That brought me here.
Based on everything that I have read, I was leaning toward the Wee. There is a place here in town that rents a Vee, so that was a close as it was going to get. The rental was a 2002 with about 56K on the clock. It came with a Suzuki storage box on the back which was the perfect size for a small duffel bag with a few changes of clothes, etc. I signed the papers around 10:30 am and headed out.
I have a 38" inseam and could easily put both feet on the ground. As I rolled to my first stoplight, it was obvious that the bike is top heavy. I headed out to the freeway and jumped on. Right away, I felt better than I did on the FZ1. I think that was because of the extra wind protection and more upright seating position. I jumped over to the car pool lane and headed out of town. I jumped on hwy 74 and headed toward Wickenburg. This is a two lane road that I ridden many times on the FZ1. Soon enough, I encountered my first semi. The wind blast always rocked me pretty hard on the FZ1. On the Vee, I hardly noticed it. Impressed so far. Once I got into Wickenburg, I rode around town a little bit. The gear box was very "clanky". I also was a little set back by the perceived "lack of" acceleration. On the FZ1, I was nervous to even hiccup for fear that I would flip the bike over. This felt like my DRZ just with longer shift points. Disappointed there.
Back on the road and start of my uphill ride through Yarnell and Prescott. Lot's of twisties. I found my self needed to shift in lower gears more than expected to get through the 20-25mph turns. Second gear seemed to low and third seem as though it would bog. Not sure if this is how the Vee is or a sign of things to come. As I rolled into Sedona, I hit a stop light that I was rolling in a little fast on. I down shifted once, but concentrated on stopping instead. Once stopped, I shifted down into first. When the light turned green, I let off the clutch and the bike just started shuttering violently. I squeezed the clutch back in made sure I was in 1st and tried again. Same thing. I rolled the bike over to the side of the road. I tried to shift through all the gears and same thing. Starting to worry, I decided to put it in 2nd and try. I was able to get moving. I then downshifted into first and rolled to a stop. This time no problem.
Made it up to Flagstaff. There I rode around town some and then decided to give it it's first offroad test. I headed out on a small stretch of road that started out graded and then gets a little rutted and rocky. My first impression while riding about 35mph was how well it absorbed the wash board. Once I got into the ruts, it became obvious that I was riding an elephant. I lost the front end in some sand and almost laid it down. Ok, not so good offroad. The next day, I met a friend and we decided to ride around some. I had the same thing happen at a stop light that happened in Sedona. Twice. I found later that if I rolled to a stop in 1st, I wouldn't have the problem. However, if I rolled to a stop in 2nd or 3rd, and then tried to down shift into 1st, sometimes it would work, sometimes not. I am sure this has something to do with this bike and not the Vee's in general. However, I still thought the gear case was overly clanky.
Headed south through Mormon Lake, Strawberry, Payson. Again, the bike did very well at highway speeds and I felt very comfortable. My next adventure was a 22 mile stretch of unpaved road on the Apache Trail. This road has extremely washboard switchbacks. The Vee totally sucked going through these. 1st gear was needed to get through these sections. The washboard bounced the bike all over the place. The front end slipped out on me in a few places that I wasn't expecting. Once I was back on pavement, I almost stopped to kiss it. Rode back down through Tortilla flats. I ride these regularly on my DRZ and have a total blast. The Vee did ok, but if I could have swapped with the DRZ, I would have in a heartbeat.
Overall, I had a good time. I have crossed the Vee off my list of potential bikes however. Knowing that I probably won't be able to ride a Wee, I'm not sure if I am going to continue leaning this way. I did average about 44 MPG on the trip which was better than I expected. I can totally see owning a Vee for long distance, high speed travel solo or 2 up. Off road, pass.
Here's a few pics:
At the rental location...
Found this guy near Yarnell...
Just outside of Yarnell...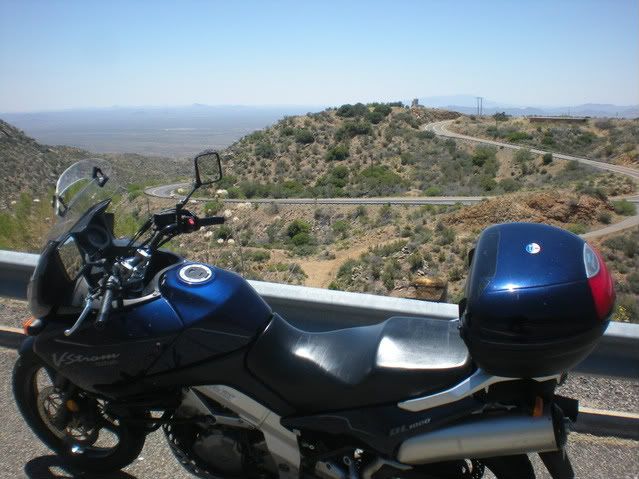 Whiskey Row, Prescott...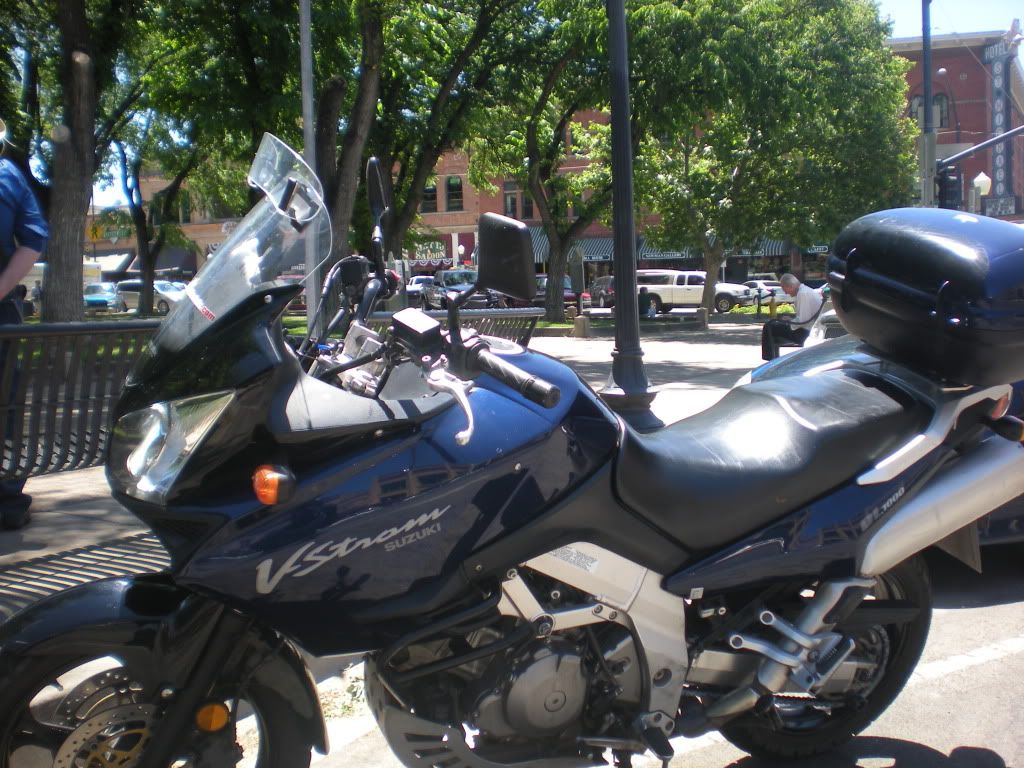 Walnut Canyon Road, Flagstaff...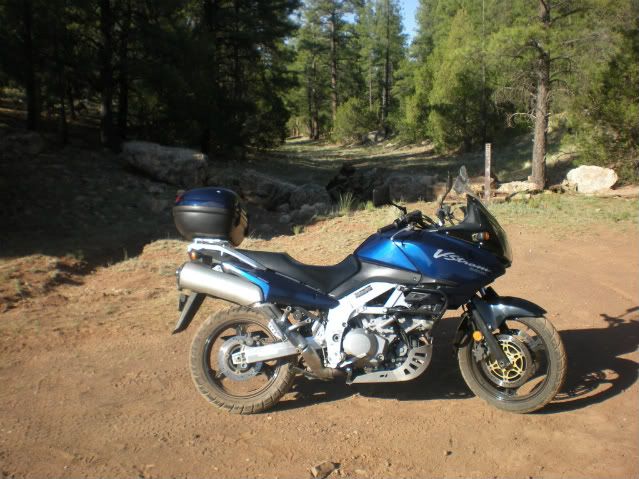 Apache trail (the good part)...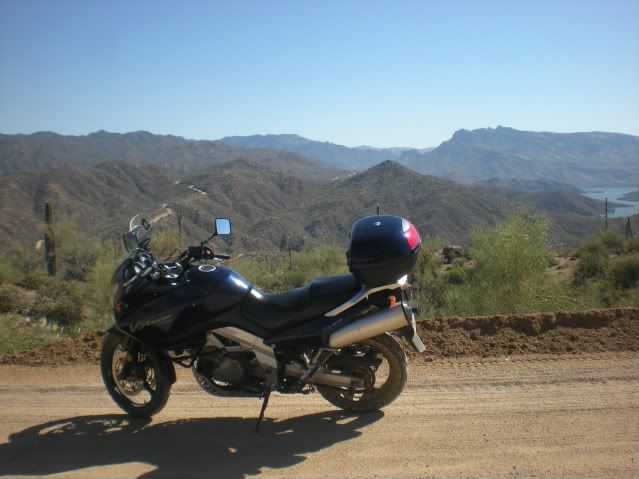 ---
2009 Suzuki V-Strom DL650, 2007 Yamaha WR250F, 2006 Suzuki DRZ400SM, 2006 Yamaha WR450F, 2003 Yamaha YZ250
[SIGPIC][/SIGPIC] <-- That's messed up!
---
Last edited by The Hill Boys; 06-11-2011 at

12:03 PM

.
Wee don't shuuder
---
and has not bogged so far - try a Wee - you just might like it
Quote:
and has not bogged so far - try a Wee - you just might like it
I hope I get the opportunity to. Now I have to start comparing the Wee to the Versys again. I think the Versys is exactly what I am looking for, but I just can't stand the looks of the front end. I really wish there were more options in the 750-800cc class.
---
2009 Suzuki V-Strom DL650, 2007 Yamaha WR250F, 2006 Suzuki DRZ400SM, 2006 Yamaha WR450F, 2003 Yamaha YZ250
[SIGPIC][/SIGPIC] <-- That's messed up!
Hate to say I told you so. This rental ride would prove nothing.

Here is another "I spent a couple of hours on a clapped out, poorly set up rental mule and didn't like it" story. Much like the saga "the Duck" keeps spinning.

Perhaps this bike needed the basic tweaks that anyone can do. And from everything you describe, it sounds like you didn't ride this thing as it is supposed to be ridden.

And yes, they do suck off road.

Call me crazy, but it sounds like you stayed at or under 3000 most of the time. This bike is happiest when you run it around 4000+ rpm. It is a sweet spot that allows a great balance between torque, power, and economy. Lower gears at 4000 allows you to blast out of the turns. Why would you stay in higher gears while cornering? These aren't Harleys. They have a higher torque curve.

I don't know why you had a problem getting it into 1st. Did it only happen once?

You should have solicited a ride on a properly set up bike from an owner in your area. The bike would have been right, and he could have told you how to ride it.

You obviously had a Wee on the brain from the start. I saw where this thread was going, and it didn't let me down.

Again, go buy a Wee and get it over with.
---
Last edited by WeThereYet; 06-11-2011 at

12:32 PM

.
Quote:
I hope I get the opportunity to. Now I have to start comparing the Wee to the Versys again. I think the Versys is exactly what I am looking for, but I just can't stand the looks of the front end. I really wish there were more options in the 750-800cc class.
Sorry, but you will find the versys too small/cramped at your size I think. I agree it looks like the best thing for 50/50 road & off, but I am 6'2" 34' inseam, and felt like I was humping a football on one. KLR650? Poky on road but better off. The wee is a little more flickable than the Vee, but still not 50/50.
---
ADVENTURE, like beauty, is in the eye of the beholder.
The destination, can be the journey! Honest Bob
$tromtrooper
Join Date: Mar 2010
Location: plymouth, michigan
Posts: 3,079
You should wait a week - the Version 2.0 of the Wee is going to be released by Suzuki....should be pretty interesting to see the next generation bike.

As I've said before - the Wee/Vee is NOT a dirt bike. You can ride it like one, but you will surely die. But, it is fine for plonking around dirt roads, and very mild singletrack - it's limits are fairly low as you discovered. Big bikes with barely 5" of travel do not a dirt bike make [those 70's era dirt bikes kinda sucked too] - throw in an extra 60 pounds of massiveness with the Vee [I see you discovered the Vee's well discussed "clutch chudder" issue], and the situation does not improve. That said, the Wee is vastly more civilized in the powertrain situation, just sayin'.
---
"Side effects may include:
Mild kidney explosions...Testicular cranberrying... And Rectal hallucinations.
"
Unfortunately, renting is/was my only option. I knew from the age of the bike and the mileage, that there might be some issues from a better cared for bike. I rode mostly in the 4500 rpm area. Again, it may have just been a gear case issue, but it just didn't perform as I expected in the turns. Yes, the stoplight issue happened several times.

I wasn't banging the Vee. I was hoping/wanting to totally fall in love with it as there is one for sale in my area. I come from the mindset that I would rather have too much power and never use it rather than not enough and want more. As I stated, I really wish there were more offerings in the 750-800 range. If anything, I am leery of the Wee now since I wasn't pleased with how the power delivery of the rental performed. Again, this may have just been a "bad bike" but it was as close as I will come.

I understand that it wasn't a "dirt bike" and I didn't intend to treat it like one. The road I took is traveled by trucks pulling large boats. Yes, it gets nasty in some spots. I would consider this to be the limits of where this bike could go off-road and that was what I was trying to find. I am a very competent off-road rider and I can tell you that this bike needs to stay on the pavement, which, for the most part has been covered in detail.

As indicated in my op, I rented a DRZ from the same place and fell in love with it. It ran almost identical to the one I bought. The place I rented from specializes in track bikes and hosts track racing/training. There are pretty meticulous with their maintenance and they set up the suspension before you head out. I felt pretty confident that the bike would be in good running order. But, things happen. I really didn't want to cross this off my list and now am concerned that Wee may be next.

I think I totally fit into the category that one bike will never satisfy me. I wish I could have three road bikes that each fit a niche. That would involve getting rid of a few of the dirt toys. My two sons will have none of that. So, for know I will continue to enjoy the DRZ, continue my research on the Wee on others and see what card I am dealt next.
---
2009 Suzuki V-Strom DL650, 2007 Yamaha WR250F, 2006 Suzuki DRZ400SM, 2006 Yamaha WR450F, 2003 Yamaha YZ250
[SIGPIC][/SIGPIC] <-- That's messed up!
Get the Wee and be happy. I'm almost your size, just a few pounds shy, but keep enough crap on my bike to make up for that weight and then a lot more (top case, side bags, tank bag, and they all stay full of stuff for work). The wee is the right size, smooth and civilized, and will not disappoint in the ride feel department. I run a 16 tooth front sprocket in mine, one over stock, because I do a lot of highway commuting in addition to the fun weekend stuff and it STILL accelerates well in any condition.

I got to play with a Versys near Robbinsville, NC on my way back from Deal's Gap a few weeks ago and my feelings echo honest bob's... humping a football. It just isn't sized right for big dudes. Give a Wee a shot, any way you can. I know we all probably sound like brainwashed fanboys, but the bike did it to us.
Stromthusiast!
Junior Trooper
Join Date: Feb 2011
Location: Canada
Posts: 3
Vee rental
---
I think it's actually great if you can try a bike before you buy. "Get a Wee and be happy" - I would never fall for advices like this, they never work...
The only thing I learned from this is the rental was a POS that was not sorted out. Unfortunately, the rent-a-Vee needs some tlc in the tuning dept to run at a level 10. They come anywhere from a 6 to 8 stock.

Should you need to sort this much out on any bike...to me, hell no, and I almost sold mine too soon. But I hung in there. I have fallen in love with this bike. It runs great and I would never consider a wee for the small difference in weight versus the extra HP the Vee has.

All it really took was a good tuner and some routine repairs. And my 2007 has 53,000 miles so obviously, it gets ridden. This bike should expect a long career with me.
---
Last edited by Scott E. Bonds; 07-15-2011 at

01:34 PM

.