Stromthusiast!
Junior Trooper
Join Date: Jan 2011
Location: East Central Illinois
Posts: 4
New Member More than V Curious
---
Hey all:

Just wanted to say hi. I'm an avid classic bike guy but have recently got the bug for adventure touring. Been doing a lot of research and I believe, for me, the Vee seems to be the right fit so I'm keeping my eyes peeled for a good used with the right farkles. Could probably use some guidance on what to watch for, what common problems, . etc

I'm a couple months away from purchasing (don't like financing ANYTHING) but I'll be joining the club soon ....

Anyway here's the stable as it stand:

06 Triumph Bonneville Black (daily rider)
82 Yamaha XS400 (current project getting the street tracker treatment)
80 Suzuki GS550 E
76 Honda CB550 F (debating whether to return to stock or cafe racer)

I'll post some pics soon ....
$tromtrooper
Join Date: Mar 2010
Location: plymouth, michigan
Posts: 3,081
Used to have a GS550, also an 1980 model. Kitted it up with a 4 into 1, mini fairing cowl, it was a very pleasant bike to ride on - and the seat was wonderful. My first real full size street bike. I eventually sold it for a GPz750 - lots faster. I think the Strom has that same sort of easy going character I found in that ol' GS.

As for Vee issues, aside from some clutch chuddering, sidestand and/or clutch saftey switch failures, cush drive rubber getting mushy, and some other issues that might not ever happen, there's really not much that goes off the bend.
---
"Side effects may include:
Mild kidney explosions...Testicular cranberrying... And Rectal hallucinations.
"
Stromthusiast!
Junior Trooper
Join Date: Jan 2011
Location: East Central Illinois
Posts: 4
Strike that No Vee or Wee for me right now
---
Well as it turns out I won't be joining the ranks OR the VEE/WEE debate anytime soon. I had pretty well convinced myself that I was going to find the right Vee within a couple of months taking the time to build up the 5k or so it would take to purchase said vehicle. As fortune would have it a deal dropped into my lap that I couldn't pass up.
Tomorrow I will be picking up my new to me 2000 Triumph Tiger 855i. Kinda fitting I guess since I'm already a Bonnie rider. Not a lot of farkles on this bike yet (just the oem luggage actually) but well maintained and only 17k miles with new tires, chain, and sproket. And at only 2000.00 it was too good to pass up .... hope we can still ride together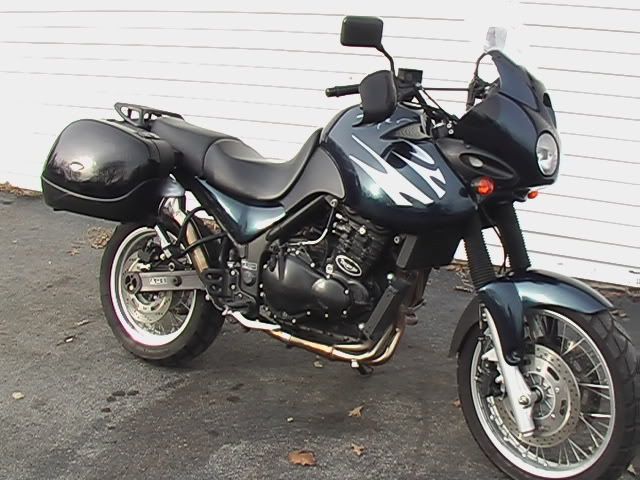 Stromthusiast!
Join Date: Aug 2010
Location: North Central Washington
Posts: 145
---
Congrats. Have a soft spot in my heart for Triumphs, they're cool. Enjoy that ride!
Stromthusiast!
Junior Trooper
Join Date: Mar 2011
Location: Mass
Posts: 4
Those are two of what I'm looking at,I'd take the big cat at that price.I'm in the process of trying to sell a house,counter tops for the wife toy for me.Between Vee ,Tiger(maybe 800) I was looking at the KTM but to much maintenance.Good luck with the bike.