Ninja 650 vs DL650
---
Just curious, anyone know how the power of a Ninja 650 would compare to the power of a Wee Strom? I currently have a Ninja 650 and am pretty much set on a V-Strom as my next bike. Still kind of going through the decision on which one I would go with though (1000 vs 650.)
I was pretty set on the 1000 but I've read alot about how most people choose the 650 over the 1000. I'm still leaning towards the 1000 but initial price and cost of ownership is also something I think about. I would love to keep my same, if not better, gas mileage. I know I would take a hit going with the 1k and probably get slightly better going with the 650. 1k also probably eats up tires a little faster too.
My main issue with the DL650 seems to be that it would be slightly slower than my current Ninja 650 and probably not handle 2-up riding any better (although I'm guessing the passenger seat is alot more comfortable.)
I'm 6'3, 210lbs (yikes, gotta lose that gut) and want to finally get a bike that fits me well. My first bike was a Ninja 250. After that, my current bike, the Ninja 650. I've always been folded up pretty tightly on bikes and can't wait to someday have a V-Strom that lets me sit more comfortably on those long rides. Just have to decide which engine to go with now
I research things quite a bit, so I probably won't end up with a V-Strom until either late this season or the beginning of next year. Unless I find a good used deal I can't pass up, of course.
There is a lot more than just horsepower. You are going to miss the brakes and suspension as well. I don't think the DL650 is going to be nearly as fast, it isn't going to corner like a Ninja, nor is it going to stop like one, however this is coming from someone who only looked at the specs for the Ninja and has never ridden one.

To answer your question, the DL650 has about 65 horsepower and about 33 ft/lb of torque. The Ninja 650 has about 72 horsepower and 48 ft/lb of torque. I don't know where on the RPM curve the peaks are for either though.
---
Scott Craig - Nashville, TN
Red '06 Suzuki DL650 - Red '07 Honda VFR800 -
My Bike Page
HP is only one factor in the ability to ride 2-up. Believe me, a V-Strom is going to be worlds better 2-up than your Ninja, for both you and your passenger. As for the power, all I can say is I gave up 152 HP for my Wee and I do miss the power at times but the gains outweigh the power loss for sure. I don't think you're going to notice much difference in real world power between your bike and the Wee. The Wee has more in the low and mid range where you really want it on the street.
---
'09 Wee (sold)
2012 Ducati Multistrada 1200 S Touring
2006 BMW K1200LT
The Ninja 650 is the faired ER6 (it's called ER6F here in Oz).
The 650 parallel twin?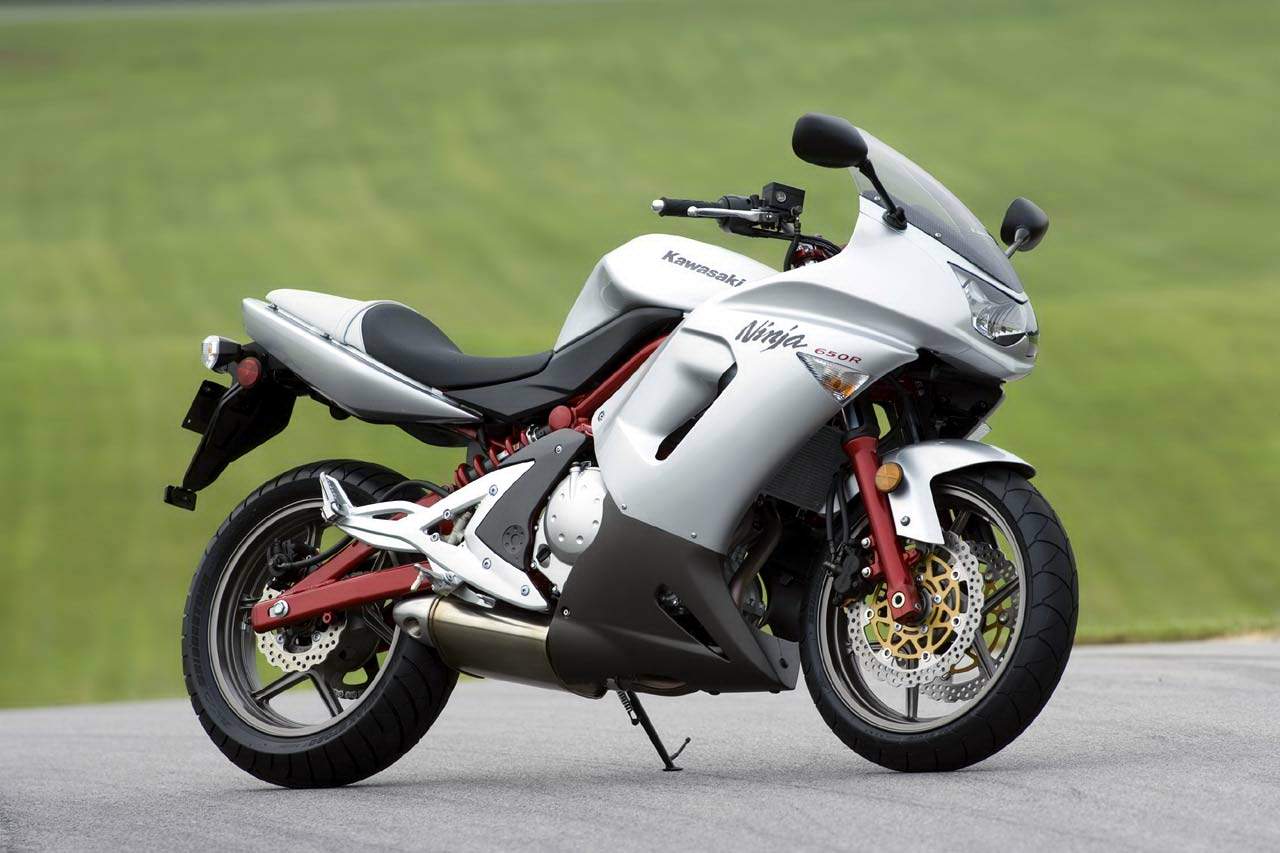 If yes, the WEE is the better 2-up bike...it's longer, roomier and packs luggage of all kinds a heck of a lot easier and better balanced than the Kwaka.
OTOH...the Ninja's got the more flexible motor, sweeter gearbox
, is slightly stronger than the WEE at low rpm (2500-4500rpm...after that they're even or close enough...but where the Ninja starts to get rough, the WEE keeps spinning ever so smoothly towards the revs-ceiling).
The chassis is shorter and steering steeper on the Kwak, therefore the bike's more agile, faster to flick side-to-side. CoG is also lower, making the Ninja feel quite a bit lighter than it actually is.
Found the Kwak a really delightful, easy to ride and snappy middleweight.
Take 'em to the dirt though, and all's now pointing to the WEE. It's more stable on loose surfaces, the 19" front hoop helps with a far wider tyre choice, brakes are on a level with the Kwaka, the longer rake plants the front.
The WEE/ VEE offers a far bigger aftermarket, choices of bits and "upgrades" are mind-boggling. Strong Net+tech support through forums like this.
Top speed is near identical....
---
Cheers
Pete
Doesn't the Versys have the same engine as the Ninja 650? There are a lot of reviews/comparisons of the Wee to the Versys on the web. Look at how those two compare and you should have an idea of engine differences.
---
09 "Wee"-Strom DL650 (Orange)
99 Harley-Davidson XL1200S
00 Bultaco
73 Bultaco Sherpa-T
69 Triumph Bonnie (Project Bike)
Stromthusiast!
Join Date: Dec 2008
Location: Colorado
Posts: 30
I have a rental customer who has been renting from me for the last year when he is in town. His own bike is a Ninja 650. He now has recently moved here to Colorado and is looking for a Wee. He said that the Ninja was just no fun for mountain rides because of the ergos. He was wanting to do 100 mile plus loops. I rent both the V and Wee. When there is a choice I mostly ride the Wee. The extra 50 pounds of the V is not worth it just to be able to pass quicker. The Wee can carry more corner speed as well. Since you are tall get the tall seat for the Wee. It is the same seat as the V stock seat. It just has another inch or so of padding. I have a bunch of miles on both the V and Wee. The other great thing about the Wee is that it gets 50+ MPG no matter how hard you ride it. The 300 mile range makes it great at covering a lot of road.
Ron
---
***commercial link removed by admin. contact
[email protected]
for advertising details***
Went to the Kawasaki shop today (have a friend that works there), the shop mechanics all said that the Versys and Ninja 650 have exactly the same engine, the performance differences are in the ECM only.

Hope this helps.
---
09 "Wee"-Strom DL650 (Orange)
99 Harley-Davidson XL1200S
00 Bultaco
73 Bultaco Sherpa-T
69 Triumph Bonnie (Project Bike)
The Versys, the 650 Ninja, the ER6 and its variants are all based on the same engine. I've ridden a Versys and a 650 Ninja and I have a DL650.

Setting aside the engine, the Versys and the Ninja 650 are vastly different motorcycles in ergonomics, handling and feel. I'm 5"10 and 175lbs and I'm surprised you can even fit on the Ninja, as I found it to be a very small motorcycle. The Versys is smaller than the DL650 with slightly tighter ergonomics, but I thought it was made up in fun factor (at the time I bought my DL650 had there been a Versys available in a similar price range, I would have bought it). I sat on a Versys and a KLR side by side a couple of weeks ago and noted just how much smaller the Versys was.

For two-up riding practicality, luggage and gear carrying capability, versatility and comfort, I'd still end up with a V-Strom.
---
'04 650, and goshdarnit it's fun - matte silver (#9 in the Silver 'Strom Club)
farewell to an '81 KZ550, '83 GPz750, '83 V45 Sabre, R-Reg GT380, '84 GPz550, early '70s DT175, and a '72 Peugeot 102
I own both a DL650 and a Ninja 650R, so I feel qualified to answer.
Acceleration: Ninja
Hands down, the Ninja is a lot more fun. Very different acceleration of the parallel twin compared to the v-twin in the DL650. The Ninja takes off and accelerates. The DL650 just accelerates. The DL650 is not a sportsbike and I don't expect it to be one. Am I every disappointed with it's acceleration? Hell no. It puts a smile on my face when I want it to, and has gotten me out of trouble when I needed it to.
Comfort: DL650
Lots more room on the DL650. Legroom and seating are better, in my opinion. The seat on the Ninja is quite firm, so not as good for longer rides. It'll be all right if you're just going to be carving corners all day. I'm 5'10, ~220 lbs and I look like a friggin' circus bear on a kids tricycle on the Ninja. While the Ninja does have an up-right seating position, it's not as upright as the DL650. Also, because of my upper body height (5'10 with a 30' inseam), when leaning forward I can easily look at the front of my screen. Wind hits me squarely in the helmet, which causes a hell of a lot of wind noise and some buffeting. 70+ mph is only bearable for short periods.
Two-up: DL650
The DL650 is the much better bike for two-up travel. The suspension is setup much better for it than the Ninja, there is more seat and legroom for the passenger, etc. I take my wife out a lot on the DL650, and wouldn't even think of using the Ninja. It's just not made for it. Me at ~220 lbs, the wife at ~150 lbs, loaded up, and it still performs very well.
Handling: Tie
The 650R is nice and flickable, as it's smaller, but I've found the DL650 a heck of a lot easier to control. While slower, I feel more in control on the DL650. It's much smoother and compliant. The Ninja is definitely more responsive I guess.
Wife's (though I ride it more often right now):
Mine:
If I had to chose between either of them, it'd be the DL650 every single time.
---
'09 VStrom DL650A - Sold.
'04 Suzuki Burgman 400 - The wifes
'08 FJR1300AE - Miss Chievous.
WWGWD
?
---
Last edited by LowAndSilent; 06-11-2010 at

04:30 PM

.
Thanks for the feedback guys. I'm trying to put my All-American urge for more power aside and am starting to seriously consider the DL650 over the 1000.