Stromthusiast!
Join Date: Feb 2009
Location: Iowa
Posts: 38
looking at 02' dl1000 ... need help deciding
---
Well i have been looking for a 650 but came across this 1000 that isn't to far out of reach and I am wondering what you guys think ... I'm wanting to do some good touring this summer minimum of a couple thousand mile trips and starting to think the 1k is a better choice just b/c of the amount of gear i will have and the potential for 2up... (okay okay i just really like power
) ... so here it is ...
looking at a 2002 DL1000 w/ 25000 miles ... has givi engine guard, top box, and different windshield ... owner claims it's ready to ride w/ no issues ... my only fear is of the cluctch basket which i have been reading about ... would you think that by 25k miles this would have already been changed or gone bad?
guy is asking $3900
any thoughts or opinions on ANYTHING is much appreciated. Along with any info on the 02' model specifically that i should probably know other than the windshield doesn't move.
i read that the gauges are different on the 02' ... how so ?
thanks,
-brent
Join Date: Feb 2009
Posts: 56
shop
---
do your home work both bikes are great as i have owned both . the price well i think you could do better. $4000 for a bike with 25000 . these bikes have proved to be great high mile bikes . but for the year miles. i would not pay more than $2200. take that amount times 4 $8800 brand new $8900 . i saw an 05 awhile back at a dealer. 6500 miles for $6700. keep looking just sold an 06 dl 650 $4000.00 with only 4000 miles. you can find a better deal .thats highway robbery. my 06 only resale $4500. sold it to a friend
Stromthusiast!
Join Date: Aug 2007
Location: Omaha, NE
Posts: 7,469
Price
---
The bikes are fine. I have a 2002. The price seems a little high. Unless you especially like the add-ons, see if the owner will separate them and lower the price accordingly, as most can be sold on fleabay. I'd be more concerned with tire and chain-sprocket condition, and verify that the valves were checked at the appropriate mileage and the oil changed regularly. I paid a little less than that for mine two years ago with Givi cases, centerstand, grip heaters, and chain oiler, worn tires but new sprockets/chain, and I felt I maybe paid a little more than it was worth (the guy had it listed for a while), although they are so rarely available here that buying it was in retrospect the right decision. You didn't mention if the owner made other 'improvements' like aftermarket cans, lights, suspension lowering, fuel injection tweaks, grabby brake pads, etc. Mine was stock but for secondary plate removal, and that was the way I wanted it. If I was doing it again, I'd get a 2004-up bike and pay the extra money for the adjustable windshield. And I may do it again, although the windshield issue isn't IMHO nearly as bad as some folks make it out to be. If you do buy the bike, probably worth going through and changing all the fluids (brake, clutch, coolant), changing the spark plugs (while changing the coolant is a good time), lube all the pivot points (levers, brake), change the fork oil, and lube the rear suspension pivots. Ready to ride is a relative term on a seven year old bike, especially if you're going to be a ways from home. And the bikes don't seem to like ethanol-blend gas if that is sold in your neck of the woods.
Stromthusiast!
Join Date: Feb 2009
Location: Iowa
Posts: 38
sounds like i should be getting an 04' for this price not an 02' ? ... I guess I'll wait and see what pops up in the next few weeks when spring is finally starting ... i'm use to buying bikes in the fall so i never have had a hard time finding good deals ... but it seems every strom i find is $4.5k+, no matter age or mileage ...
I was in the same position by last June. Lost out bidding on the only two DL650's I found. Answered an ad for
a K2 DL1000 in the north suburbs. OEM centerstand, new battery, new Michelin Pilots and 11k on the odometer.
Test rode it, loved it, gave $4500 and rode it home. My first 3 farkles were a Givi windscreen, Givi engine crash bars
and a JCW top box - goodbye another $300, but worth it. 20k on the odometer now!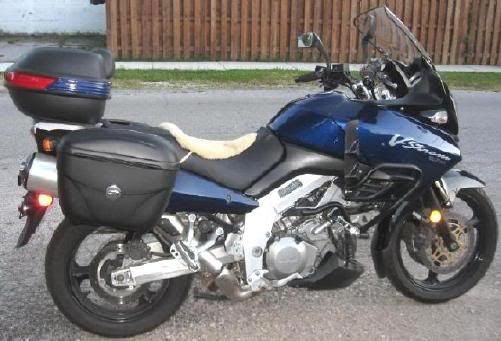 DL's seem to be more scarce and to cost more here in the midwest. I spotted deals in NE, KS and TX for
hundreds less, but the costs of getting to them outweighed the lower prices. The average nationwide cost of
a K2 DL1000 is $4200 according to Motorcycle Consumer News, March 2009. That pretty much reflects the
asking $ I see on bikes currently offered here at Stromtroopers and at VSRI.
Jimding hit all the details on important maintenance considerations. The clutch chudder issue is one
of comfort and preference. It's not a reliability issue, IMHO. I changed the clutch basket and notice a
partial improvement. If you gas it hard from 2800-3800 rpm, the v-twin torque will still produce a
powerful, shaking pulse. For me, the extra horsepower compensates for any chudder issue. Get the rpm's
above 4000 and even hard acceleration is smoooooth.
If it's a Givi windscreen, add Laminar Ears to get good upper body coverage and reduce any buffeting:
http://www.laminarlip.com/ears.htm
I like the layout, readability and function of the K2 DL instrument cluster.
If you like the bike you see and ride; if you trust the owner; and if you're ready at that $, I'd say go for it.
You have just enough time before the weather breaks to make changes to get the bike to fit YOU.
---
Austin
2002 DL1000 - 70K of joy, so far...
1978 GS1000 - One owner, still putt'n