Stromthusiast!
Join Date: Dec 2008
Location: NorCal
Posts: 11
Wee for not so wee guy ?
---
I am new here, but not to bikes. Due to a recent right ankle fusion I will probably give up my Multistrada and go to something smaller with ABS since I will be limited to reaching the back brake. I'm thinking smaller since it wont be a freeway tourer, but an around town and backroads day ride bike. The Wee looks to fit the bill. Looking here it appears that the bike should be fine for my 6'1", 240 lb body. My concern is the power. I'm used to large v-twins. The Multi is great, my ex Harleys had tons of torque, as does my new Victory Kingpin (kicks a HD's butt). I dont want a buzzy bike. I rode the 1000 when they first came out years ago and loved it. I have never owned a bike with this small of a motor. Any help would be appreciated.

Thanks,
Tom
Stromthusiast!
Join Date: Apr 2008
Location: Pepperell, ma
Posts: 100
I own a Multi 1000 and a Wee. I also happen to be 6'5" and weight in at a light 245. Does the Wee have the kick of the Multi, no, but when the time comes to ride I almost always grad the key to the Wee. I have raised the bars and the seat height and find the Wee fits just great. I changed out the front springs, great improvment. The motor is like the little engine that could, just rev it and it goes. In the past I've owned quite a few larger displacement bikes and most of the time the 650 engine has more than enough power, it just spins more. But because it is so smooth it is not an issue. I enjoyed riding the Wee so much on the back roads of Vermont and New hampshire that I purchased another for my wife. That said I believe that if I rode highways most of the time I'd go for the extra power of the Vee.
Quote:
That said I believe that if I rode highways most of the time I'd go for the extra power of the Vee.
I have no trouble getting pulled over on the DL650. I'd lose my license if I had more power.
---
-Tom (DL650AL2) (KA1TOX) (E-I-E-I-O)
This message and images are licensed under the Creative Commons Attribution-NonCommercial-ShareAlike 3.0 Unported License.
http://creativecommons.org
Stromthusiast!
Join Date: Dec 2008
Location: NorCal
Posts: 11
Thanks for the responses. One of the other posts here on this forum mentioned a place in San Francisco (Wild West Cycles) that rents Wee's, so that will be the way I will go. I'd rather spend the $ for a nice 24 hour test ride to be sure that this is the bike for me- once I get this cast off !

Thanks,

Tom
I'm 6'2" and weigh 230. I think the bike has plenty of enough power. I keep twisting and it keeps pulling! Good idea to go rent one and see for yourself though just to be sure. Either the 650 or 1000 are great bikes, you really can't go wrong!
6'4", 250 lbs.
Also, the Wee is an outstanding 2-up bike for the wife and I, as we load it all the way to the MAX!!!! Yep, have Givi E45's x 3 we pack full.
I have no camplaints with the power of the Wee, except when I feel a little wild....I wish it could easily wheelie!!!!! But honestly, with a 500 lbs on the Wee, we have no problem riding the 10-12k passes in Colorado....which in my opinion....is the utimate test.
Here is the wife and our Wee....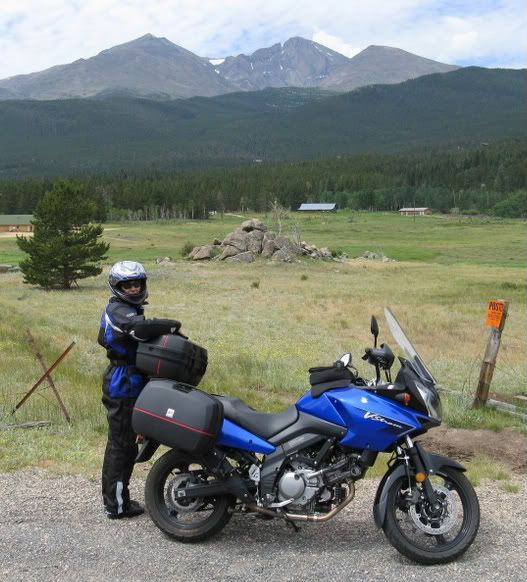 ---
Big John

2007 DL650 - Gone but not forgotten
This is a 6'1 240 human on a DL650. I did buy the Tall Touring saddle and change the windshield, but bars and footpegs are stock.
---
2005 DL650 (sold) | 2009 DL650A (sold) | 2008 Tiger 1050 ABS | 2012 WR250R | 2008 CRF100F
Stromthusiast!
Join Date: Jun 2007
Location: Costa Rica
Posts: 50
We love our 650s Tom! I'm 60 yrs/200lbs and my wife and I moved to DL650s and love 'em. Plenty of power, not buzzy (unless you're moving at 90+). Went 1000 miles around Lake Michigan this summer and had no complaints whatsoever.
---
Last edited by Dranoel; 12-07-2008 at

06:03 PM

.
The 650 motor is very different than a big twin.
It is a revvey motor, but not a buzzy one (like an I-4)
It makes good power, but requires rpms to do so.

Where you tend to ride a big twin in one gear, the 650 likes you to tap dance on the shifter.
Many Buell guys I know "claim" they like the ability to run in one gear and not "have to" shift,
but the reality is shifting these big torque motors tends to be jerky due to the torque and engine braking.
Particularly when reved up a bit. One gear (or limited shifting) running just works best on these bikes.

The 650 smoothly up and down shifts without the drama that big torque motors do, even in the meat of its power band.

Try to ride the 650 in one gear like a big twin and you will be very disappointed.
Ride it the way the engine wants and its fun and rewarding.
---
Last edited by Ogre_FL; 12-08-2008 at

11:15 AM

.