Stromthusiast!
Join Date: Aug 2008
Location: Terre Haute
Posts: 268
Hello all
---
My name is Adam and I am new to the whole motorcycle scene. The owner fo this site knows me from races at the Action Track (hey!). I am taking the motorcycle riding class at the local college this fall (ISU). What I was wondering what kind of bike should I start out with. What I know I want so far is something cheap and used because I have never set foot on a bike before (I have sat on my friends Sportster and plan on getting one in a couple years). I have been looking at anything from a 250cc cruiser to a 500cc sport bike (GZ250, Vstar250, and a GS500). I don't know if the 250 would be too small for me. I am about 6 1 and weigh about 250. Anyway, can't wait until next spring to have 2 wheels to ride myself.
DL650 VStrom. Great 1st bike, and it's got more than enough power to pull your body weight (I'm not that much smaller than you!).

Just be respectful of the potential in the throttle. Fool with the throttle and it will get you to 100 very quickly. Learn safely and wisely. No matter the motorcycle, it is more bike than anything you've done before.

A 600cc sport bike is too much engine for many first timers. A 650cc VStrom is much tamer, kinder, and gentler. And will serve you well for years to come. And is much more practical and versatile, both fun and utilitarian. Also very economical, comfortable for your 6'1" body, and dead-on reliable.
---
Steve.
Twin Cities, MN, USA
'18 DL650XT, previously '07 DL650 and others
"With the rights of life, liberty, and the pursuit happiness comes responsibility, to yourself and others. With responsibility comes accountability. Without responsibility, without accountability, we cannot and will not be a free and civilized society."
-Me, Steve T.
My first bike was an older GS500 (the naked version) and it was a great first bike. It had enough power to haul me around as fast as I wanted to go and I'm 6'2" and about 225lbs. My wife and I even took some short 2 up trips with the bike and it did just fine. The seating position is in between a pure sport bike and standard and the comfort level for me was just okay.
HOWEVER . . . . If I knew then what I know now, the Wee would've been a possibility for a first bike.
It all depends on your comfort and experience level, BUT BE SMART. My GS500 only put out about 45 horsepower and it was more than enough bike to almost get me in trouble!
Good luck on your search and when the time comes, ride safe!
---
Last edited by SkalStrom; 08-15-2008 at

12:08 AM

.
GS500f
---
[QUOTE=new2bikes;283247]My name is Adam I have been looking at anything from a 250cc cruiser to a 500cc sport bike (GZ250, Vstar250, and a GS500). QUOTE]

Hay Adam, I bought the GS500f last year, at first seating in the showroom I thought it was great. Also a very nice looking bike, powerful, fast responce, MPG pretty good. After riding it for a while it would literraly be a pain in the back !! I felt I was leaning too far forward, and doing push-ups at 50 is a strain. At 300 miles it began to smoke at start ups, this was in mid summer in Utah ( 100+ F. ) Got the run-around from my dealer and Suzi of America. The best reply was that this was a lowend model and that's the way it is. Besides, you may be a bit tall for it, wouldn't do the knees all too good I think.
If you are just beginning the two wheel experience, please start with a low cc, 250 is a good start. Too many people are injured or killed jumping on big bikes with no experience. And I highly recommend the MSF Class. I took it even with years of riding, amazing what I didn't know.
---
FB MEMBER #133 - 2008 Wee
Stromthusiast!
Join Date: Aug 2008
Location: Terre Haute
Posts: 268
Well a update.
A. I have a few bikes I am looking at. One is a Honda Rebel. It is used, but new. Either a 2007 or 2008. The current owner bought it and has no one to ride with so they are selling it. I would pay thier pay off. I also sat on my co workers Honda c30 Magna (I think, it is 500cc). but the downside is that is only get 30 mpg in the city on a good day. I am only going to spend around 2500 for my first bike. I see a Vstrom 650 at the local dealer today, it looks a bit too big for me to learn on.
I also looked at helmets, and will probably get the kind with the flip up helmet front (looks like a half helmet when up).
something like this
---
Last edited by new2bikes; 08-30-2008 at

04:39 PM

.
Stromthusiast!
Join Date: Aug 2008
Location: Terre Haute
Posts: 268
Looking at my cash issues for this bike,
Well, I might buy a co workers bike next spring.
Not this nice, but this is what it is similiar to. His is blue.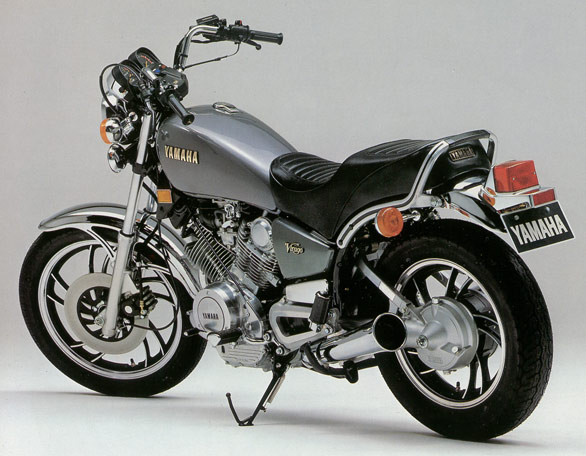 it will be under 2k, he will sell it right now for 1400, but he is going to have the pipes powdercoated and replace all the missing pieces. He is only selling for what he has in it.
It is a Yamaha Virago XV750.
I wouldn't recommend the DL650 as a 1st bike....it's very tall. Learn your skills on some of the other bikes that you've mentioned like the Rebel or GS 500. Just my opinion.
---
I'd have no issue going for a V-strom as a first bike. I did 3 months ago... You respect it, learn correctly, ride within your limits.

MSF, Parking lots, empty roads

Thats all of course a V-strom is the type of ride your looking for.
---
[SIZE="1"]SOME PEOPLE ARE LIKE SLINKIES - NOT REALLY GOOD FOR ANYTHING, BUT THEY BRING A SMILE TO YOUR FACE WHEN PUSHED DOWN THE STAIRS.[/SIZE]
My first road bike was Harley Road King Police. That was a mother to learn to ride on after taking the MSF on a little 250. Made riding the Vee a breeze.
Stromthusiast!
Join Date: Aug 2008
Location: Terre Haute
Posts: 268
Just a update.

Got my permit today.
Sat on a wee today. Felt almost too big, but my feet did sit flat on the ground. If I had the 5k the dealer was asking for it, I would probably have rode it home.