Buying a 650 V-Strom
---
Hello Team,
I am looking to buy a 650 V-Strom, around the 2010 model, i am downsizing from a Honda ST1300 (would post a picture but i am still to new) as my wife now rides herself, and i do not need the larger bike as i am not carrying pillion and all the gear.

I love my distance riding being a FarRider #667/IBA #59145 member, and from what i have discovered the V-Strom is an excellent option.

could you give me some first hand information on the below subjects please:

Is the suspension easily adjustable?

I run LED driving lights, is there easy to access brackets?

What is the stock seat like? (the ST was less than kind to the behind)

What sort of distance do you get out of a tank of fuel? (ST1300 is about 500km)

Can i get a centre stand for the V-Strom?

is there any tips or advise for what i should be looking at when purchasing?

Thank you in Advance for your help and advise
Welcome to the forum QLDRider. A V-strom650 will be a good choice.
Quote:
Hello Team,
I am looking to buy a 650 V-Strom, around the 2010 model, i am downsizing from a Honda ST1300 (would post a picture but i am still to new) as my wife now rides herself, and i do not need the larger bike as i am not carrying pillion and all the gear.
I love my distance riding being a FarRider #667/IBA #59145 member, and from what i have discovered the V-Strom is an excellent option.
There are a few FarRiders I know from around the Barraba area who you will most likely have met.
could you give me some first hand information on the below subjects please:
Is the suspension easily adjustable?
Yes, rear suspension preload has an adjustable knob and front you will need a large screwdriver.
I run LED driving lights, is there easy to access brackets?
For accessories from Australia you could try
https://www.motorradgarage.com.au/
or
Motorcycle Adventure Products your Premium Motorcycle Accessory Store!
There are plenty of OS places to buy from which may be cheaper but with the Au$ where it currently is it may not be the case.
What is the stock seat like? (the ST was less than kind to the behind)
The stock is OK but for long distance you will most likely want a Airhawk. Or better still is a seat off a DL1000 which has an extra 20mm of padding, plus the Airhawk.
What sort of distance do you get out of a tank of fuel? (ST1300 is about 500km)
Usual is around 400km but can go as high as 450-500.
Can i get a centre stand for the V-Strom?
As above
is there any tips or advise for what i should be looking at when purchasing?
Have alook at this thread
https://www.stromtrooper.com/australi...-used-wee.html
Thank you in Advance for your help and advise
---
Cheers Ian.
White DL650A L3
Sold Red DL650 K5
Also a Blue DR650
I'm a part time QLD rider out of Cairns. Have a KLR650 there and a 2010 Vstrom ABS here.
Should be an excellent bike for you.
Super stable on the highway and off pavement.
Not something I'd single track with but forest trails and outback with streams it's fine.
I'd look at Heidenau for tires for both wear and good on or off road performance.
Downside is some noise and not really canyon carving tires.
But I put 20,000 km on a set from last Oct to June and they still had road worthy tread ( I figure 50% left )
Centre stand lowers clearance and adds weight.
Madstat windscreen bracket the best farkle of all which many will agree with.
I prefer a Beadrider to the Airhawk.....many end with a third party seat anyway....I use the BR with my Terry Adcox.
Loads of farkles for the Wee.
This looks to be a decent set up with good farkles not far from you.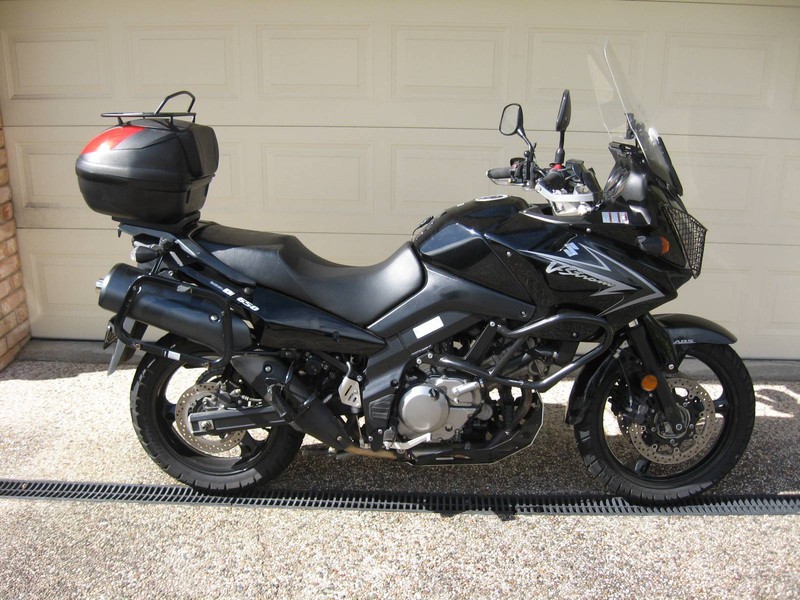 Quote:
BarkBuster Hand guards.

*Motech Crash bars.

*Motech Bash plate.

*Motech Centre stand..

*Adjustable Lowering kit fitted (Set to Standard Height).

*Motech Evo lockable removable rack fitted for Givi luggage⁄panniers.

*Radiator Guard

*Headlight Protector

*Instrument Shelf

*Givi Top Box with backrest and luggage Rack

*K&N Air filter.

*Givi Touring Screen and original supplied

*Throttle Lock

*Grip Puppies
Suzuki DL650A VStrom | Motorcycles | Gumtree Australia Caloundra Area - Little Mountain | 1083400555
You'll find it much more agile than the ST ( I had ST1100 ) and you can move on to off pavement and not even slow down.
Too much fun.
---
Ontario Canada rider staying in Cairns Australian Feb to May & Aug-Oct each year
Canada
2018 CB500x
>
2009 CBF1000 sold
• 10 Wee ABS sold • 09 Burgman Exec sold • 10 NT700v sold
Australia> 04 KLR650
• 93 ST1100 sold •
Travel photos
>
https://500px.com/macdoc/galleries
Oz riding >
https://tinyurl.com/y4c7lm87
---
Last edited by Macdoc; 07-23-2015 at

08:55 PM

.
I went from a FJR1300 to a strom 650. Couldn't be happier. After years and many miles on ownership of the FJR, I decided to try adventire riding. Only had it for a couple days now, but still loving the decision. Spent most of yesterday bouncing around off paved roads.



IB1 #44615

Welcome
---
Most people are like slinky. Basically useless but fun to push down the stairs.