Stromthusiast!
Join Date: Sep 2013
Location: Langley, BC
Posts: 10
About to [maybe] pull the trigger on a Wee
---
I have been riding for 13 years, mostly on sport bikes. I currently ride a 2000 Honda CBR929RR, which I absolutely love. However, after attempting a few 2-up rides with my wife (and basically giving up because it hurts so bad for the both of us), I am going to buy more of a "couch" to ride.

At first I thought about getting a cruiser, but a few people warned me that I would be giving up way too much. So after a whole lot of research, the bike that I keep coming back to is the V-Strom 650.

I am currently dealing on a 2007 ABS model with 67K km (42K miles) on it. It has been a year round commuter on Vancouver Island since new, so it has quite a lot of corrosion on the engine cases, fasteners, etc. But I think it's nothing that a bit of scrubbing and spray bombing can't fix. Plus, this one is about a grand cheaper than the super clean ones I have seen. It also has a GIVI top case, so that adds value as well.

I took it for a rip a couple of days ago and it runs really well. And MAN is it different from what I used to - obviously. But I liked it a lot. Less stressful, almost as if you can forget about the bike and enjoy the journey instead, not that I took it far or anything.

If I do pull the trigger, and I think I will, I will be sure to post my impressions of it after riding it for a while, comparing it to the 929. Apples and oranges, yes, but I would like to think it will be interesting to those thinking of ditching a license endangering, insurance mongering rocket in favour of something more couchy and nice.
Stromthusiast!
Join Date: Jun 2013
Location: Central West NSW, Australia
Posts: 1,366
Welcome ... and it will be more like apples and cigars.
---
"I've recently come to the realization that true happiness can often be found at the bottom of an empty gas tank" - Prime
Stromthusiast!
Join Date: Sep 2013
Location: Langley, BC
Posts: 10
Quote:
Welcome ... and it will be more like apples and cigars.
The real question is, which one is the apple and which one is the cigar?
if you're undecided , DO NOT go take a Vstrom tour with MotoCaribe in the Dominican Republic . Riding the swiss army knife of motorcycles in that idyllic setting may make all other bikes obsolete . From the smoothest of roads to the worst of roads , the Vstrom excells !

I may be biased .
Alex
---
Not all my lucid moments are consecutive .
Do it. Do it now. Right now. Do it. Go.
---
-Steve in Phx.
Current: 2011 DL650A, Honda XR650L
Lost Loves: 2003 Honda ST1300A, Kawasaki Concours ZG1000, Honda Shadow VT500C, Honda Nighthawk CB700SC, Kawasaki KLR600, Yamaha TT500, Honda XR75
Stromthusiast!
Join Date: Sep 2013
Location: Langley, BC
Posts: 10
Well, some punk kid came and bought my CBR929RR, so I am [for the first time in forever] bikeless at the moment.

"I really want a litre bike."

The kid has been riding for a year and looked very teedery and awkward when he left. I swore he wouldn't make it home alive, but alas he did....
OI.

SO...this is the week I plan to buy the wee.

I have noticed that V-Strom owners are more nuts about their bikes than most others. Borderline crazy, even. I hope to become one of those!
Stromthusiast!
Join Date: Jul 2013
Location: arizona
Posts: 194
The DL650 is a hoot in the twisties. It's not going to make you feel like you got shot out a cannon but it gets to 60 in a jiffy.

I did get an after market seat but wow, my wife if comfortable on the back of this bike. we can go on rides all day and she's not ready to go home yet.
---
'13DL650-A
Banned
Join Date: Sep 2010
Location: Whitehall, OH. USA
Posts: 1,048
a 650 is a 650 that is a 650
---
"with around 60 horse power on tap, the twin cylinder 650's are just powerful enough to be fun for a solo rider, but add a passenger and / or luggage and they fall flat. oh, they'll still haul you uphill, and accelerate you to freeway speeds, it just takes longer-plan your passes accordingly"..
(pg.59 motorcyclist oct. 2012)
Stromthusiast!
Join Date: Sep 2013
Location: Langley, BC
Posts: 10
The "MAYBE" has turned into reality. Meet my new bike: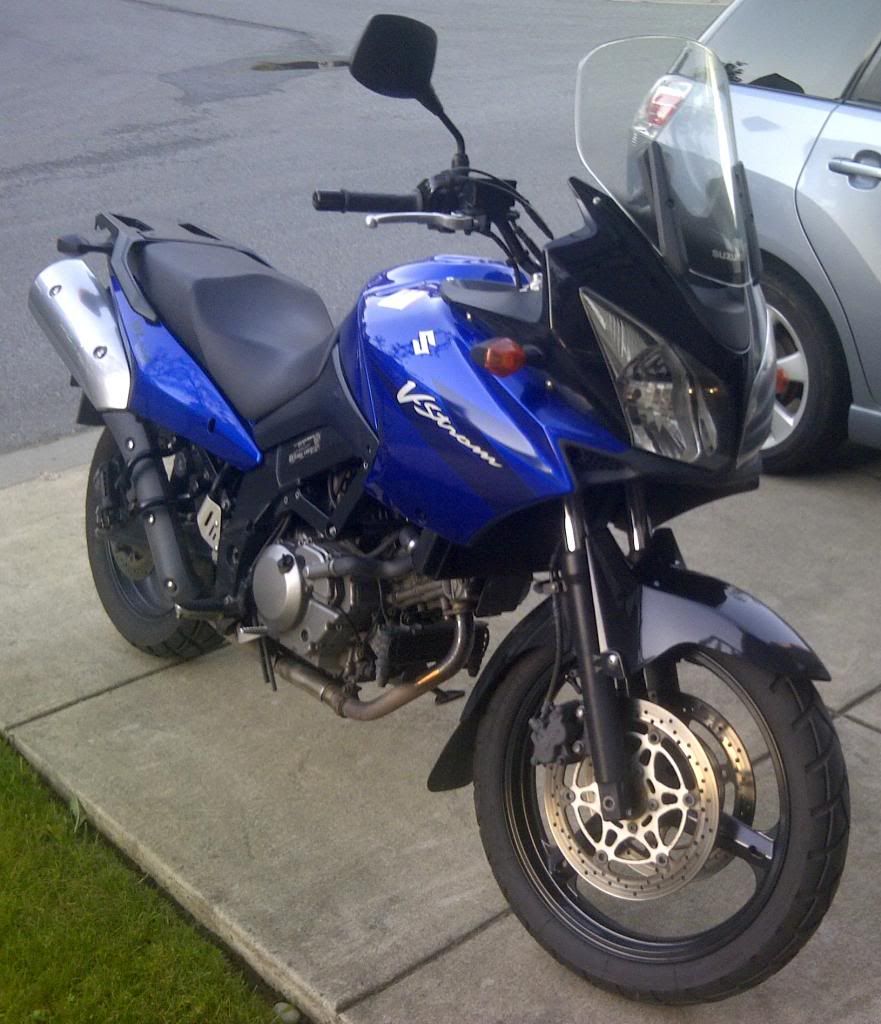 86K km on it (barely broken in!) and in absolutely mind condition. No accessories on it yet.
I rode it home from Chilliwack (Big Top Powersports who are excellent, by the way), 80 km home. Wow....different from my CBR929RR is an understatement. No regrets so far. I will update once I put a few more miles on her.
Super Moderator
Join Date: May 2005
Location: Central OHIO "Go Buckeyes"
Posts: 16,597
Congrats.....be sure to get all those stickers off. :mrgreen:
---
BRIAN "GO Buckeyes, GO Wildcats"!
2015 DL650 XT "Hector"
1997 Honda Valkyrie 1500
custom
"Dolores"