Stromthusiast!
Junior Trooper
Join Date: Aug 2009
Location: Carson City, Nevada
Posts: 3
Offroad Daily
---
Well I'm pretty sold on getting myself a DL650. Quite probably an adventure model so I can finance some of the farkle. My question to all you that are much more experienced than I, centers around the fact that I live down a dirt road. I will most likely end up using the bike to commute which means appoximately 4 miles in the dirt every time it is taken out and brought home again. Sand, washboard, mud and snow. So the question is will the DL650 tolerate this? I plan on keeping up on maintenance schedules as best I can, I know that it's not a dirt bike, but do you think that the bike will stand up to this kind of daily abuse (for lack of a better word)? Thanks in advance for any replies.
Here are a couple of pictures from my commute. I used to have a 40 miles (each way) commute now it is a 50 (each way) commute.
My 2006 after one interesting commute home: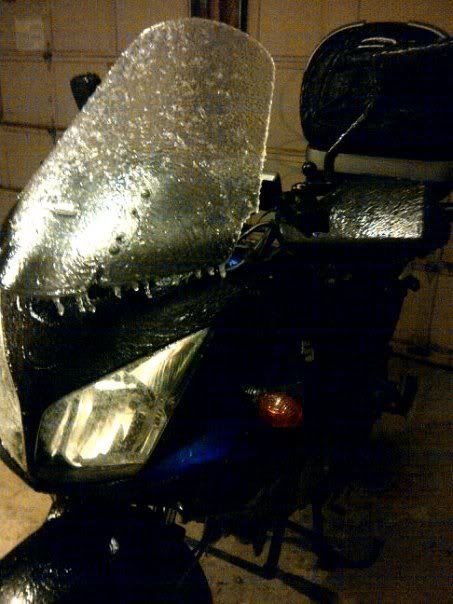 I did ride it almost daily on some gravel roads. My new commute can be more interesting. Here is how it looked last week when I got to work: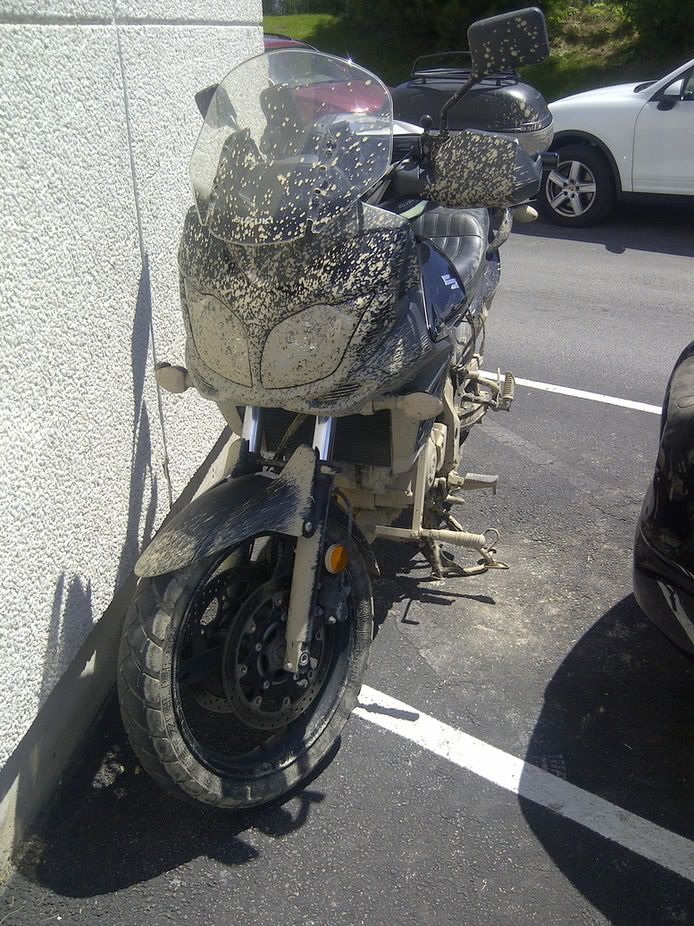 My 2006 has over 125,000 miles on it, my 2012 has over 39,000 miles on it.
Short answer to your question is:
"Yes!"
..Tom
---
2006 DL650: 202,000 km 125,500 miles, Sold
2012 DL650 139,500+ km, 86,700+ miles. Sold
2015 DL1000 New July 2015 200,000+ km, 125,000 miles.
This can help preventing from cars pulling out in front of you (SMIDSY)
SMIDSY detailed report
.
Stromthusiast!
Junior Trooper
Join Date: Aug 2009
Location: Carson City, Nevada
Posts: 3
YIKES!
Thanks for the reply. I felt fairly confident that the bike would tolerate it, but as a daily thing not an 'all day this weekend' in the dirt every once in a while; I had doubts. I'm pretty sure that top picture would warrant me kicking a kid out of their car and taking that instead. Thanks again.
With the right tires and the right rider, the wee can kick ass on gravel/dirt roads. Don't expect to be tearing up any single track though. I ride my wee at 70mph on loose gravel and dirt all the time. Deep sand can upset your apple cart quickly though. One thing to be careful of... when a 500 pound bike gets out of control or when you need to stop or slow down quickly on gravel or dirt, things can start to suck real bad! It has a LOT of inertia.
---
[I]When you think of the long and gloomy history of man, you will find more hideous crimes have been committed in the name of obedience than have ever been committed in the name of rebellion.[/I]
- C. P. Snow
Stromthusiast!
Junior Trooper
Join Date: Aug 2009
Location: Carson City, Nevada
Posts: 3
Point taken Randyo. Technically it is a road. It's not like I'm going to be blasting through the brush. Should have titled it 'Off Pavement'. Thanks for the advice all. I will look into tire selection etc. There are a couple of places of relatively thick sand, but these can be gotten around without too much problem. Thanks again!