Atlanta > Maine > Great Lakes > Atlanta
---
My mission is to find the twistiest, greenest, gnarliest most mountainous back country paved 2 lane roads between here (ATL) and Pennsylvania via the Eastern Continental Divide and Appalachian Mountains in 4 days time. Once I get to Pennsylvania it seems to flatten out and I'll probably want to get on up the road into New England but I'm semi-interested in visiting NYC too.. I'd like to catch the edge of New Jersey on my way into New York.From there I'll be Zigg-Zagging it up through New England on my way to Acadia National Park and the Northeastern Marker wherever that is.. Then I'm hanging a left toward Niagra Falls, under the lakes Ontario and Erie then up through and around Lake Michigan into Wisconsin. From there I'm contemplating doing a Butt Burner/Saddlesore ride Back Home.
I'm going prepared to camp, but after riding all day the last thing I usually want to do is pitch a tent, the first thing usually being beer, shower, food, sleep 7 hours and then ride.. I'm shooting for a hundred bucks a day average so I'm looking for Couches to surf along the way if any members here can help with route suggestions, places to see and stay that would be greatly appreciated..
Afterward I will have traveled 42 of 49 of the contiguous United States on two wheels
7 states on the left coast to go..
http://i174.photobucket.com/albums/w...pin/newmap.jpg
Stromthusiast!
Junior Trooper
Join Date: Jun 2010
Location: Berea KY
Posts: 5
KY/TN Portion
---
I dont know if you will be coming up 75 or if you will have the time for this.. BUT if you do I would highly recommend getting off and taking highway 25 north just outside of Knoxville. It will run with I-75. When you get close to Williamsburg you should look at taking highway 478 West. It will be super twisty and a lot of great scenic shots. This will take you into Whitley City Kentucky... theres not much there so keep on trucking unless you need a pitstop. From Whitley City you can head north on HWY 27. You should take this until you get to Somerset Kentucky. There is a great BBQ joint just south of Somerset as your coming in on 27 called Fat Mans BBQ. If your hungry I would say you need to stop there and fill up on some fantastic food. After gorging, continue north on 27 for about 1-2 miles until come into Somerset, then take the 914bypass (east or for those of use who are directionally challenged it will be a right). Go probably about 4-5 miles and take a right onto hwy 192. The fun begins again! This is a great, twisty but safe road. You can take this all the way out to the interstate or if you really want some fun curves take a left onto hwy 1003. It's about another 15-20 minutes back to highway 80.

From here you can take highway 80 over towards london and hit the hal rogers parkway (2-4 lane hwy going through coal country)... it's about a 2hr stint until you can hit hwy 23. You could then take 23N up to I-64 and head towards your destination...

If you've got a little more time.... get back on the interstate and head north to exit 87 (Richmond, KY)... go east on hwy 52. This is a decent 2-4 lane road that does have some nice long curves... fairly open country though. About the time you start to get board take a left onto hwy 213... Absolutely amazing ride from here to Stanton, KY. 213 will take you to Stanton or the Mountain PKWY.. Again depending on time constraints you can head north back up to I-64 (probably 20-25 minutes) or continue east on the parkway towards salyersville, KY (40-45 minues). If you have time go through Salyersville and then take a left or east onto hwy 460 (15-25 minutes). Then take 172N to 469 to 32. 32E is probably my favorite stretch here.. it's got some great scenery and what seems like never ending turns and it will also take you right beside the lake. 32 will take you towards Louisa, KY. Get on hwy 23 and head north towards I-64. When you get into WV I can't be of much help... but I work all over KY so I've gotten to know the roads pretty well and this would give you a very scenic stretch through here.

Don't know how much time you'll have but this would be a fun route to see KY!

Ride Safe...
Depending on your available time and where you are headed in WI, I don't know if you have considered going up the Michigan side of Lake Michigan (there are some beautiful roads that run up along the coast, with some nice scenery along the way), across the Mackinac Bridge, and then across the UP to WI. It makes a great ride, and there are some nice highlights along the way, like the Tunnel of Trees between Harbor Springs and Cross Village, and the many lighthouses and small towns scattered along the coast.
---
I seldom end up where I wanted to go, but almost always end up where I need to be. (Douglas Adams)

DL650 K5 - "Drachensfeuer"

DL650 K9 - "Drachensklaue" RIP 7-18-2009 with 5144 miles.
Silver Wheel Club #14
Official Mercedes killer, lol
and so it begins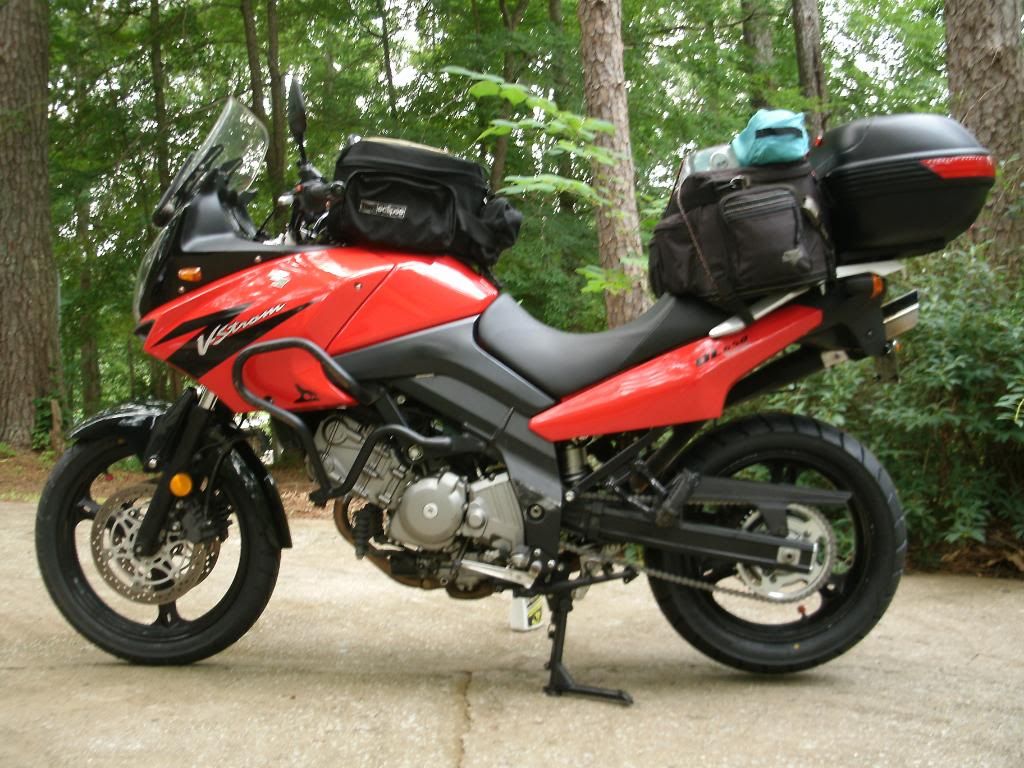 first day
http://maps.google.com/maps?f=d&sour...8,6.328125&z=8
Met up with WkBrder & Son in Clayton and headed down warwoman road on the way to Hot Springs NC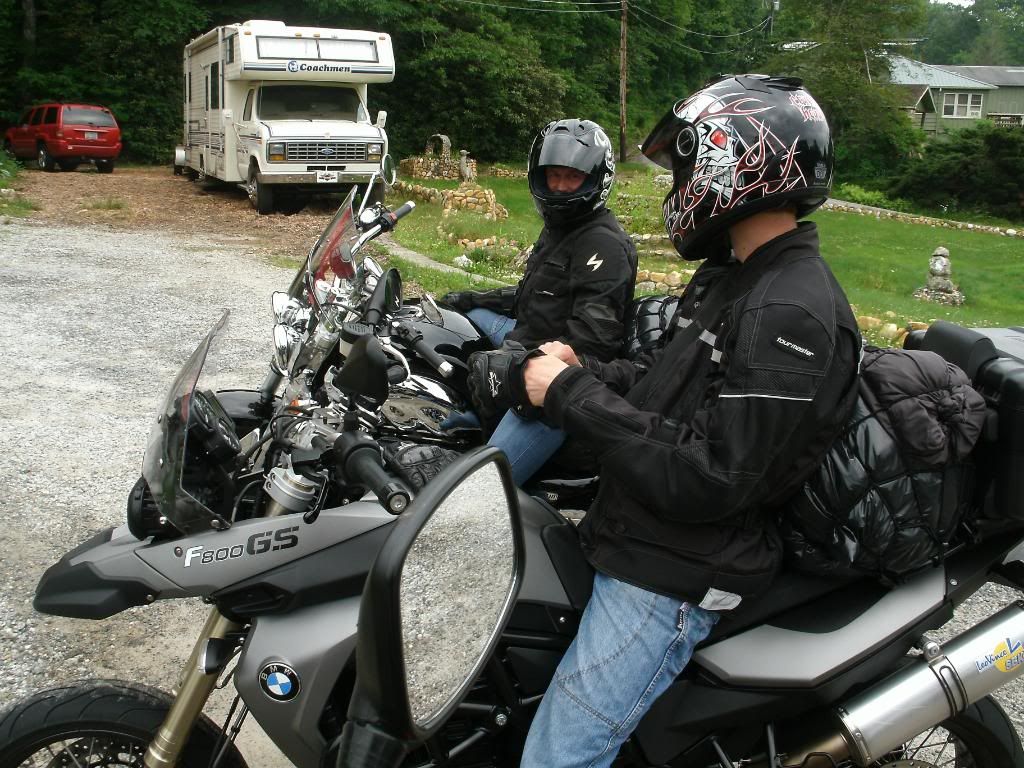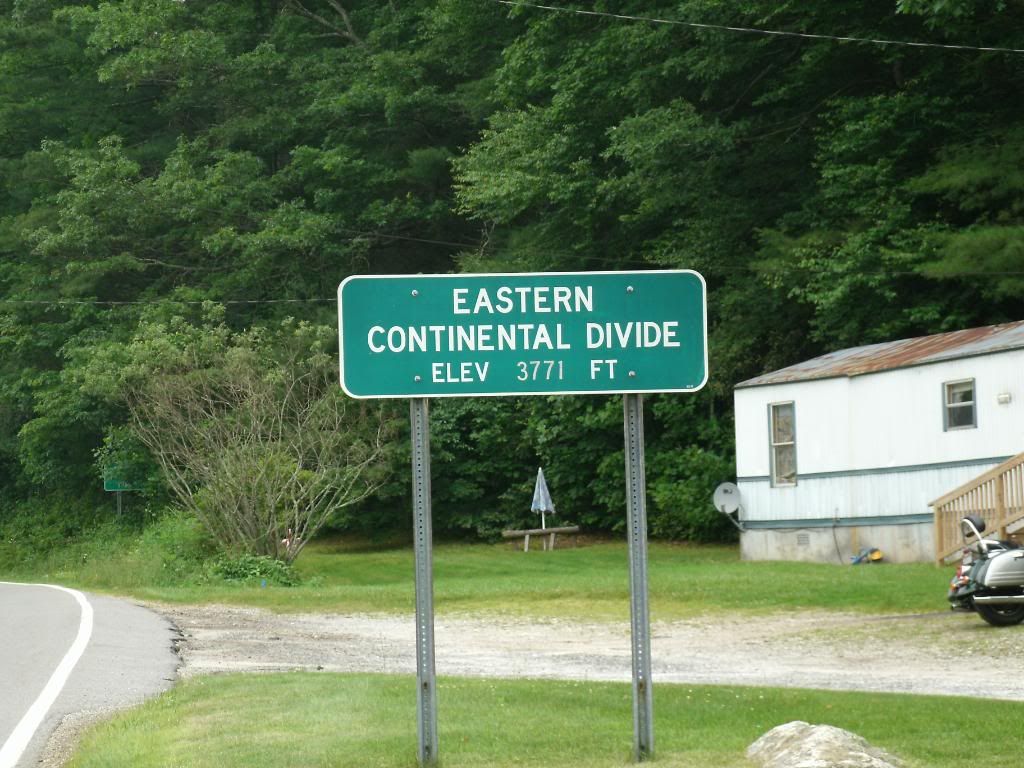 We missed a turn from 107 to 281 and charlies creek road over to 215 and stopped at a rest area to get our bearings and take a leak.. My kickstand broke
shoulda got a BMW!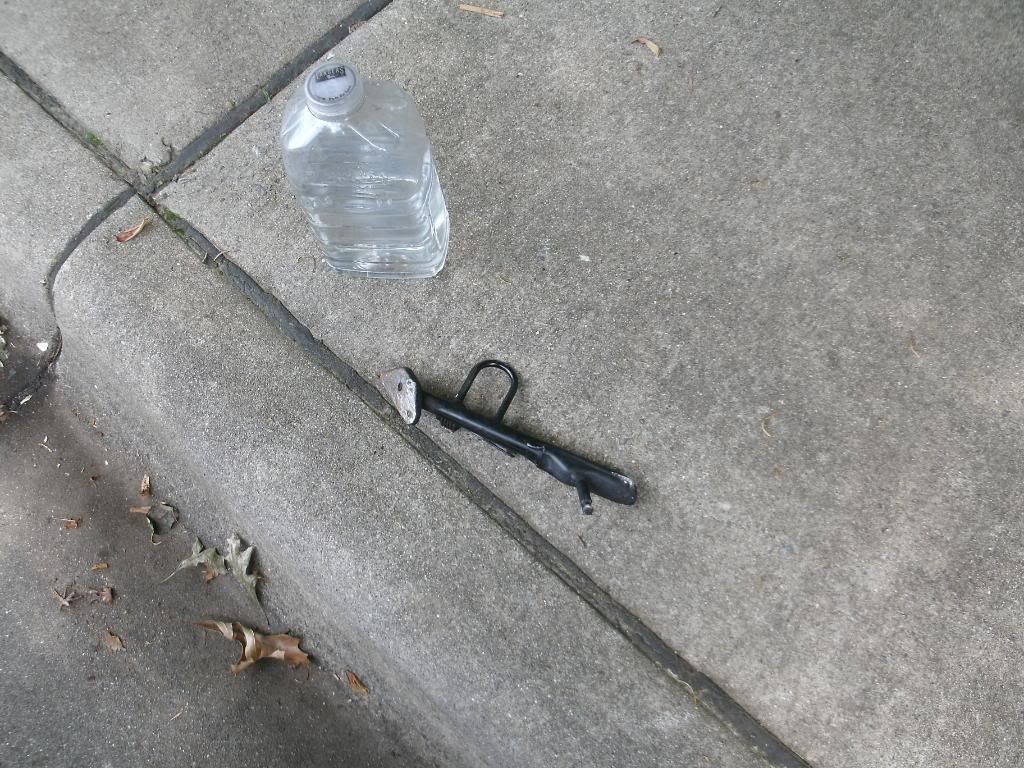 We got to the Hot Springs where my friend Bill (thumperdumper) had secured us a Campsite.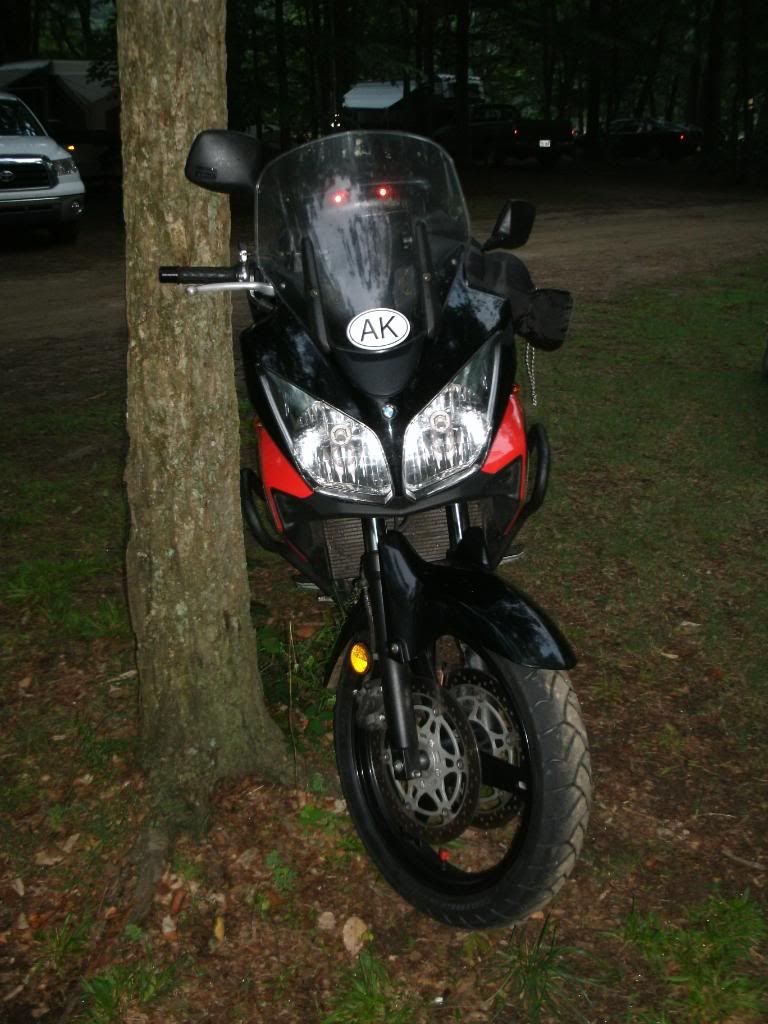 shamwow tent sponge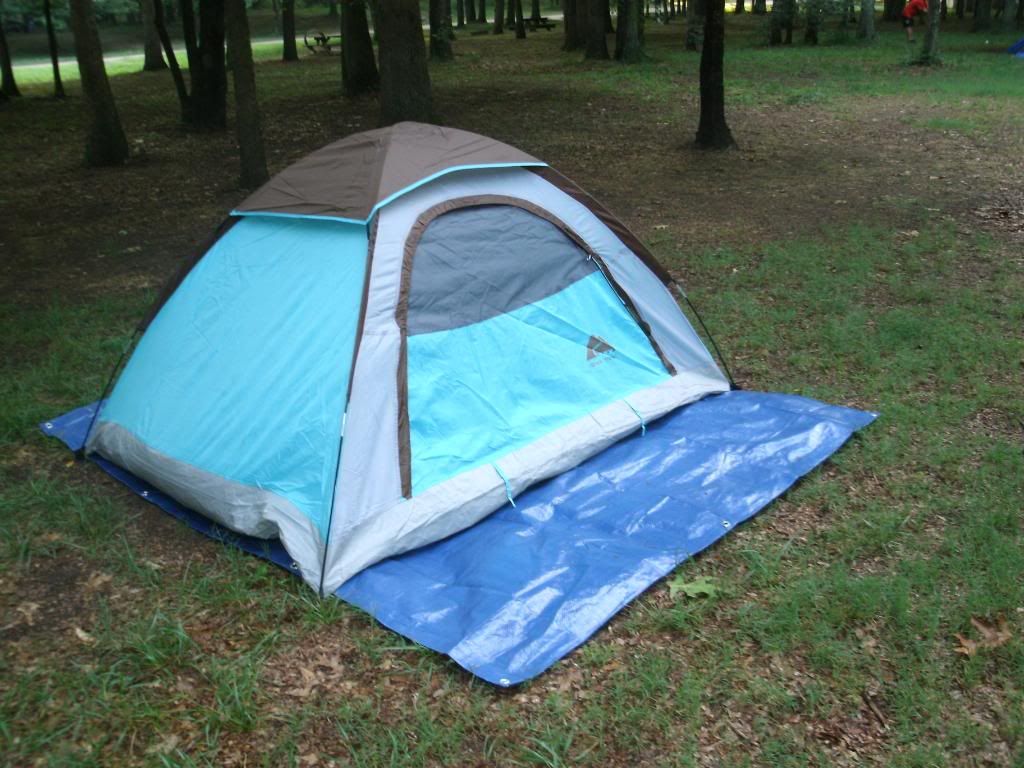 we hiked the Appalachian trail to dinner
there was music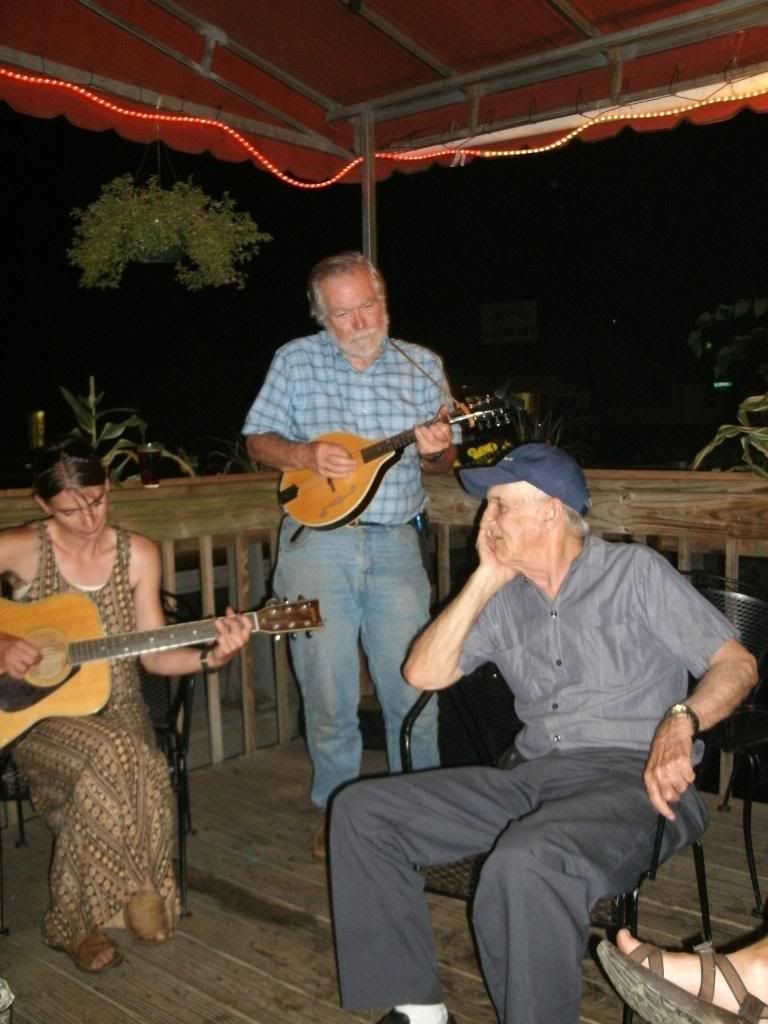 there were laughs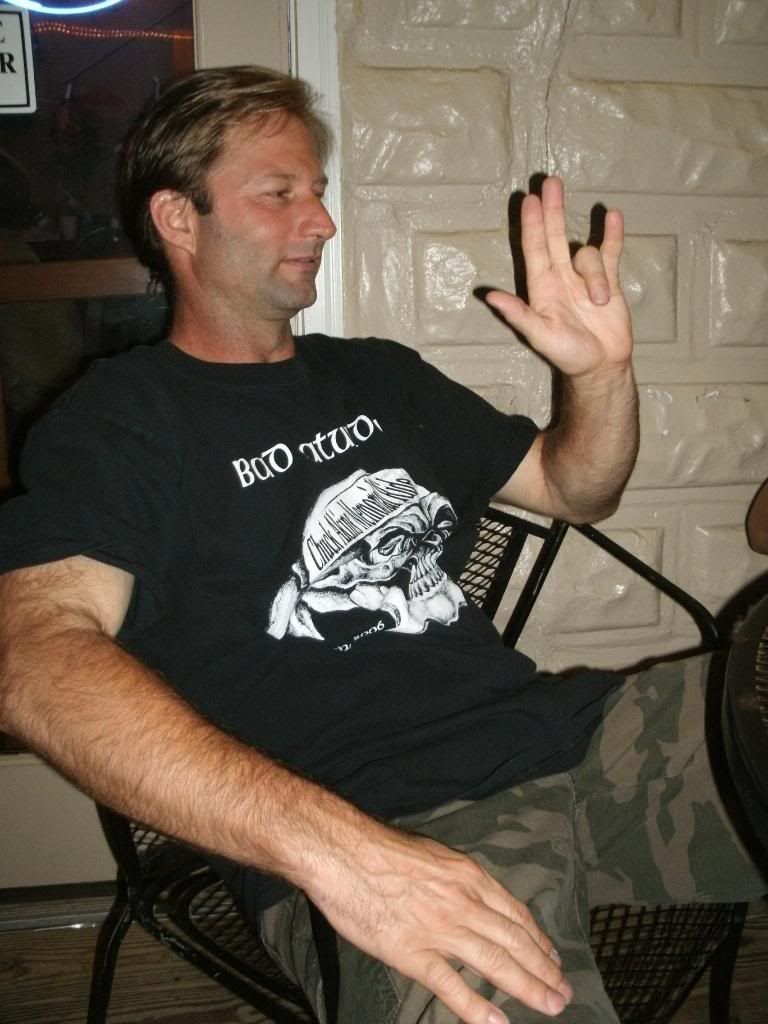 we got rain in the morning of the second day.. Bill had a huge tent so we waited out the worst of it while robert took a shower.. had to pack up a wet tent that would stink like hell when we got to Acadia NP.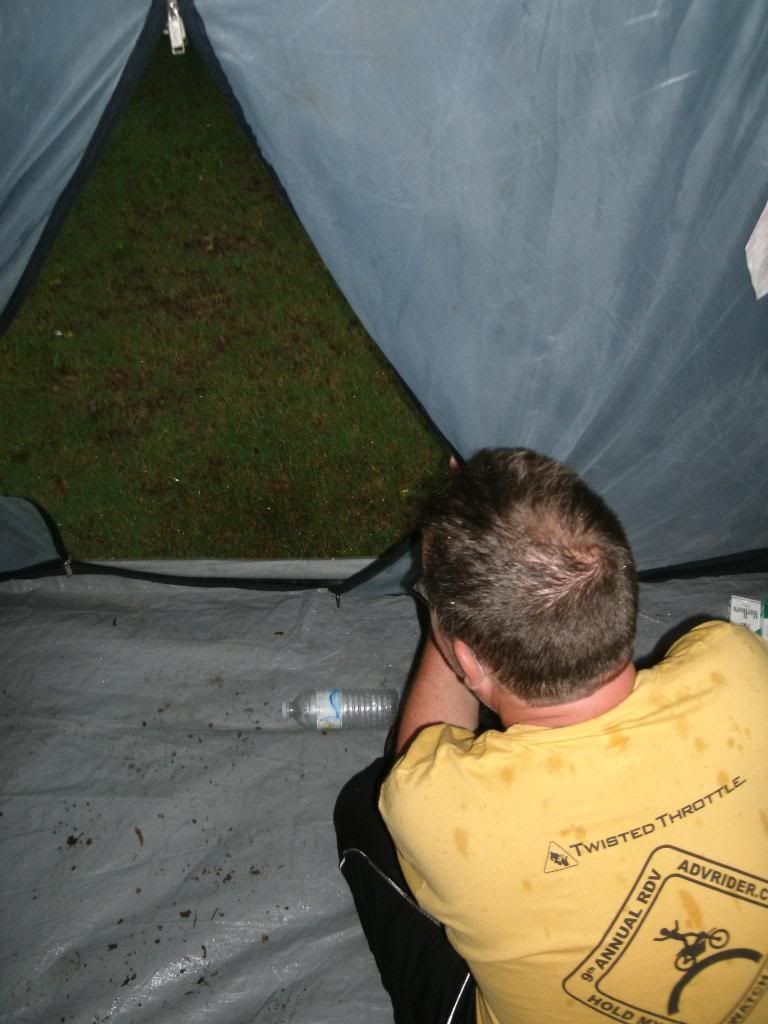 We didnt get far out of town before Bill had flat #1 of 3 before lunch, I
plugged
and re-inflated the TUBE TYPE TIRE tire with my flat kit and it went doen the road for THREE WEEKS with the aid of slime and re inflation. bill wrote to me after the trip> "
The plug on my tire held for 3 weeks. Friday I was loaded up to go to Iron Horse in Stecoah for the weekend. Roll out 11am Tire flat. Put in slime and my new compressor. Aired up and rode 150 miles. Stopped for rain, went flat. Pumped up rode 60 miles. Getting low. WTF. Stopped at a little cycle shop on Friday at 4 in Sylva. We Plugged my INNER TUBE TIRE. DOnt know how it held. Had a 1/4" hole in it from reaming it out with the tool. Yeah it held, until Friday, Then I put in the slime. Oh the carnage, When they pulled it out it was a clotted mess. As long as I was rolling the slime from centrifical force held air. Slime went through the hole in the inner tube and filled up the rim. It was like green Vulcan blood all over the place.Got a new tube and was on my way in 30 minutes.
"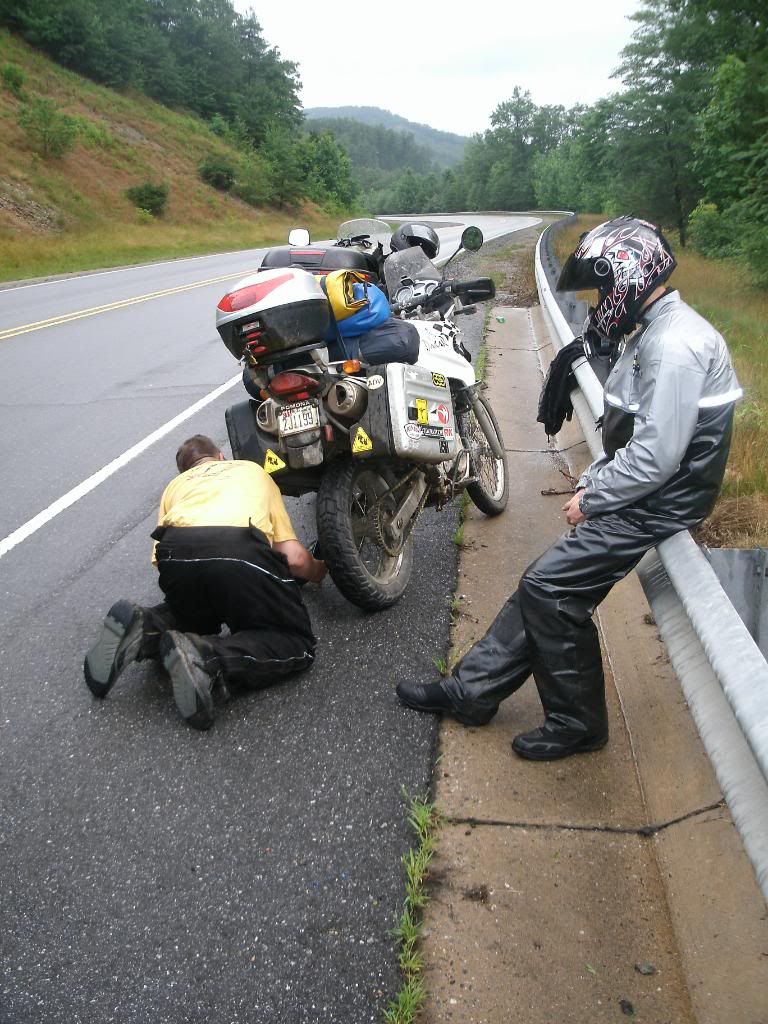 #2.. valve stem leakage?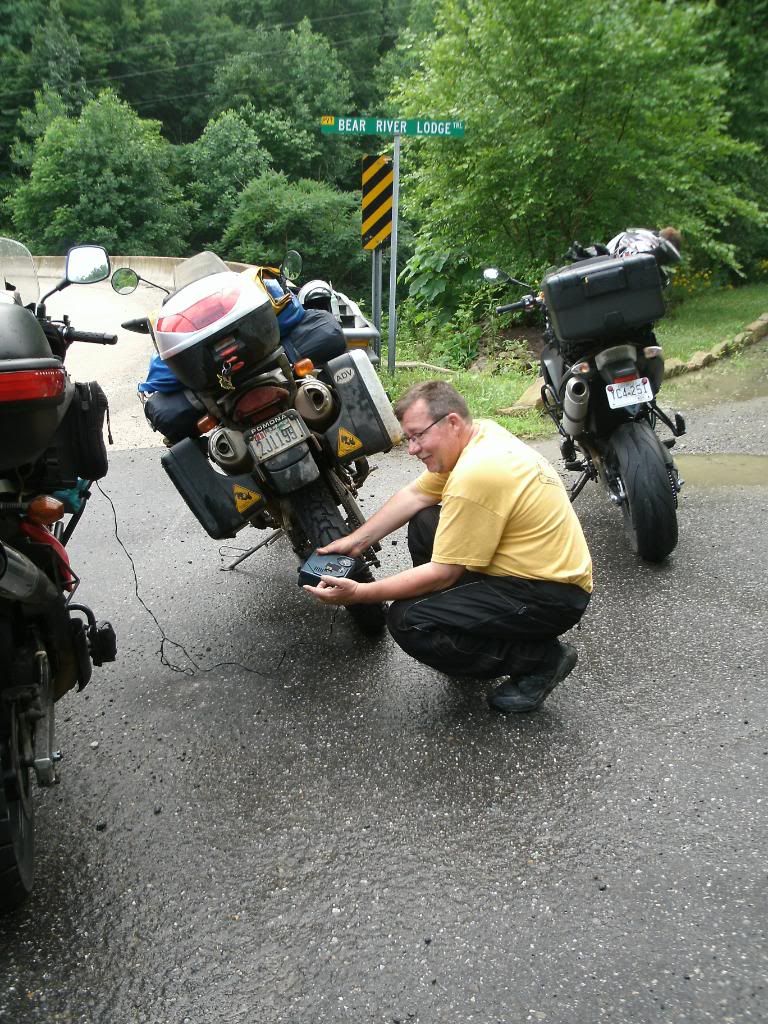 #3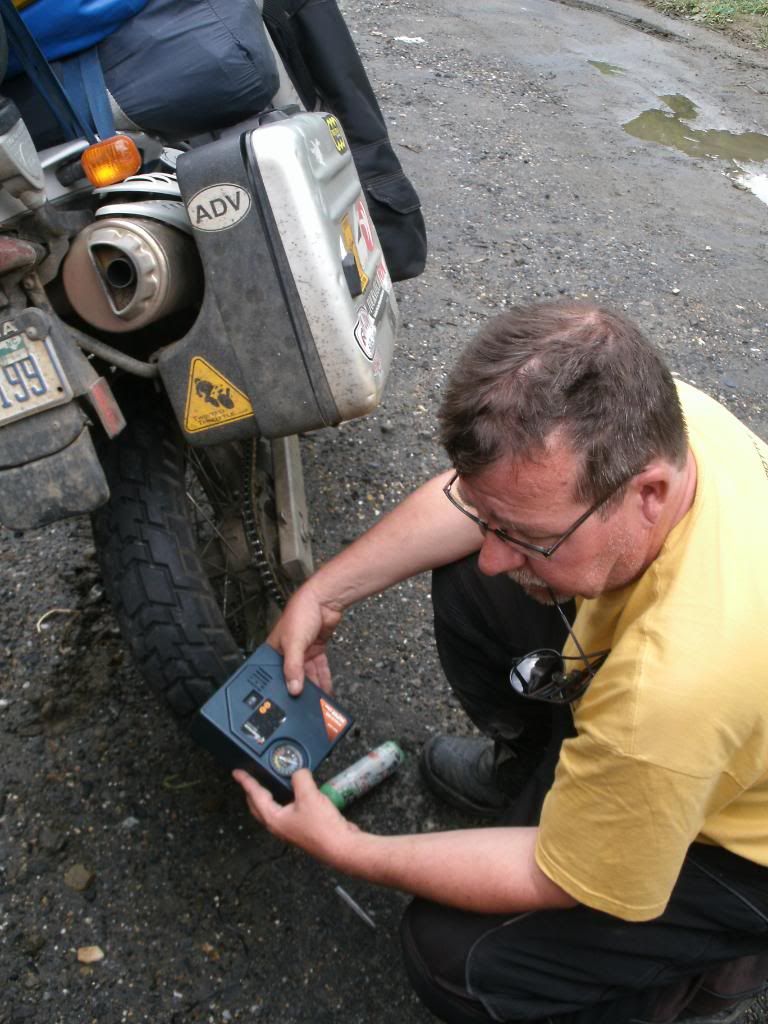 Had lunch here south of Roan Mountain (skipped)
time for a spirited run up 221 from Linville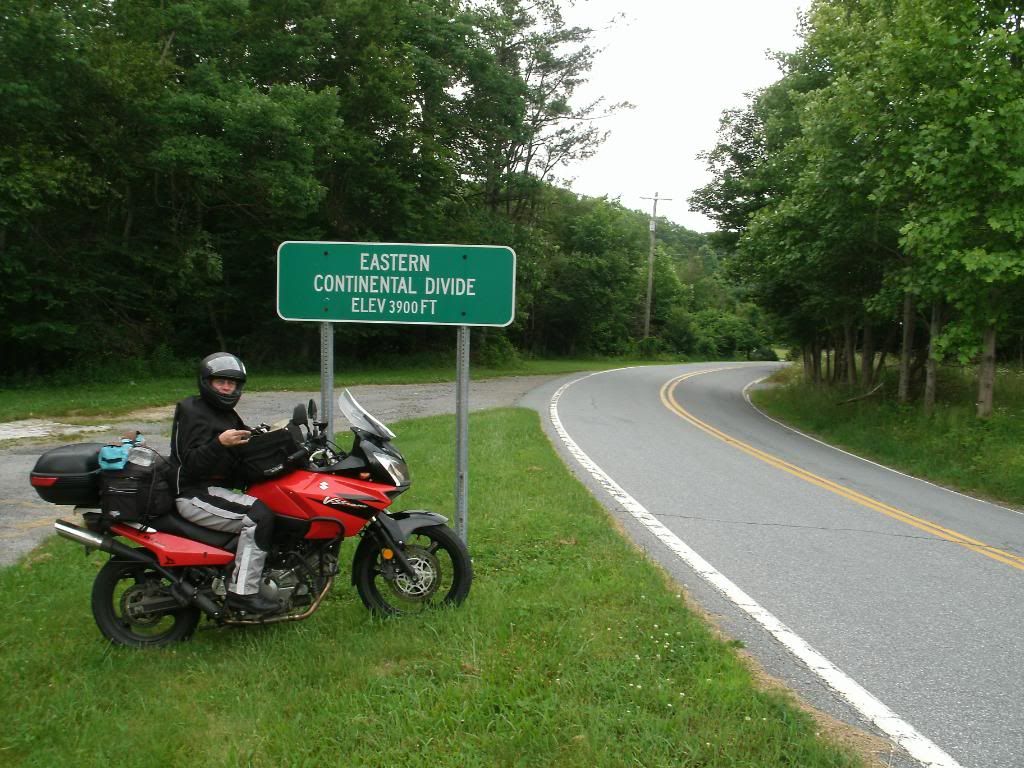 rode into Virginia under ominous skies but I dont remember any rain, Robert would smoke me on the rocket 3 when this road turned to gravel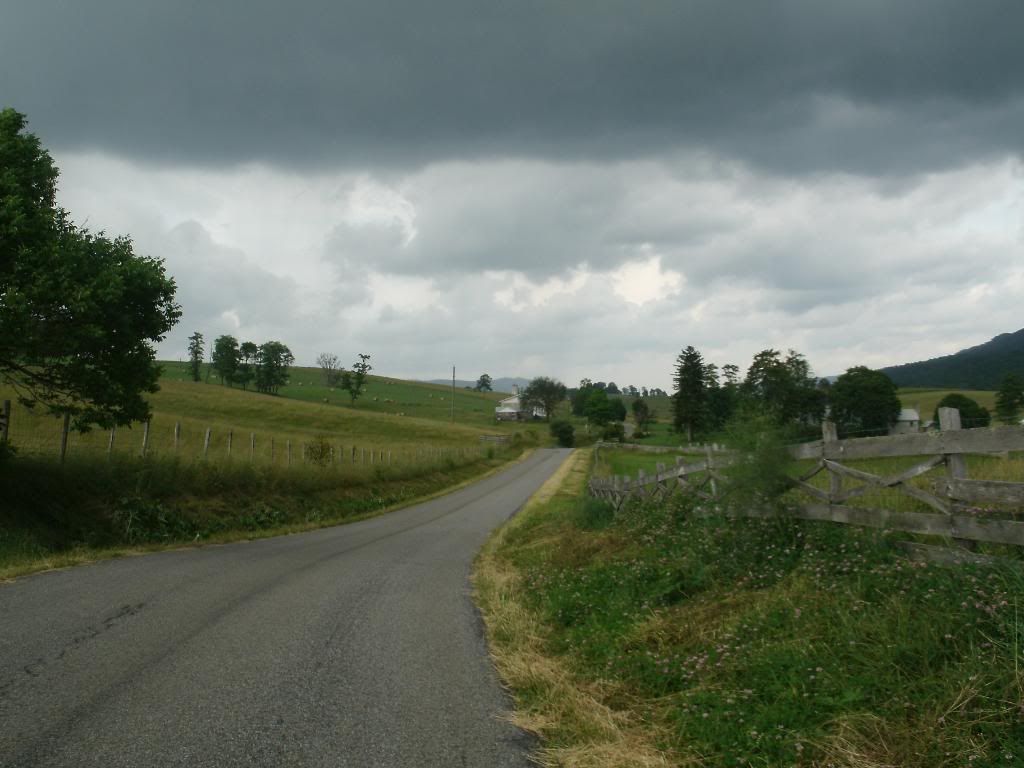 took a break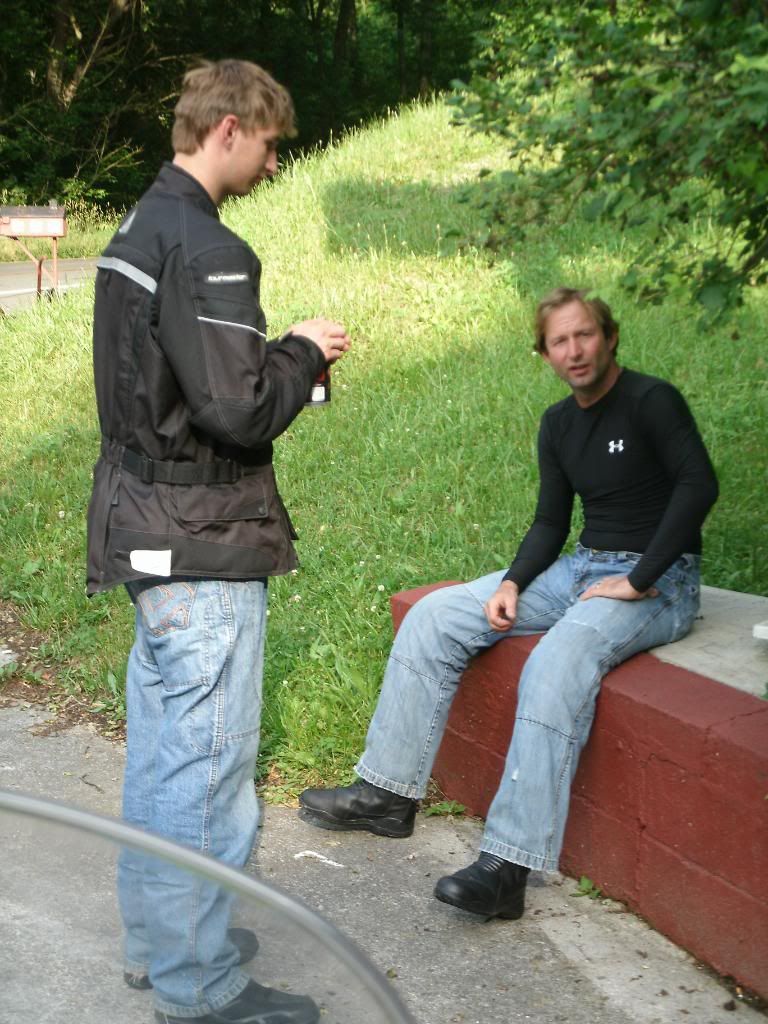 Snow white and the Dwarves got a laugh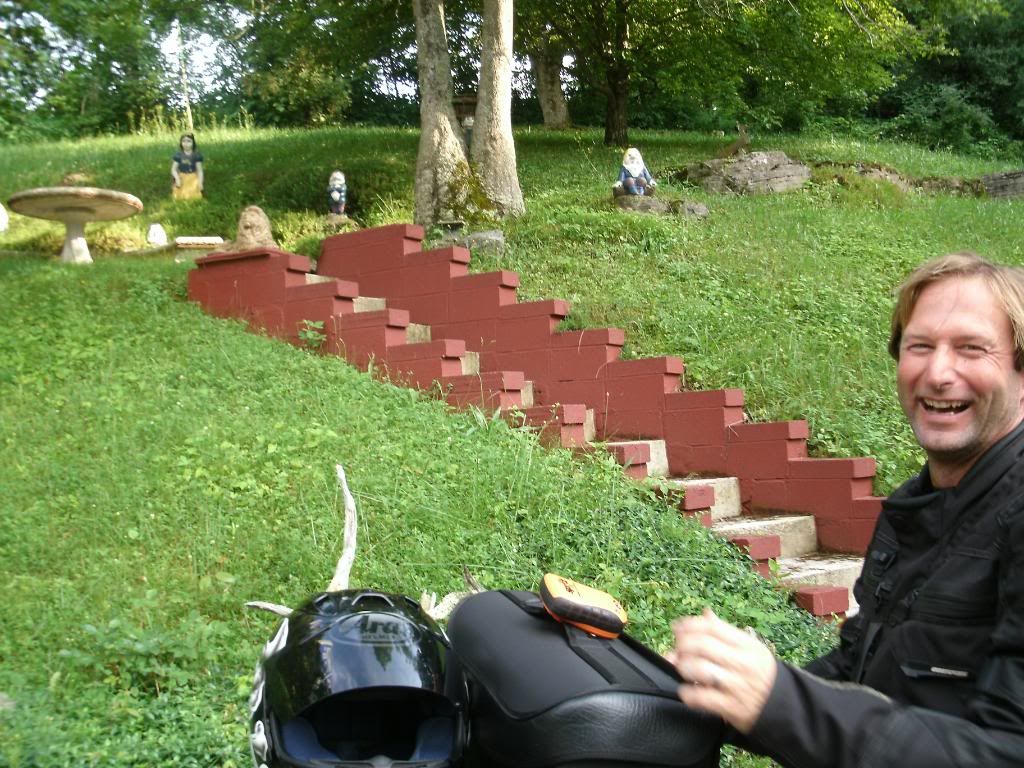 we made it to the Holiday inn Blacksburg with plenty of daylight left, Roberts tire was toast!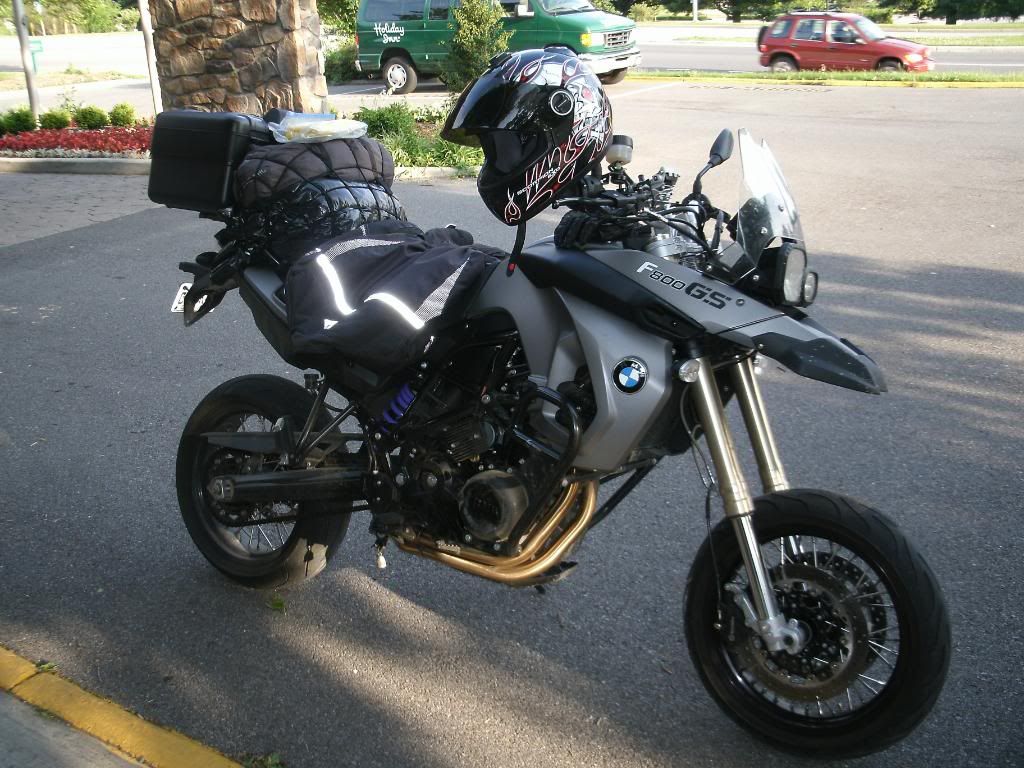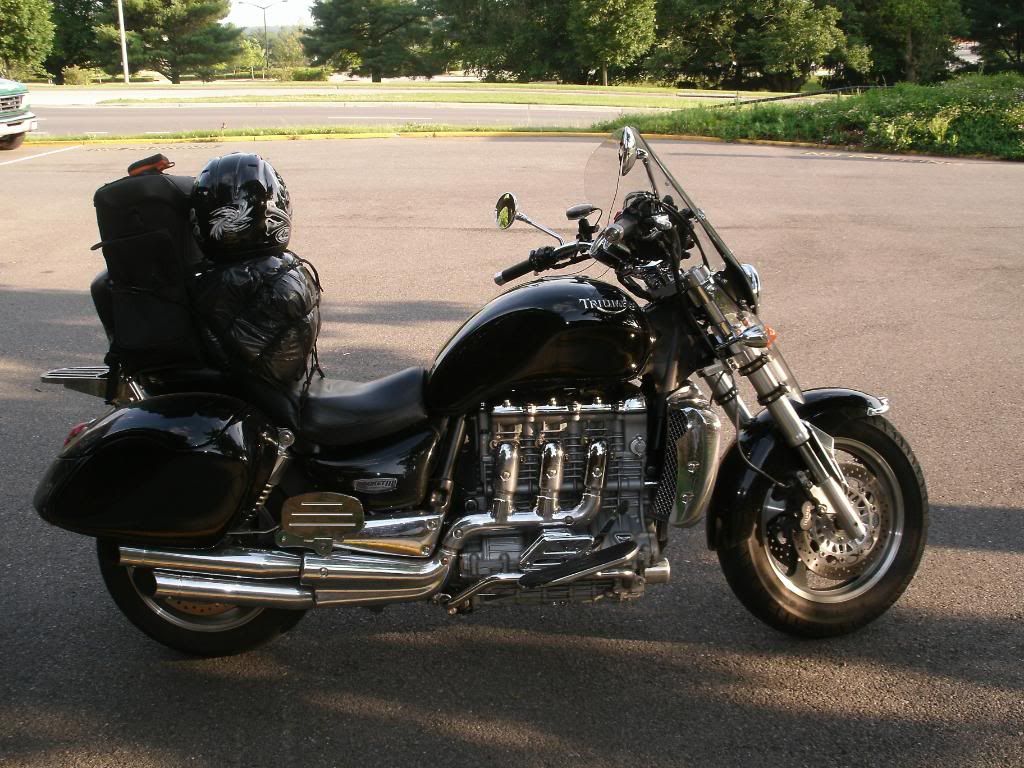 I had been saved by the Christiansburg Honda 20 miles away on my maiden ECD ride.. we searched all over using the phone and internet for a 240/16 rear for Roberts Rocket 3 finally we found a couple too far away and decided to ride to the Frontline Honda in Christiansburg even though they were closed.. Robert being a business owner said.. they may be closed but someone will be there.. turns out he was right,, the owners son was there and invited us inside!
He ordered a tire next day air and said it should be in around 11am on Tuesday , we asked him where we should camp/go and he said the Cascades north of Blacksburg, but go to the outfitter shop for lunch firstand they would point us towards some great camping spots.. we ended up getting a fishing cabin aptly named the "Creek House"
Got a little rain while we waited for the fishing guide who would lead us to the Creek house so we left our bikes next to the pumps and another rider followed suit.
---
Last edited by Riceburner30281; 11-27-2010 at

12:17 PM

.
Lunch.
This guy was Hardcore, said he'd ridden up from the Tampa area to Virginia in 18 hours stopping only for fuel.. he had some interesting accessories on his bike too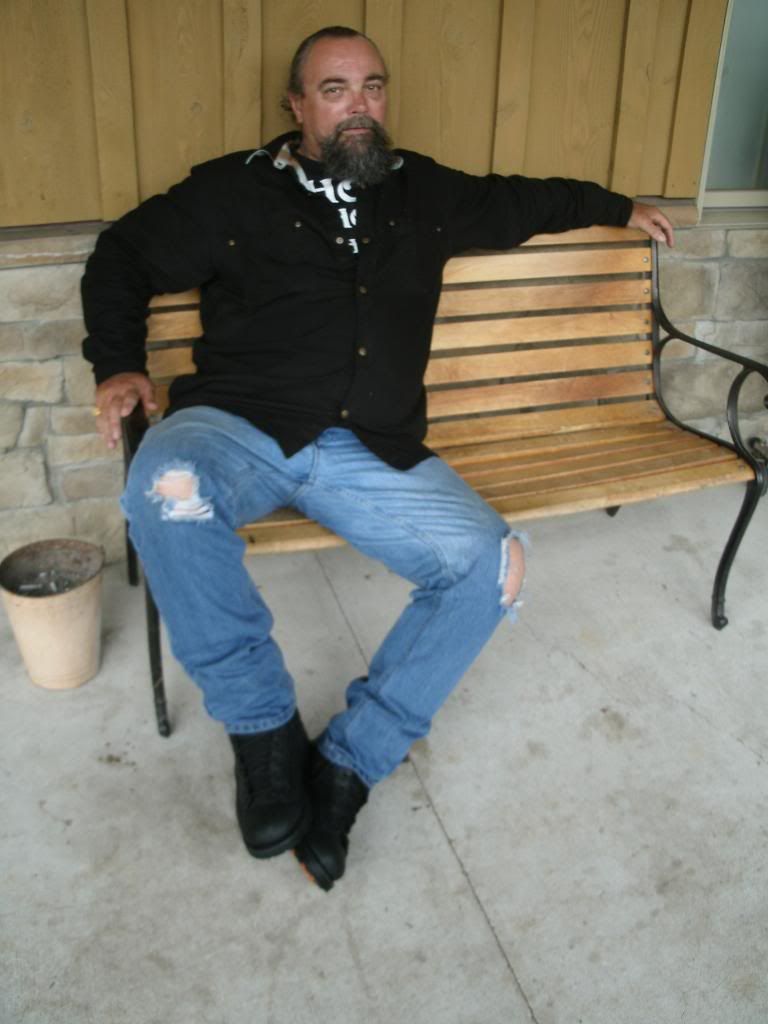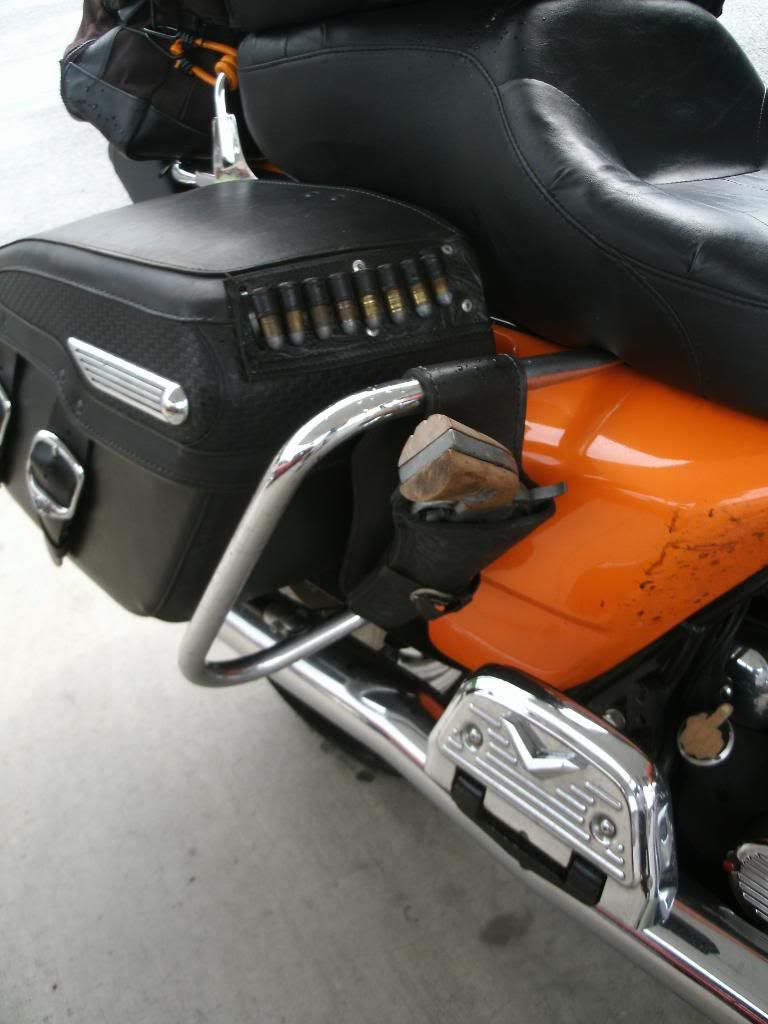 We head to the 75$ a night "Cabin"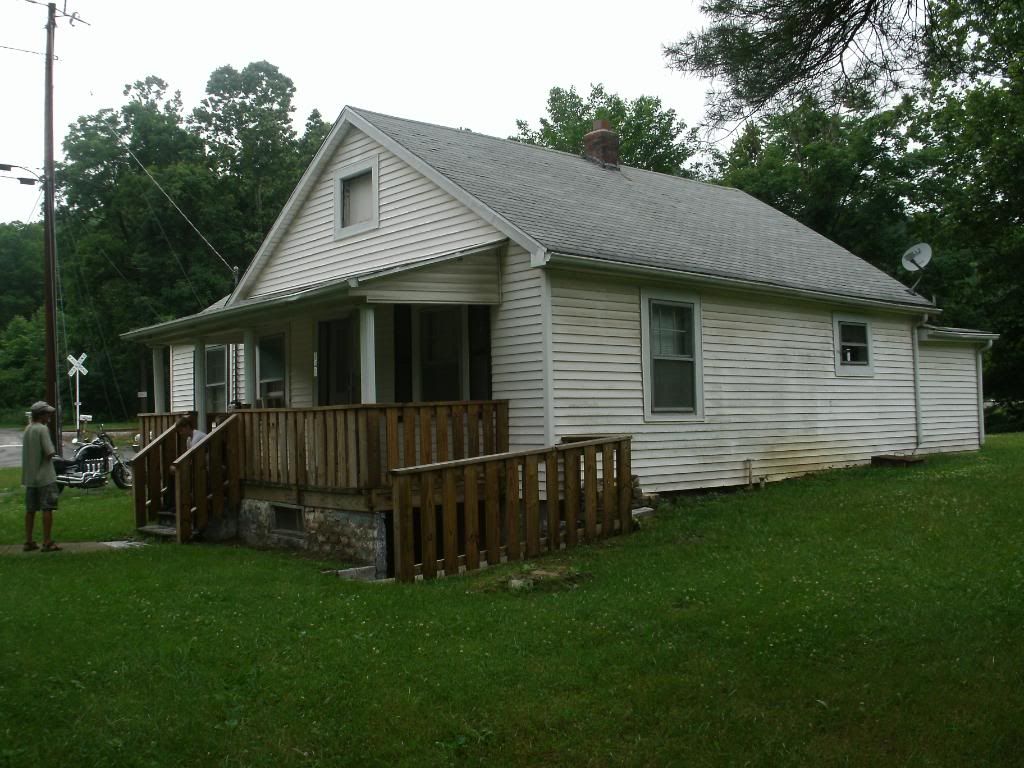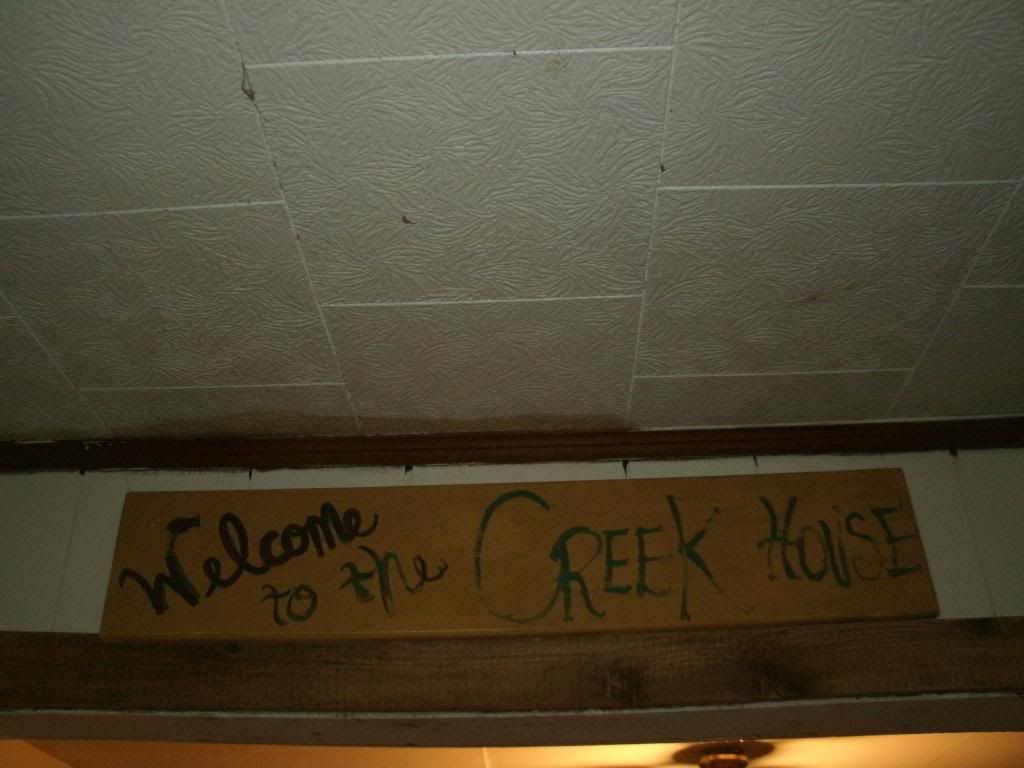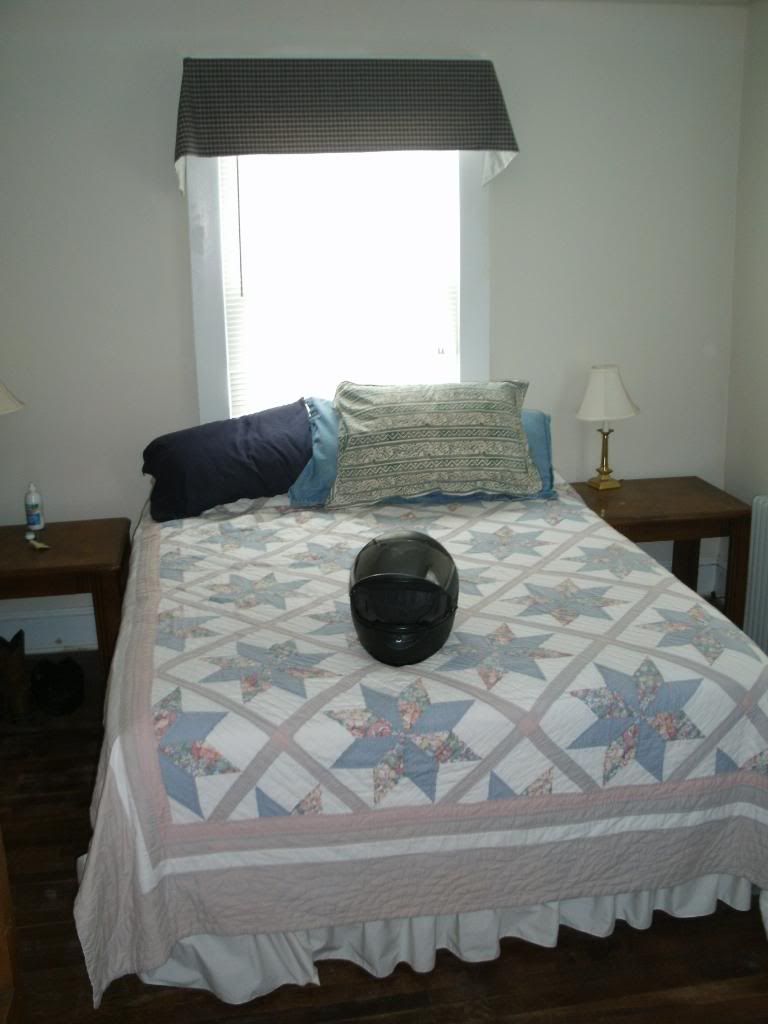 Perhaps we should have stayed in Blacksburg at the Holiday Inn? oh well this was adventure! Everyone we encountered at the Outfitter store recommended we go to the Palisades for dinner.. would love to go back someday!!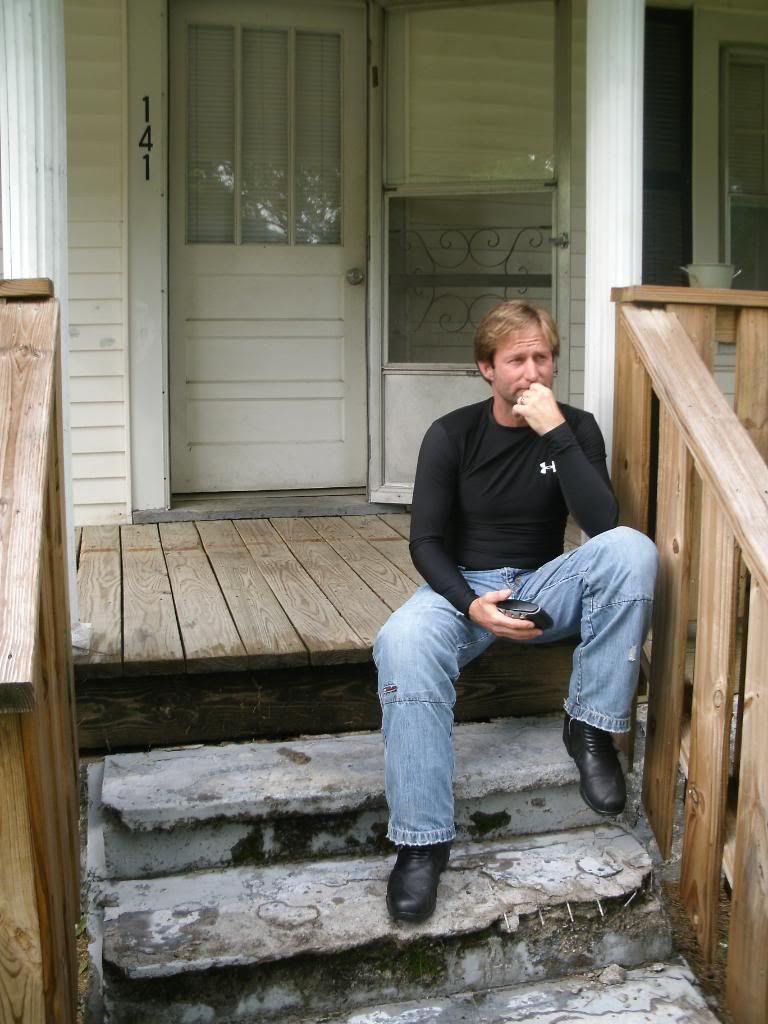 lubing the chain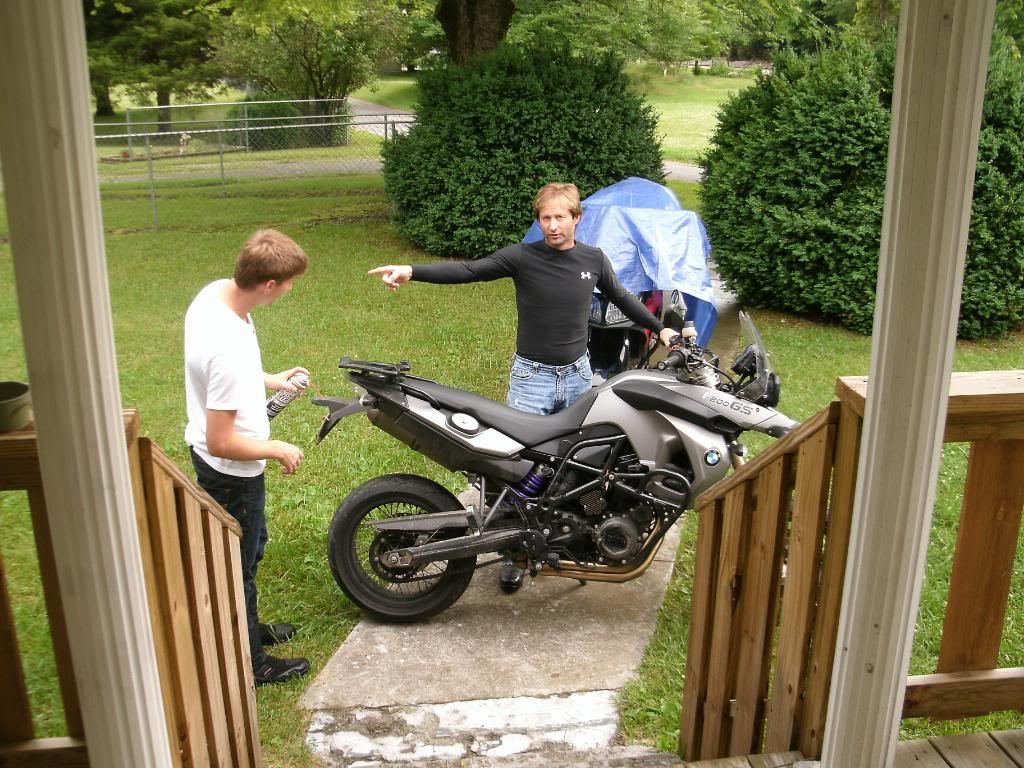 there was food at the creek house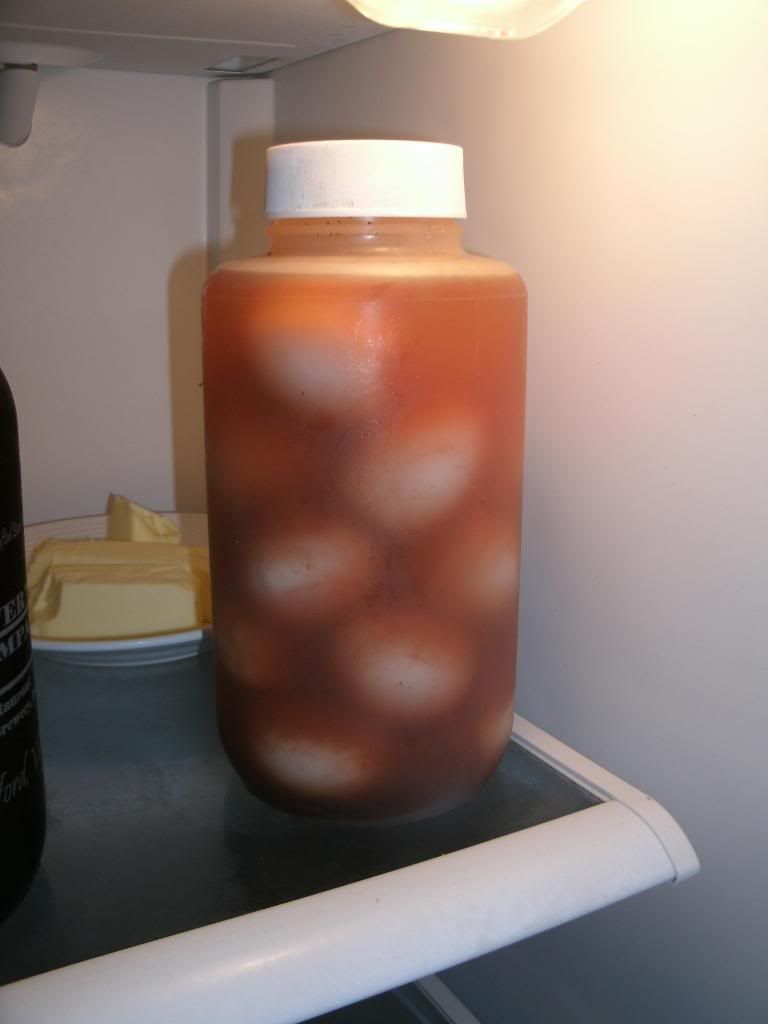 and plenty to drink too..
we rode to dinner..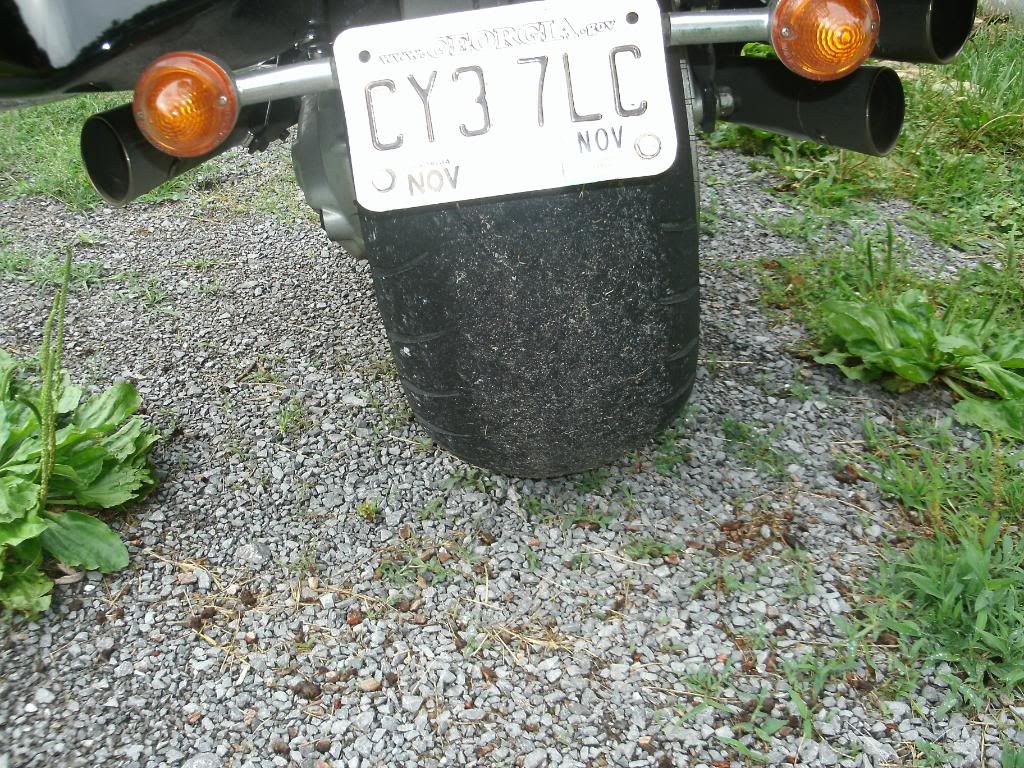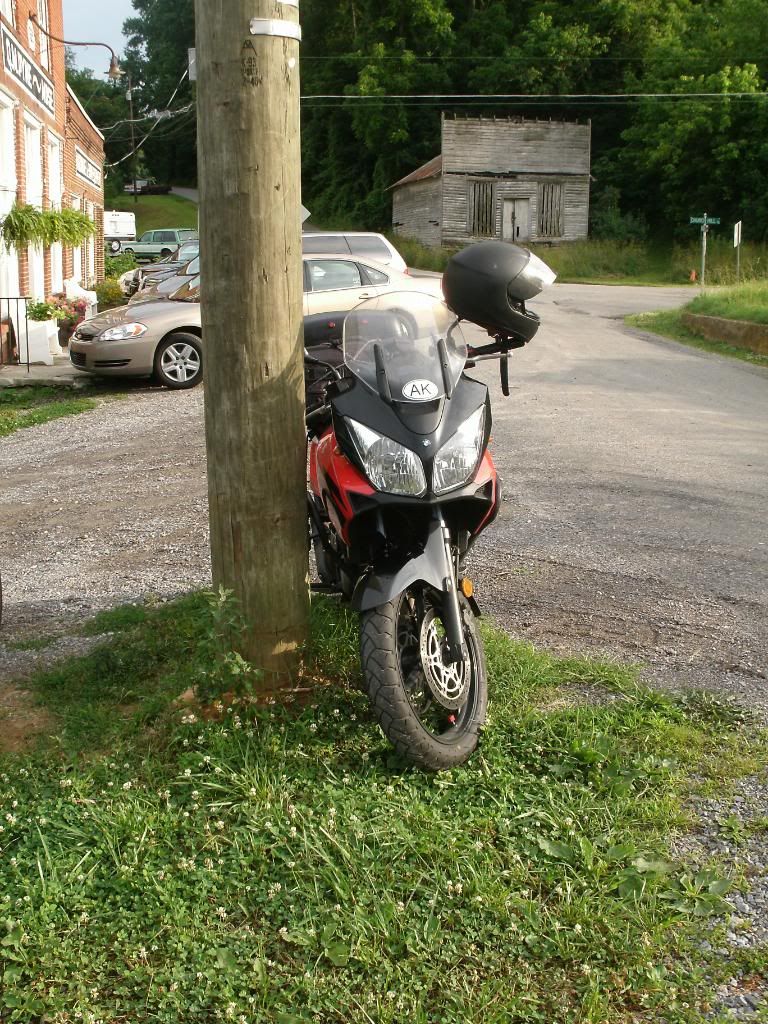 first "drop zone"
the palisades.. I will be back!
The Palisades Restaurant in Eggleston Springs - Giles County, VA
The owners dad gave her the property and was the maitre D', an old feed store I believe? it was in the middle of no where!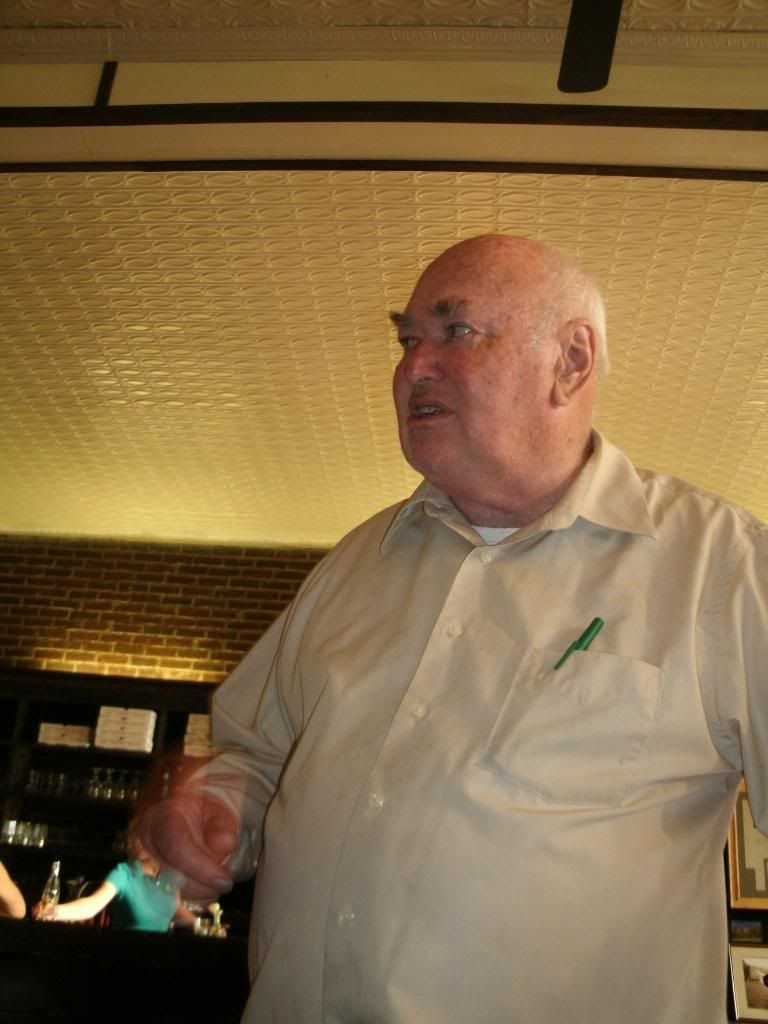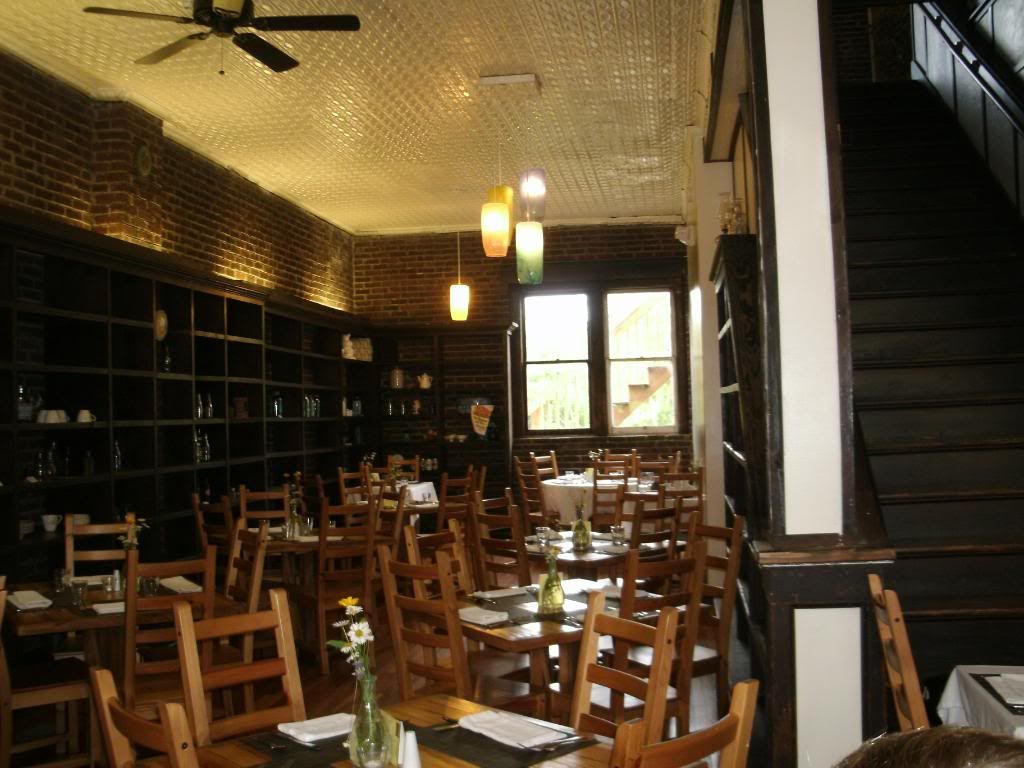 this hottie at the bar did not seem to want her picture taken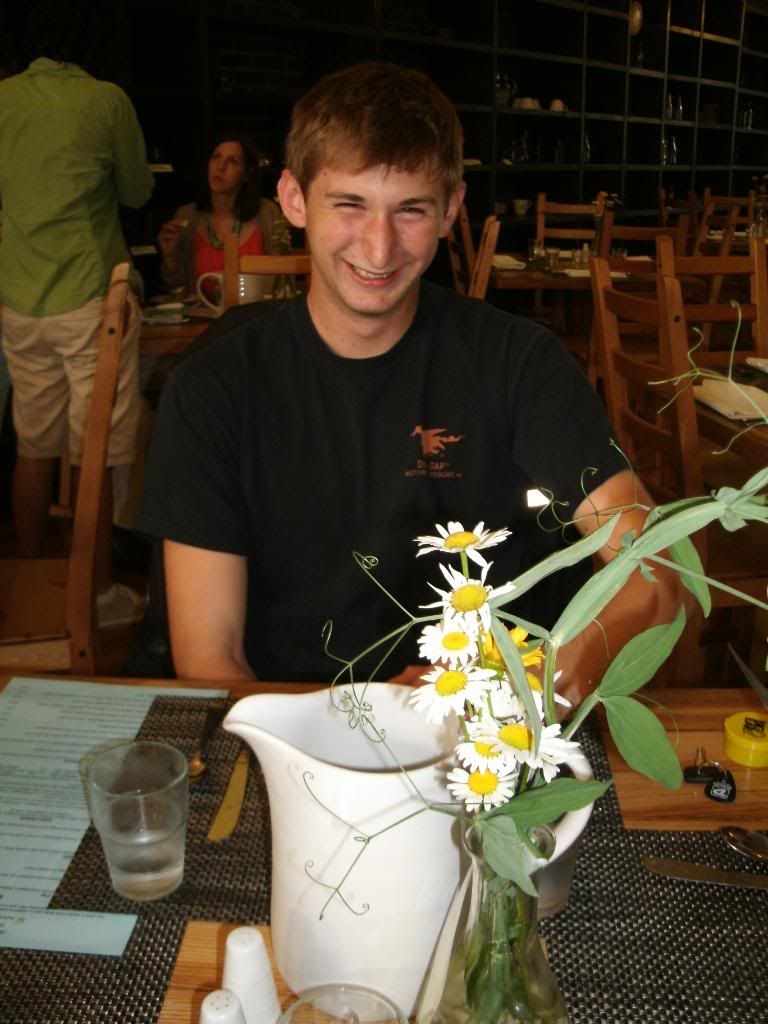 the ass basket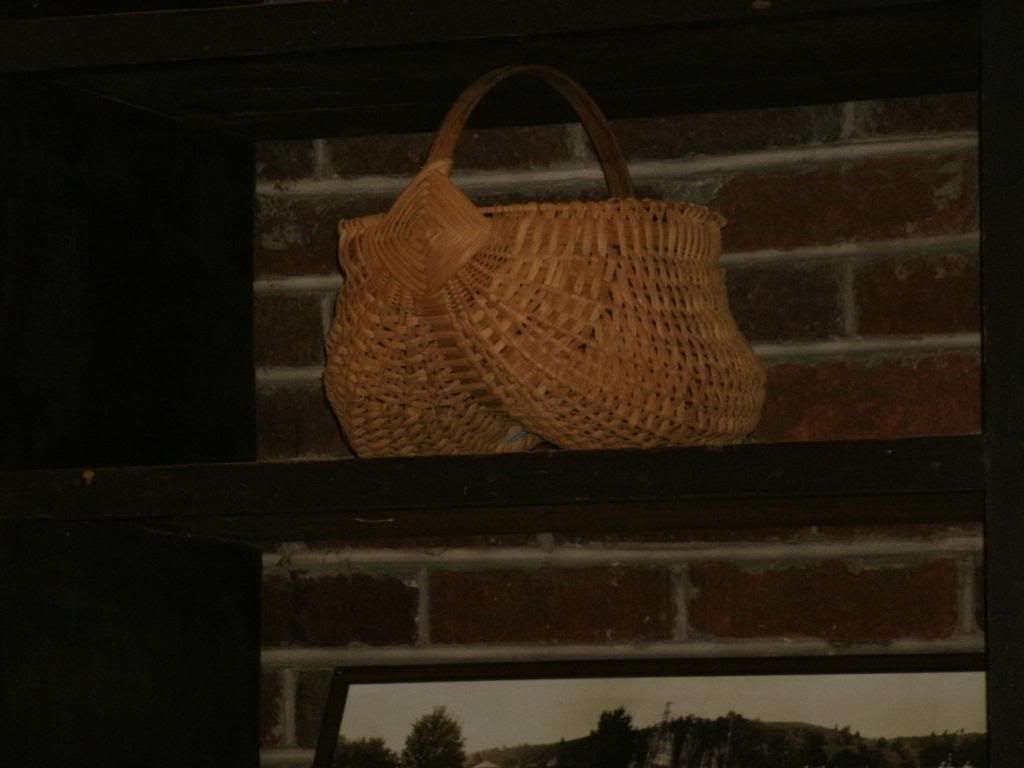 Robert went Back to the Honda shop the next morning early, Chris and I lingered a bit and investigated the Cascades on the way back to Blacksburg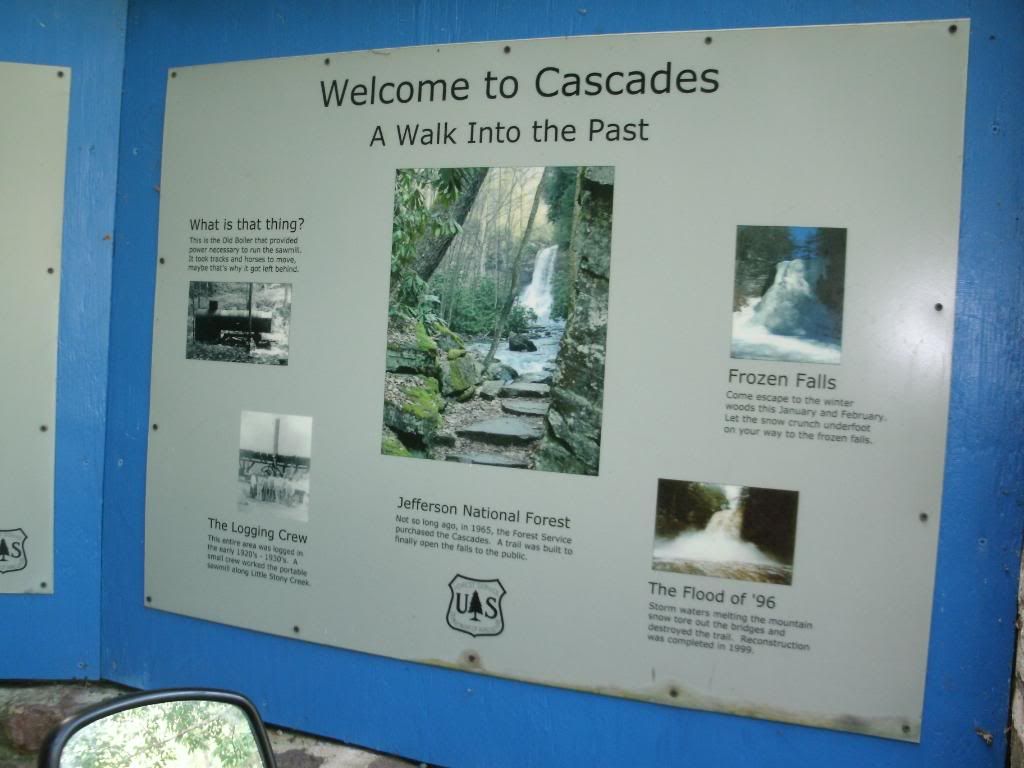 Nope not yet.. So I wandered around taking pics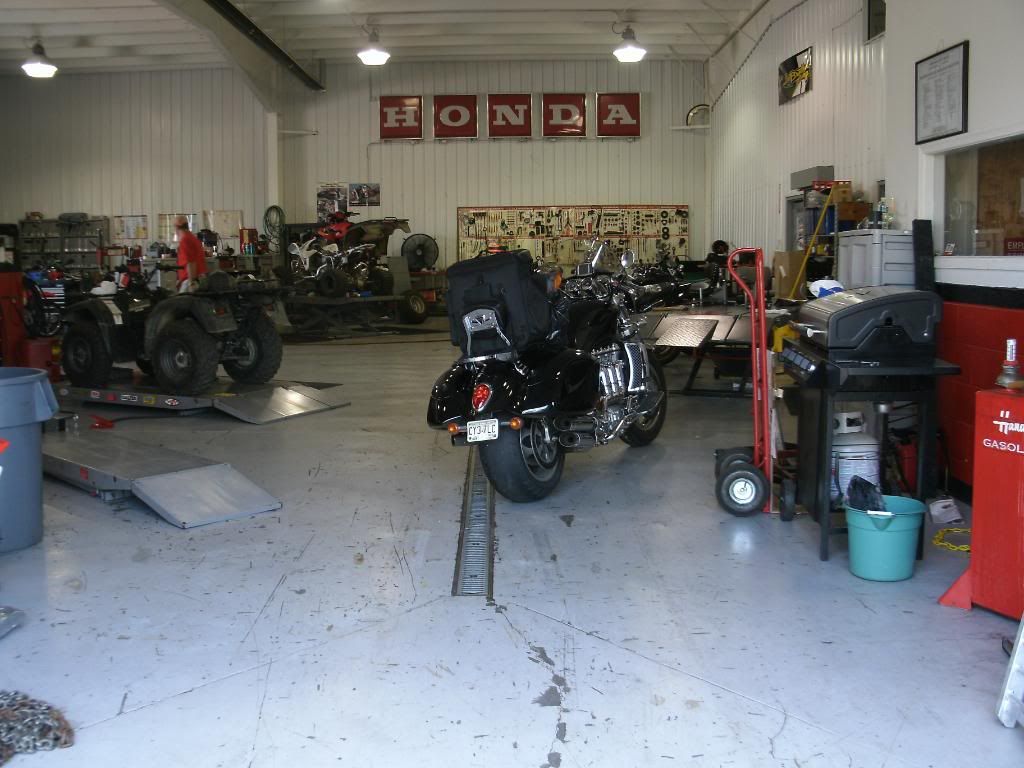 the Service guys Strom, those are fishing rod holders on the back of the ammo cans
cool old Honda.. please ID it for me!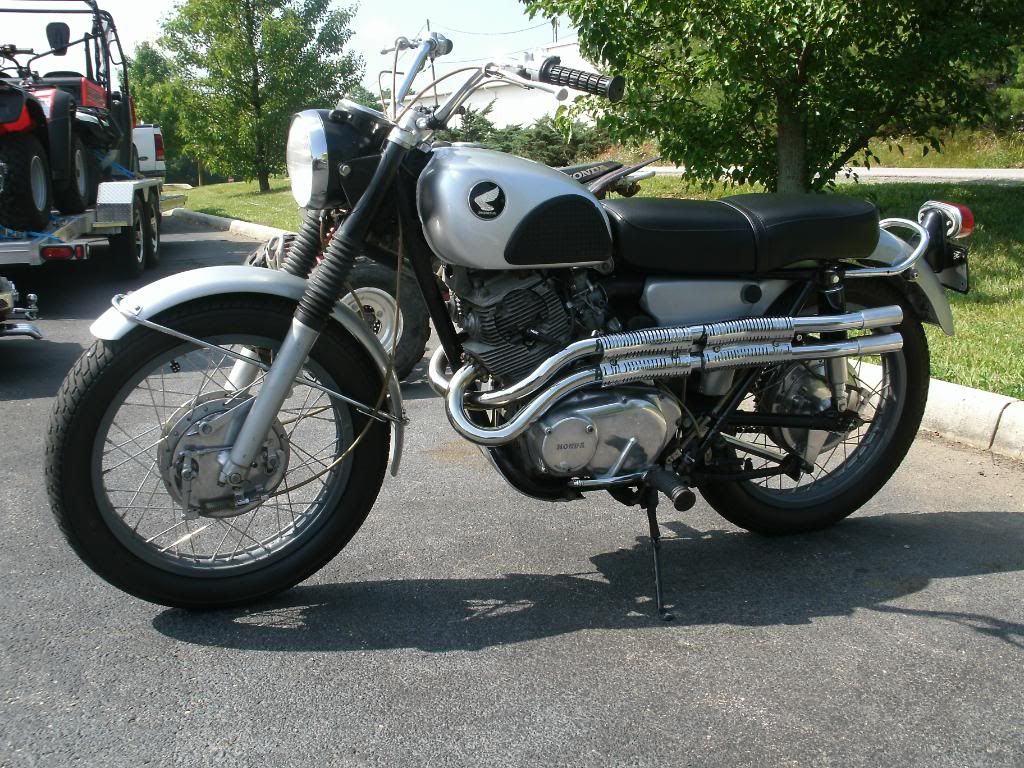 cool new Honda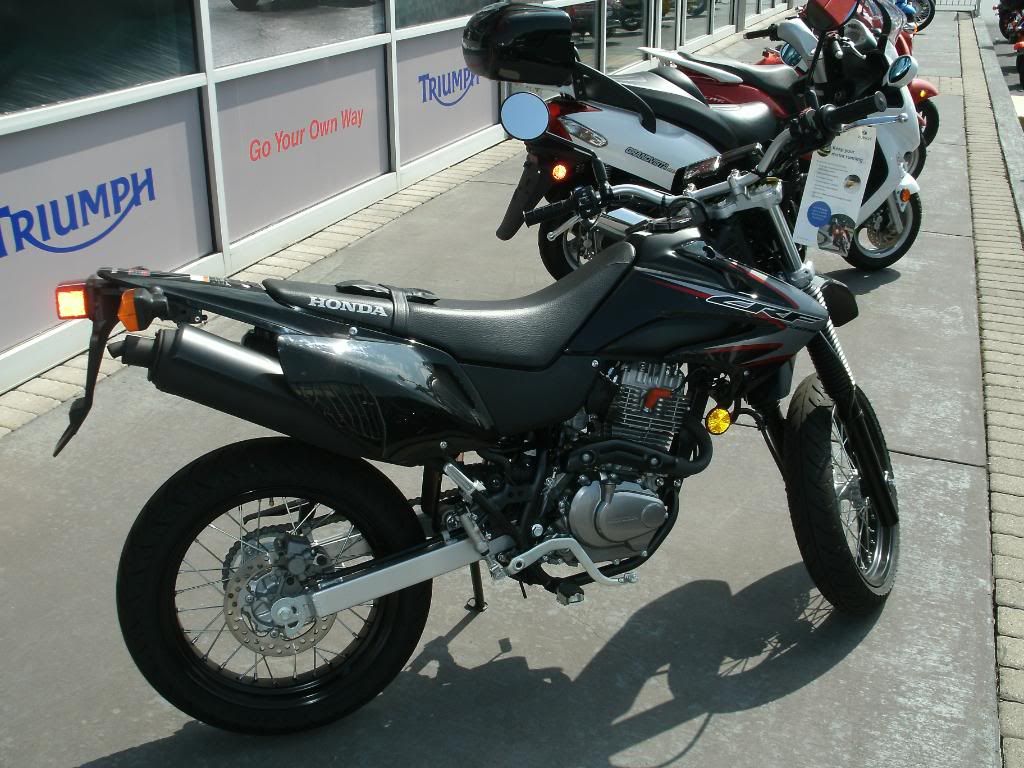 I settled in for a country buffet breakfast with free wi-fi next door and they were done by 12:30pm
next stop Frostburg!
We head up my planned route to Newcastle and I missed a left turn, this would prove "adventurous" because we would spend the next few hours going in a circle and ending up back in Newcastle.. During this time we would go impromptu Dual sporting with a Wee, Rocket3 and a F800.. Bald mountain crossing! (insert video here)
stopped to check out this foot bridge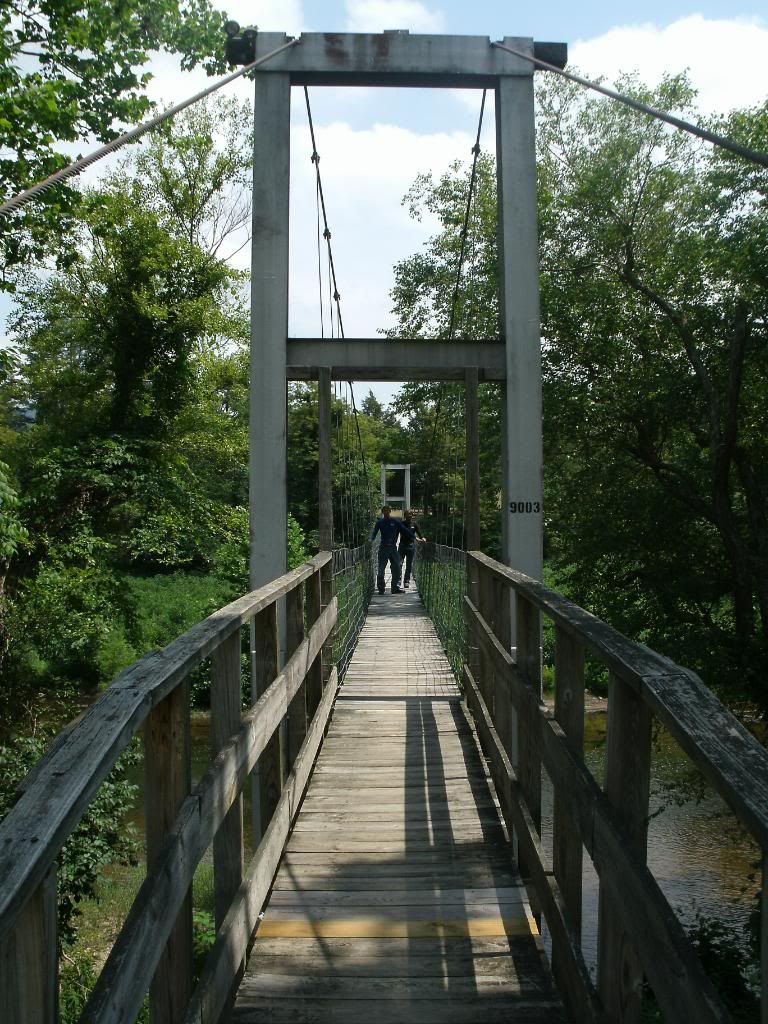 back on two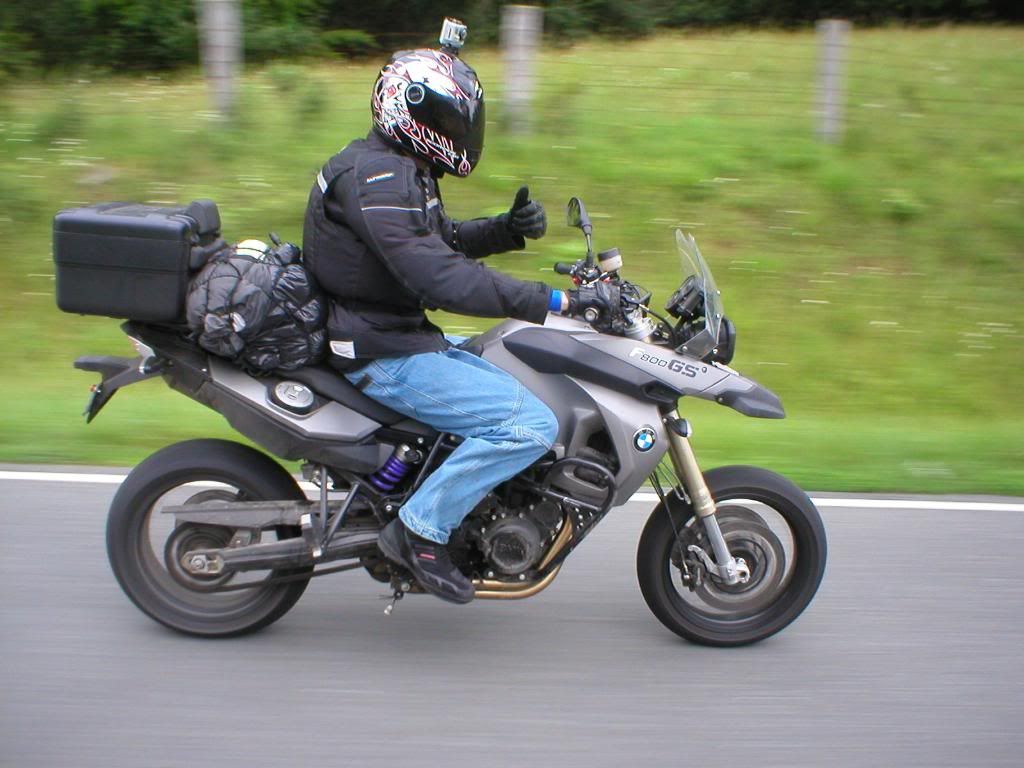 Finally made it to Seneca Rocks where we had an early Dinner.
the pickles sucked but the potatoes were worth a trip all by themselves!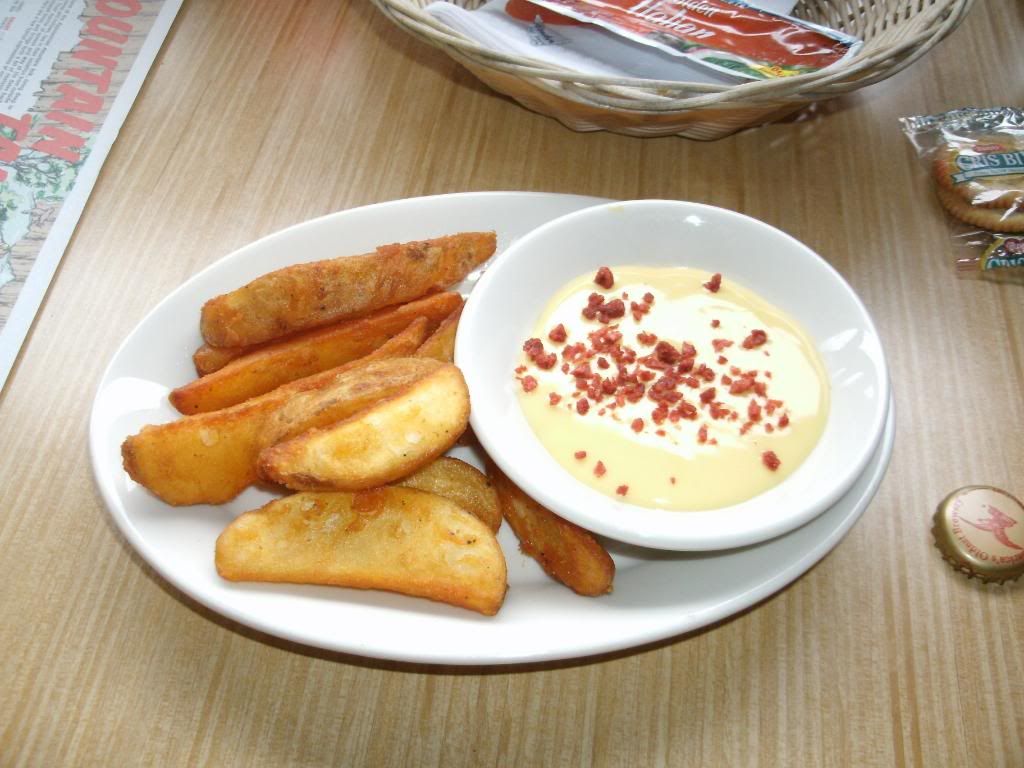 I took a wrong turn out of Seneca headed into a storm, turned around to go the right way(long way) and we were rewarded by a nice ride through the Ski resorts only to catch up to the FOG BANK in the DARK we rode in the pea soup for the last 40 miles into Frostburg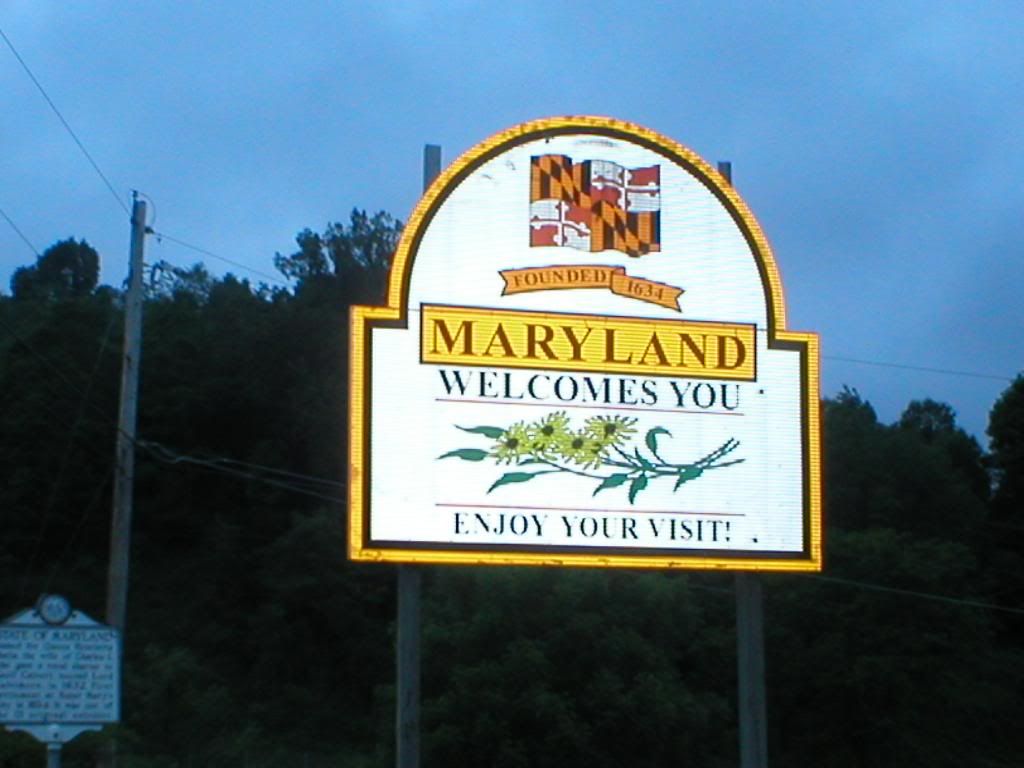 Had a good breakfast and got a fairly early start considering how late we all stayed up.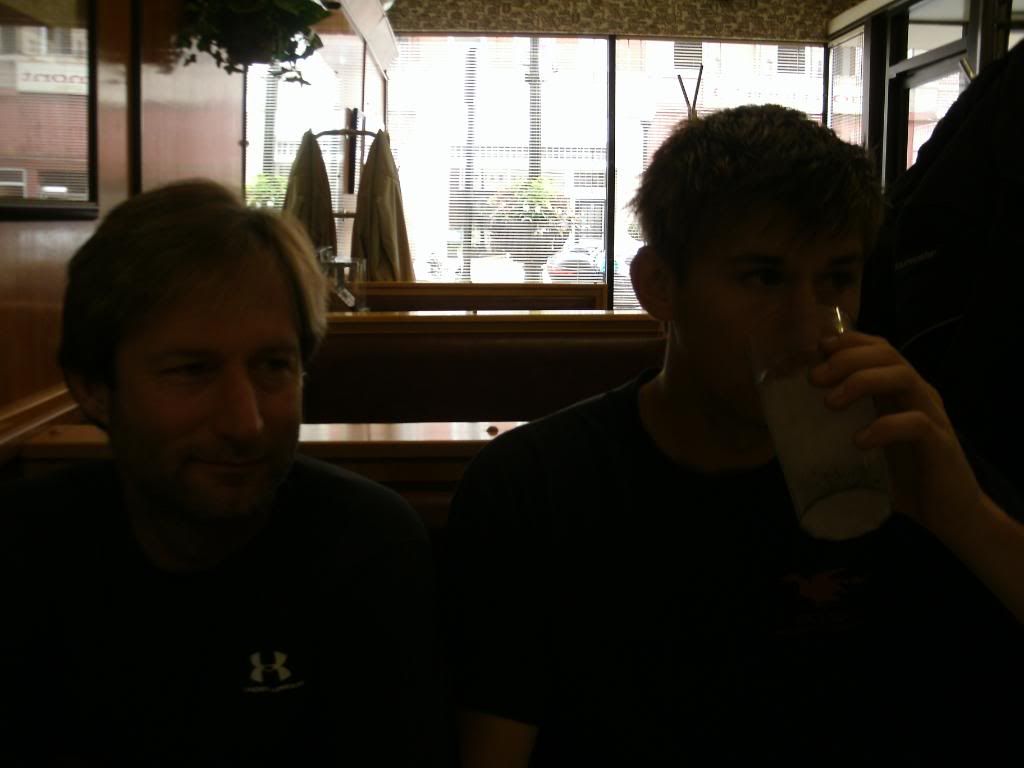 We obviously got escorted out of town by the LEO on duty. I turned around to get this shot for my friend Nick Savage and saw the cop for the fourth time in a few miles..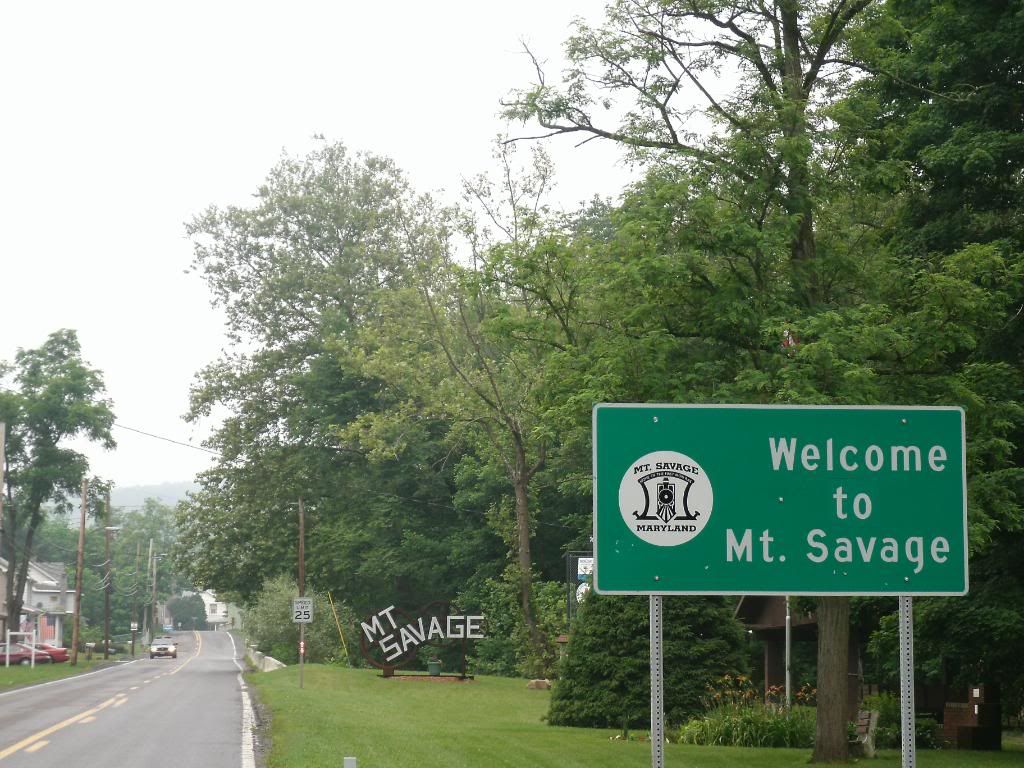 fuel stop (I would fill up every other stop)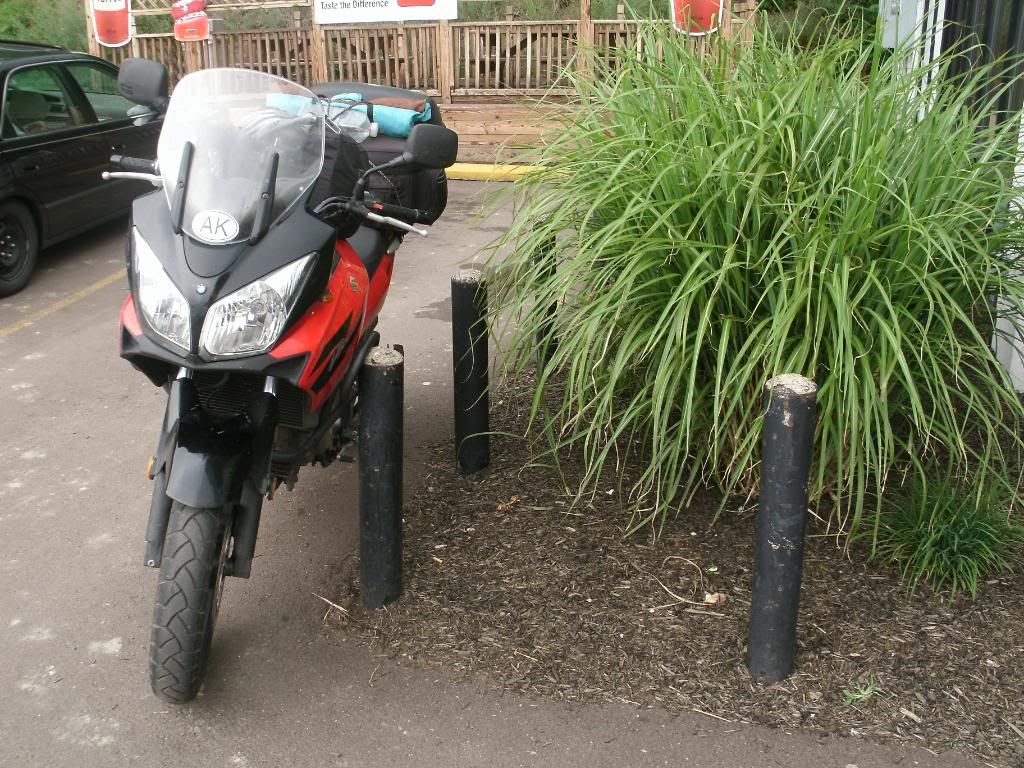 Delaware Water Gap on the Jersey side
We ended up in Newburg New York on this day and stayed at Days Inn, Robert stayed at the motel on the Phone, Chris and I had a great dinner at Longhorn across the street and watched a guy get kicked out for being schizophrenic and I got free drinks for being charming!
We enter Vermont Slabbing it after a brief adventure ride through Connecticut Massachusetts and New Hampshire on our way to Mount Washington!
Stopped at the welcome Center to Stretch our legs a little after a long stint on the Freeway. these rocking chairs were incredible.
I would like to make one of these tables.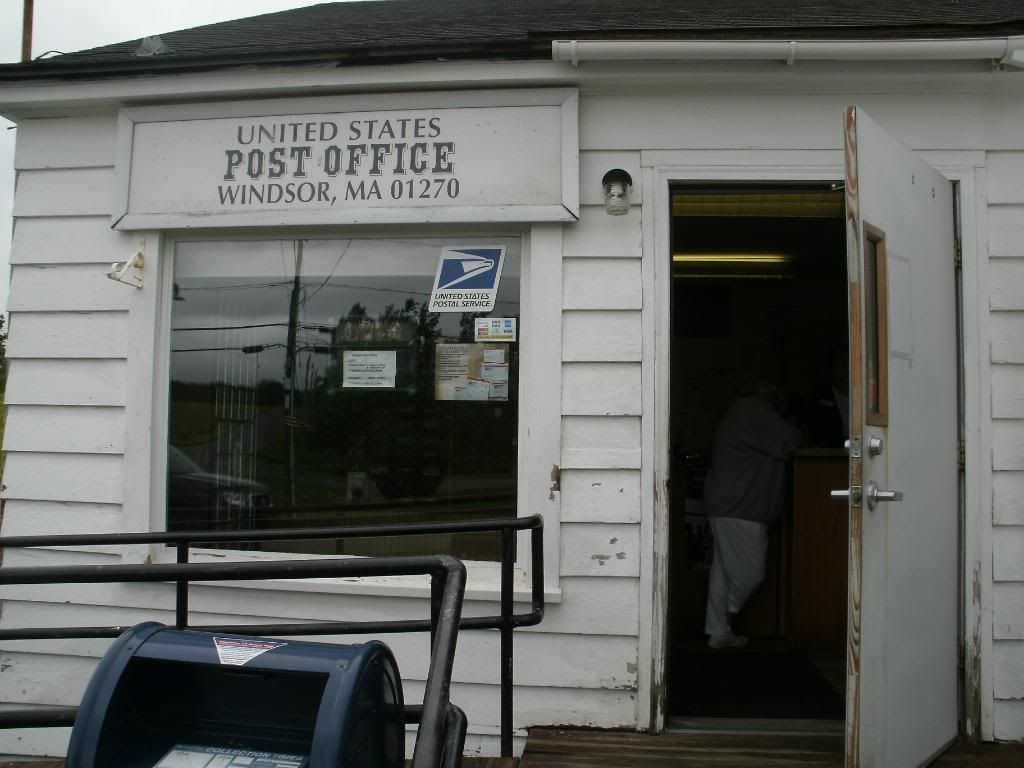 We were headed towards Mount Washington but we wouldn't make it in time to make the summit on this day as the up road closes at 4pm.
Stopped here for an early dinner of Pizza and got some directions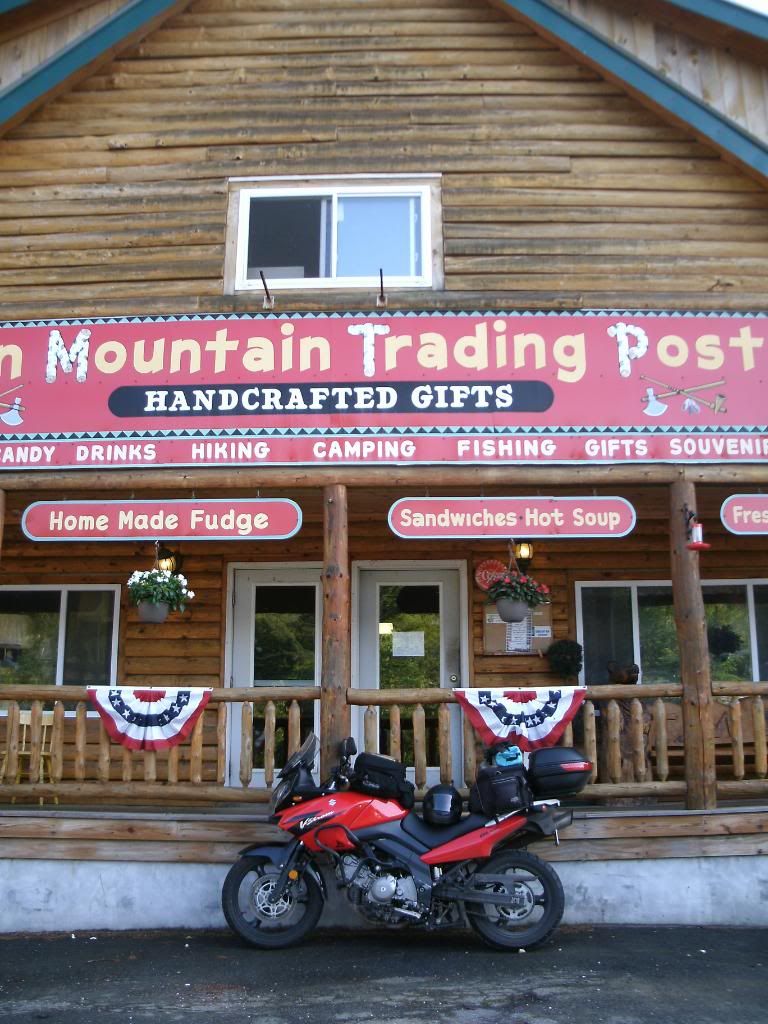 This guy pulled up.. he was a "stunna" boy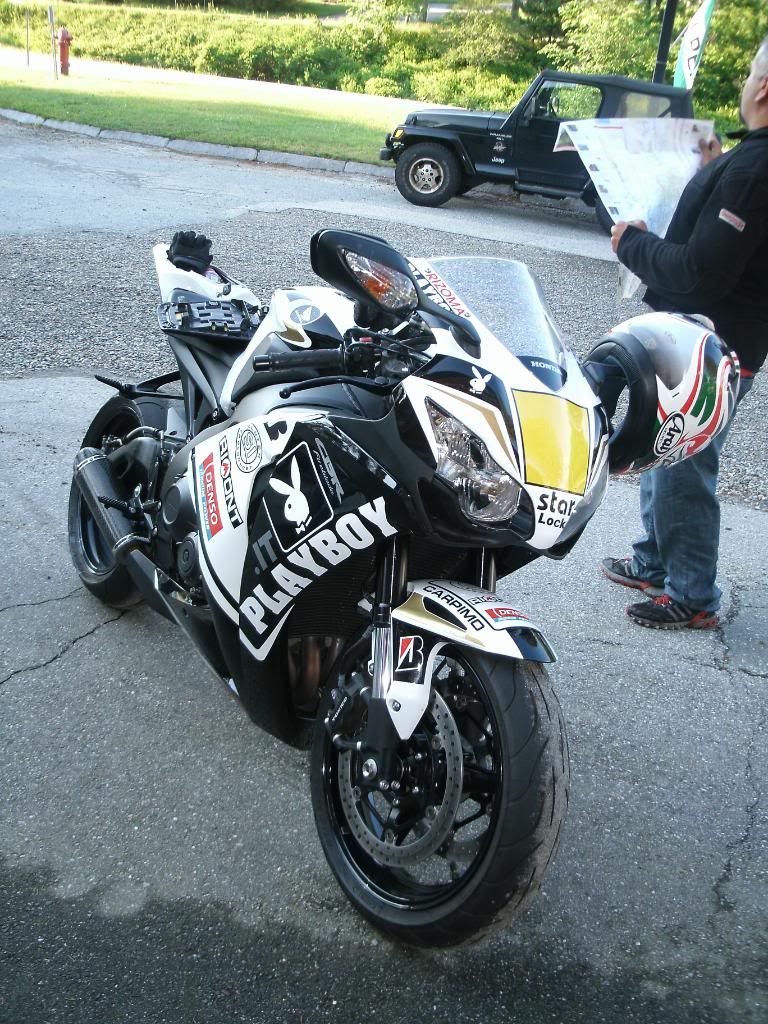 There was some kind of "Run to the Sun " Harley ride going on so there were thousands of Hardleys everywhere, we passed most of them and got video of me passing a couple hundred going up and back down the summit road on our second ascent (we forgot to video it on our first run so Robert followed me up on the F800 wearing Chris's helmet cam)
INSERT VIDEO HERE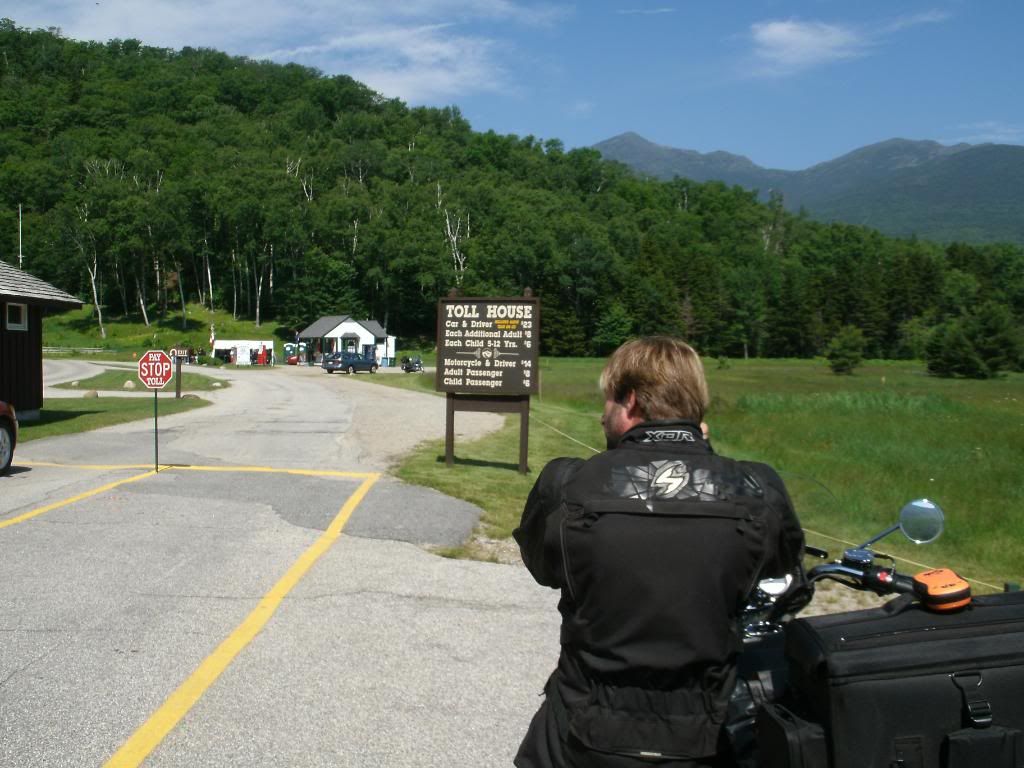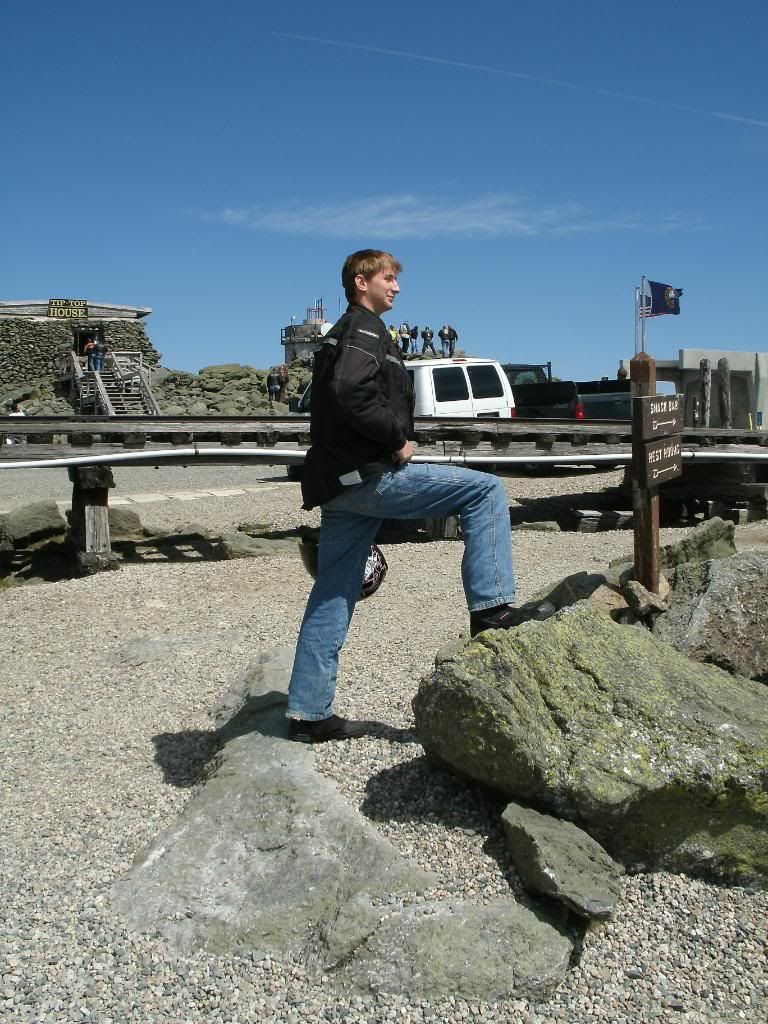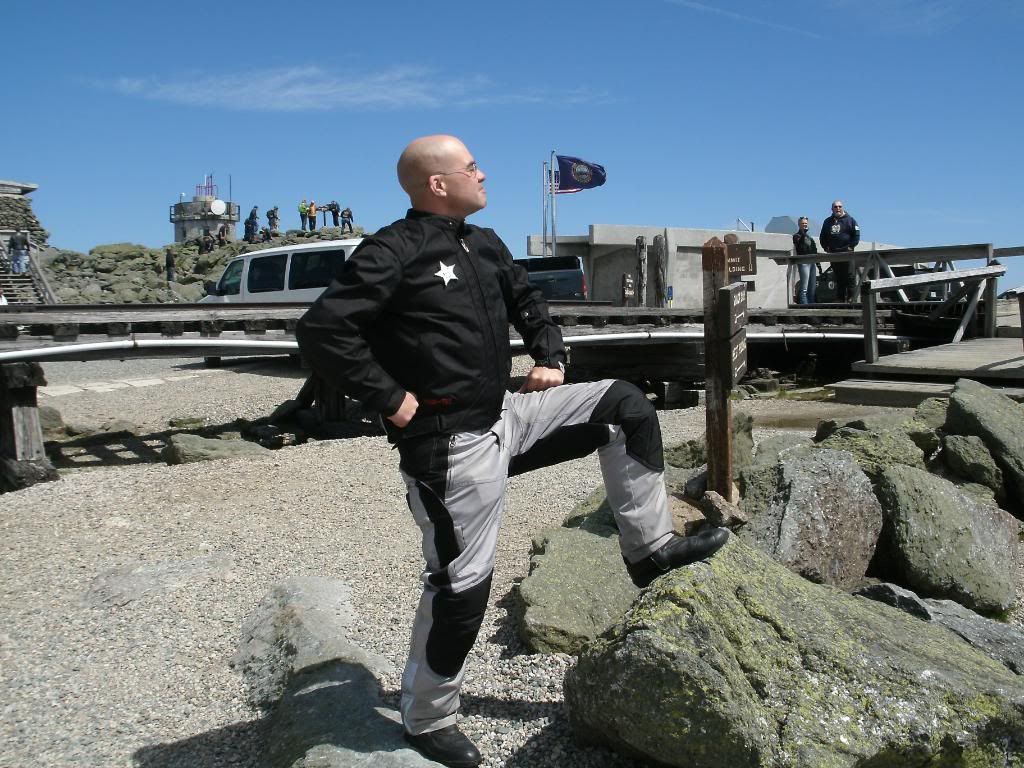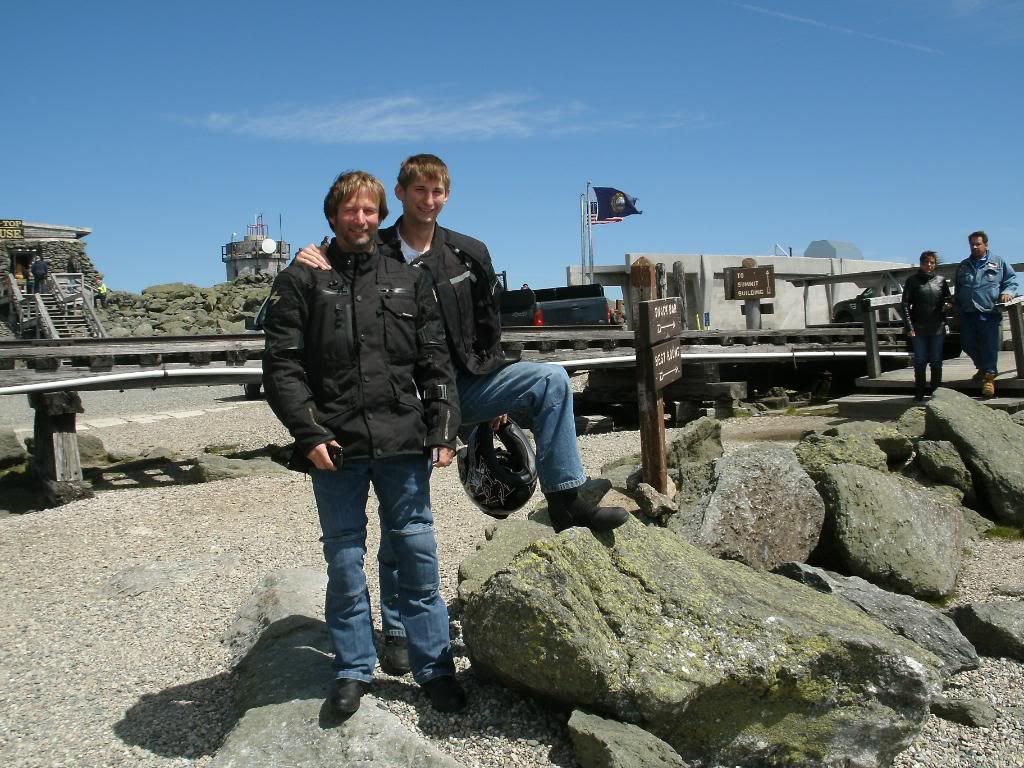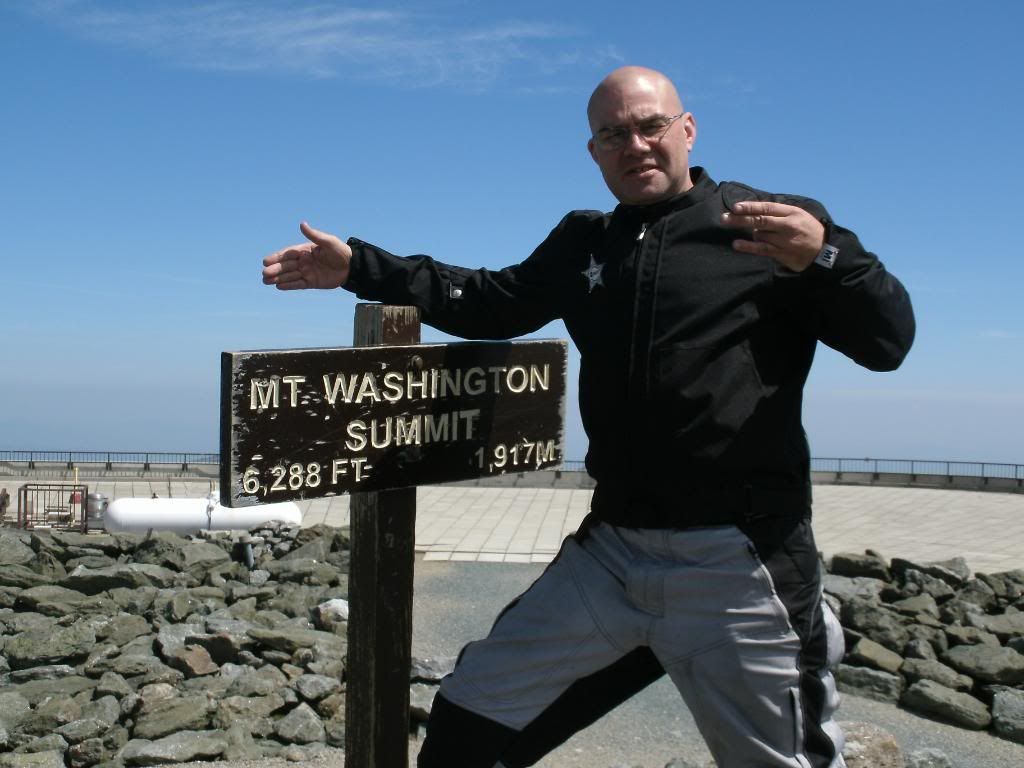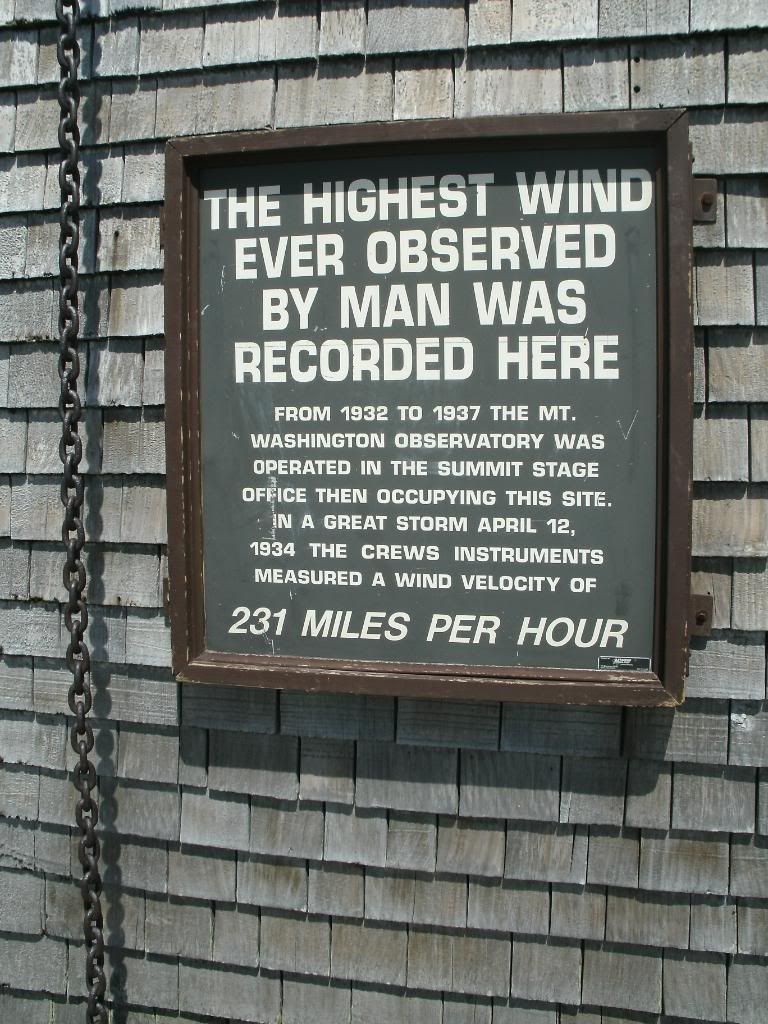 nice beamer
a few minutes later I hear a crunchy sound, the wind blew it over and helmet is rolling down hill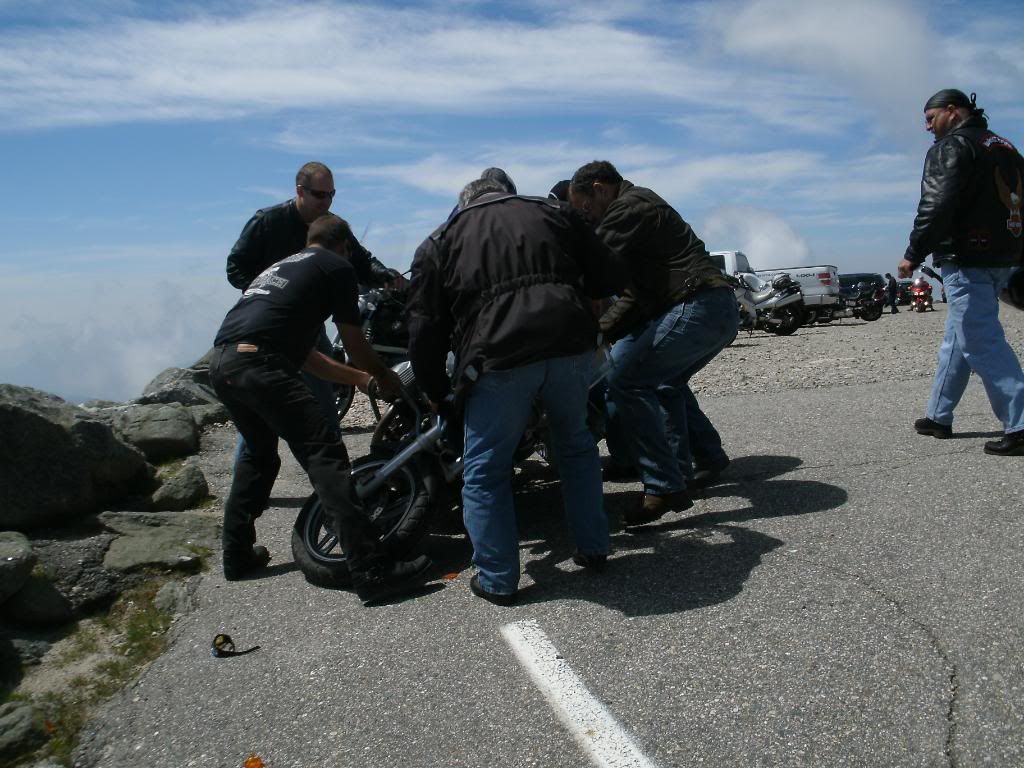 Harley riders to the rescue!
We made it to Acadia NP and set up camp, then rode to dinner
Lobster run!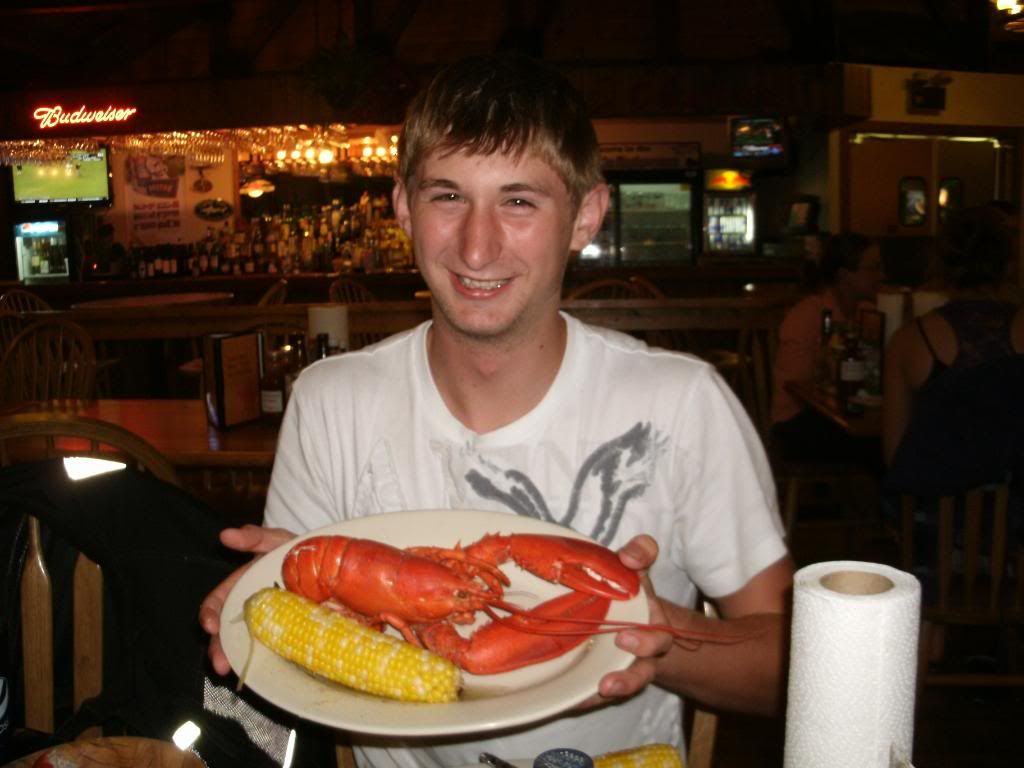 scavenged some firewood and had a little fire with a roads end beverage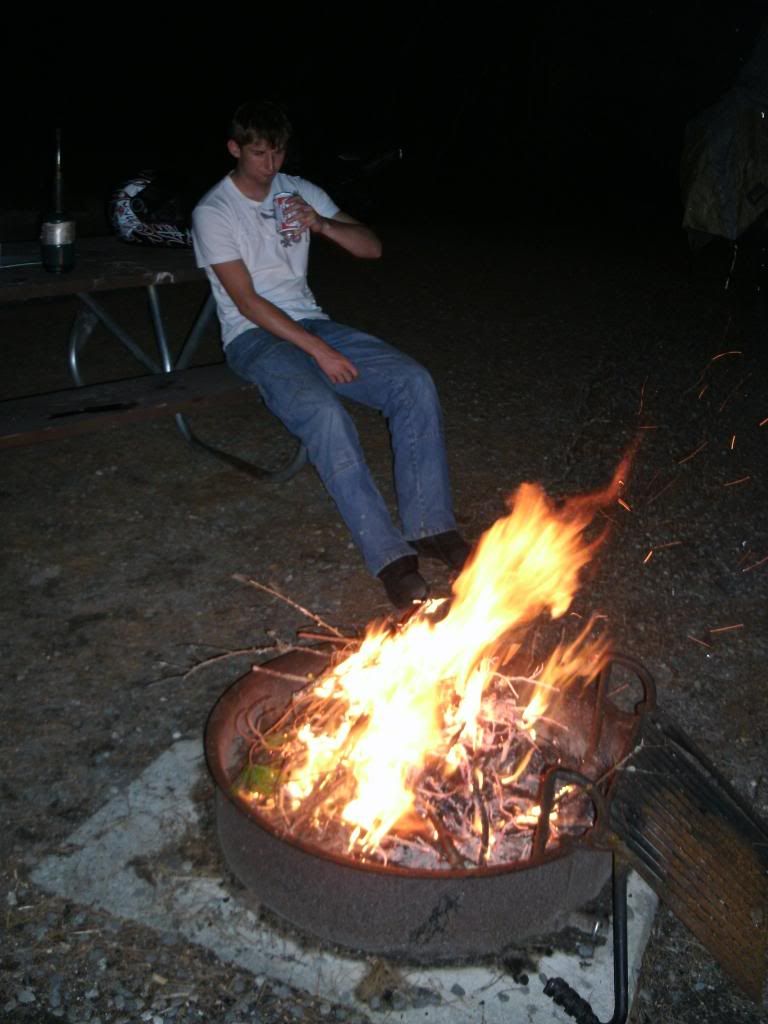 And they're headed to the tire place in Ellsworth and then to Queens NY for the night!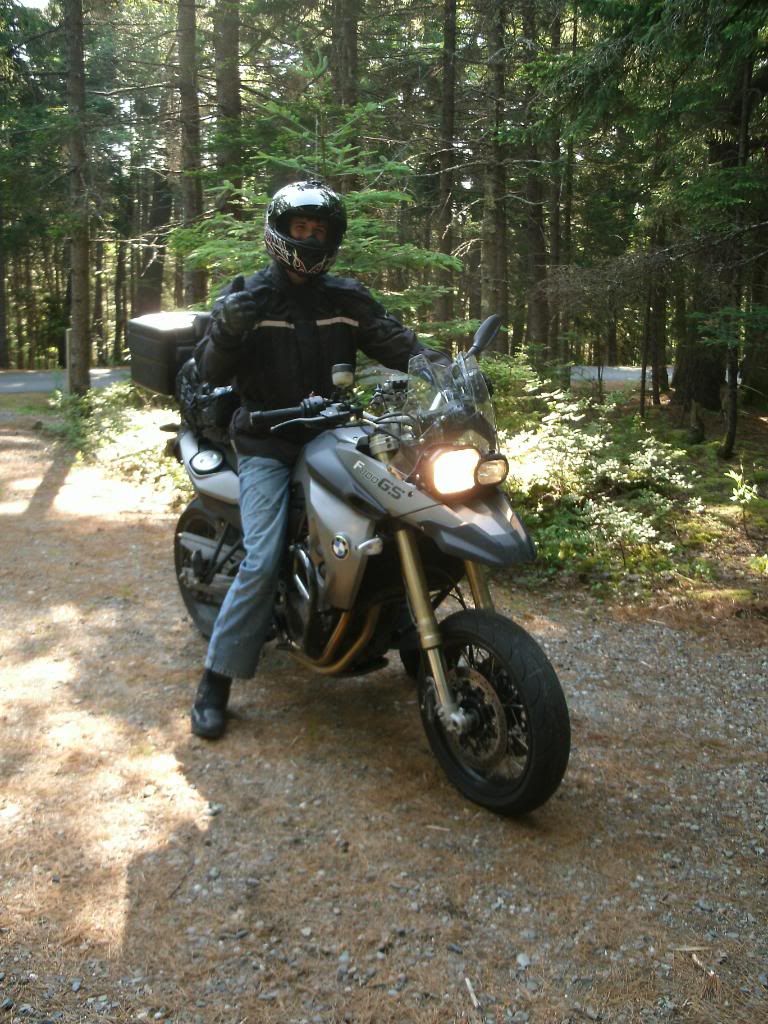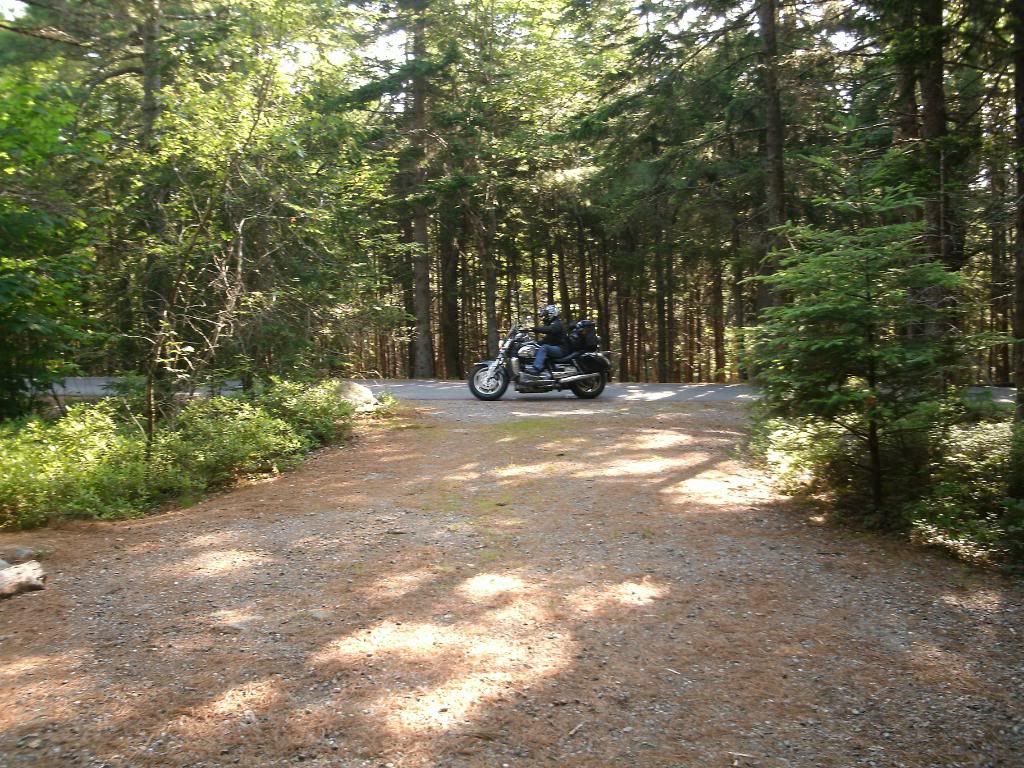 My first stop solo while exploring the Acadia NP, got some water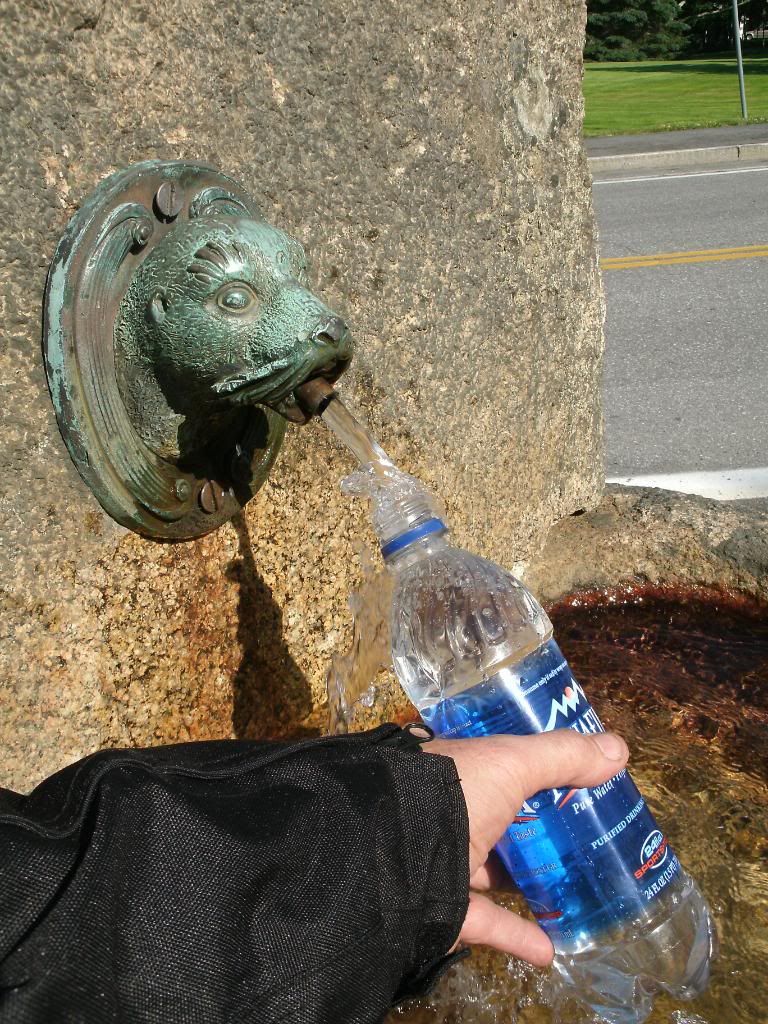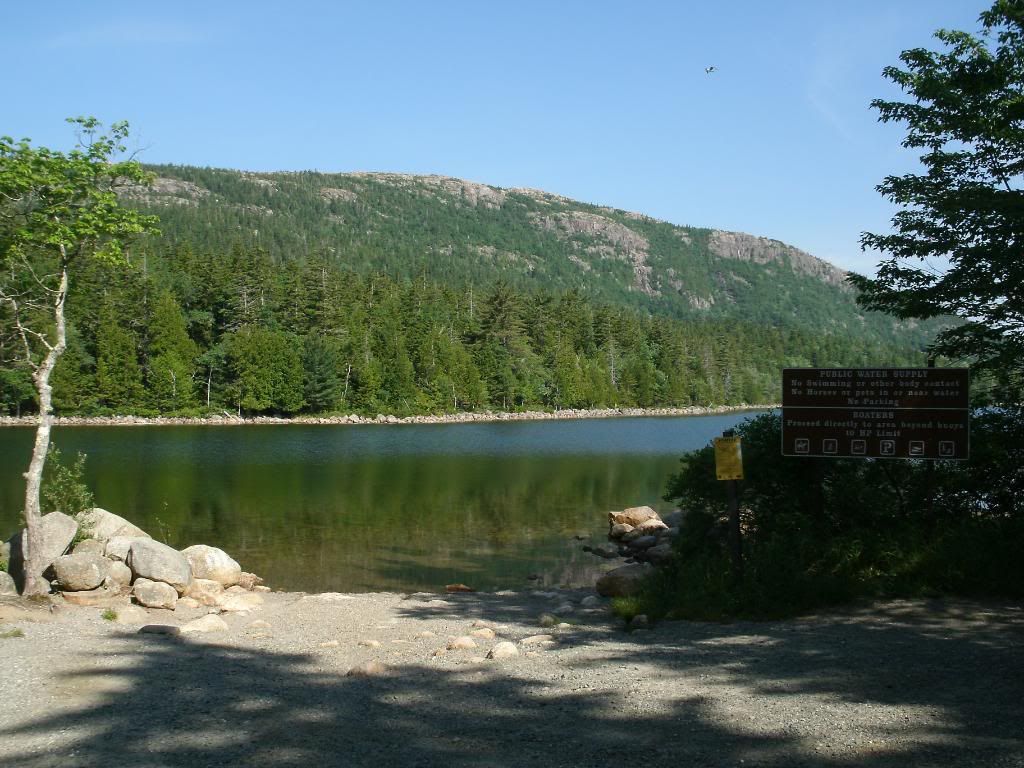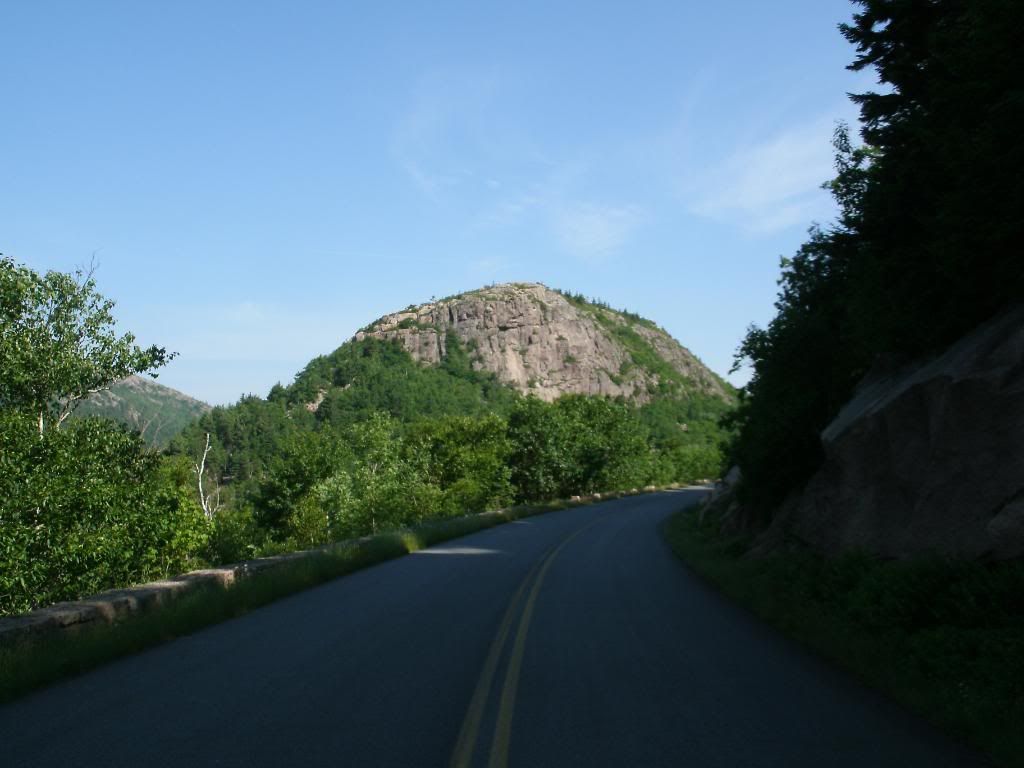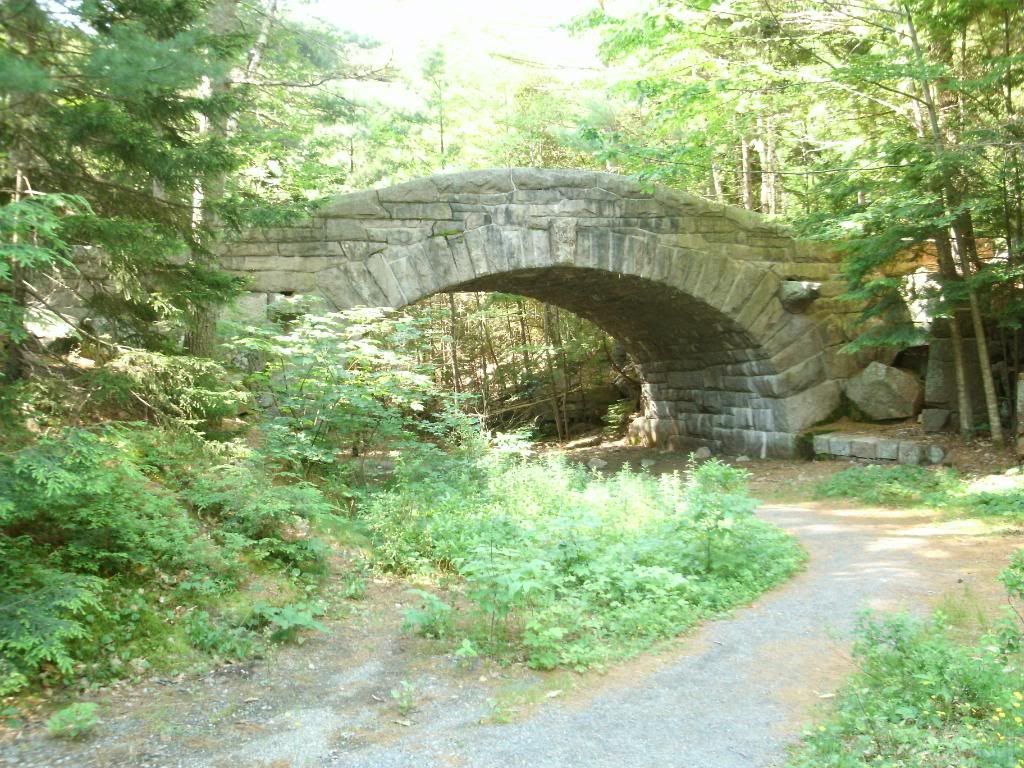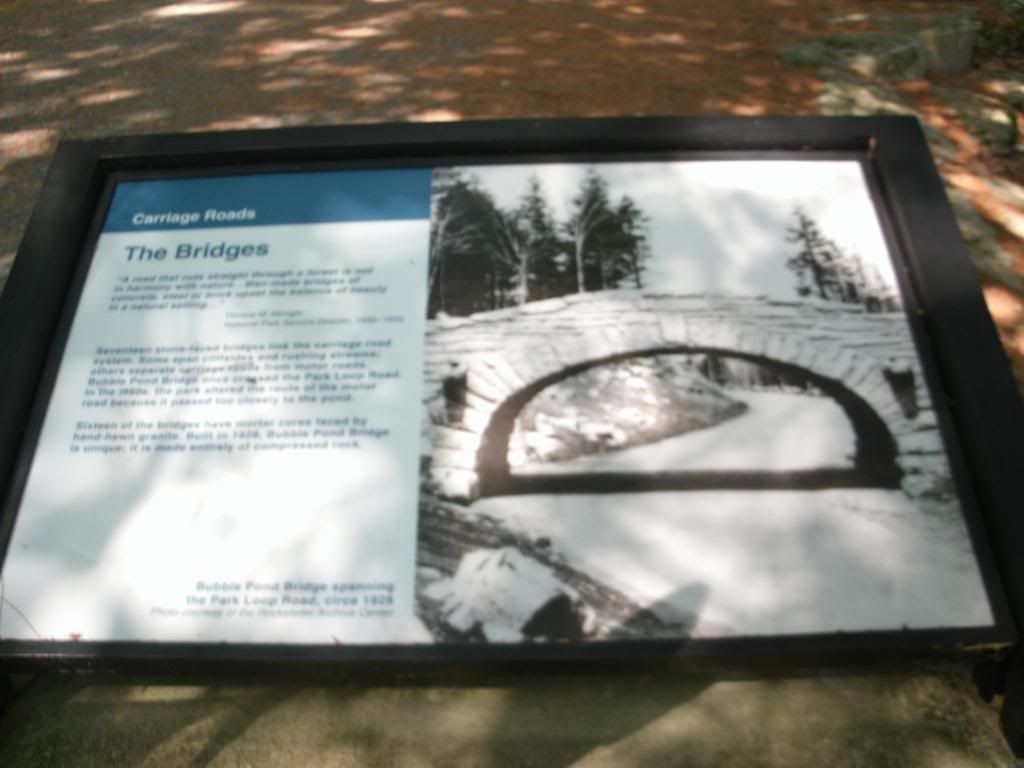 Cadillac mountain Summit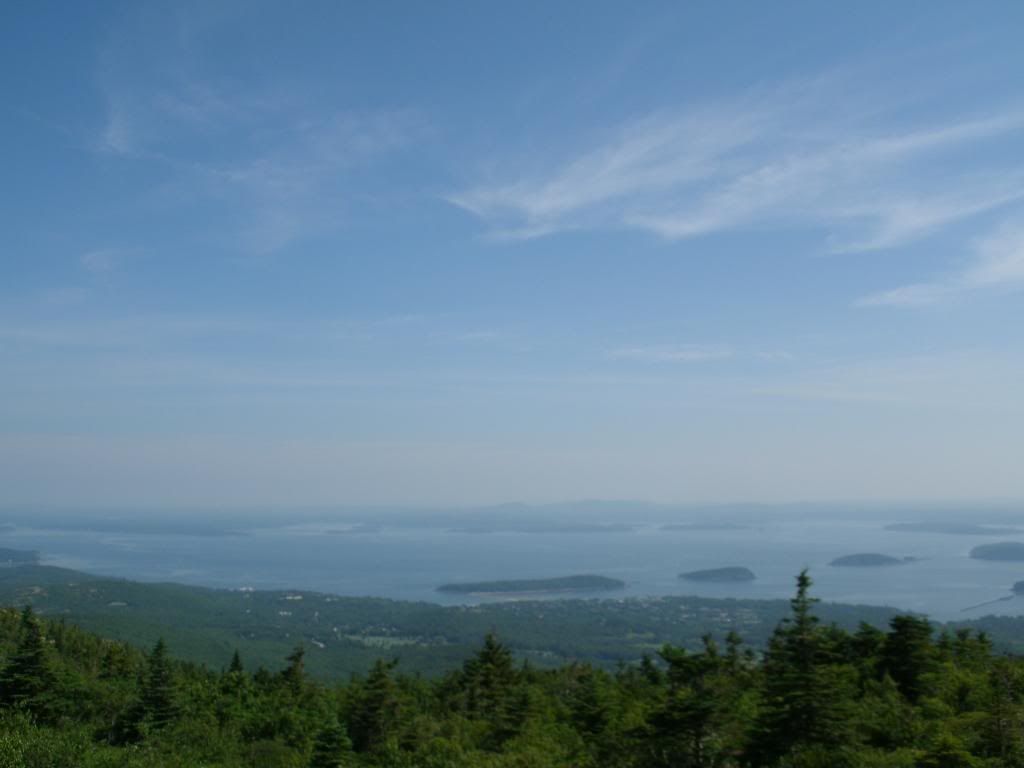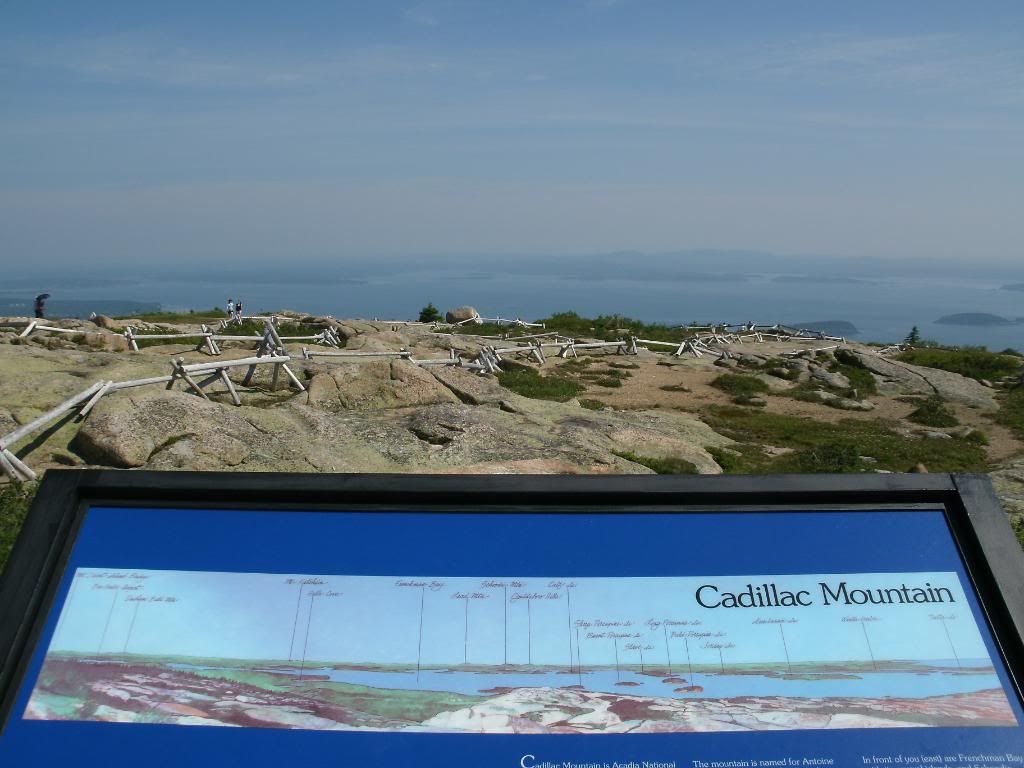 Spring Gardens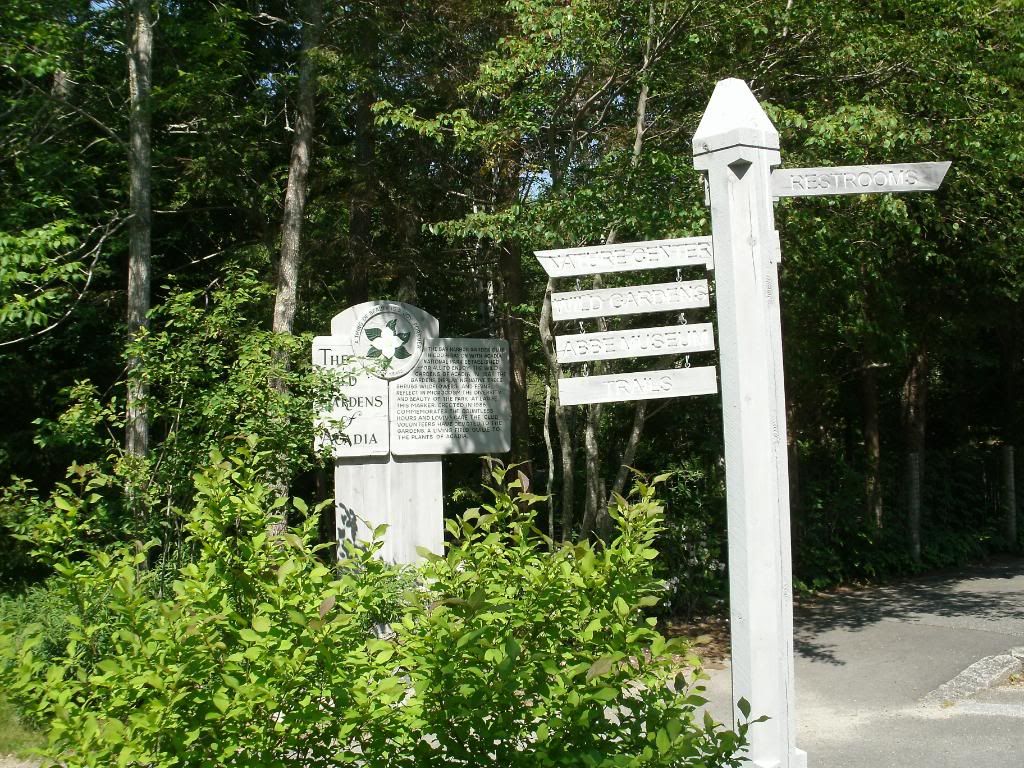 who can resist the BOG?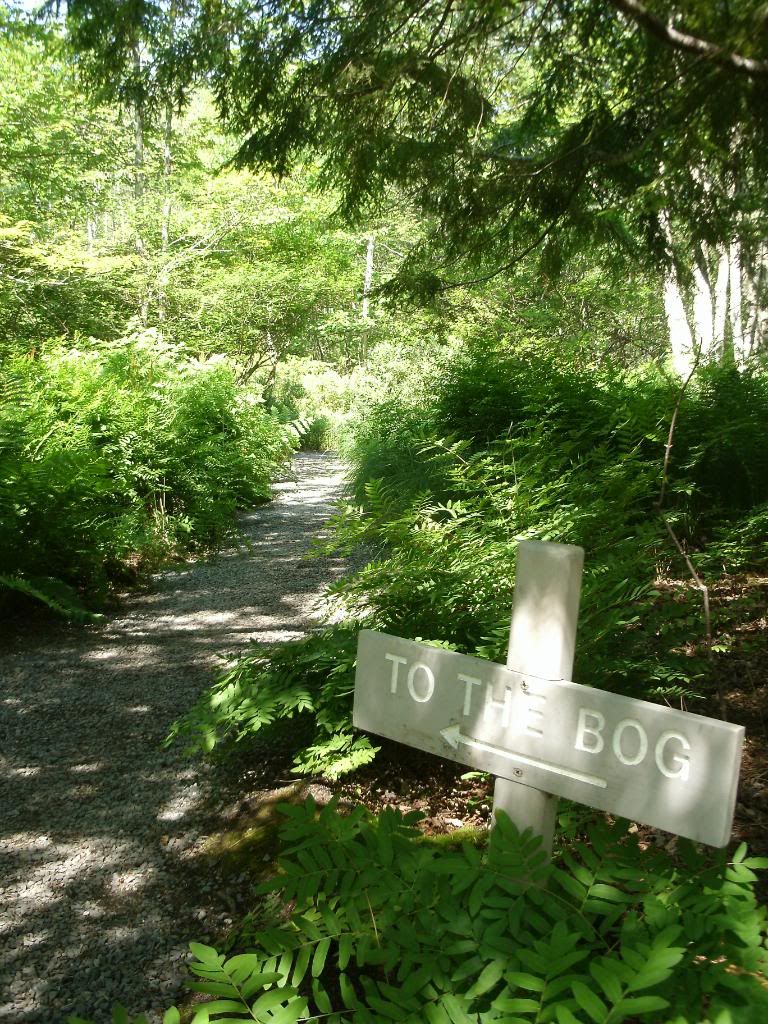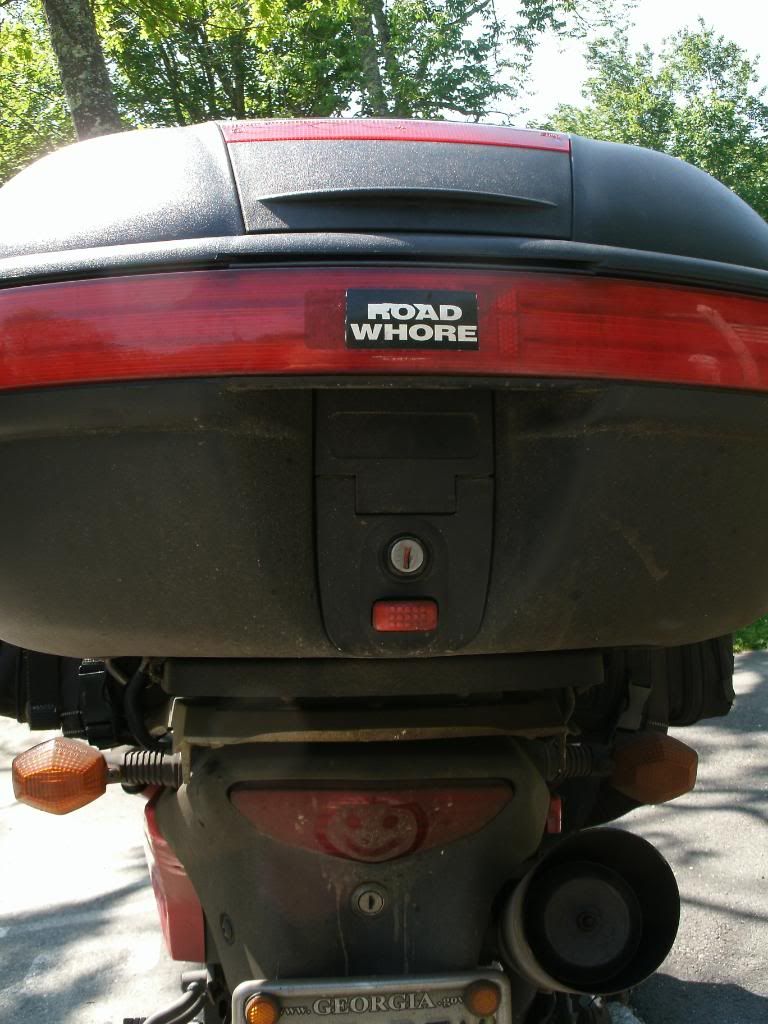 Stopped at Radio Shack in Bar Harbor for a new USB power cord for my Phone, GPS and Music.. since I had a good leaning tree in the shade I decided to have brunch at this quaint little cafe staffed by hot Ukrainian chicks sorry no pics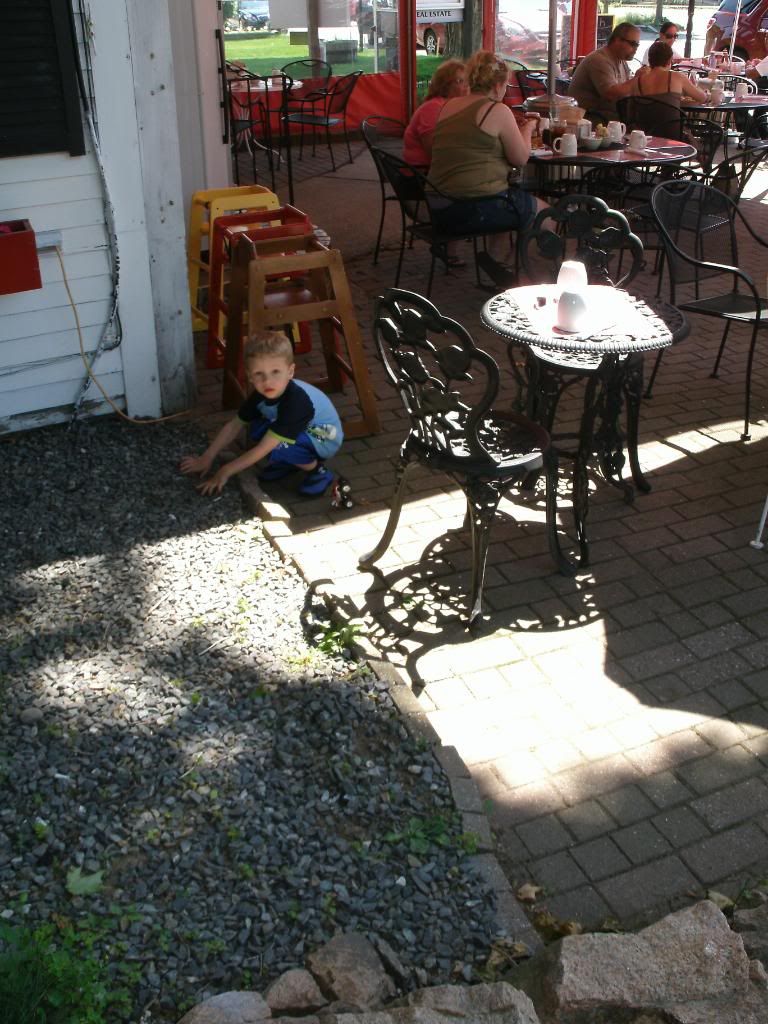 on the way to Lubec I spot a clearing and snap a quick shot of the Cadillac mountain summit where I had started the day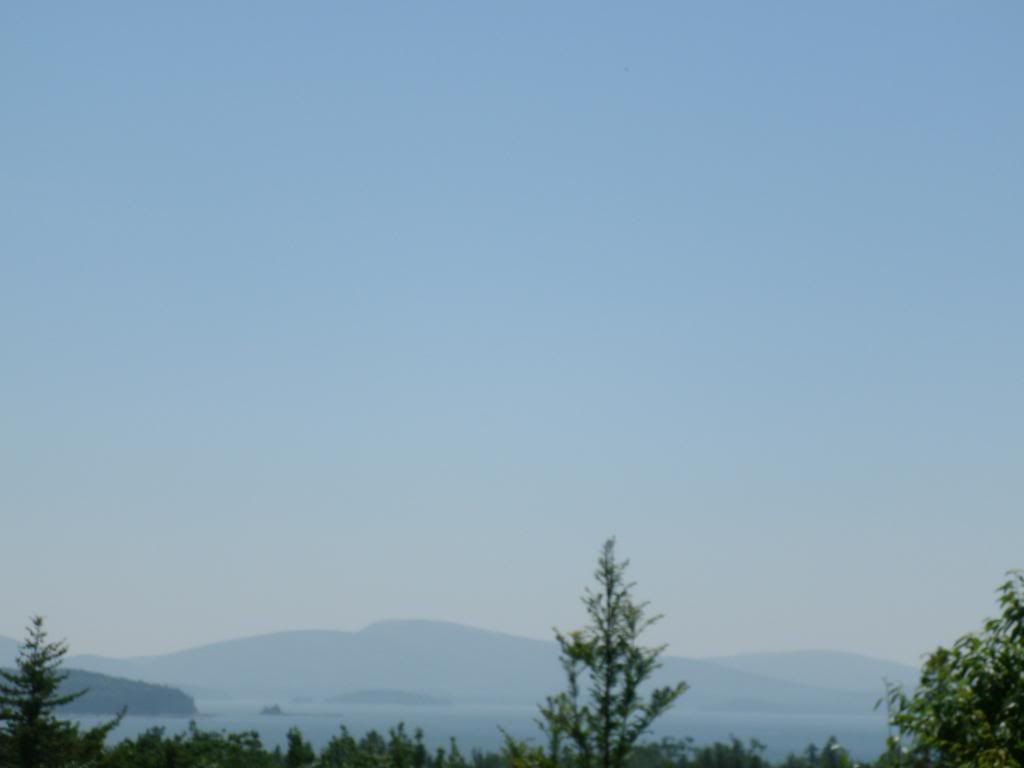 Made it to Lubec
the lighthouse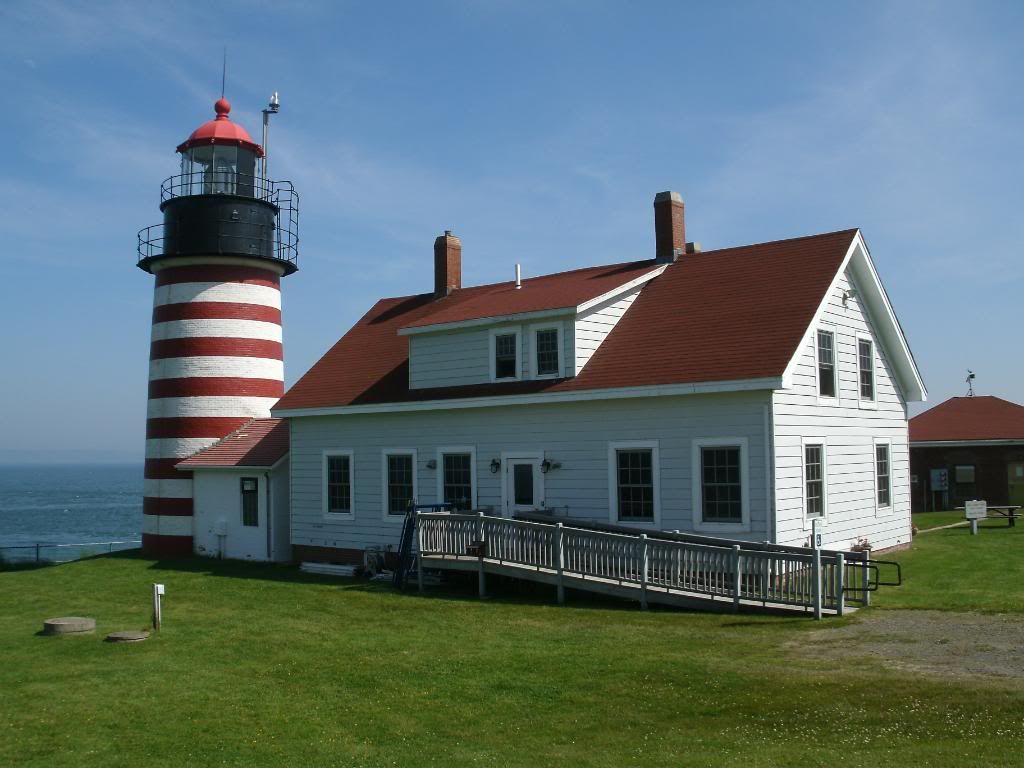 headed into town for lunch at Franks, this Concours14 rider put me on the centerstand as did a few others along the way. I would approach riders and say "This is going to sound like a strange request.."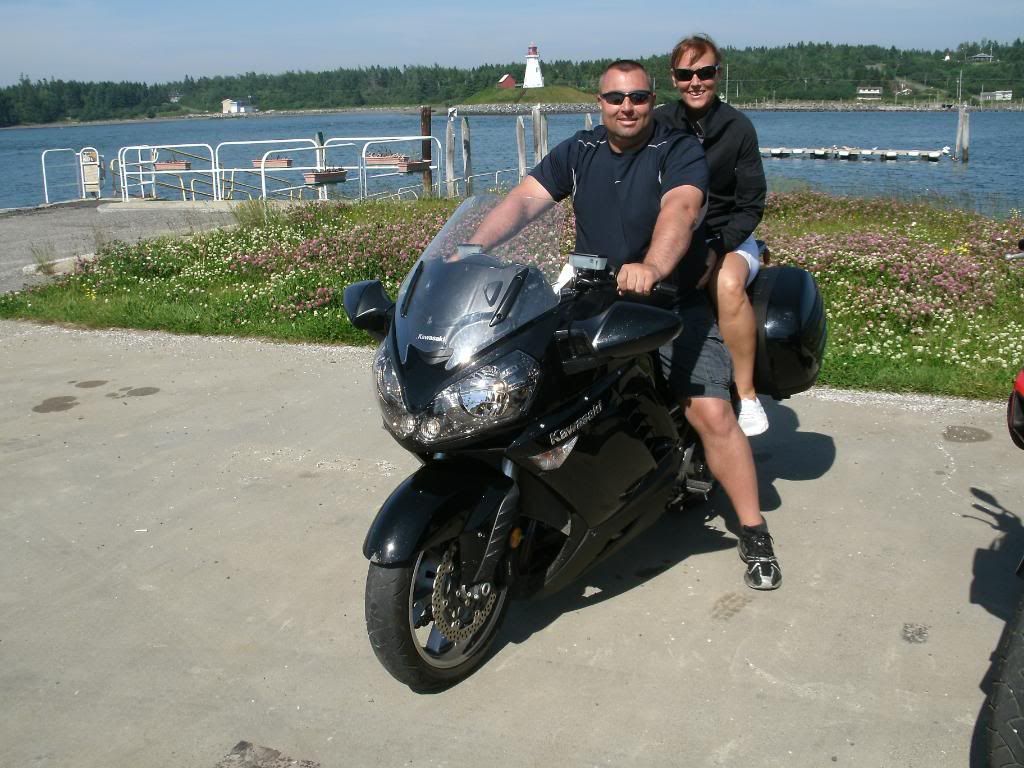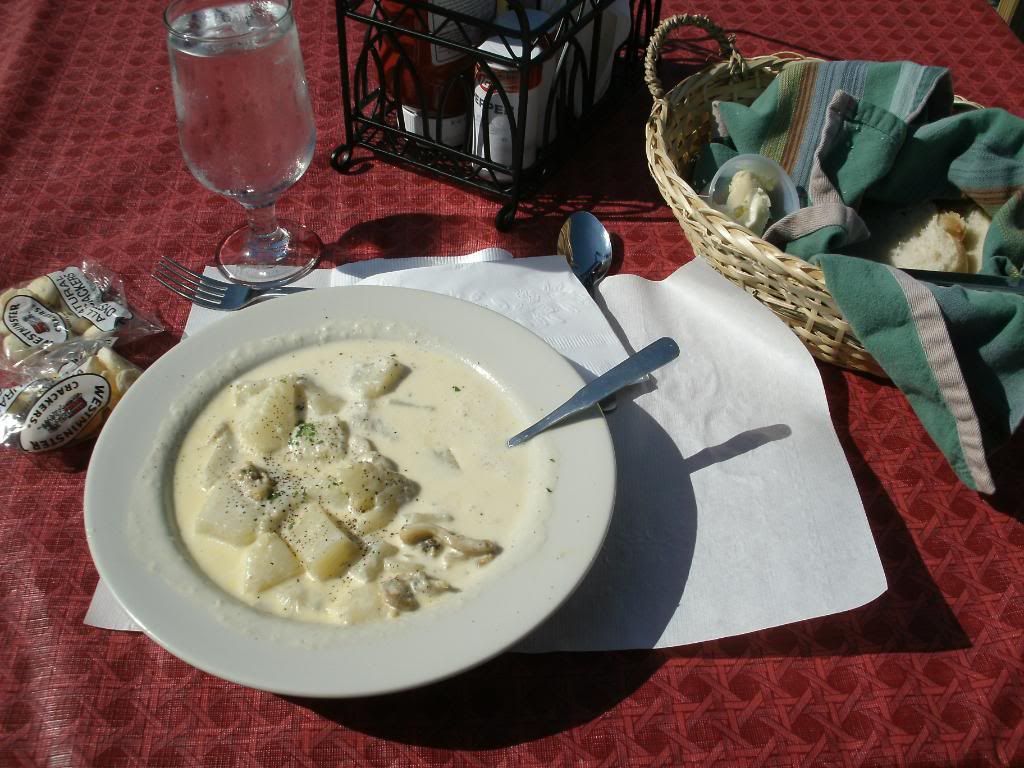 Running at a quick pace across Maine on my way to Baxter State Park and the Appalachian Trail Terminus I see this burned up bike and stop to investigate.. rut roh this must be where all those irate hardley riders on Mnt Washington came from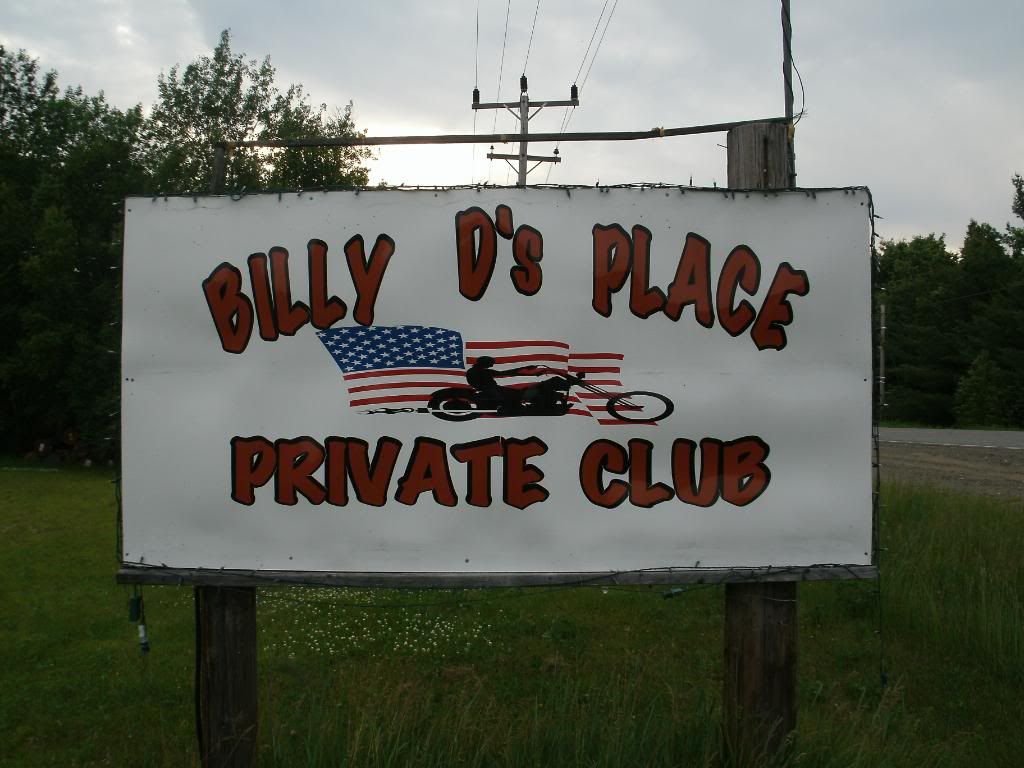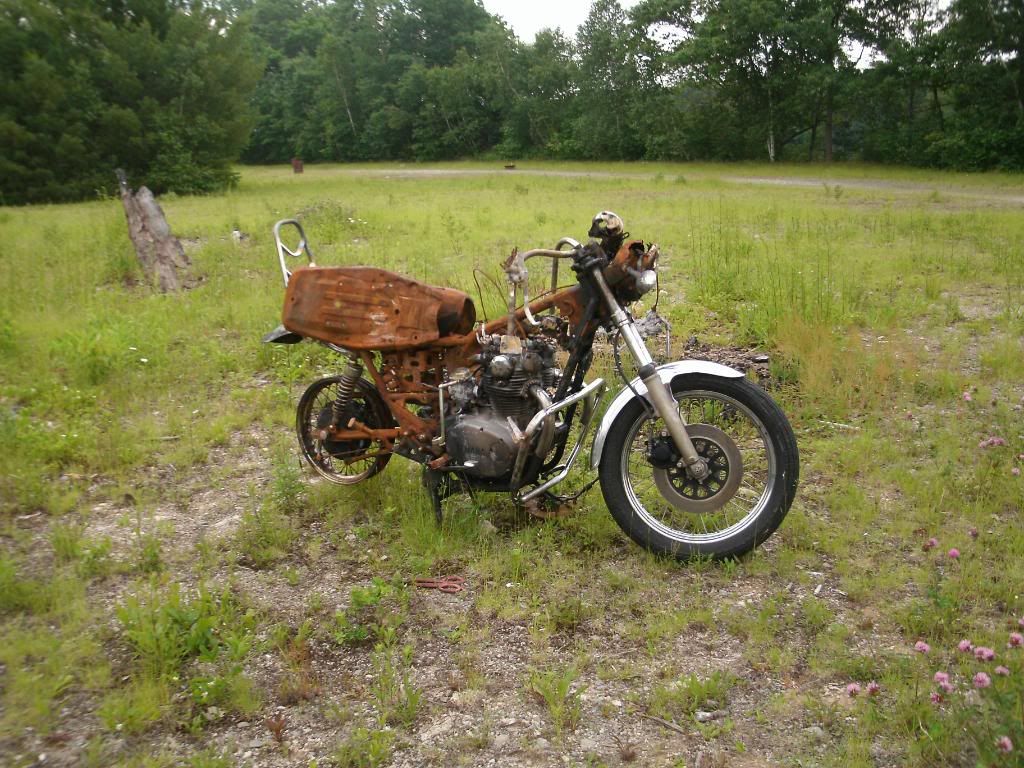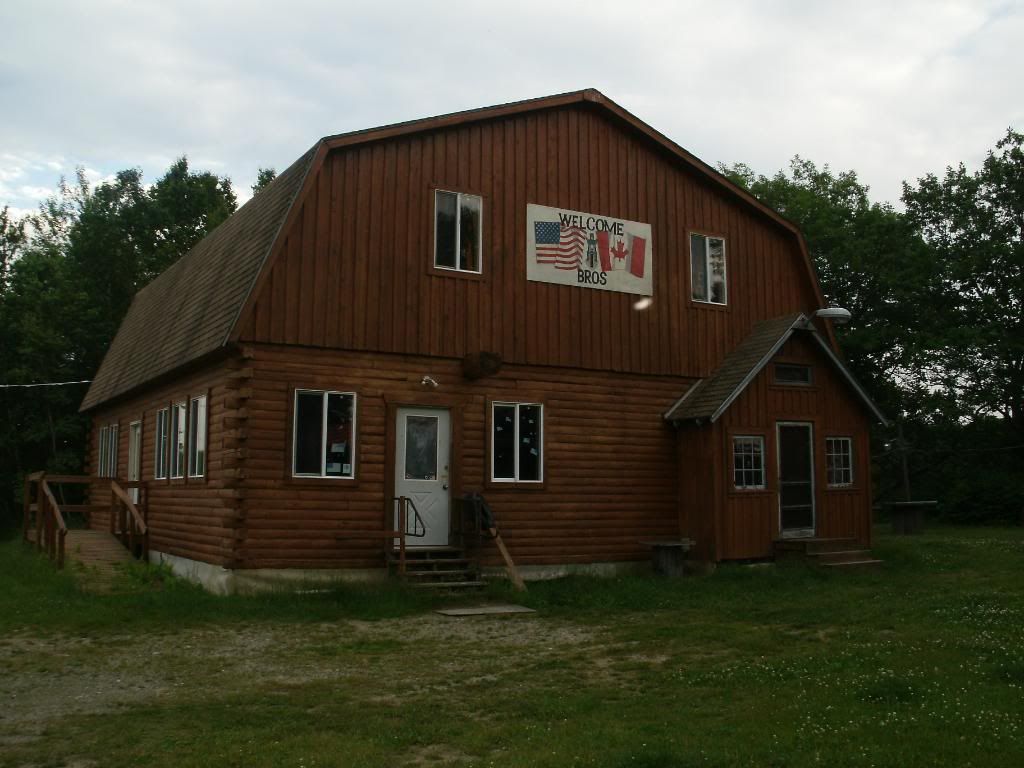 Back on the Road to Baxter State Park the News is not good!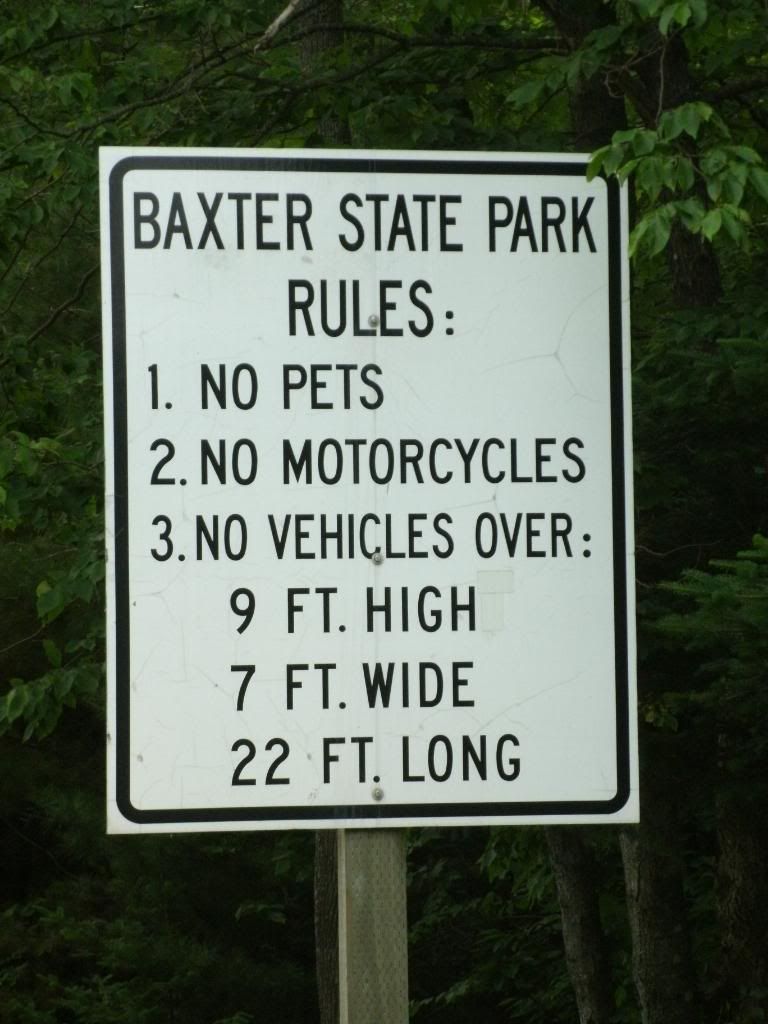 Rolled into the park at 8:00 pm and found the Ranger dude and he said he'd turned away 10 motorcycles on this day alone.. the road isnt safe for M/C's and if we let one in we have to let them all in.. blah blah blah.. So I'm pretty pissed and set my sights on NY state as to not spend another penny in Maine.. aside from Fuel I did not
Stopped here at this rest area @ Twin Lakes as it was beginning to rain and ended up "camping" here. as I was watering this Baxter State park sign my phone rings and the weather take a turn for the worse..
Well the wind and rain kicked up as I was on the phone with a high school buddy and it was rapidly getting dark now.. The wind blew my glasses off the bike and I stepped on them unknowingly, popping one of the lenses out, never having glasses before I was a bit freaked out being out in the middle of no where in the dark.. I found the lense and then proceded to drop it through the crack in the picnic table.. now I'm screwed but thanked god for my headlamp as I lie on the table searching for the lense so as to not step on it during my search. Then the bugs start eating me alive! ? So I made an improvised mosquito net out of an old T-shirt I had..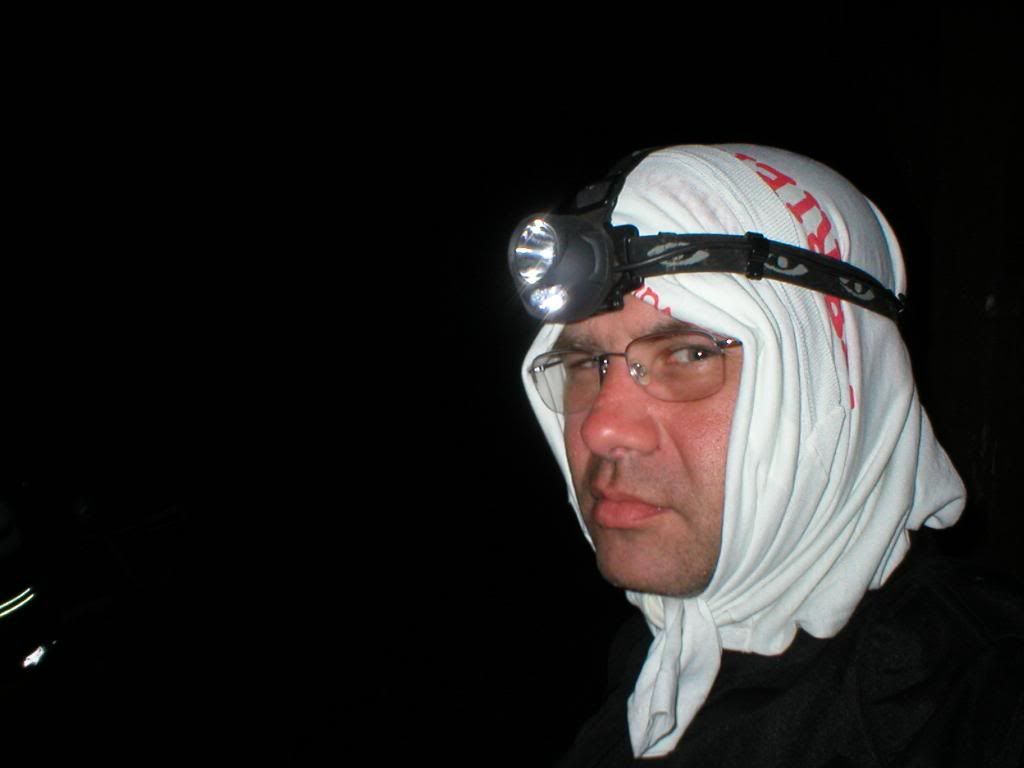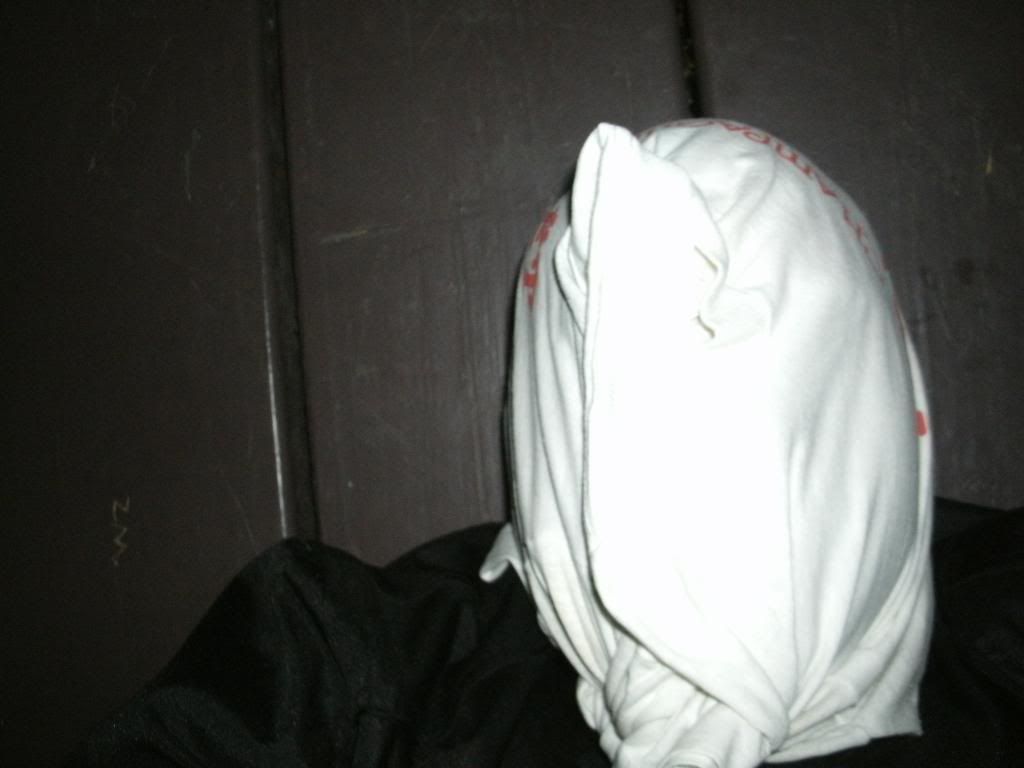 got rolling after little sleep at 5 am, running from the sun (heading west)