Discussion Starter
·
#1
·
Hi,
Today I purchased a set of driving lights from Walmart. The box says they are Optronics something or others and they are 55w bulbs (I will switch them out for 35's so as not to drain the batter). I removed the reflectors on the front forks and bolted the bracket into that receiving end.
The mounting went fine...but I know absolutely nothing about wiring. Off of each lamp comes two wires, one black and one white.
The black lead connects to an extension wire that is supposed to be ground on something on the bike.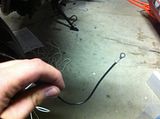 The *********** wire from each lamp connects to an extension lead...both of those leads then connect into one single power wire via a Y connector of some kind.
According to the included instructions (modified because these are not designed for bikes, but others on this site have set them up, although their directions were unclear), I run the single *********** wire into the middle port on the included rocker switch. The black ground wires are only about 1.5 feet long so I have to ground them to some point on the bike close to the front wheel (ideas?). Then I have to connect the black ground wire for the switch
to one of the other connectors on the rocker switch. Finally, I have to connect the red power lead
from the positive connection on the battery to the last remaining port on the back of the rocker switch. The red power wire has a 15 amp safety fuse built in.
My questions: How do I get the red power wire from the battery all the way up to the rocker switch that is going to be mounted on the dashboard?
Is 55W per bulb too much for the bike to handle?
I don't know what a relay is but do I need one?
Would it be better to wire the lamps directly into an ignition on switch so that they run all the time the ignition is on as opposed to having an on-off switch.
Where would be a good point to ground both the black ground wire coming off of the switch and those coming off of the lamps themselves?
I really appreciate any and all help that you guys have to offer!