Hi Everyone, As with the original DL650 abs models released in 2007 through 2011 I have been working diligently with my good friends at Galfer to get us a solution to the ongoing need for an Extended Black SS Top Front Brake Line so that we can all install and use Up and Back Handle Bar Risers on our 2012 DL650 abs models,
Sadly, Suzuki went and removed the ability to swap individual front brake line components and reverted to the completely hard plumbed systems used on the 2004 - 2006 and all model years of the DL1000.
Because all the joints are now hard plumbed the ability to use my $49.95 Single Black SS Extended Top Front Brake Line Kit for the 2012 models as the solution is not possible on this model,
This means that the only way to get the Extended Top Front Brake Line to accommodate any up and back risers is to use the unique private part number kit that I have worked together with Galfer to develop.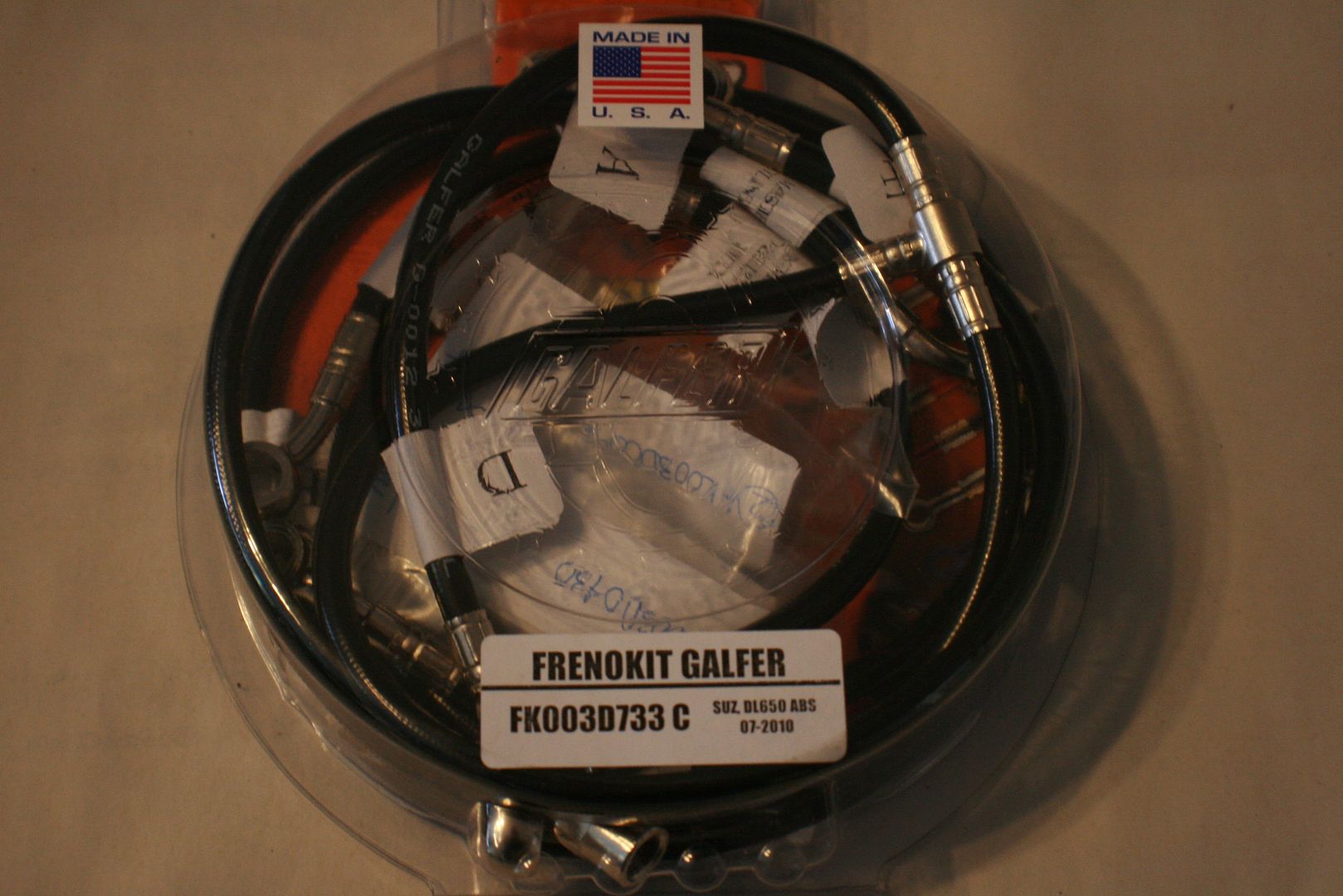 The only way to get the Extra Length you require to mount and safely use up and back risers on the 2012 DL650 abs is the Lifetime Guaranteed, Galfer Full SS Conversion Kit at $249.99 and $10 Flat Rate Shipping,
I have had to purchase 10 of these kits from Galfer in advance in order to be able to create a private part number for my fellow Stromtroopers and save everyone who orders the kit in the future the custom line fee for having the Black SS Extended Top Front Brake made up every time someone orders it.
This is not the Standard length Full line kit we did for 2007 - 2011 DL650 abs also available on the website, This 2012 Kit is unique and has all the correct length lines for the new model including the Top Front Brake Line for the Up and Back Risers regardless of the ones you prefer,
I stock the GenMar up and back but these kits work with Rox and all others I am aware of.
They are available through the website at
SVRacingParts.com
Go in Under For Stromtroopers then Under Brake Products and choose, 2012 DL650 abs Front and Rear SS Brake Line Kit,
Or you can Email me Directly at
[email protected]
and I will get you looked after right away,
Let me know whenever you are ready, I will get you looked after right away,
Enjoy the ride, and best regards,
Blair