Discussion Starter
•
#1
•
Having been a Triumph owner for one and a half seasons I have gotten proficient at transporting a bike in the back of a truck. :lol: Ok, I've loaded my share of other bikes. So anywho, here are some things that work well for me.
1. Build yourself a wheel chock to isolate your front wheel from moving. If your front wheel moves your straps can come loose. I built this one out of 2X4s and 2X6s. It will hold the bike upright all by itself. I added another 2X4 with some eye bolts to make a couple more tiedown locations. In retrospect I would have used a longer 2X6 in the front and put eye bolts in it.
2. Park your truck on a (relatively) level surface but back it up to a slight incline if possible. This will reduce the angle of the ramp. The longer the ramp is, will also help here. You want the ramp to be kind of wide also. At least 2 feet. I built this one out of two sheets of 3/4 plywood glued together with 2X4 braces. There is no flex but it is heavy.
3. Some people swear by the ratcheting tiedowns and others say the cam type are fine. I use both and they both work great. Other people really like the Canyon Dancer type of strap that makes the hand grips into tiedown points. Ive never used one and with a little imagination I dont think they are necessary. What ever type you use, or wherever you attach them, I always put one ratcheting on the rear tire like this. It hooks to one side of the back of the bed then loops around the tire and wheel then ratchets tight on the other side.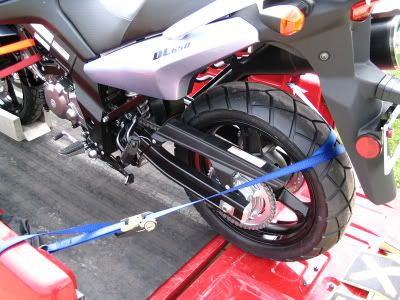 Lastly get at least one person to help you load and unload the bike and remember to put up the kickstand before going up or down the ramp. :wink: