·
What Kinda Bike Is That?
This trip actually started on May 22, 2011. That is the day I received a Personal Message from Stromtrooper forum member, "Nova Scotia Strommer". NSS had been headed to a rally being held on Hermit Island, (Phippsburg, Maine), when he experienced a rear, flat tire. NSS plugged the tire, but the tire continued to leak air. Not wanting to deal with this issue for the rest of his trip, NSS stopped at Street Cycles, (located in Falmouth, Maine), and purchased a new rear tire for his bike. The new tire was mounted to his rim so that he could continue his journey unfettered, and the old tire was slid into a tire rack with my name on it........
I guess I have a reputation for riding anything that will roll, and that I can force into compliance of holding air!!!!
Nova Scotia Strommer remembered this fact, and asked the service manager to hold the Shinko 705, until I could show up to pick the tire up! I have to say, the whole idea of this is VERY humbling to me! I sincerely DO appreciate the thought AND the gift! Many thanks, NSS!!!
I could not retrieve the tire as quickly as I would have liked to. My Memorial Day Weekend ride was coming right up, and there wasn't a window for me to dash south before heading west into Ontario, Canada.
By chance, I had heard about the first annual fly-in being held at Brunswick Executive Airport, (Formerly, Brunswick Naval Air Station), for the date of Saturday, June 11th. That aviation event fit perfectly into being able to pick up the tire that NSS generously left me at Street Cycles, and to "rub elbows" with airplanes. This was to be my very first attendance at a fly-in!!! And, the weather was perfect for it!
On my ride down Rt 95, I came upon this Harley Rider. We respectfully kept pace with each other for quite some time. When I took this photograph, we were traveling at a speed of nearly 80mph.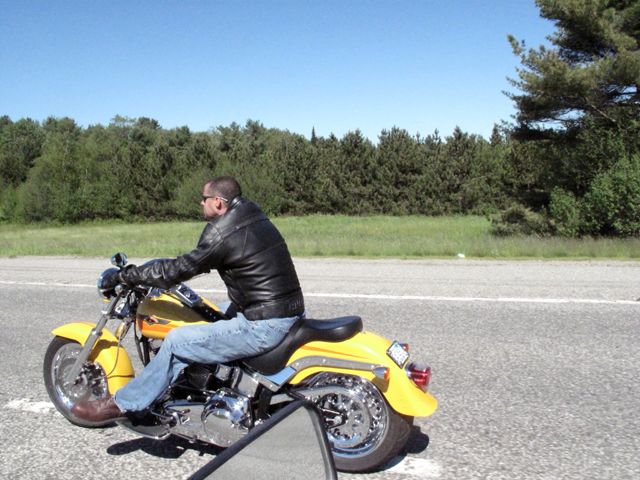 At Street Cycles, I picked up the Shinko and lashed it down to the back end of my bike. As I did this, there was a couple standing, just out of the camera frame, that were donning their riding gear. The plan for them that day was to, jump on their Triumphs to head to Portsmouth, NH to demo a couple of new bikes. The female of the couple, looked at my license plate and said, "I love it! It is perfect! I looked at her and asked, "You understand what it says and means?" She said, "Absolutely!" ("CHEZMOI"= My Home in French).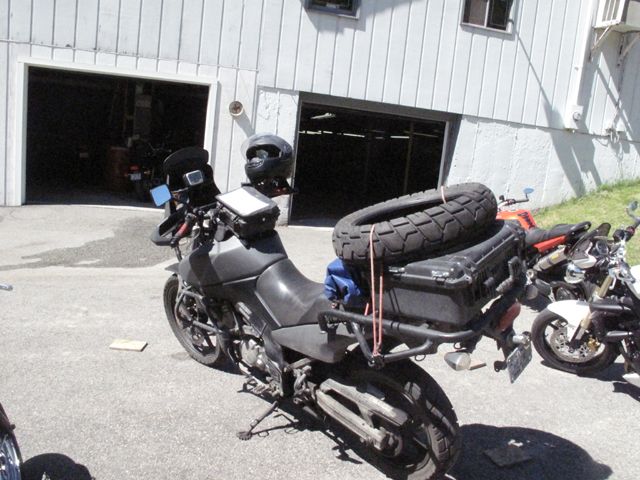 On my retreat from Falmouth, back to Brunswick, I decided to pass through Yarmouth, to see if my old friends, Fred and Laurel were around. Many, MANY years ago, Fred and I used to work together at, Grossman's Lumber Company, which had been located out on Warren Avenue, (Westbrook, Maine), before I headed off to Mount Desert Island, and Grossman's went bankrupt..... Fred and Laurel were home!
After my quick visit with my old friends, I made my way up Rt 1 to Freeport. On the way, I passed another "Old Friend" that has stood sentinel over this road for many years. Do you know how many arrows that have been extracted from this statue over that time?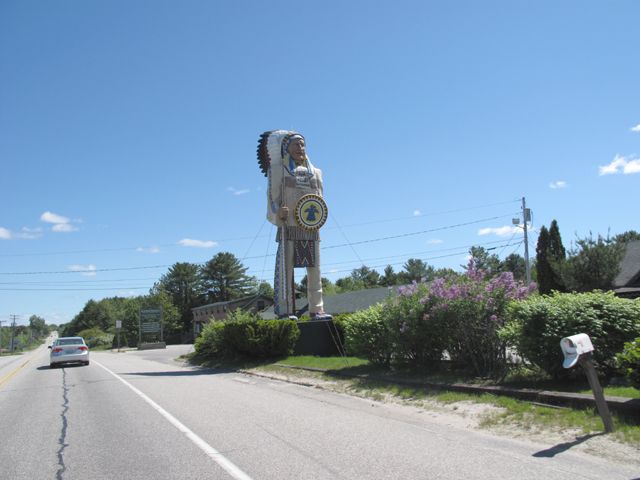 I passed through Freeport, the home of L.L. Bean, and made my way onward to the new General Aviation Airport, located at the former Naval Air Station.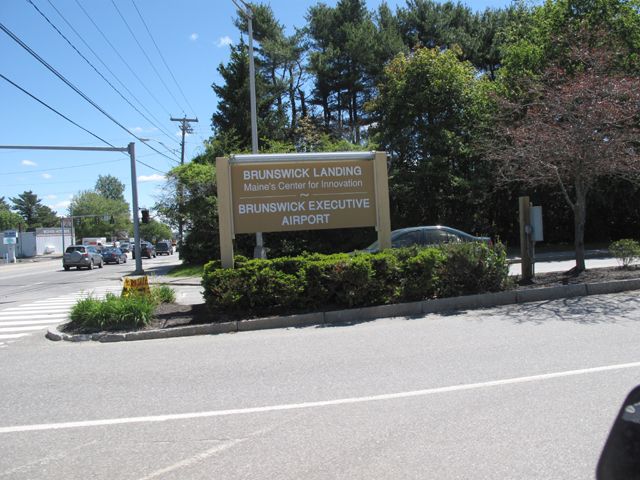 Again, keep in mind that this is the VERY FIRST fly-in that I have attended! Boy, was I spoiled!!!! Beautiful weather, and a beautiful airport, with LOTS of beautiful planes to gawk at! I was told that the expected turn out of planes flying in was to be about 60 aircraft. The number that I was given, during my Monday night ground school class was, 298 airplanes showed up!!!! Like I said, I was totally spoiled for my first fly-in!
Here are some photos from the day.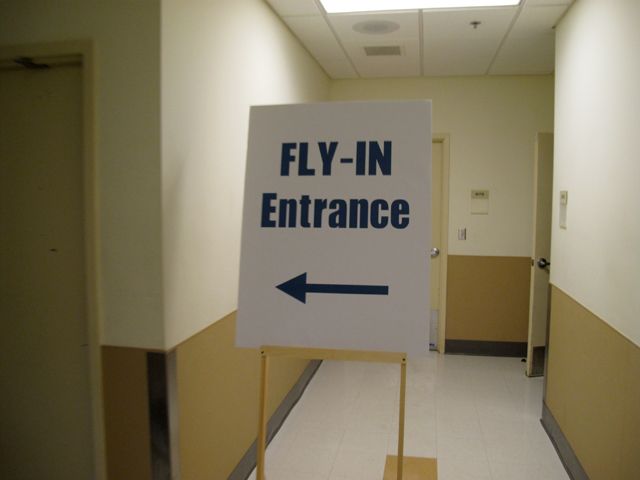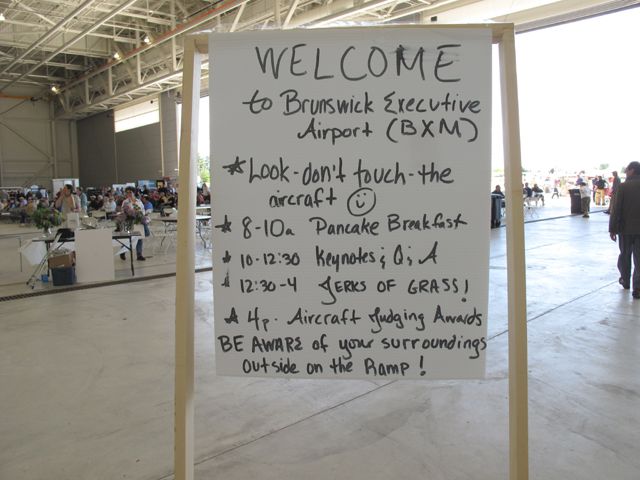 This is Craig Fuller who is the president of the AOPA, (Aircraft Owners and Pilot's Association). Craig flew in to speak, and to support all that is happening at this airport. If you are interested in learning more, hopefully by following this link, you will get that information:
AOPA Online: Airport reborn: Maine's Brunswick Executive open for business
Let's get to the planes! I am very partial to the traditional taildraggers. But, I have thrown in a couple of high performance, tricycle gear planes too!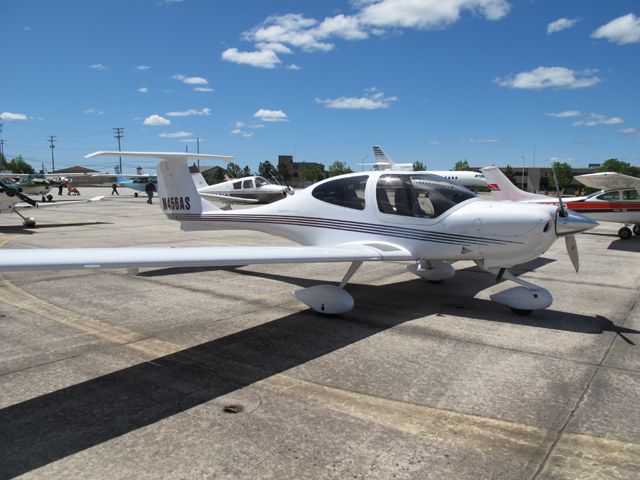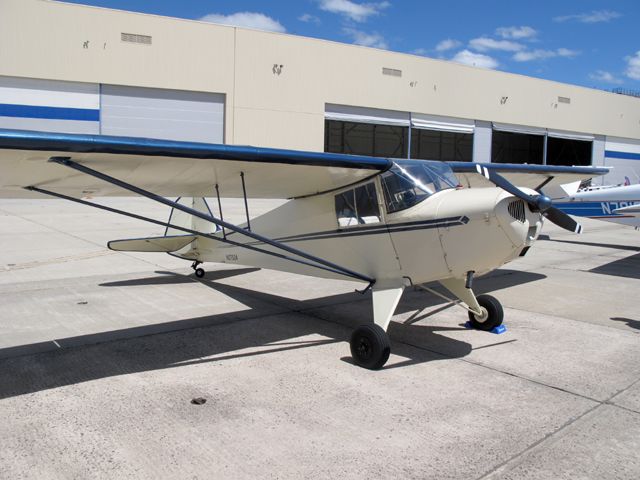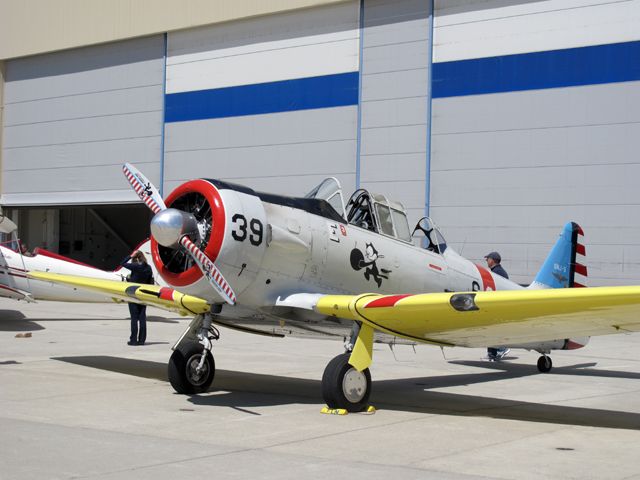 And of course, Black Labs!
This photo is of a Just Highlander kitplane. This particular plane is in my "top two" selections of which plane I would like to build, (I am not worried about the fact that I barely have enough money to replace the shoelaces on my boots. So, you shouldn't be worried about the cost either!).
This is Ben Brown who built and owns this plane. He has a web site:
BLB Flight LLC - Light Sport Plane Sales and Service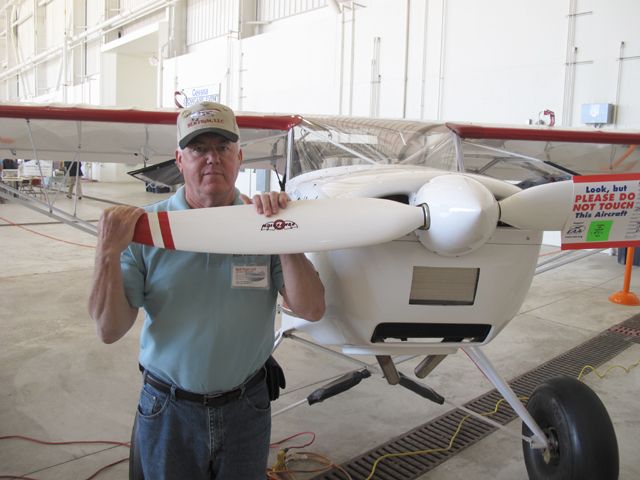 Here is the cockpit of the Highlander.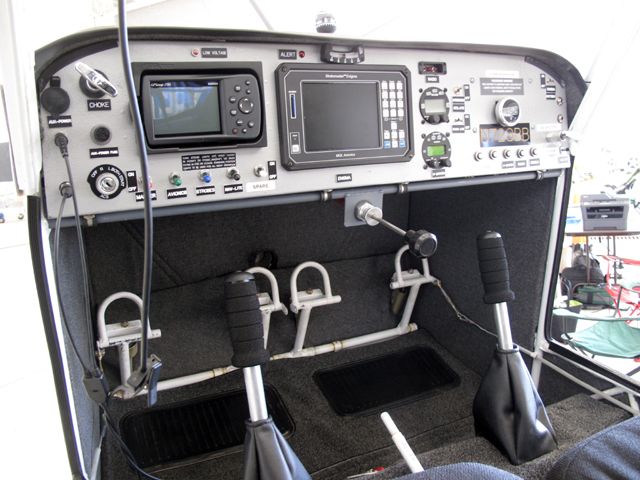 And, here are the instruments turned on.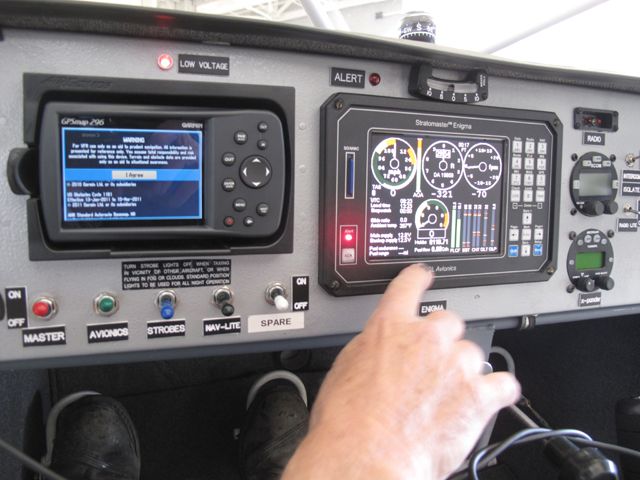 Here is Barry, grinning "ear to ear" sitting in the cockpit of the Highlander!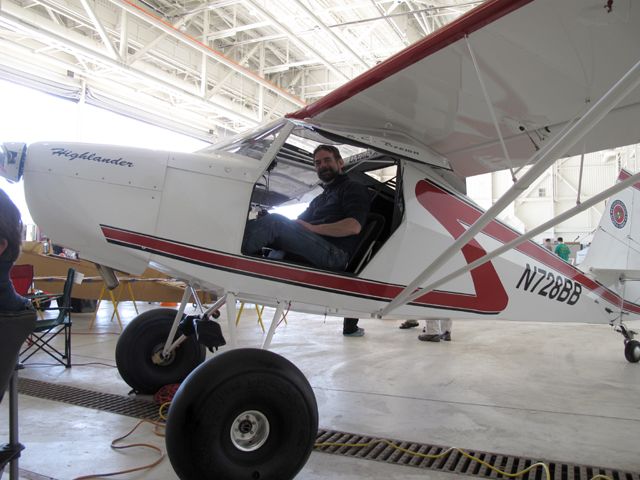 I spent quite a bit of time talking with Ben, and at the end of our conversation, I finally summoned up the courage to ask the taboo question, "Ben, would you let me sit in your plane?" He graciously said, "Yes", and even took my photograph!
There was even a live Blue Grass Band playing for the attendees!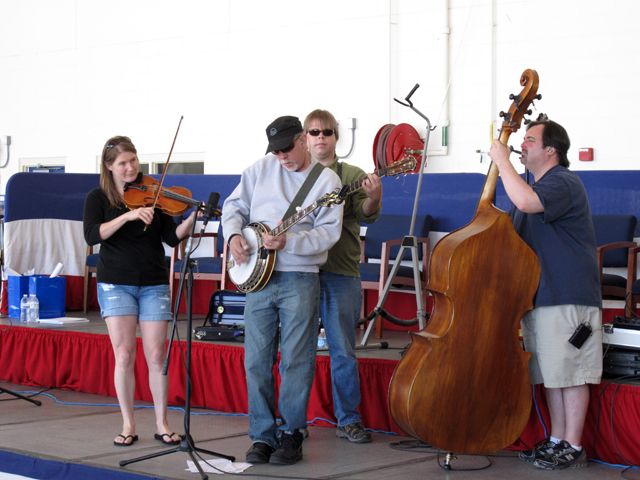 There was also Al Yarberry too........
What Al is holding in his hands is a copy of the plans that come along with a Zenith CH-750 kit.
I spent a chunk of time with Al talking about his CH-750 project. Al lives in Waterville, Maine which is about an hour and a half ride for me. Al has invited me down for lunch and to look at his CH-750 under construction. You bet I will be there!
Incidentally, Ben Brown extended me an invitation to go flying in the Highlander at a future date!
It was a great weekend, and I rode about 310 miles on Saturday.
The thing is, I got to see and sit in the Just Highlander, but I didn't get to actually see, and sit in the Zenith CH-750.
So...........
I did a little snooping, and it turns out that Zenair is holding an "open hangar day" at the Huronia Airport (
Huronia Airport
) this coming weekend, June 11 & June 12. In taking a look at a map of Ontario, it was clear to me that, Midland, Ontario WAS closer then Wyoming, Ontario; where I rode during my Memorial Day Ride. I figured, if I could ride 839 miles in a day to visit footloose and kayakman, I could easily ride 720 miles to see a CH-750! As a back up plan, I sent footloose an e-mail about the Midland fly-in; would they go? I quickly received a reply from her, "LOL, I was just sending you an e-mail about the same event! Yes, we are planning on going!"
I have found that, life is so good when people think like me!
(Now, everyone run out and purchase spray cans of black Rhinoliner for your bikes!)
I will be leaving this Friday morning at 4:00am. I hope to have a story to tell when I return late Monday evening!
B.L.