Discussion Starter
·
#1
·
First, Dirt Mom is home and dodged a bullet on serious injuries. Has a nasty ankle sprain, and a sore rib area but she was wearing all her gear and has very little abrasions. X-ray showed no broken bones.
As the pictures show it was an overcast day and while we weren't riding in rain, the roads were wet from earlier rain. The road tightened into a decreasing radius turn which proved too much for the remaining traction and she felt the bike slip out from under her. She thinks her slide started about where you see the car in picture 2 above. The slide ended here where she is sitting up after the crash.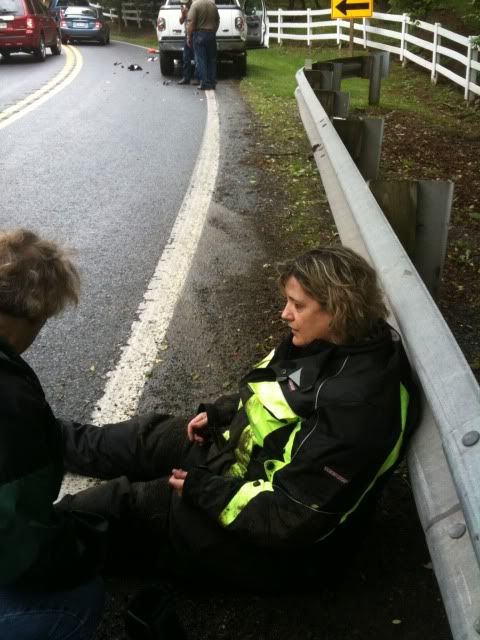 My guess is she slid down the road over 150'. The bike is in front of the white truck. After walking the road and feeling how slick it was I understood how that was possible.
The bike slid across the road and was hit by an F150 pickup. That truck deployed the airbags and had to be towed away. My wife thought the truck may have run over her ankle, or maybe it just trapped her foot, either way her short motocross style book was ripped off her foot, which is not easy to do in a Thor 50/50 boot.
The MD State Trooper on scene was also a rider and I think that helped. He made out the report, told me he would enter that the road was overly slippery into the report. He was strictly professional and I don't feel he could have done a better job understanding our perspective. There were no tickets issued.
We were using the Sena SMH20 bike to bike communicators. They are always on and you hear everything from the other person at all times. That was pretty unnerving to come out of a tough corner, hear your wife scream, hear an impact, then not see her behind you any longer. By the time I turned around I could see airbag smoke pouring out of the pickup windows. It looked bad. The communicators did come in handy when she was laying face down next to the guard rail and I was able to hear her moaning. I knew she wasn't knocked out and we were able to talk without yelling before she started to move.
The tow truck driver found me and wanted to let me know he was just going to drag it onto the bed. He was positive the bike was a total loss. I suspect I will never see that bike again.
Wife is sore, but undeterred. She's already telling me she wants her next bike to be the Super Tenere. We'll see. Let's get her walking without crutches first. But she shows no interest in giving up riding.
Scary day, but all is well.