Photos Added - TheTwins' Underseat Toolkit
After 8 million iterations, a lot of trial and error, several hours of online and in-store shopping, and many fit tests, I finally have my Underseat Toolkit totally perfected.
As a preface, I'll explain how this kit came to be. I started with the factory toolkit which was kept on the bike, and an empty small plastic toolbox in my garage. Every time I have worked on my bike, I would make sure that I had the tools I needed, either in the factory toolkit, or from "new" items that were added to the empty box, from my main kit.
As time went on, the factory toolkit found itself staying on the bike, and the (once empty) plastic toolbox started filling up. Now, understand that I wouldn't simply add something to the box that wasn't needed. I was always in a "make do" frame of mind, to make sure the new kit was a small and capable as it could be.
Whenever I had a new idea to make something smaller, lighter, or more useful, either through a new idea I found here, a new product in-store or online, etc. I made the change needed. At this point, I feel it's optimized, because I can do all maintenance, repairs, changes, etc. that I've ever needed to do, with this toolkit.
Here it is:
1. Misc. Bag:
- Duct Tape, 6', rolled flat
- Lightweight Repair Gloves
- Spare Spark Plugs, 2, NGK CR8EIX
2. Misc. Placement Items:
- Electrical Tape, small roll, captured on the seat's release cable
- Zip Ties (assortment), rolled together and placed under seat
3. Buddy Kit:
- Fuses - 2 Each ATO30, ATM2, ATM10, ATM15
- Electrical - Misc. Ring Terminals, Splices, Battery Bolts, 14G Wire x 6'
- Jumper Cables
- Fuel Siphon Tube, 6'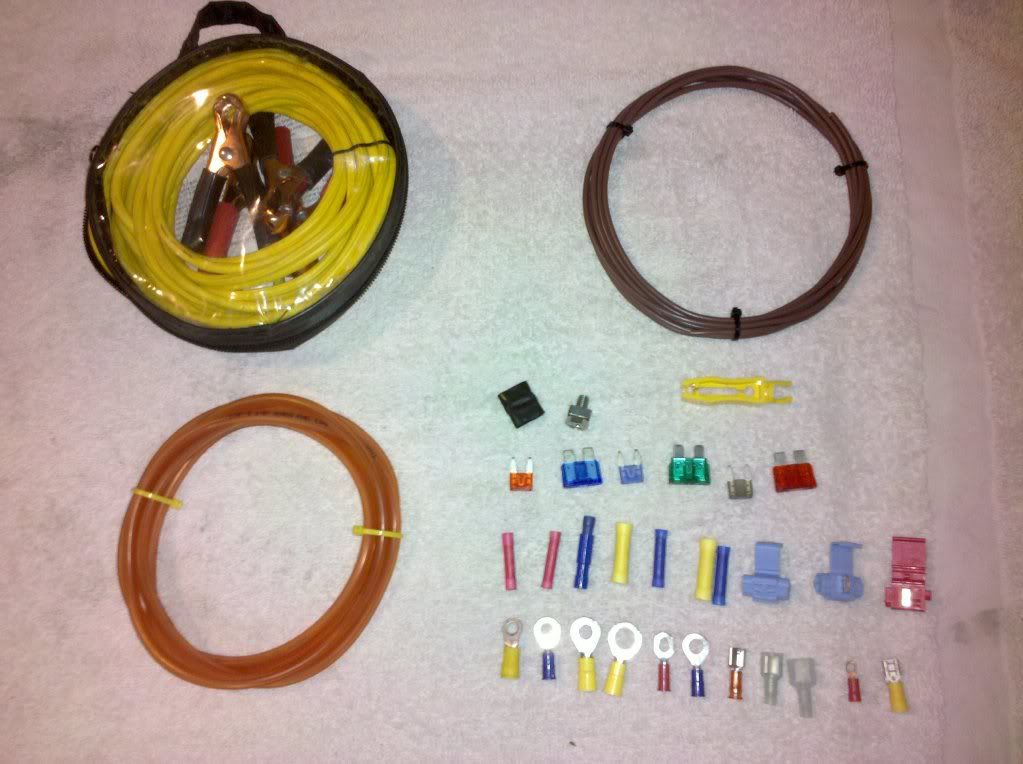 4. Tire Repair Kit:
- Tire Plugs, 4
- Tire Plug Glue, 1 tube
- Tire Plug Tools, screwdriver style
- Valve Cores, 2
- Valve Core Tool, 1
- Valve Stem Caps, 2
- Tire Pressure Gauge, 1
- 12v Air Compressor
5. Adhesives Kit:
- JB Quik-Weld
- Yamabond
- Permatex #16B High Temp Adhesive
- Permatex Silicone High Temp Gasket
- Permatex Blue Loctite
- Permatex Dielectric Grease
6. Mechanic's Tool Kit:
- Channellock Pliers 6"
- Adjustable Wrench 6" (opens to 24mm wide)
- 3/8" Square Drive Sockets - 8mm / 10mm / 12mm / 14mm / 17mm / 5/8" Spark Plug, 24mm
- 3/8" Square Drive Extensions - 1" & 3"
- 3/8" Craftsman Breaker Bar
- Conventional Hex Keys - 2mm / 2.5mm / 3mm / 4mm / 5mm / 6mm
- Hex Key Bits - 8mm / 10mm / 12mm
- Screw Drivers - Phillips #3, #2, #1, #0 & 1/4" Flat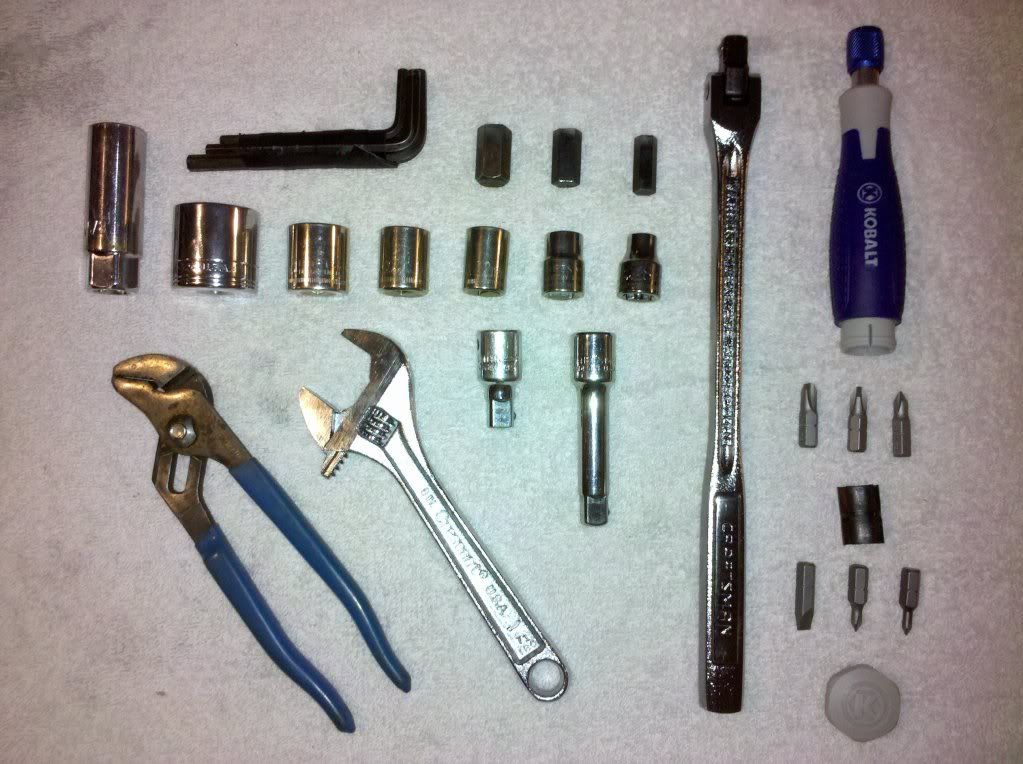 Some Key Comments:
1. The 6" Adjustable Wrench was used to eliminate open end / box end loose wrenches. I really wanted one single adjustable wrench that would "back up" the bolt end of a typical nut / bolt joint. I found a Crescent brand wrench at Lowe's for $10 that is a 6" length, and it opens to 24mm wide. This is enough to back up the rear axle.
2. The 24mm Socket, for removing the rear axle nut, is a 3/8" drive. This is extremely key - it allows you to use the 3/8" breaker bar, and eliminates the need for a separate 1/2" driver. I could not find this in-store, I had to buy one online instead. It is made by S-K Tools, it is 3/8" drive x 24mm and it is a 6-point type.
3. A good lead-in from above, I use a Craftsman 3/8" breaker bar for all sockets. It is stronger than a ratchet, yet still small enough (10" length) to stow under the seat. I chose the Craftsman because it had the strongest head I could find, yet it was only 10" in length.
4. The 8mm Socket, for misc. small bolts, is also a 3/8" drive. This eliminates the need for a 3/8" to 1/4" adapter, or a separate 1/4" driver.
5. The Hex Key Bits, in sizes 8mm / 10mm / 12mm are short bits that are 1" in length, that are driven by the corresponding socket. This works for front axle removal, the mag rotation cover, the mag position inspection cover, and the bolts on my GSX-R caliper mounts
These are similar to the "nubs" that have been discussed here. This eliminates the need for the drive portion of a hex socket, saving that space and weight.
6. The screw driver kit is a small Kobalt brand that I got from Lowe's. It is a very small handle, with no shaft on it. It has a cylindrical storage tube built-in, inside, that can hold 6 bits that are all 1/4" drive. I had to buy the bits I wanted separately, but this way I have exactly what I need in a very small driver, with no additional weight or space wasted by several shafts, drivers, etc.
Packaging Details:
1. Pack #1 includes all the Mechanic's Tools that I listed. It is placed inside a Seagrams blue velvet bag, then wrapped inside a red shop rag, then placed inside a Ziploc gallon size freezer bag. It is placed under the seat, in the rearmost location, facing fore / aft.
2. Pack #2 includes the Adhesive Kit contents. It is placed first inside a quart size Ziploc bag, then rolled into a small roll, then taped around the perimeter to protect the contents from punctures. This is placed also fore / aft, in the rearmost location, under the seat, next to the toolkit.
3. Pack #3 is the Buddy Kit. The jumper cables I have (from Murray's / O'Reilly's) came in a small rolled package that was about 6" diameter x 2" height. I stuffed the fuel siphon line inside, and the spare 14g wire inside, along with the spare fuses & electrical terminals. This pack sits in the rearmost location, on top of the toolkit & adhesives kit.
4. Pack #4 is the Misc. Bag containing the spark plugs, duct tape, and repair gloves. This is stuffed inbetween the toolkit and adhesives kit.
5. Pack #5 is the Tire Repair Kit. It is rolled up into a small roll, inside a quart sized ziploc bag, then wrapped in a red shop rag. It is placed laterally, right behind the latch mechanism under the seat, and right in front of the toolkit and adhesives kit.
6. Lastly, the 12v compressor. This is wrapped inside a medium sized ziploc bag, and then wrapped with a red shop rag, and placed in the single space in front of the seat's latch mechanism. It just fits....its the smallest Slime branded compressor that I got from Meijer for $11. It works wonderfully well.
This kit is extremely capable. It is all I have used for the last several rounds of maintenance I have performed on my DL650. It is not designed to
change
a tire (with full removal), as I have a separate kit that I "add" when I am planning on bringing a spare tire with me, as I did on my last trip to Alaska. This "add-on" kit, for removing or changing a tire, contains simply (2) 8" tire irons, a small 3 oz. bottle of Napa lube, a medicine cup for scooping out my DynaBeads, and (2) small packs of spare beads at 2 oz. each, in case I drop / spill them.
And, one important point, all of this fits under the seat of my DL650. None of this is placed in a sidecase, pannier, tailbag, etc. So it can go with you, even on a "minimalist" ride if you don't want to carry luggage.
I'd be happy to answer questions, provide links to products I bought / used, etc. as needed. Respond here with questions or comments. Hope this is useful to you all.