Well, here's the list I came up with for my Strom, a 2005 DL1k. I'm sure I've left things out but will edit the posting when those items come to mind. I think there's plenty of pics in the "Stromette's Travel's" section but I'll add close-ups below when I get to a Wi-Fi connection. I'm also going to add a quick review of certain products (both the good and the better ones) below. I'm purely a "function over form" rider so everything is based on performance/comfort and not on looks.
*Tires: Metzeler Tourance
*Auxillary lights: Moto Lights 35w (I run the fork strap mounted setup over the brake caliper mount because I don't want to remove the lights every time I change the tire):
http://www.motolight.com/
*Headlight bulbs: PIAA Extreme White Plus (PIAA part number 15224)
*Spiegler SS Front (custom +2")/Rear Brake & Clutch lines:
http://www.spieglerusa.com/
and ordered thru Murph's Kit's:
http://www.murphskits.com/vstrom.htm
*Windscreen: MPCycle Design... both Touring & Shorty. Pics floating around here may show several versions of the MP Touring screen. Currently running Paul's lastest version of the Touring screen which is a thicker 1/4" lexan, tinted, and rounded bottom:
http://mpcycledesign.com/
*Diamond Star Headlight Modulator w/ "Head's Up Traffic Alert":
http://www.signaldynamics.com/products/DiamondStar/dshm.asp
*Suzuki Accessories Tank Bra
*Holeshot Performance's Napolean Long Stem Mirrors:
http://www.holeshot.com/dl1000/
*SW Motech Crash Bars
*Iridium spark plugs
*K&N Air Filter
*K&N Oil Filter (uses same socket as drain plug--great when traveling since no need to pack oil filter wrench)
*Amsoil 10w-40 Motorcycle Oil
*Stebel Nautilus Compact Dual-Tone 12v/139dB Air Horn (fabricated mount)
*Powerlet auxillary electrical outlets
*Alaska Leather Butt-Pad (used w/stock seat):
http://www.alaskaleather.com/sheepskinbuttpads.html
*NEP Cruise Control
*Throttle Rocker
*Blue Seas ATO/ATC 6 Circuit Power Block:
http://www.tinyurl.com/q63dp
*Hyper-Lites Dual Function Running/Brake lights:
http://www.hyperlites.com/unikits.html
*Custom fenderectomy (I did this unsupervised :lol
*Pit Bull rear spools:
http://www.tinyurl.com/ppeho
*Adventure MotoStuff V-Strom Adjustable Topcase Mounting System (base plate for Givi topcase): ***4/26/07 EDIT: I no longer recommend this metal rack as it CRACKED after only 30k road miles and I definitely do not recommend the company that produces it (AMotoStuff.com) for ANY item--horrible customer service. Full report:
HERE
*Givi V46 topcase
*Givi E107 topcase rack
*Grip Puppies:
http://www.tinyurl.com/zua78
*JT Sprocket (steel) - front sprocket
*Sprocket Specialists (steel) rear sprocket (+2 teeth, 43)
*DID Premium X-Ring Series Chain 525ZVM2 (I always use master rivet)
*Chain lube: BelRay Super Clean
*Suzuki centerstand
*Fenda Extenda
*Nelson Rigg SB-900 soft saddlebags
*GenMar Bar Risers (1" up, 1 3/8" back):
http://www.tinyurl.com/md6ze
*Bags Connection "Engage" tankbag w/GPS mount & map holder + SWMotech's Locking Gas Cap Mount. (This is the one item on my bike that I
reeeeally
don't recommend. It also happens to come from a vendor I try to avoid as well... twistedthrotle.com). EDIT: I've since changed to Nelson Rigg CL-350 and am VERY happy.
*Magellan SporTrak Color GPS w/RAM mount
*Garmin StreetPilot 2610 GPS
*Valentine One (V1) Radar w/Remote/Concealed display:
http://www.valentine1.com/
I have a plethora of different gear depending on when/where I'm riding but this particular trip I'm carrying the following: (whenever possible I purchase all my gear from NewEnough:
http://www.newenough.com/index2.htm
)
Joe Rocket Ballastic 5.0 pants
Joe Rocket Meteor 5.0 jacket
Joe Rocket Phoenix jacket w/rain liner
Frogg Toggs
Spidi "Sport Vent" gauntlet gloves
Joe Rocket "Hard Drive" boots (never know when a track day opportunity arises!)
Caberg Justissimo modular helmet:
http://helmetharbor.com/index.htm
(ask for Jeff)
Gerbing Electric heated jacket and G3 gloves
Joe Rocket Sahara evaporative cooling vest
Camelback hydration packs - 70oz & 100oz.
Under Armor is worn, well, under all the armor from head to toe
Stromette
p.s. If any links are dead let me know.
===============================================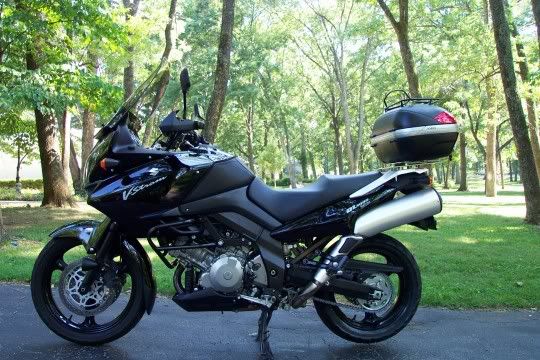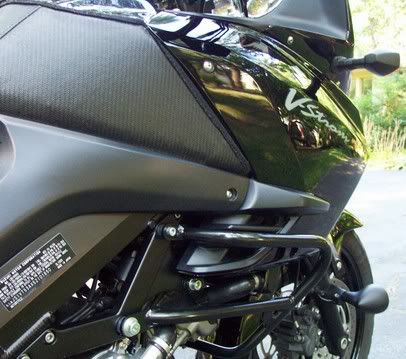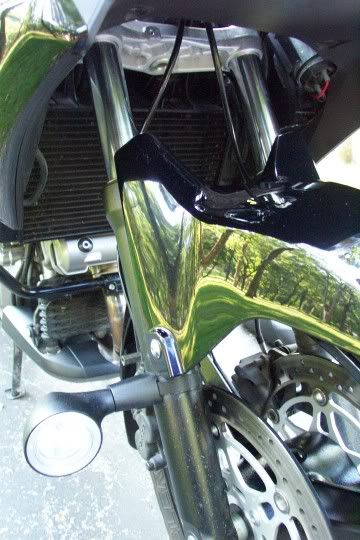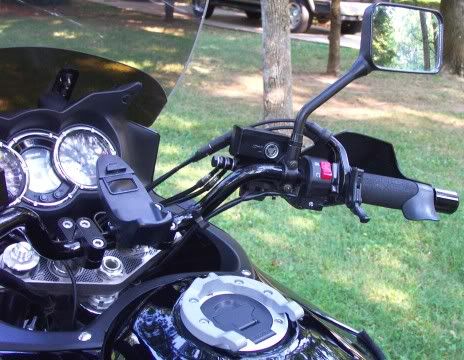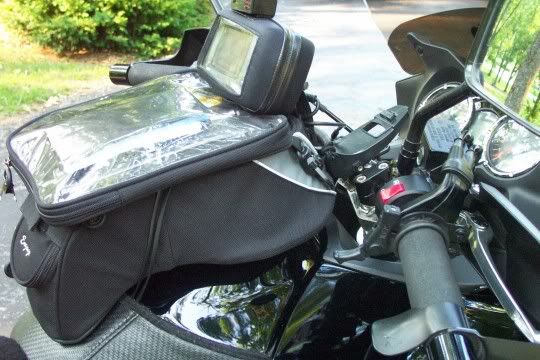 Here's the fenderectomy I did: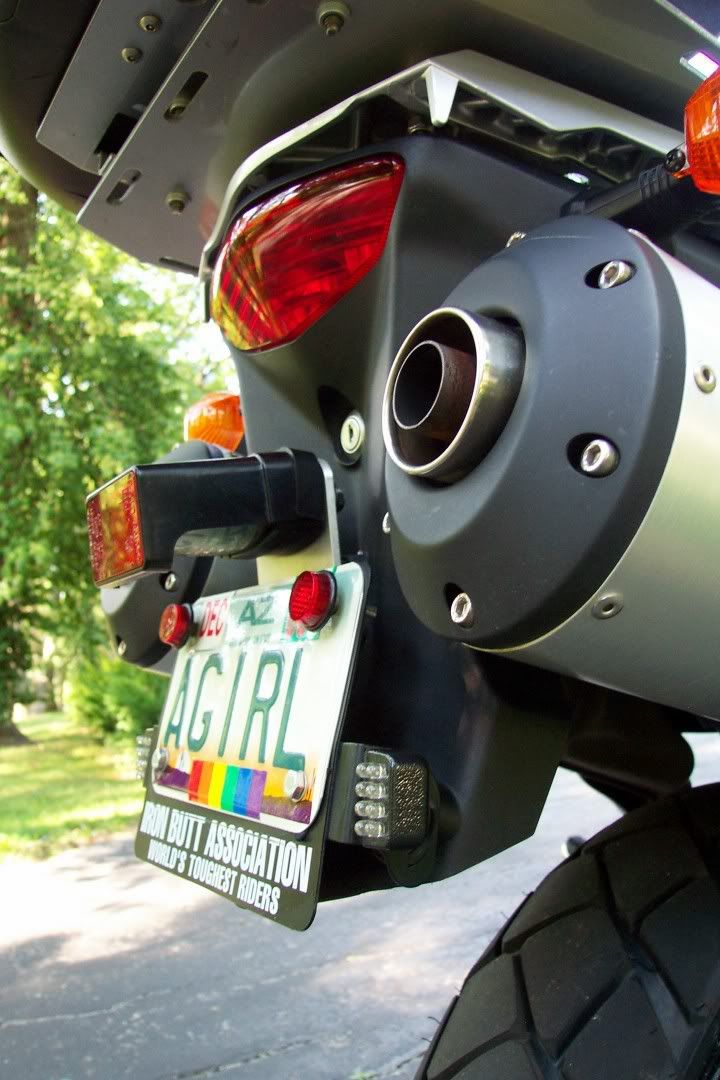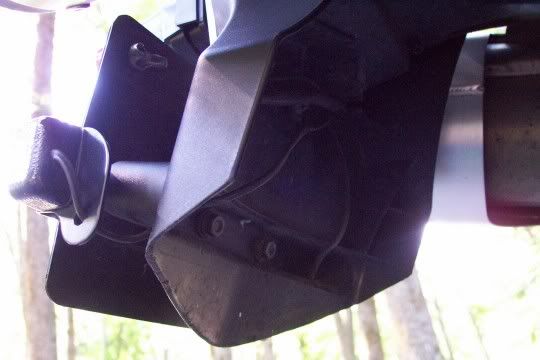 Stebel location: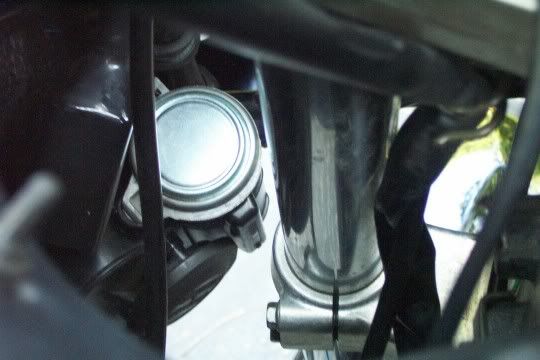 The Blue Seas Power Block: