Today I met up with indybob to head down to Leavenworth, IN for lunch at the Overlook Cafe. We met at 116th and Rangeline in Carmel at 7 and headed south around 465 then to 65. The weather was perfect, clear skies and lower 60's. What better way to start off a Wed. morning.
First stop was the Macdonalds at the 44 exit for a quick break.
We then headed over to 135 and took that into Nashville for another quick break. We passed another Strom(silver) just outside of Nashville, big wave.
Ready to roll again we continued 135 all the way down to State RD 62. Thankfully not much traffic so we were able to enjoy the great curves to Story and enjoy warm sun on our faces through the beautiful Indiana country side. 62 west to Leavenworth was an absolute blast. We had a clear road the whole stretch. We made it to the Overlook about 11:30 for a tasty lunch and great views.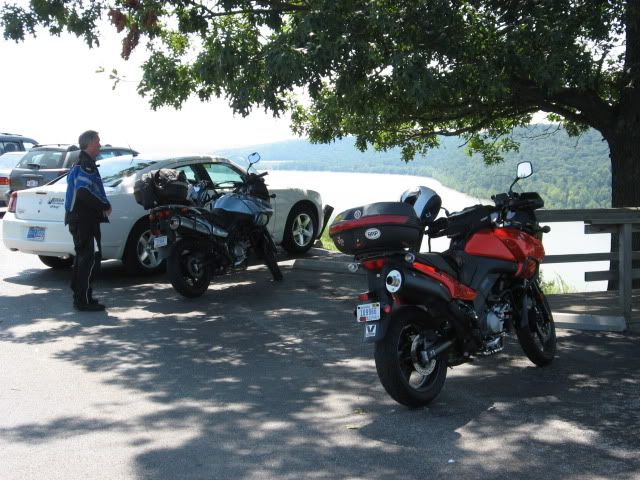 We then headed back for Indy continuing on 62 to 237. Again 237 was a dream as we headed through the Hoosier National Forest. Great long sweeping curves, no traffic, and better yet no leo's.
We finally got to boring 4 lane divided highway and made quick time home. It was a great day and I look forward to going south again soon.