A number of members have recently asked if it was possible to arrange a great deal for everyone on the Scotts Performance Steering Stabilizer.
Scotts is probably the best bolt on Steering Stabilizer, with superb support and service. That is why I like the Scotts Steering Damper for the DL650 and the DL1000.
Scotts Performance makes excellent products. The Steering Damper retails at $479.95 complete with all mounting hardware, plus shipping and plus taxes depending on where you live.
The special price to Stromtrooper members will now be $439.95, no taxes regardless of where you live, and Free Shipping, to your door, anywhere in the USA, for the complete Steering Stabilizer, including all the mounting hardware, for a limited time period.
Email me at
[email protected]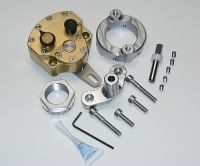 Scotts Steering Dampers can really add a whole new level of control to spirited or terrain challenging riding.
Check it out at
http://www.scottsperformance.com/Stabilizer_Models.php?Make=Suzuki
Let me know whenever you are ready and I will get your Scotts Steering Stabilizer out to you right away.
Enjoy the ride, and best regards all,
Blair