As many of you already know from the ongoing photo contest giveaways, SV Racing Parts is the place to go to for Stromtroopers, and that I offer all Stromtroopers instant discounts, No Taxes regardless of where you live, and Free Shipping with USPS Priority delivery to your door anywhere in the USA.
International Stromtroopers, email me at
[email protected]
and I will provide you with the best USPS rate to your door available, It is always realistic,
I don't offer everything or pretend to have all the things everyone might want, but I am proud to say that everything I offer, I use myself, and it all meets my test for personal excellence,
That is why I like the Scotts Steering Damper for the DL650 and the DL1000.
Scotts Performance make excellent products, The Steering Damper retails at $479 complete with all mounting hardware, and $330 for the Steering Stabilizer unit only.
I am providing them to Stromtrooper members for $459 for the complete Steering Stabilizer, including all the mounting hardware, and Free Shipping anywhere in the USA,
Email me at
[email protected]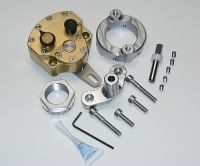 Anyone interested in the mounting kit only it is $150 retail and $139.50 from SV Racing Parts for Stromtrooper members.
Scotts Steering Dampers can really add a whole new level of control to spirited or terrain challenging riding.
Check it out at
http://www.scottsperformance.com/Stabilizer_Models.php?Make=Suzuki
Let me know when you are ready and I will get your Scotts Steering Stabilizer out to you right away.
Enjoy the ride, and best regards all,
Blair