:thumbup: Hi Everyone, I am happy to be able to announce and let you know that after working together with Galfer since 2007 when abs became available on the DL650 abs models we finally have the SV Racing Parts, New Galfer Full DL650 abs Black SS Brake Line Kit available for Stromtroopers now,
We started by developing the DL650 abs Extended Front Top Brake Line Kit for use with the GenMar up and back Handle Bar Risers and made the length work for handle bar conversions and all the other handle bar risers,
These Kits at $49.95 all in will continue to be offered as they still provide all the benefits today that they did when we private part numbered them with Galfer. Email me at
[email protected]
as always for them.
Then we brought out the Front only SS Line Kits. These are now being discontinued other than special order. They will remain at $89.95
Now we have the full 8 Line, Black SS Complete Front and Rear SS Line conversion Kit for our DL650 abs bikes. This means that the entire abs system will be Steel be connected by Lifetime Guaranteed Galfer SS Lines.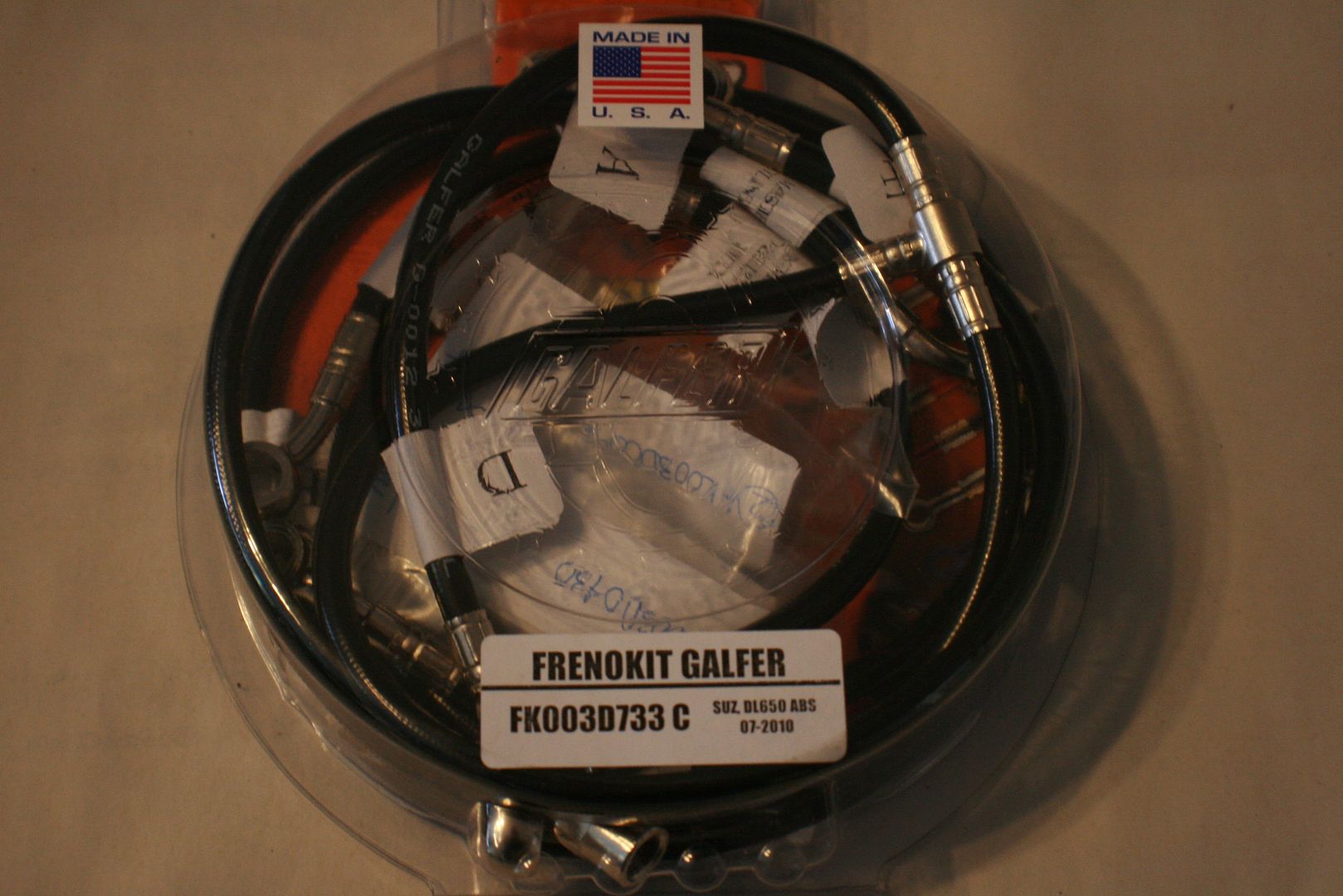 The testing has shown these abs Kits from Galfer to be excellent.
This Kit eliminates all the short rubber lines connecting the various parts o the abs system and makes your abs even more predictable and effective as the pulsing of the rubber lines is eliminated,
I am updating
SVRacingParts.com
tonight to make them readily available to all,
The Regular price on the DL650 abs 8 Line kit is $259.99 plus Taxes plus Shipping.
Our Stromtrooper Price for our fellow members is $249.99 all in with $10 Flat Rate Shipping to your door anywhere in the USA. As always I Ship Worldwide to my fellow Stromtroopers at great rates,
Email me for them at
[email protected]
These are in stock and ready to ship,
Let me know whenever you are ready, I will PayPal invoice you for the parts you want and get you looked after right away,
Enjoy the ride, and best regards,
Blair