As many of you already know from the April and May, photo contest giveaways, SV Racing Parts is the Gen Mar Dealer to go to for Stromtroopers and that I offer all Stromtroopers 10% discount, No Taxes regardless of where you live, and $10 Flat Rate Shipping with USPS Priority delivery to your door anywhere in the USA.
International Stromtroopers, email me at
[email protected]
and I will provide you with the best USPS rate to your door available, It is always realistic,
The Gen Mar handlebar risers are machined from billet aluminum and finished in either brushed aluminum or the black anodized finish.
Shaped like the base of your handlebar mount, they will raise the handlebars upward and back (due to the fork angle), still leaving the motorcycle with a very stock look.
Most riders will have to sit on the bike to notice there is something different. It's more comfortable. Raising the bars up even a mere 3/4" (19mm) makes a real difference in the weight on your hands.
When raising your bars with a spacer design, like our handlebar riser, you raise the bars but still retain the stock angle. This is very important to maintaining even weight distribution across your hands during braking and turning.
The Gen Mar Handlebar Riser is designed to raise your handlebars the maximum your motorcycle will allow. The handlebars will not hit the fairing or the tank when turned full-left or full-right.
There is no need to remove or change any of the controls on the handlebars.
Most installations can be completed in as little as 10
minutes.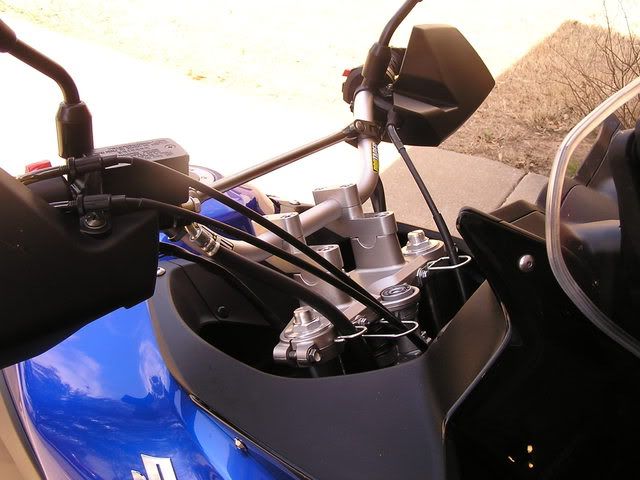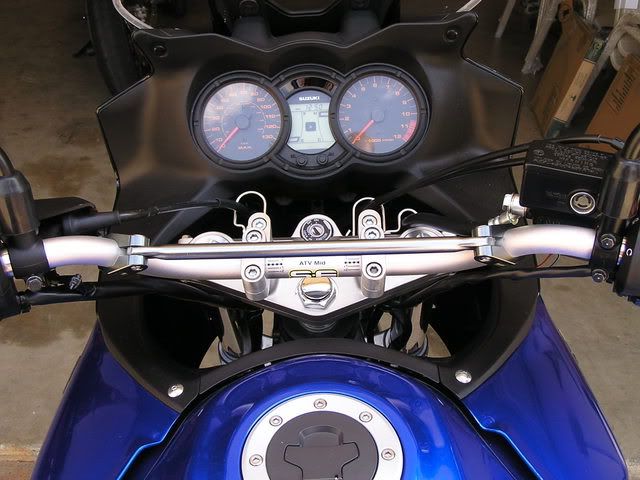 The Gen Mar Handle Bar risers are widely recognized by SV Racing Parts, and the overall motorcycle Community, as a terrific system and they do not require re-routing of your cables.
They are made in the USA.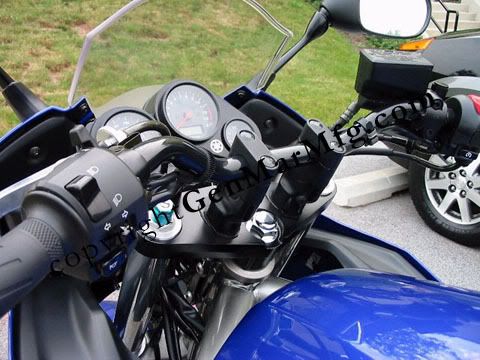 I have the SV Racing Parts, Galfer replacement SS Front Brake Line, required for the DL650 abs in stock, only $49.95, and ready to Shop Free with the SV Racing Parts, Gen Mar Handle Bar Risers,
It is a made in the USA product.
I've tested the Risers on my own DL650 Vstrom, and the DL1000 Vstrom.
They both look and work great.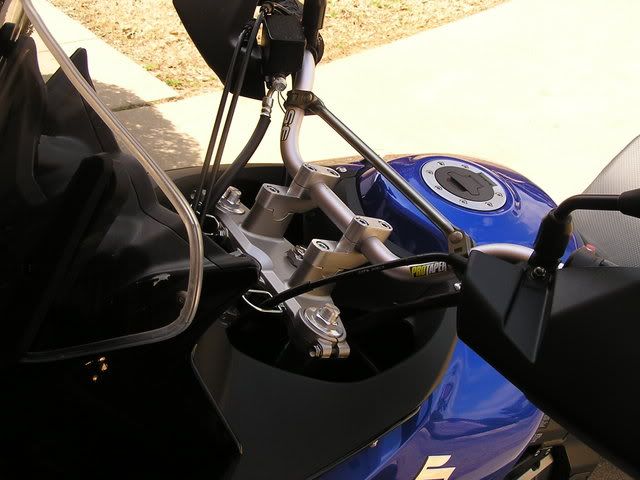 The One up and One back list at $109.95, Your Stromtrooper price, is only $99.95
The One up Handle Bar Risers list at $79.95 and your Stromtrooper price is only $72.95
These prices are direct from SV Racing Parts. so please email me at
[email protected]
and I will PayPal invoice you directly itemizing your discounts for you,
Thanks for the support, I appreciate it,
Enjoy the ride, and best regards,
Blair