Discussion Starter
•
#1
•
Hi Everyone; My fellow Stromtroopers and Vstrom Riders Worldwide have been asking me for years to bring out a SV Racing Parts, High Quality Fork Brace for them at a very affordable price in order to provide them the best in Quality, Service and Price.
The SV Racing Parts StromBrace provides the best stability, superior aerodynamics, and a streamlined look for your Vstrom Fork Brace that lasts.
Some Members Emailed for Clarification that Yes the SV Racing Parts, StromBrace is Made in the USA.
Value Priced Shipping Worldwide; Everyday for Fast Delivery.
$83.95 with $6.95 Flat Rate Shipping to your door anywhere in the USA,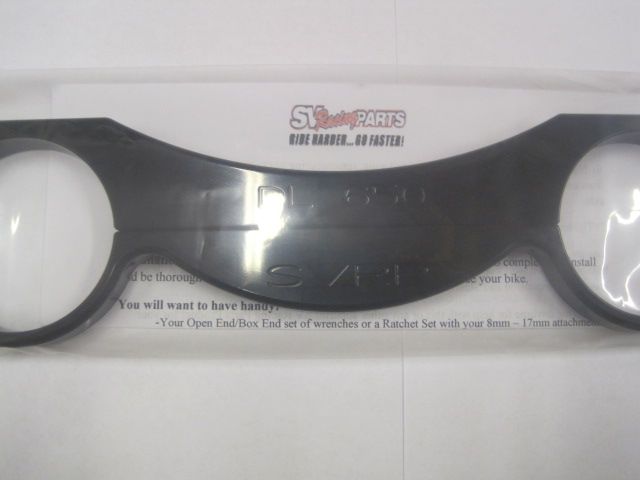 DL650 Models to Fit 2004 - 2011 and to Fit 2012 - 2014
Order Directly online anytime you like at
SVRacingParts.com
Go in under For Vstrom Riders and then under Fork Brace Stabilizers
The SV Racing Parts StromBrace is specifically engineered and designed to assist in:
Improving both your low and high speed handling control in walking speed riding in congested traffic situations, Parking Lot Riding Speed Maneuvers and Slow Speed U-turns.
Improves your Bikes Stability in everything from higher speed corners on the highway and on lower speed city riding.
Dramatically increase Rider Confidence and Bike Stability in Side Wind and Gusting Wind Situations and with passing Semi-Trailers and Gaps between Buildings or changing terrain.
Improved Control and Increased Confidence in Rain Situations and Road Construction Grooves or Grated Road and Bridges.
Noticeably Improves tire life and reduces uneven wear and cupping of tires.
Lifetime Quality Anodized to match your bike perfectly.
The SV Racing Parts StromBrace is CNC machined from 6061-T6 aircraft grade aluminum.
The StromBrace reduces speed wobbles, fork flex, front tire wear and rain groove sensitivity while dramatically improving overall handling and front-end stability of your DL650 Vstrom.
The StromBrace is especially helpful in situations where you and your bike are buffeted by gusting winds.
Email me anytime you like at
[email protected]
No PM Please,
These are excellent parts that will serve you well. In Stock and Shipping today.
Enjoy the ride, and best regards,
Blair